May 5, 2022
This week at EXPLORE in Las Vegas, we had the opportunity to present our annual Partner Awards to advertising partners from around the globe in eight categories for campaigns that demonstrated ground-breaking innovation, originality, and success in travel marketing and advertising. The winning campaigns include:
Air Campaign of the Year: Visit Reno Tahoe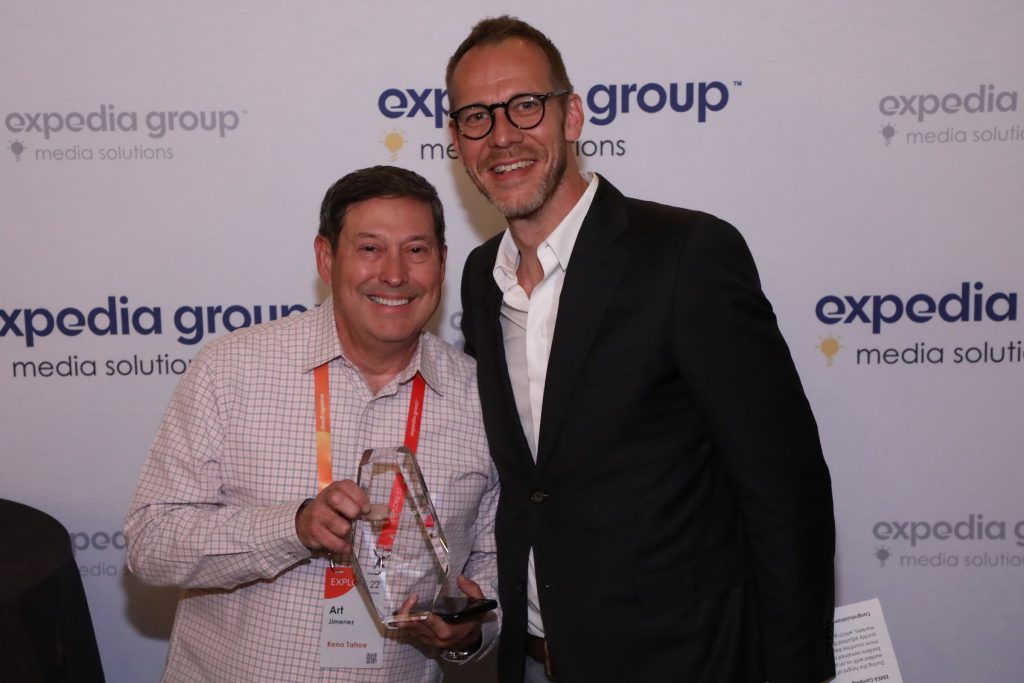 Looking to reach travelers searching for socially distanced, nature-inspired destinations, American Airlines worked with Visit Reno Tahoe and Expedia Group Media Solutions on a co-op campaign to promote visitation to the region and capture increased demand. The team created a targeted display campaign to reach travelers and increase fall travel consideration for the Reno Tahoe market. Through the co-op campaign, the team achieved impressive results, including over 4.7M impressions and a return on ad spend of 19:1.
Car Campaign of the Year: Thrifty Car Rental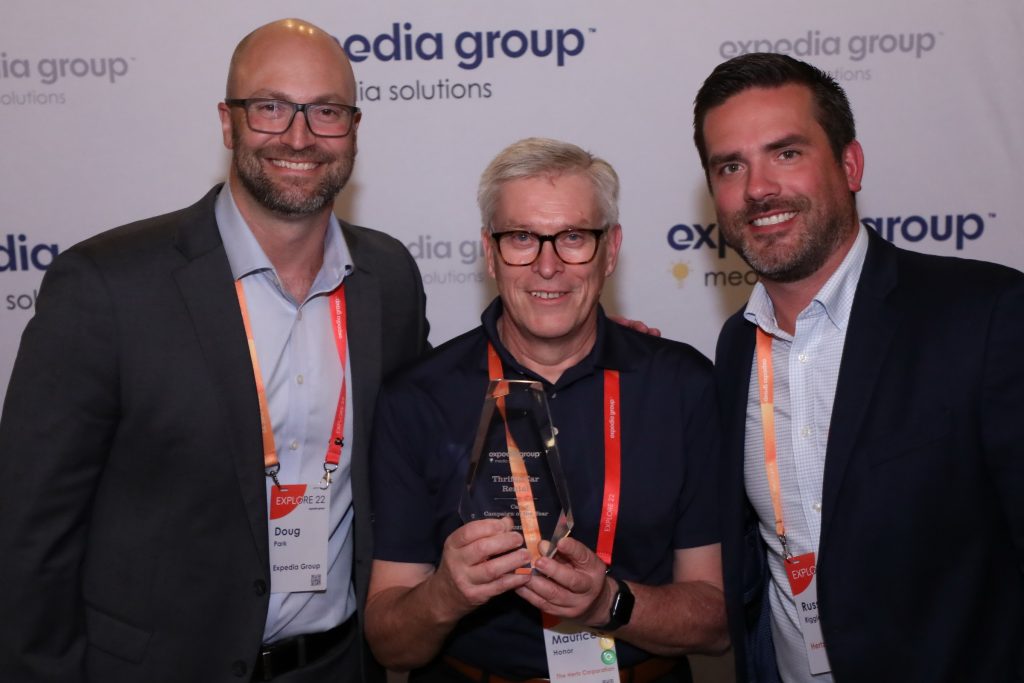 With an increased interest in car travel as a result of the pandemic, Thrifty Car Rental collaborated with Expedia Group Media Solutions and Travelocity on the "Road Trip of a Lifetime" campaign. With a goal of reaching travelers throughout the booking funnel, the campaign included display media, social, email, and brand takeovers, as well as an essay contest where two winners received an all-expense-paid U.S. road trip for up to 10 family members, valued at $25,000 each. The campaign drove strong results for Thrifty, including 9,000 essay entries and over 1.6 million social media impressions.
Destination Campaign of the Year: Destination Canada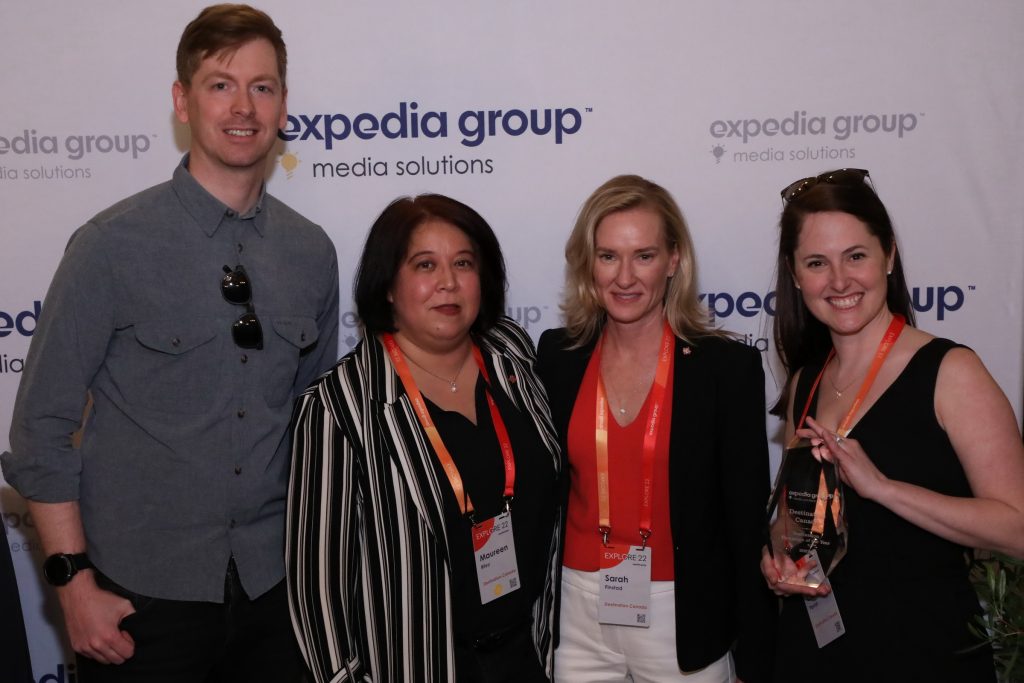 As part of its recovery strategy to drive more bookings to Canada for the 2021 winter season, Destination Canada partnered with Expedia Group Media Solutions to produce a creative campaign that would inspire travelers and encourage them to visit. Targeting U.S. travelers in four key states – California, Texas, New York, and New Jersey – the team developed a dedicated microsite with powerful imagery, colorful descriptions of each region, recommendations on activities, lodging and more. The "Winter is Deeper" campaign was supported by a full media plan including display advertising, social and PassportAds and achieved 4.6 to 1 incremental return on ad spend.
Lodging Campaign of the Year: Resorts World Las Vegas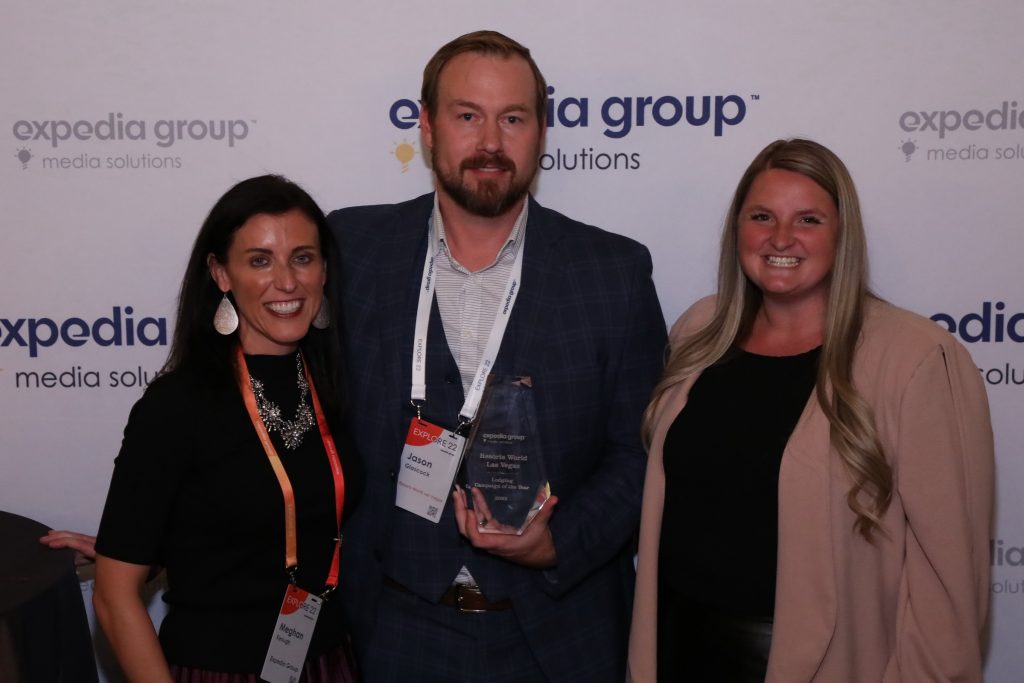 Resorts World Las Vegas, the newest resort to be built on the Strip in over a decade, partnered with Expedia Group Media Solutions for a buzzworthy campaign that would utilize multiple advertising and marketing channels to help increase visibility, awareness and bookings. The star-studded campaign and brand partnership with Hotels.com and Captain Obvious provided a close look at the visually appealing property, with cameos from celebrities such as Celine Dion, Katy Perry, Luke Bryan and Carrie Underwood, as well as Captain Obvious serving as a guide for an entertaining tour of the resort property. The campaign drove significant success, including a return on ad spend of 16:1 for display ads and 15:1 for TravelAds, and delivered over 6.7M impressions.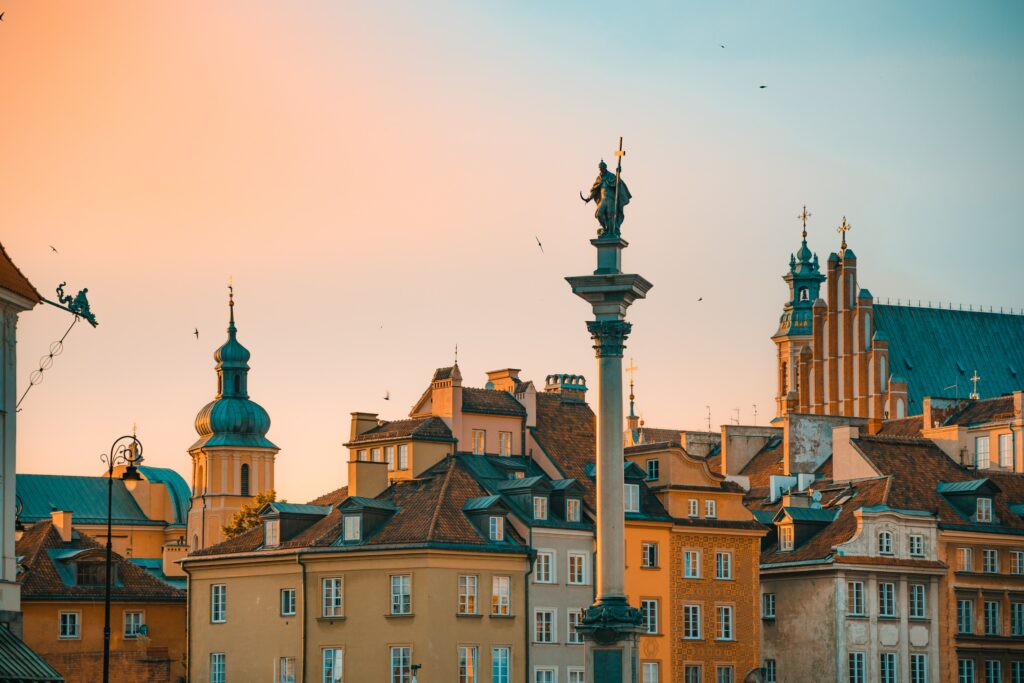 Hotel advertising that can reach any traveler, anywhere
Travelers looking to book a hotel use multiple channels to find their ideal place to stay, from social media to travel websites, and more. This is why it's imperative that you know when — and where — to reach the right traveler. Whether you're trying to reach early-bird or last-minute bookers, our targeting capabilities can help you connect with the right traveler at the right time.
APAC Campaign of the Year: Tourism Tasmania
Tourism Tasmania teamed up with Expedia Group Media Solutions to drive recovery within the region post-COVID-19 lockdowns, while also introducing its new winter brand proposition to travelers titled, "Off Season." To drive bookings and encourage travelers to shift their perception of winter as a season worth embracing, the team developed a campaign that incorporated media across the two most popular Expedia platforms for travel shoppers in Tasmania, Wotif Australia and Expedia Australia. The campaign also leveraged Travel Spotlights, which brought to life the various winter activities and experiences that awaited travelers in Tasmania. The strategic campaign resulted in over 10.3M impressions and a return on ad spend of 17:1.
EMEA Campaign of the Year: VisitScotland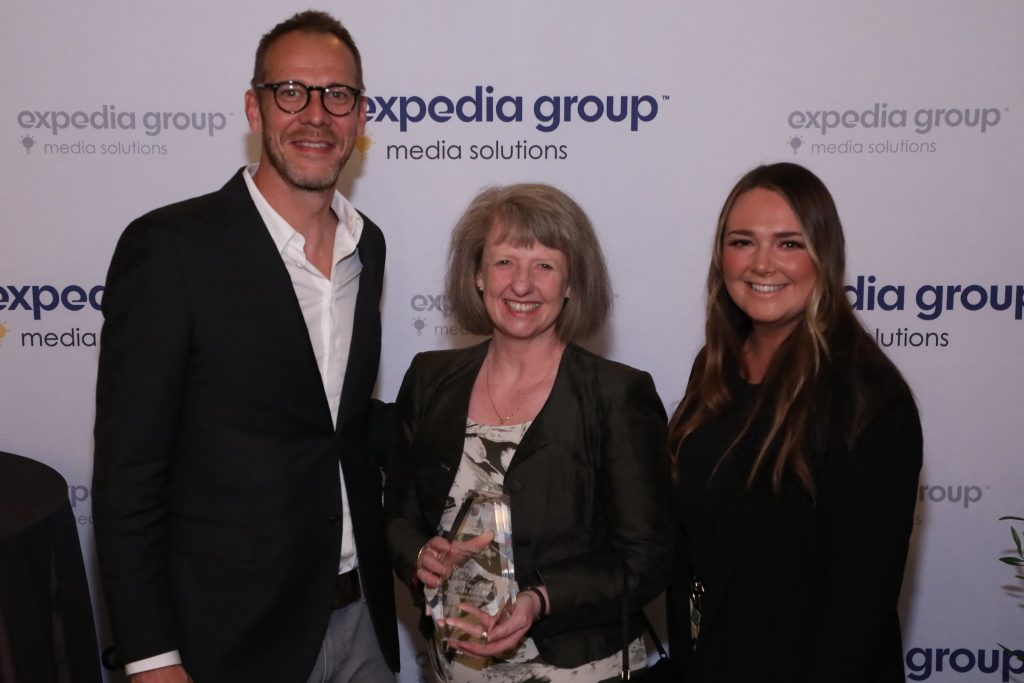 During the height of the pandemic, VisitScotland worked closely with Expedia Group Media Solutions to promote domestic travel while borders remained closed to international visitors. As more countries began reopening their borders, VisitScotland quickly adjusted its strategy and extended its campaign focus into international markets by promoting Scotland as a destination for North American travelers. Spanning display media, social media, video and more, both campaigns generated strong results, with a return on ad spend of 59:1.
LATAM Campaign of the Year: Ministry of Tourism of the Dominican Republic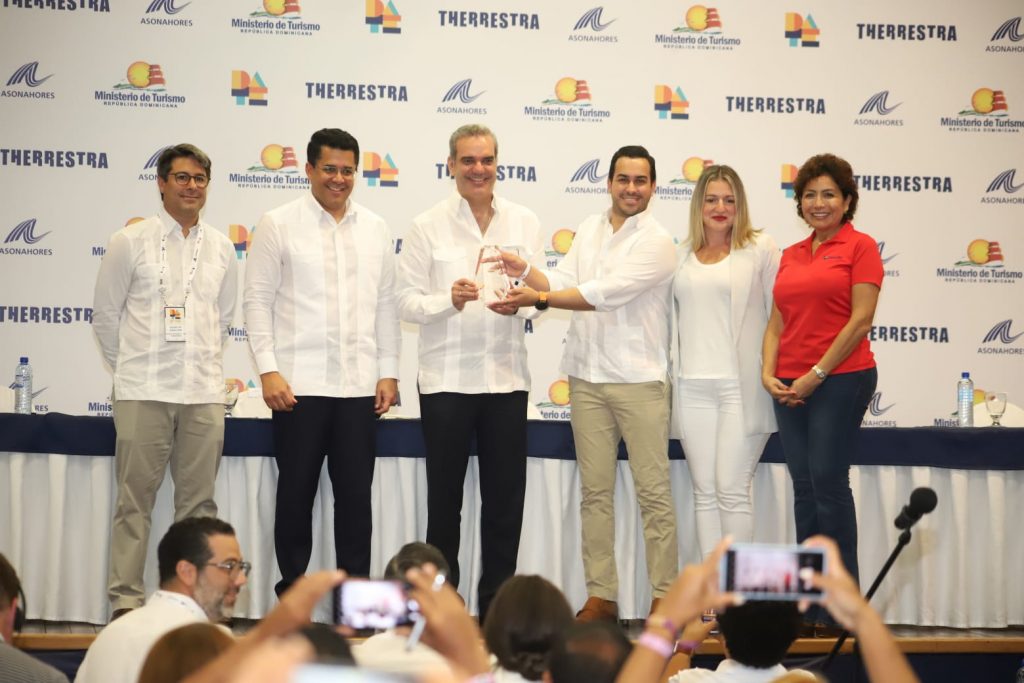 As one of the leading destinations in the Caribbean and the world, the Dominican Republic relies heavily on tourism and as a result needed robust solutions to implement its COVID-19 recovery strategy. To reach Expedia travelers and generate bookings to the region, the Dominican Republic worked with Expedia Group Media Solutions on an agile campaign featuring a dedicated microsite with custom itineraries for different traveler personas and co-branded video showcasing the region, as well as social content, email marketing and native ads. The campaign was a huge success, contributing to over 40% of arrivals to the Dominican Republic as of August 2021, generated a return on ad spend of 110:1, and delivered over 30M impressions and CTR of 0.13%.
NORAM Campaign of the Year: Las Vegas Convention and Visitors Authority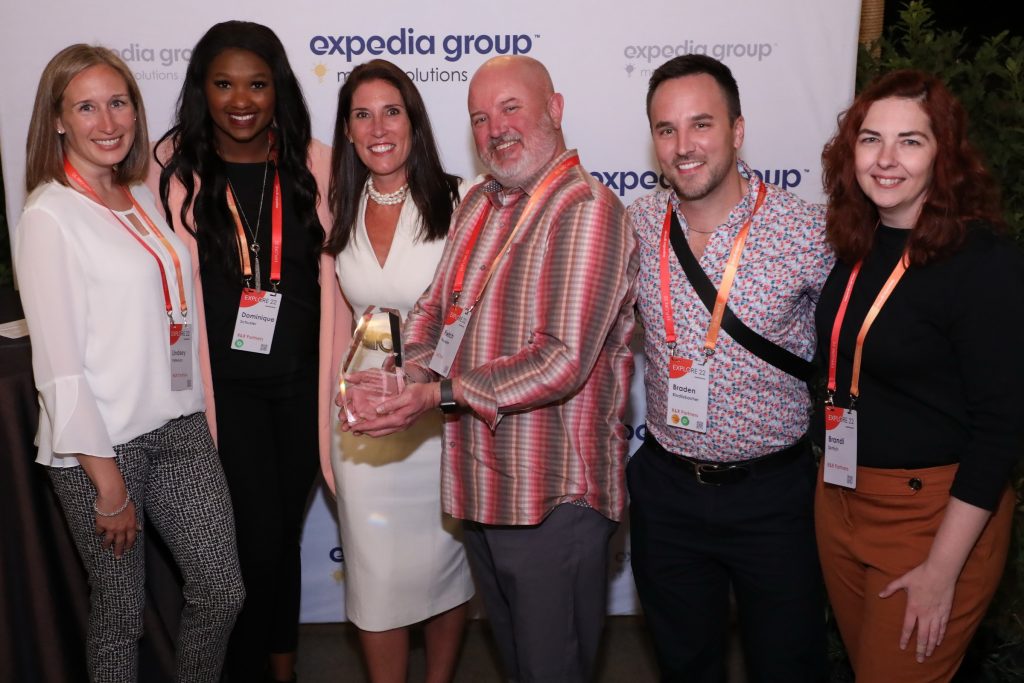 A destination heavily reliant on events, entertainment and tourism, the Las Vegas Convention and Visitors Authority teamed up with Expedia Group Media Solutions on a creative campaign to drive recovery to the city and to create awareness of Las Vegas post-reopening. The team developed a targeted strategy and leveraged Expedia Group's First Party data to measure returning demand and to identify new feeder markets, while incorporating several creative tactics to inspire travel shoppers. With an offsite and onsite display and video advertising approach, as well as a dedicated Travel Spotlights page, the campaign drove Expedia Group US point of sale hotel revenue recovery, Las Vegas market share and search demand beyond 2019 benchmarks.
(All photos by Las Vegas Event Photography)
Year after year, we work with incredible advertising partners from around the world to engage travelers across our platform and we look forward to continuing this work with forward-thinking digital marketers. Stay up to date on our latest news and research by subscribing to our blog, or by following us on LinkedIn  and  Twitter. You can also check out more success stories on our website to learn how advertisers use our products and creative campaigns to get results.