October 12, 2016
There are so many amazing moments that a traveler can experience in Great Britain throughout the year, which is exactly what VisitBritain, the national tourism agency of the United Kingdom, is looking to raise awareness of by collaborating with Expedia. This builds on our previous collaborations, which have spanned more than five years and multiple successful initiatives and award-winning campaigns.
This new campaign, "365 Days of #OMGB" (read: #OhMyGreatBritain) launched this week, and showcases the amazing moments that can only be experienced in Great Britain. The campaign, which spans collaboration across multiple Expedia groups, is truly a full-funnel approach, reaching travelers throughout the consumer purchase journey – from inspiration to education to consideration to booking.
Built around 365 days' worth of content, a bespoke, integrated digital marketing platform illustrates how every day is an #OMGB moment in Great Britain and helps users discover events happening throughout the year, save their favorites, and then plan and book their travel with Expedia.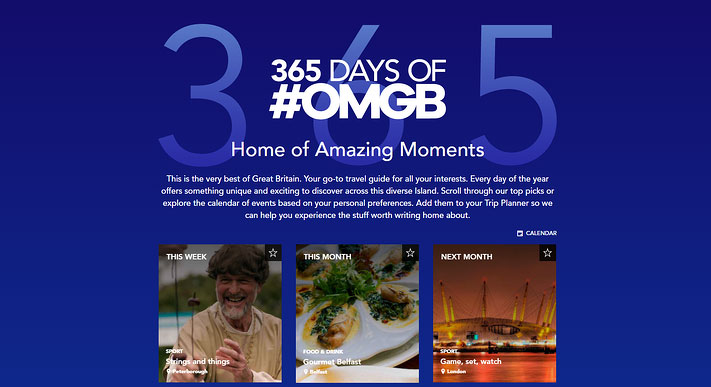 The inspirational and educational platform is rich with interactive content, including a year-round events calendar, and a planner option to save and share your favorite events. For the first time, Scratchpad is integrated into the campaign, so any travel searches a user makes within the 365 platform will be saved in Scratchpad in the their Expedia profile. Users can easily search and book their ideal #OMGB trip with the holistic offerings of travel products – from rail to hotels to activities and experiences – available on Expedia. With exclusive room and package deals from our large network of partners all over Great Britain, travelers can easily find and curate their perfect holiday any time of the year.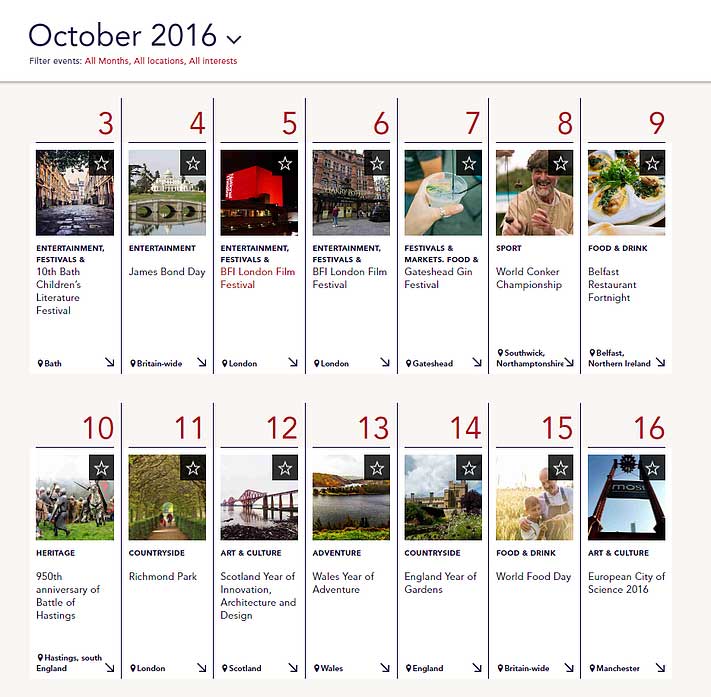 This interactive campaign will market Great Britain abroad to its three largest and most valuable inbound visitor markets—France, Germany and the United States—and will be promoted with display media on Expedia sites in the three markets. Blogger integration will reveal and amplify amazing moments through captured video footage, imagery and blog content that will be shared on Viewfinder and other social media channels throughout the campaign.
Furthering awareness and education, the co-branded marketing campaign will feature interactive video and a national TV campaign starting in the U.S. in January 2017. The videos will showcase a variety of Britain destinations and experiences – from the quaint to the epic, urban to rural, and everything in between.
More to come – but in the meantime, find your own #OMGB moments!