February 17, 2021
According to our recent global research, 1 in 2 travelers feels optimistic about taking a trip sometime during 2021. This data was gathered before the news of vaccine developments at the end of 2020—so, while there is certainly room for optimism, we also acknowledge that the road to recovery will be a long one. For travel marketers, understanding and acting upon shifting travel sentiment will be essential to staying top of mind with travel shoppers and being well-positioned when travelers are ready to book. Additionally, being flexible and adjusting course in response to shifting sentiment is key to executing an ongoing and steady recovery.
A great example of a hotel driving success during the pandemic by remaining flexible and understanding its audience's needs comes from a Mexican resort chain, The Fives. The Fives had a campaign running when COVID-19 first developed; we subsequently paused their campaign to develop a new strategy. The primary goals of their revised strategy were to drive recovery at their established properties and to generate awareness of their newly opened hotel in Puerto Morelos.
We worked with The Fives to develop tactics that would help them achieve those goals based on proprietary, Expedia Group data. The data indicated that, for their market, they would do best to focus on engaging only domestic travelers and travelers coming from the United States. By June 2020, their campaigns were up and running again—with a new and improved focus.
With the help of Expedia Group Media Solutions' flexible advertising solutions, we were able to engage domestic travelers who were dreaming, planning or booking travel with stand-out ads to showcase our beautiful properties. We plan to keep building on our strong campaign results by expanding our targeting when travel restrictions ease!

Jesus Salgado, Director of Ecommerce- The Fives hotels & Residences
Because their strategy hinged on multiple audiences and multiple goals, we used a variety of advertising solutions to capture demand across the customer journey. These included a variety of display ads featured across Expedia Groups' global travel brand sites and a custom landing page for the hotel chain. The campaign also included TravelAds Sponsored Listings—premium placements in hotel search results alongside organic hotel search results—to convert those travel shoppers who are ready to book.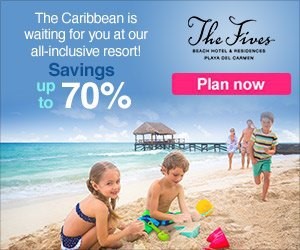 By August their campaign had achieved an impressive return on ad spend of 8:1. The Fives decided to continue with their campaigns to the end of 2020 based on these positive results. They currently plan to continue their campaigns and expand targeting to outside of the U.S. in 2021 when travel restrictions ease.

Data is central to the conversations we have with our partners on a daily basis and is a key ingredient to building personalized strategies. Through data, we can determine which markets to focus on, how and when people are searching for travel, and other considerations. We then measure and interpret that data to help our partners understand the insights and apply the learnings to their marketing initiatives.
How, amidst a global pandemic, was this campaign so successful? Two aspects of this campaign were essential to its success. First, the campaign was designed based on what our data indicated travel shoppers were looking for. In this case, The Fives' target audience was looking for family-friendly, luxury properties that were proactively adhering to health guidelines. Second, our data also indicated that, in the summer of 2020, savings and booking flexibility were major factors for most travel shoppers around the world. We helped The Fives take all of this into consideration as they crafted their ads and built their strategies.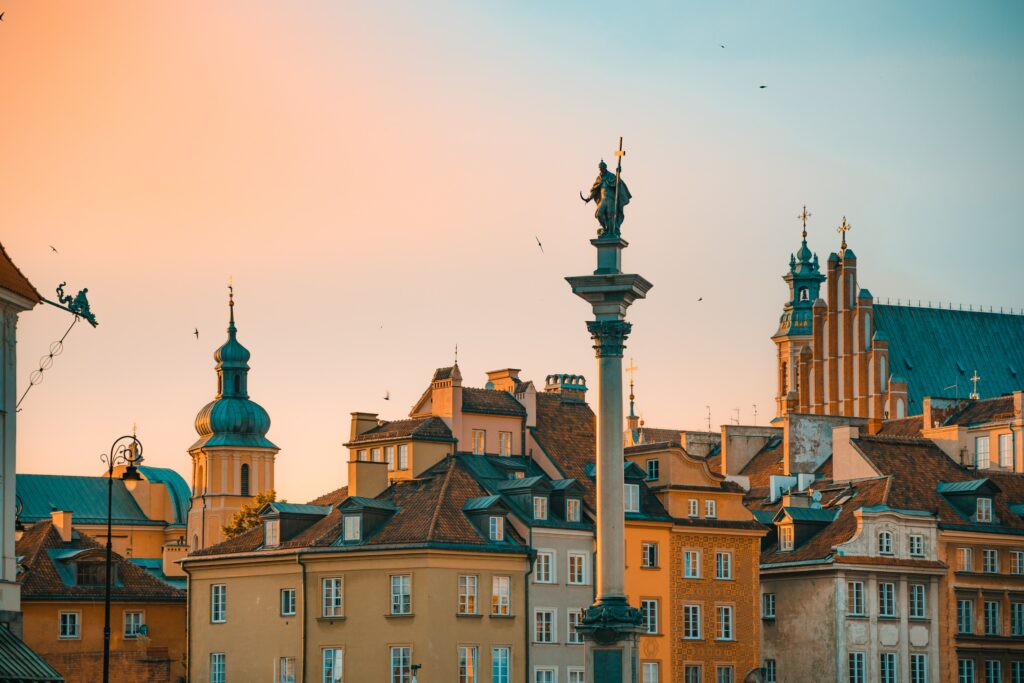 Hotel advertising that can reach any traveler, anywhere
Travelers looking to book a hotel use multiple channels to find their ideal place to stay, from social media to travel websites, and more. This is why it's imperative that you know when — and where — to reach the right traveler. Whether you're trying to reach early-bird or last-minute bookers, our targeting capabilities can help you connect with the right traveler at the right time.
We used data in a similar way to run a successful recovery campaign with the Hyatt Regency Chicago. Market data indicated they would find the most success by targeting drive market, domestic travelers. This insight inspired them to build a campaign around free valet parking—a strong differentiator and high value amenity in the downtown core of Chicago.
Data is the foundation of our advertising strategies. We use data to understand how an advertiser's target audience is behaving and in turn to develop a media plan aligned with the travel shopper's stage.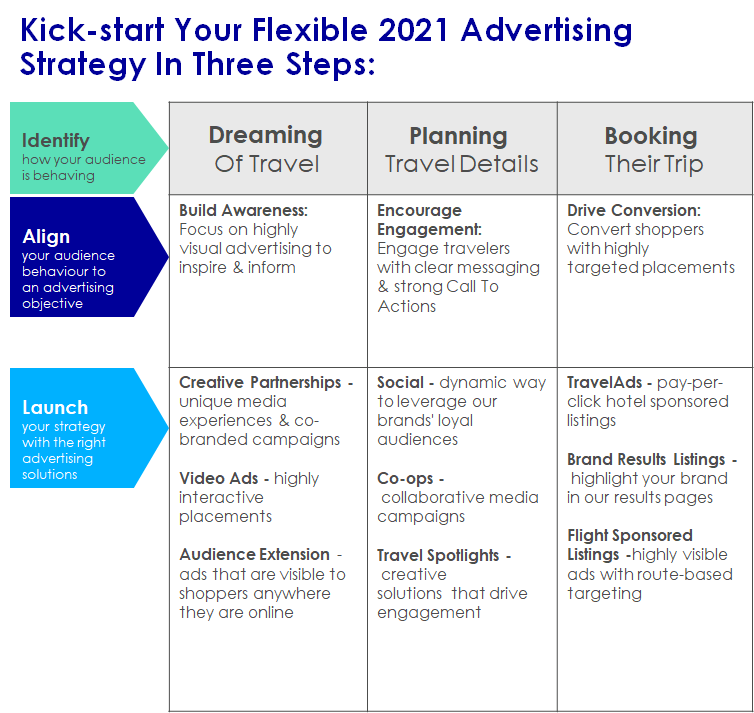 We then identify the advertising solutions that will best support the advertiser's strategy based on their goals and the behaviors of their target audience. For example, if an advertiser's audience includes travel shoppers who have decided on their destination and travel dates, but have not yet booked lodging, we would recommend different solutions than if they are targeting travelers who are still deciding between multiple potential destinations. A mix of two or more solutions will often drive the best results. As discussed above, The Fives' recent campaign used a mix of both our sponsored listings solution, TravelAds, and Display Advertising to engage their target audiences.
Our data is at the heart of what makes our advertising campaigns so successful. Looking across the 300 petabytes of exclusive Expedia Group global traveler intent and demand data, we can help hotels understand who is in their competitive set and how travel shoppers are behaving. By combining our data with custom research, we are able to provide actionable insights to hotel marketers. Our latest global research provides concrete guidance for travel advertisers regarding how and what to communicate with travel shoppers as they build their plans for recovery. Connect with us to learn more about crafting campaigns that are designed to inspire and engage travel shoppers whether they are dreaming, planning, or booking.