November 10, 2020
Like other destinations around the world, Las Vegas is navigating the complexities and uncertainties of the constantly evolving COVID-19 landscape, managing the unpredictable flow of openings and shutdowns of the city's most prominent establishments, and identifying new pockets of demand.
Spurring industry recovery takes collaboration, partnership, and a unified approach with all stakeholders across the ecosystem – from lodging providers to destination marketing organizations and attraction providers – and this is especially true for Las Vegas. Since the onset of the coronavirus pandemic, Expedia Group has been working closely with various Las Vegas stakeholders on technology solutions, data and media partnerships, facilitating partner discussions to solve for local challenges and opportunities, and other strategic initiatives to help support market recovery.
Increasing brand awareness
Las Vegas lodging providers are reevaluating their marketing strategies to align with the changing landscape. As part of their recovery strategy, the STRAT Hotel is using TravelAds Sponsored Listings to increase brand awareness of their "Golden Commitment" to guest health and safety and drive additional occupancy. By prioritizing high placement and conversion in their recovery strategy, the click through rate has continued to be strong, while conversion has increased.
"Since we have used TravelAds in the past, we knew it worked so we wanted to ensure it had a strong role in our recovery strategy. We also knew that customized ad copy would be important during this time to call out key things to our guests during this interesting time," Corporate Director of Revenue Management Robert Bunker said. "We also saw our clicks stay consistent with what we were seeing pre-COVID-19 Q1 2020."
Reactivating a top tourist destination
Working closely with teams across Expedia Group, we engaged Expedia and Hotels.com to support market recovery through a campaign that educated travelers on what to expect when visiting Las Vegas. A dedicated email announced the June 4 reopening of casinos and a Las Vegas Travel Guide communicated information on social distancing guidelines and other measures in place. Key health and hygiene information was also added to the destination landing page. Homepage placements, display media, blog posts, and social placements drove additional awareness for Las Vegas.
Travel shoppers responded positively to the campaign content and showed interest in learning more about Las Vegas.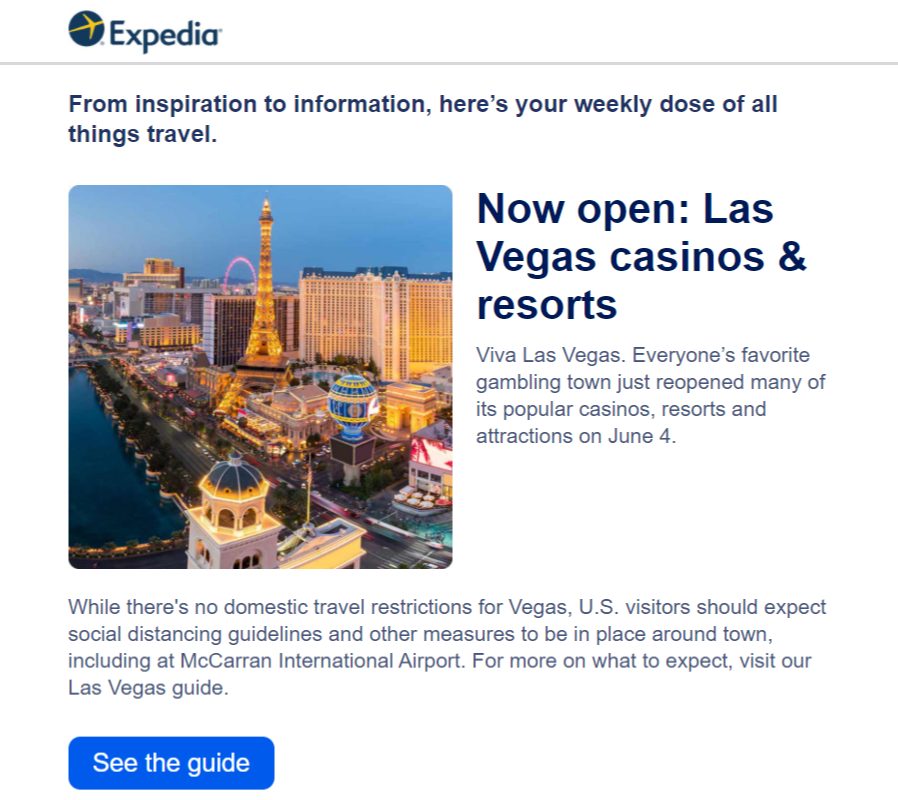 A warm welcome
The Las Vegas Convention and Visitors Authority (LVCVA) has adapted to shifting landscapes in the past; they know that data is their friend when it comes to determining when and how to best encourage and welcome back visitors. Once they understood that people were ready to travel again, the LVCVA partnered with us for a recovery campaign letting travelers know that the city had reopened to visitors. The campaign imagery and copy highlighted socially distant, safe activities and targeted travelers from nearby drive markets and top fly markets. Since launching the recovery campaign in May, the LVCVA has evolved its strategy based on campaign learnings and available data from across the Expedia Group portfolio of brands, which provides insights into current traveler behavior.
"This unprecedented year has dealt Las Vegas steep and unexpected challenges," said Fletch Brunelle, vice president of marketing for the Las Vegas Convention and Visitors Authority. "As a research-based organization, we spend a lot of time learning who our visitors are, where they are coming from and what they want out of their trip to Las Vegas. For the destination to be able to reopen successfully, it's imperative that we apply these learnings to our media strategy and effectively reach those who are starting to plan their travel."
The LVCVA campaign has delivered a strong return on ad spend and steady improvements week-over-week. In July, while many other markets saw a big dip in demand due to a second wave of cases nation-wide, Las Vegas was one of the top booked domestic destinations across the Expedia Group platform, with market share seeing double digit growth in recovery against its competitive set.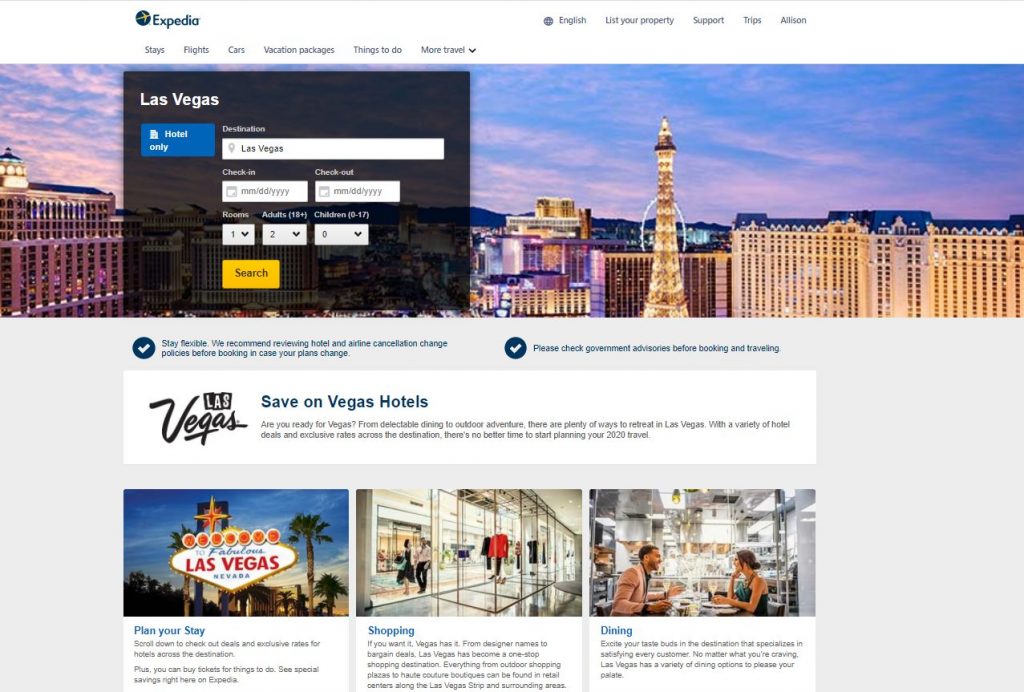 What's next?
For Las Vegas, there's a glimmer of casino-floor light at the end of the tunnel. Expedia Group data showed that during July 20 – August 16, 2020, searches were up by an average of 30% week-over-week, for trips between August and October 2020, and almost all searches for trips to Las Vegas came from domestic travelers. And in October, Las Vegas was one of the most-searched destinations by North American travelers.
We're currently working with Las Vegas hotels and attractions on a Co-Op Campaign to promote a variety of hotel deals and exclusive rates as part of their continued destination recovery. Running now through mid-January 2021, the campaign includes a dedicated landing page, display banners, and sponsored content. Learn more about how our destinations around the world are using Co-Op Campaigns to boost their recovery efforts by watching our on-demand Co-Op Campaign webinar.