October 8, 2020
Our continued mission is to support our advertising partners and the industry at large as they navigate the COVID-19 crisis and look toward reinspiring and recapturing the attention of travelers. One of the ways we are doing that is through our Insights Summits this month. We are excited to hold our annual Insights Summits virtually this year as the this allows even more attendees to join us. During each of the four regional Insights Summits, virtual attendees will hear the latest insights, data, and traveler behavior trends.
We will be holding individual summits customized to each super region.
October 15: Europe
October 20: Asia Pacific
October 27: Middle East and Africa
October 29: North America and Latin America
Each session will include presentations from industry experts as well as panel discussions from regionally relevant travel advertisers. We have received positive feedback from previous Insights Summit attendees who value hearing from a variety of industry peers in a panel discussion. We are therefore excited to welcome a wide variety of partners to join us this year.
Below are some of the primary topics and trends we will be covering.
Travel Trends by Region
If you joined our previous webinars in our COVID-19 series, you saw that we shared a global look at traveler search data from across our Expedia Group sites. We're happy to share that global travel search trends are still on the rise. We'll share an updated look at that global data, but more importantly to our partners, we'll also share regional slices of the trends and behaviors we are seeing from our travel shoppers. We expect that this may help travel advertisers as they are planning their Q4 or 2021 marketing strategies.
Where Travelers Are Headed Next: The Increase of Domestic Travel
While there has been an increase in both international and domestic travel searches, travelers are continuing to show a strong preference for domestic travel by car. We're seeing advertisers successfully align to this preference by running domestic campaigns and targeting travelers who are within a few hundred miles. During our Insights Summits we will share new campaigns from our advertising partners who have capitalized on this trend and successfully reached domestic travelers.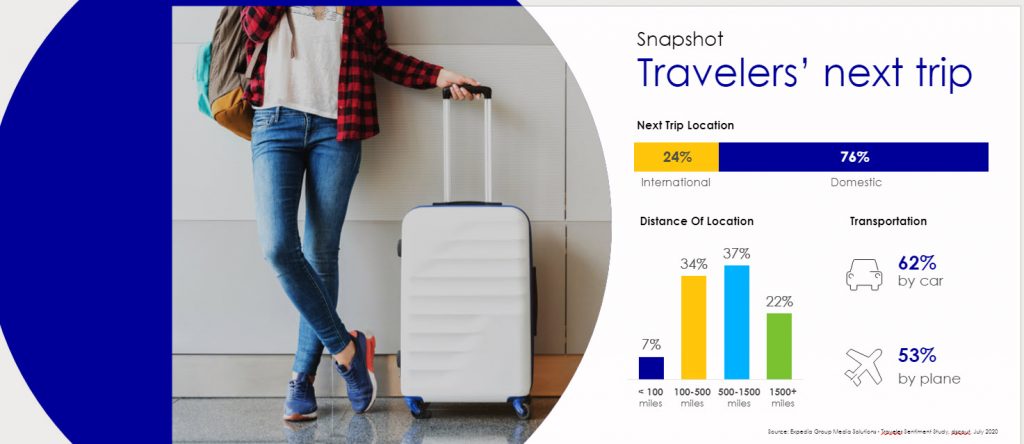 Reconnecting with Audiences: How Advertisers Can Reassure Travelers
Travel advertisers can rebuild trust by reassuring travelers and keeping them well-informed. The most important messaging to travelers addresses health and hygiene. Travel shoppers have increased expectations for cleanliness and they want to know about precautions before they book. Procedures change the travel experience; these precautions and procedures need to be transparently addressed as part of messaging and advertising content.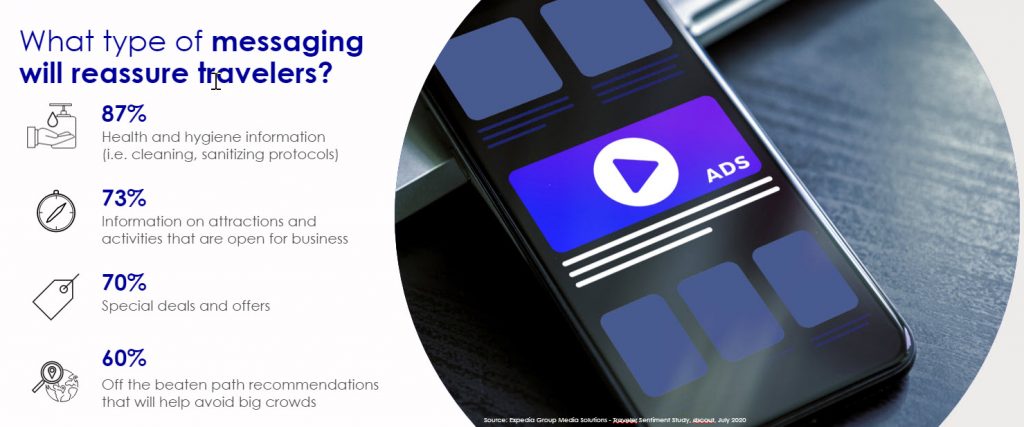 In addition to health and hygiene, travelers are also placing a high priority on discovering which activities, businesses, and experiences are safely reopening amidst the pandemic—particularly those that allow for social distancing. We will share the latest research from our Traveler Sentiment Study and how this applies to our marketing partners across the regions.
Travelers will seek out this information as they begin researching, planning, and booking future trips, so making sure that it is readily found and that it is consistent and transparent is imperative.
Looking Ahead: Advertising Solutions for Recovery
During the Insights Summits, industry experts will discuss three stages of recovery in the travel industry: dreaming, planning, and booking and how advertisers can align their efforts to those stages. We will examine traveler sentiment and preferences in each phase, as well as provide creative guidelines for advertisers who are looking to connect more effectively with travel audiences.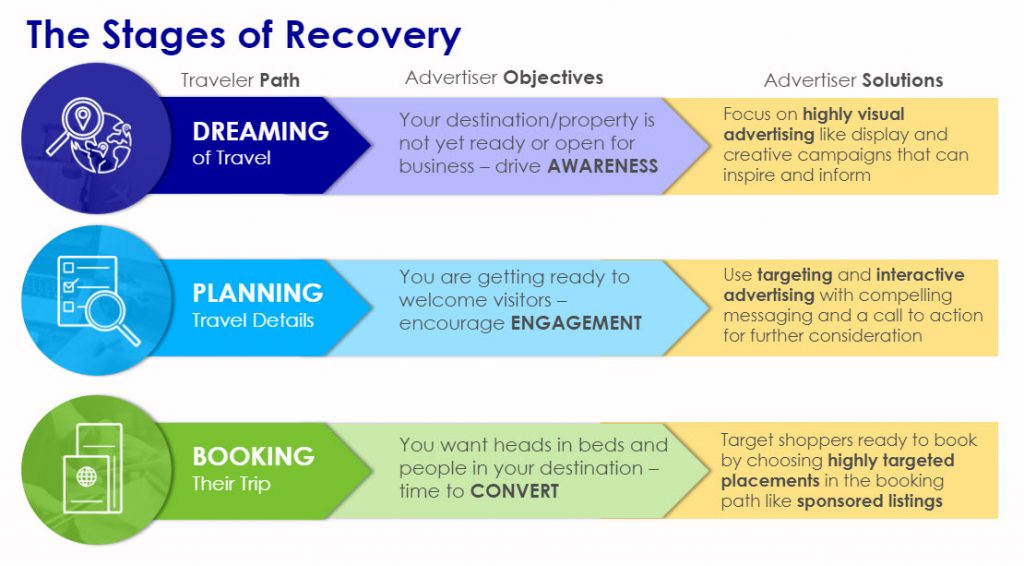 Discover the latest insights, data, and traveler behavior trends that will help you continue your brand's recovery by registering for one of the following Insights Summits: Europe, Asia Pacific, North America and Latin America, and Middle East and Africa.