August 17, 2022
Last week our team attended the U.S. Travel Association's ESTO 2022 conference in Grand Rapids, MI, where we had a chance to learn about up-and-coming trends for destinations from several valuable sessions. For destination marketing organizations (DMOs) that missed the conference, we're sharing our top takeaways.
During the conference, we hosted our own episode of Destination Shark Tank. Our "Sharks" heard pitches of creative campaign ideas from three destination marketers. Congratulations to Visit Panama City Beach, State of Washington Tourism, and Visit Phoenix!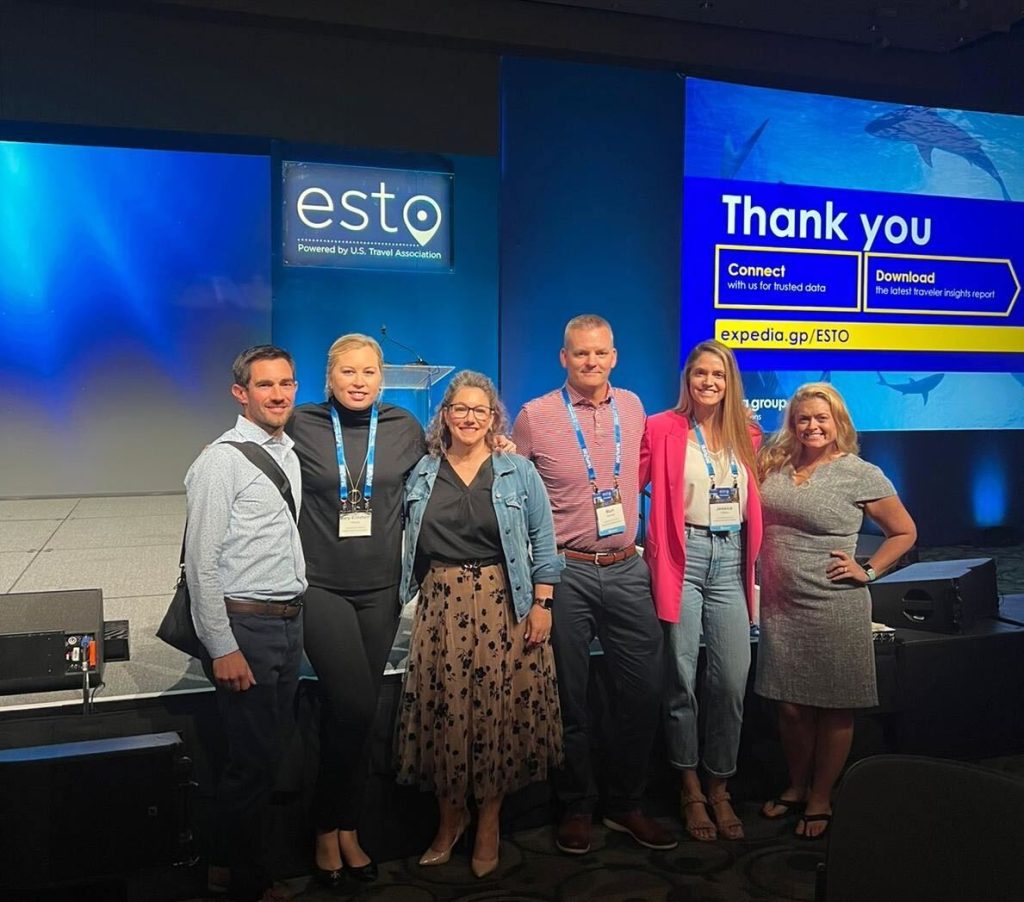 1. Collaboration is a powerful tool for DMOs
Now more than ever, partnerships between destination marketing organizations can be a powerful tool for engaging potential travelers and sparking interest. One example of promotional collaboration came from the Maryland Office of Tourism, who spoke about how they have partnered with DMOs across the state on weekly social media posts with dedicated themes, such as #MainStreetMondays, which showcased local businesses across the state, and #TrailsTuesdays to increase awareness of the Maryland trails systems.
VISIT FLORIDA spoke about how they were similarly able to deploy a unified brand strategy by teaming up with DMOs across the state in a co-op campaign to inspire Floridians to explore new parts of their state. This campaign proved successful, beating the 2024 projections by two years and proving a unified approach can benefit everyone.
Co-op campaigns can allow for a bigger impact by pooling the funding of several destinations. One example of a DMO that partnered with us for a co-op campaign was Auvergne-Rhône-Alpes Tourism, who teamed up with Atout France and seven city DMOs within the area on a co-op campaign to highlight diversity of the region, as well as the unique culture and offerings of each of the featured cities. By uniting their efforts and funds, the destinations were able to work toward a common marketing goal and see strong lodging demand increases across the region.
Co-op campaigns can be particularly beneficial to smaller destinations by giving them a larger presence in the marketplace. By pooling resources for content creation and showing the opportunities throughout a region, destinations can help inspire travelers that may not otherwise visit.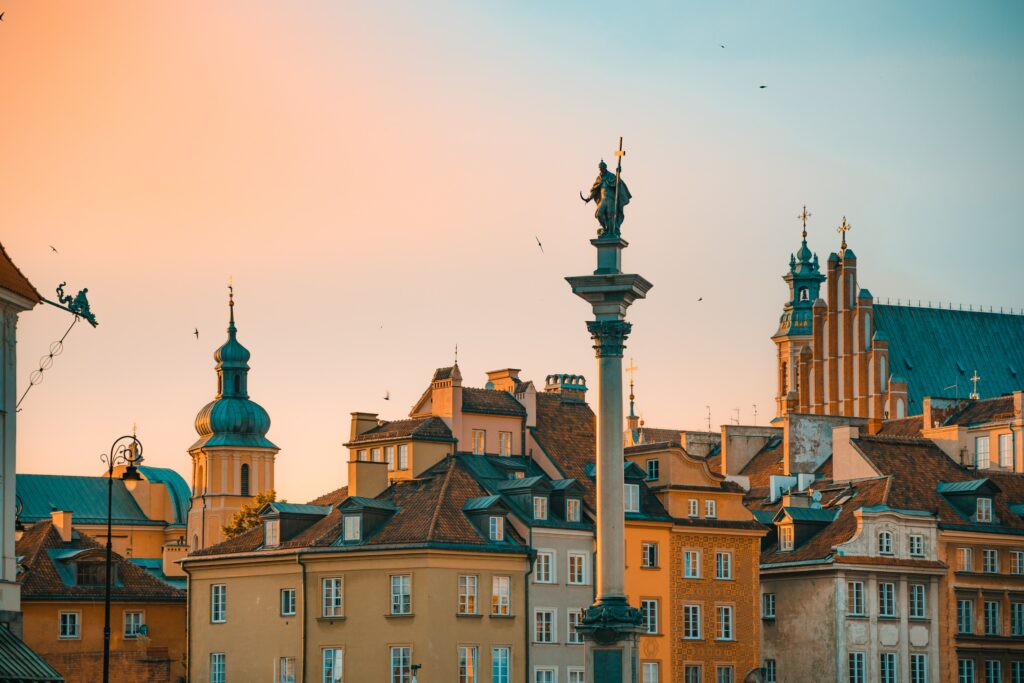 Hotel advertising that can reach any traveler, anywhere
Travelers looking to book a hotel use multiple channels to find their ideal place to stay, from social media to travel websites, and more. This is why it's imperative that you know when — and where — to reach the right traveler. Whether you're trying to reach early-bird or last-minute bookers, our targeting capabilities can help you connect with the right traveler at the right time.
2. Generation Z's new perspectives on travel
Taking up 32% of the population and controlling $360 billion in buying power, Generation Z is quickly becoming a powerhouse for all businesses, including travel. JUV Consulting, a Gen Z marketing agency, spoke about what Gen Zs care about and how they think about travel.
The content that Gen Z is looking for and where they're accessing it is essential for DMOs to understand. According to our study on How Younger Generations Are Shaping the Future of Travel, 77% of Gen Zs are open to destination inspiration. But how you reach them is key — JUV Consulting shared that Gen Zs are drawn to niche content and unique experiences, rather than the traditional tourist spots. For travel inspiration and planning, they're using platforms like TikTok and Pinterest. According to JUV's data, 46% of Gen Zs get most of their travel inspiration from social media.
Additionally, regenerative travel is important to Gen Z. Many travelers in this generation are concerned about the environmental impact of their trips and want the brands they interact with to share these values and limit their impact. One example of a brand that does this well is Amtrak. Through sharing information about their limited environmental impact and options for working while in-route, Amtrak speaks to and engages Gen Z.
Looking forward, Gen Z is bound to have a large impact on the evolution of the travel industry, as they seek flexible travel options, regenerative tourism, and inclusive brands. For more information on the latest travel insights around sustainability and inclusive travel, check out our Sustainable Travel Study and Inclusive Travel Insights Report.
3. Rural tourism and hidden gems are on the rise
The rise of over tourism and the desire to escape crowds with the pandemic sparked a strong interest in rural tourism. As travel has picked back up, the interest in rural tourism and finding "hidden gem" destinations has remained.
Amy Zeigler, State Tourism Manager at the Iowa Tourism Office, explained how Iowa used digital state park passports to increase interest in exploring the rural areas of Iowa. Partnering with Travel Iowa, they released the passports in June 2020 for the 100th anniversary of the state park system, encouraging travelers to explore new areas. The campaign proved successful, resulting in 25,000 sign-ups and 50,000 check-ins. Due to the success, Iowa extended the passports to create ones for beer, wine, and distillery tastings.
The South Dakota Department of Tourism similarly launched a passport program several months ago, with the objective of highlighting every area of South Dakota to disperse travelers across the state. They put together a hidden gem location program, coordinating with state partners to include destinations across the region. As a result, 75% of locations have received check-ins from every region.
Data from our Sustainable Travel Study shows that consumers are increasingly looking for opportunities to travel sustainably and access off-the-beaten-path experiences in their future travels. As destination marketers think about the value that their location has to offer, it's important to consider how they can best showcase lesser-known spots.
If you're interested in learning more about the latest trends in traveler behavior, download our recently released Q2 Traveler Insights Report to learn more about how your brand can connect with travelers. We hope to see you next year at ESTO 2023!