March 24, 2016
These days, shoppers have seemingly endless options for researching and purchasing a hotel online. Travelers use many different kinds of sites to make their travel plans, including Online Travel Agencies (OTAs), hotel brand sites, and meta search. In the majority of cases, travel shoppers are visiting each of these categories prior to completing a hotel booking.
With this complex landscape, we wanted to understand what the various paths shoppers took through each of these channels revealed about where they ultimately ended up purchasing a hotel. In partnership with Millward Brown Digital, we looked at over 28 million instances and 144 scenarios of how people are searching for hotel travel to highlight key consumer behaviors and surface areas of opportunity for travel marketers.
What we found was that while hotel brand sites dominated the purchasing phase, the point of inspiration in the hotel space—the first travel site visited and where people begin their shopping journey—was a bit more diverse, split among OTAs, meta, and hotel sites. During this initial stage, 40% of shoppers began on hotel websites, while 39% started with OTAs, and 21% began with meta search.

In the research and consideration phase, these numbers shifted rather significantly, with nearly half of all shoppers visiting OTAs, at 49%, while hotelier sites and meta received 36% and 14% of visits, respectively. This tells us that for hoteliers, OTAs play a significant role throughout the research and consideration stage of the travel consumer's journey to purchase, offering hotel marketers a channel to influence shoppers throughout the process.
In examining the top 10 most prevalent hotel shopping scenarios (which accounted for nearly 40% of the scenarios and 11M individual paths) it was found that five of these top ten journeys started on a hotelier's site, while four of these ten began at an OTA, and one out of the ten most popular journeys initiated with meta. And although 70% of purchases were made at hotel sites, while 30% were with an OTA, a full 70% of the top ten shopper journeys included OTAs at some point in the middle.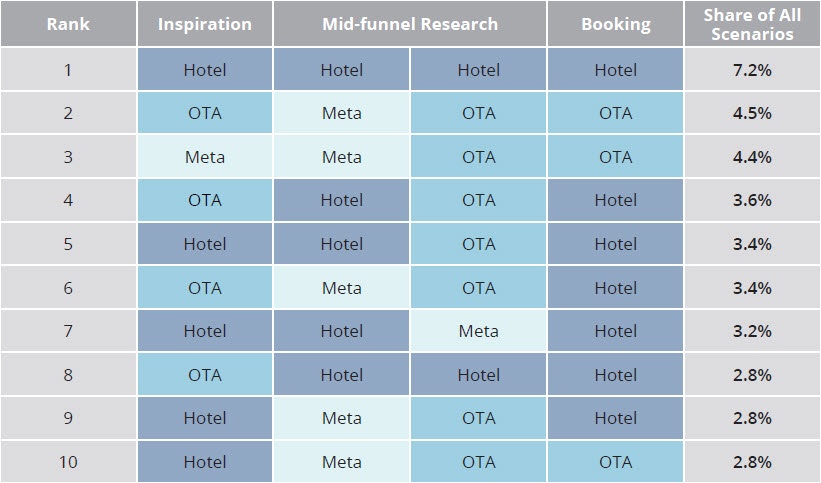 Another key observation to come out of our study was the fact that, while hotelier sites were the leading inspiration and purchase points, shoppers did not necessarily book on the same hotel brand site as where they initiated their shopping journey.
These are only a few of the many findings of our Traveler Attribution study, which our latest whitepaper, A Roadhmap to Traveler Attribution outlines in great detail. In it, you'll find vital insights on how to leverage the findings of the study to inform your strategy, as well as more details on what the most common travel consumer purchasing journeys can teach us as an industry. {{cta('35dbb1fc-9ac5-4994-9737-a48d2880bf22′)}}