December 5, 2019
I believe every brand has a story, and every story has a hero. While there are many ways to bring this story and hero to life, one way we do this is through our Creative Partnerships (CP) team. As part of this team, I help our travel advertisers create customized and engaging stories. In part, that means marrying digital media with innovative techniques to showcase the uniqueness of our clients. It also means we help clients connect their story with travelers across our network of sites. The result is a bespoke campaign that helps advertisers reach their goals by blending creativity and technology with strategic exposure.
Interactive Content and Interactive Channels
Interactive content generates two times more conversions than passive content, according to Kapost. That's why we try to use it in many of our CP campaigns. One of my favorite examples of this is Palace Resorts' eye-tracking campaign.
An all-inclusive resort in Mexico and the Caribbean, Palace Resorts pampers guests with a world of luxury and amenities. Almost anything guests need, they can get. This makes for a wonderful, worry-free, vacation, without guests lifting a finger. In fact, "Never Lift a Finger" was their slogan.
Collaborating with Palace Resorts helped bring the campaign to life around this slogan. The creative played on the idea that once guests arrive to a Palace Resorts property, everything is taken care of, and is at guests' fingertips. The campaign included a custom microsite, featuring a video quiz that matched site visitors to their ideal Palace Resorts property using eye-tracking technology.
Visitors to the microsite saw two parallel videos playing next to each other that included a variety of themes, like: trip type, activities, experiences, cuisine, and entertainment. Then, the videos prompted guests to use their eyes to make selections. They also prompted users to grant access to their web camera, which enabled them to opt in for the eye-tracking software experience.
Puglia Travel Flavors is another campaign that inspired travel shoppers with a custom, interactive microsite. The site provided visitors with a "pairing menu" of dishes from different locations within Puglia, and featured short videos showcasing preparations of each dish, as well as various, scenic locations within Puglia.
Visitors to the site are invited to make selections of their favorite dishes from antipasti, primo, and dolce menus. After making their selections, they were presented with a custom itinerary based on their dish choices and provided additional pathways to explore their journey further.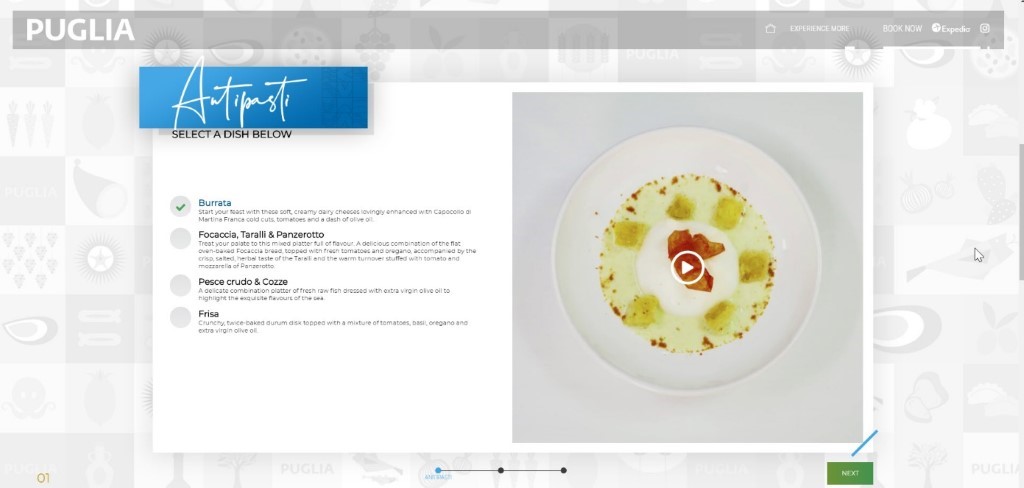 Two recent campaigns used interactive marketing channels in new ways, thereby demonstrating the power of networks and influencers. Can You Kenya leveraged the power interactive channels by using social media influencers to demonstrate the incredible diversity of activities that are available in Kenya. The campaign affirmed the followers of a travel-influencer couple as they entertained potential activities; followers were asked to vote on what they should do. The couple then documented and shared their adventures via social media.
A second campaign that is equally innovative and driven by interaction is Moments in Morocco. This campaign also tapped influencers to uncover and share unique itineraries. These talented content creators were identified for their ability to capture and share moments in a compelling way that could then be turned around and shared by travel shoppers with their networks. The end result was five digital postcards based on the video and photographic content shot by the influencers.
Emerging Technologies
The evolution of technology means there's often something new out there—you just have to know where to look. To provide clients with new ways to captivate audiences means we must stay informed of these emerging technologies.
These new tools often connect more deeply with audiences precisely because people haven't seen them used before or very frequently. This dynamism helps clients craft new and powerful stories. For example, Arizona Office of Tourism's virtual reality campaign tapped into virtual reality to engage audiences. Hawaii Tourism Authority's facial recognition campaign tracked how users reacted to various landscapes to help build their perfect, scenic trip.
Visit San Antonio (VSA) is a DMO (destination marketing organization) that used a new video technology to showcase what San Antonio has to offer. They worked with Advrtas in an interactive approach that represented the first domestic tourism campaign featuring 360-degree video content within Interactive Advertising Bureau (IAB)-compliant banner ad units.
Like Palace Resorts, VSA had a slogan that anchored the messaging and creative features: "My Day in San Antonio." The campaign prompted people to engage with 360-degree video footage within the ad units. By clicking on hotspots within the video, users discovered a variety of San Antonio locations and experiences. As users engaged with the hotspots and explored the content, the banner ad transformed into a "choose your own travel adventure" quiz, in which viewers planned their perfect day in San Antonio. After creating their perfect San Antonio adventure, the campaign delivered a personalized itinerary to users based on their choices and entered them in a contest to win a trip to San Antonio.
These are some of the successes our Creative Partnerships clients have enjoyed. Download our Creative Partnerships Guide to learn more.