July 5, 2022
At Expedia Group Media Solutions, our purpose is to help our global partners grow their business and provide them with a clear route to reach, engage, and convert travelers. This is why Accelerator is such an important part of our advertising solutions portfolio.
A pay-per-stay advertising tool,Acceleratorhelps you quickly adapt as markets shift and traveler preferences change. The flexibility that Accelerator offers allows you to start, stop, or adjust your campaign at any time. And if budget is a concern, we've got you covered — you can use Accelerator to boost your hotel's visibility in search results without any upfront costs.
Maximize bookings while minimizing spend
Our hotel visibility tools are built to help you raise the profile of your property with travelers who are looking to book.
You might already be familiar withTravelAds Sponsored Listings, an advertising solution our hotel partners use to boost their hotel in search results. TravelAds is a pay-per-click model that also lets you create customized copy and images. It's a solution that hotel revenue managers frequently use as part of their long-term strategies, and they work with one of our digital media experts to ensure their advertising campaigns are well managed.
---
---
Because we know that many of our partners have more immediate needs that can fluctuate and often don't fit within the parameters of a long-term hotel advertising strategy, we built Accelerator as another solution to help our partners boost visibility during key stay dates.
Here are some key areas where Accelerator's pay-per-stay model can help:
You're only charged when a traveler stays at your property.
You don't need a budget to raise the visibility of your hotel.
You determine the duration of your campaign and can start, stop, or adjust at any time.
Your ads run on websites where travelers are looking to book.
You can get predictive reporting on how your ads will perform before committing any funds.
Since you don't need a budget to enable Accelerator, it also helps hotels reduce financial risk with the pay-per-stay model. This feature makes Accelerator an ideal option for anyone looking to experiment with paid marketing in a low-risk environment. This can be particularly beneficial to smaller properties that are trying to keep up with larger chain hotels. Rather than having to earmark a predetermined budget to support your marketing strategy through the year or a specific season, you can launch a campaign when you have a high need to fill rooms. Then, when you need to, you can stop and adjust your campaign to continue to meet your goals.
With this approach, our partners are also able protect their revenue in cases of any cancellations or closures. And we've simplified how you get paid: Once a stay is completed, we automatically reconcile bookings with your compensation level and pay you with the system you have in place.
Fill empty rooms by targeting last-minute travelers 
Accelerator is especially effective when you're trying to target travelers with short booking windows. Because your campaigns can be created quickly and allow for check-in date targeting, by boosting your property's sort position, you can reach highly engaged travelers. We know from our exclusive first-party data that 66% of bookings are made for properties in the top 10 search results, making Accelerator a valuable advertising tool when trying to reach these last-minute bookers.*
Using Accelerator also helps you reach more travelers without having to offer a discount. Rather than reducing rates to grab travelers' attention, a higher position in the sort order can get you in front of travelers without having to compromise on your rates.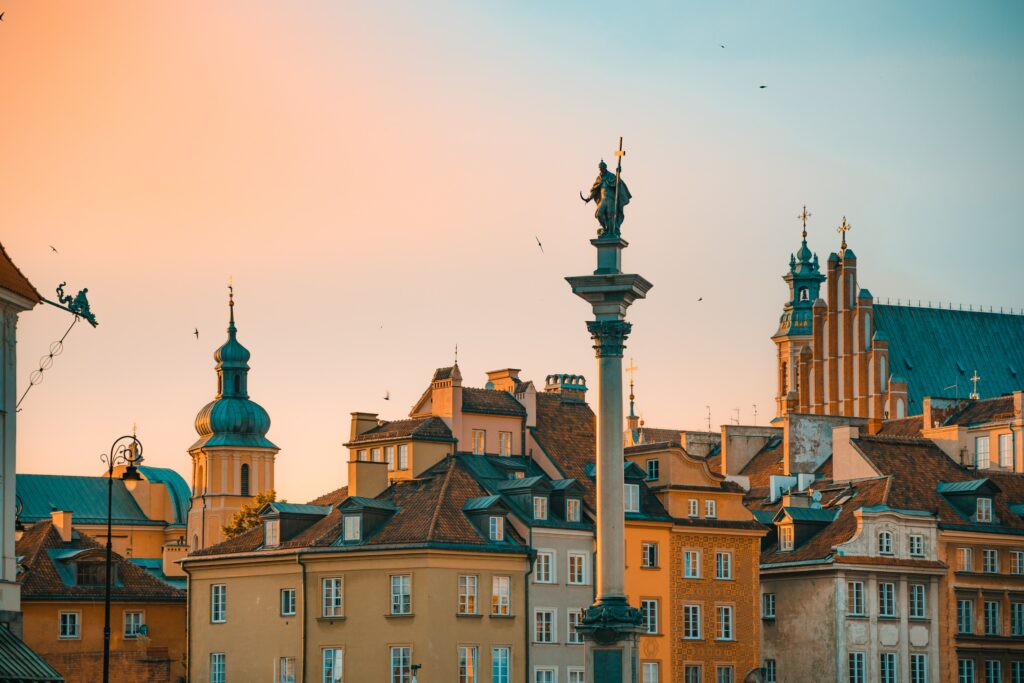 Hotel advertising that can reach any traveler, anywhere
Travelers looking to book a hotel use multiple channels to find their ideal place to stay, from social media to travel websites, and more. This is why it's imperative that you know when — and where — to reach the right traveler. Whether you're trying to reach early-bird or last-minute bookers, our targeting capabilities can help you connect with the right traveler at the right time.
Analyze predicted results before committing
How much compensation override does a partner need to add to get its property into the Top 10 search results? Our potential sort order simulation graph shows the predicted placement for a property based on targeted dates and a set compensation override amount. You can adjust this amount, and the dates, to see how the predicted results change, allowing you to craft a marketing strategy that will meet your goals. Plus, campaigns are easy to start, stop or adjust at any time, meaning that you retain full control.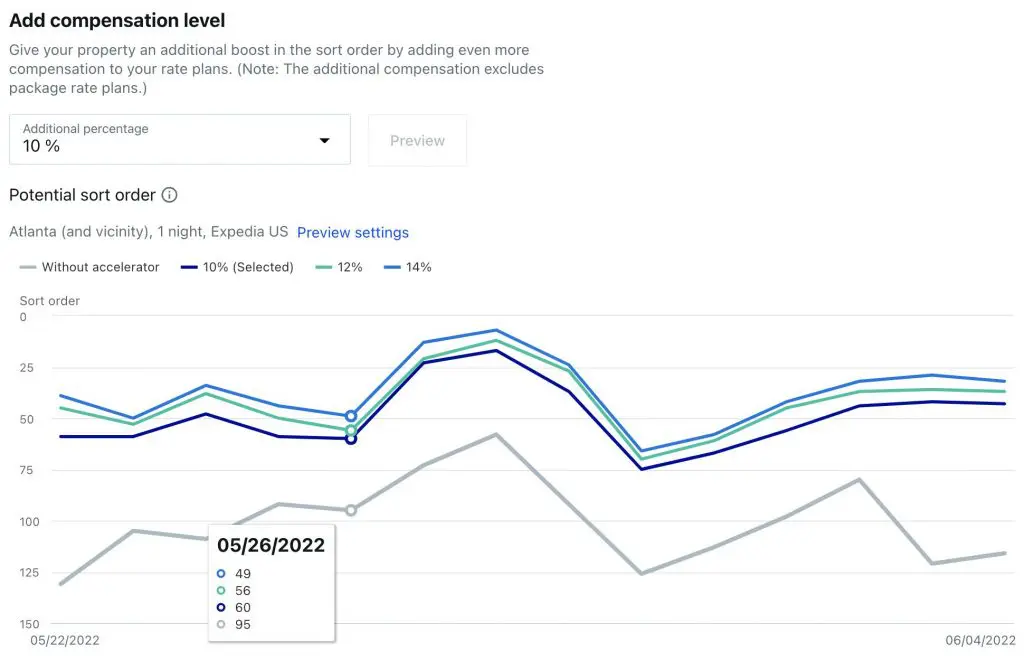 Spend less time managing campaigns and more time with guests
After you select the targeted dates and compensation override amounts, Accelerator campaigns are ready to be published. There's no need to write custom copy or add images. That's because Accelerator boosts the position of your organic listing, which already exists, and ensures your listing is more visible to potential guests.
Getting started with Accelerator   
Accelerator is a quick, flexible, and cost-effective self-service solution to boost your listing's visibility. Getting started is easy, all you need to do is:
Log in to Partner Central.
Review your predictive results.
Determine when you want your campaign to run.
Track bookings, page views, and search impressions.
Launch your campaign and then pause or adjust at any time.
Get paid: We automatically reconcile bookings at your compensation level and pay you with the system you have in place.
Combining Accelerator and TravelAds
Accelerator and TravelAds are powerful advertising tools on their own but can deliver even more results when used concurrently.
When travelers are looking for a place to stay, there are a lot of considerations that contribute to their decision. To understand how travelers' behaviors are influenced on their path to purchase, we conducted research with more than 5,000 participants in seven countries that analyzed more than 70,000 digital online behaviors to better understand how people are inspired to travel, research, and book trips.
We know that when it comes to hotel advertising, there isn't a single strategy that works for every property. In the same way, there isn't a single property that's right for every traveler, which is why it's essential to ensure your hotel is in front of the right traveler, and at the right time. Where Accelerator and TravelAds each offer unique capabilities to help you reach these travelers, using these two solutions in tandem increases your visibility and helps you convert travelers.
Start connecting with your ideal traveler
Being able to reach the right traveler at the right time is a priority when it comes to filling rooms, and with Accelerator you can have your campaigns up and running in minutes.
Are you ready to get started? Contact one of our digital media experts today or log in to Partner Central to build your campaign.
*Expedia Group, 2022