At Expedia Group Media Solutions, we are continuously growing and innovating to help our hotel partners around the globe to reach, engage, and convert travel shoppers. The latest innovation we're excited to introduce to the Expedia Group Media Solutions portfolio is Accelerator, a budget-friendly, pay-per-stay advertising tool that boosts a listing's sort position. 
Maximize bookings while minimizing spend
You might already be familiar with TravelAds sponsored listings, which is another advertising solution our hotel partners can use to engage travel shoppers. TravelAds are great for long-term strategies and allow for a lot of customization but can be more of an investment and require partnering with a TravelAds expert.
Accelerator, on the other hand, is a self-service solution that's easy and quick to set up and offers a few unique capabilities. For one, Accelerator enables hotel partners to boost their property's position in search results, helping them to reach and convert more travel shoppers. Second, because payment is made with the compensation hotel partners earn from bookings, no marketing budget is required. This is great news as the world continues to recover and rebuild, as the pay-per-stay model helps partners protect their revenue in the case of any cancellations or closures. This feature makes the tool a great option for anyone looking to experiment with paid marketing in a low-risk environment.
Fill empty rooms by targeting last-minute travel shoppers
Accelerator helps our hotel partners target travel shoppers whether they're looking two days or two months from now. In particular, Accelerator campaigns are a terrific way to target travel shoppers looking to make last-minute bookings because the campaigns can be created quickly and allow for check-in date targeting. By boosting your property's sort position, you can reach these highly engaged travelers who are more likely to find and book a stay. In fact, according to our first-party data, 66% of bookings are made for properties in the top 10 search results (Expedia Group, 2022).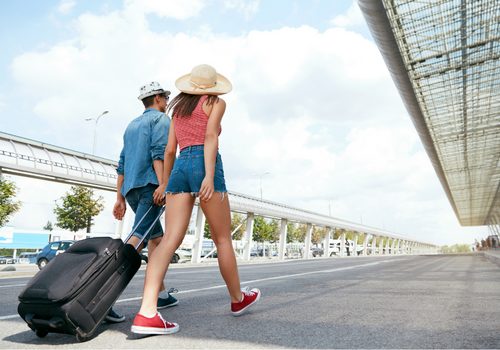 Create compelling campaigns for your destination
With travel demand on the rise, destination marketers have the opportunity to reach eager travelers.
Destination marketers can take advantage of our insights into traveler behavior to connect with travelers, create excitement about their destination, and build compelling campaigns to stand out from the competition.
Analyze predicted results before committing
How much compensation override does a partner need to add to get its property into the top 10 search results? Our potential sort order simulation graph shows the predicted placement for a property based on the targeted dates and set compensation override amount. A partner can adjust this amount, and the dates, to see how the predicted results change, allowing them to craft a marketing strategy that will help them reach their goals. Plus, campaigns are easy to start or stop at any time, so partners have full control.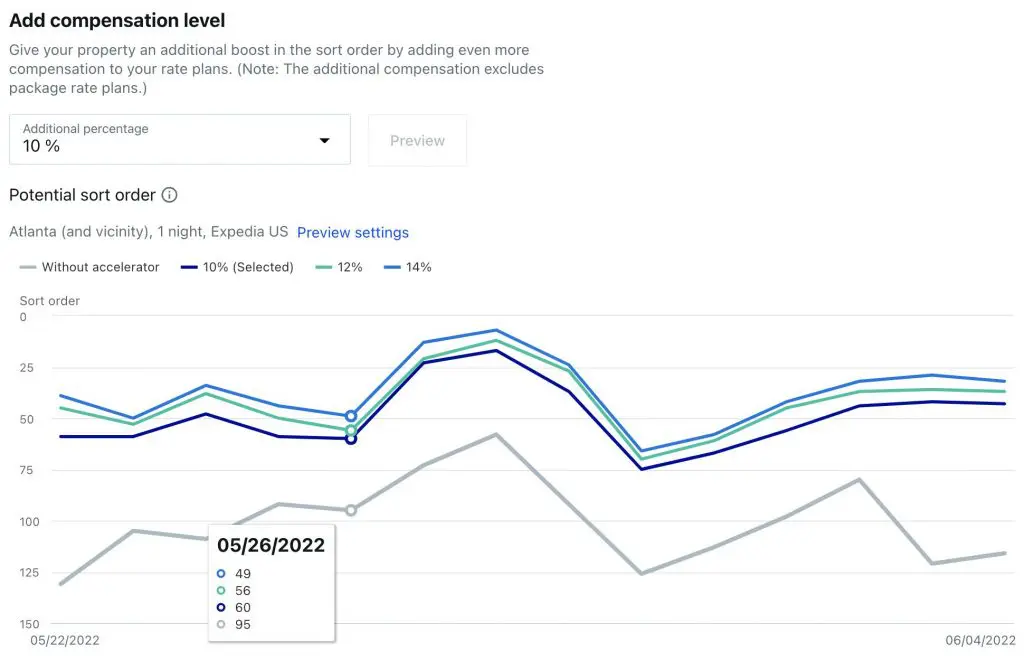 Spend less time managing campaigns and more time with guests
After selecting the targeted dates and compensation override amounts, Accelerator campaigns are ready to be published. There's no need to write custom copy or add images. That's because Accelerator boosts the position of your organic listing, which already exists. The solution simply ensures the listing you already have is more visible to potential guests.
We know that creating a top-notch guest experience is key for our hotel partners; Accelerator campaigns take only minutes to set up, allowing partners to spend more time with their guests.
Accelerator campaigns are a fantastic way for hotel partners to increase their property's visibility so that it can be seen and booked by more travelers. Learn more about Accelerator or log in to Partner Central to create a campaign today.