December 1, 2020
Co-op marketing or advertising is not a new concept, but with tighter budgets all around, especially in the travel industry, pooling funds with others can be a great way to make a big impact.
Co-op marketing is a collective advertising effort made by multiple brands with common marketing goals. We offer a Co-Op Campaign solution that helps brands come together and extend their marketing spend by purchasing shared display advertising. Going beyond our core Co-Op Campaign solution, we have seen some advertisers apply creative thinking to their campaigns by incorporating one of our newest solutions, Travel Spotlights. Developed by our Creative Partnerships team, this collection of products encourages travel shoppers to explore and engage with brands through elegant and impactful premium landing page experiences.
From our recent research, we know that travel shoppers are coming to our sites to be inspired (and book!). And, Travel Spotlights provide many opportunities to do both.
As many destinations in the Caribbean and Mexico are reopening to international visitors, hotels across the region want to ensure travel shoppers know they are back in business and ready for travelers. In partnership with ten hotels across the region, we recently launched a new Travel Spotlights campaign, Top 10 Winter Sun Destinations, to promote ten places (and ten properties) travelers can book now and travel to this winter to escape the cold.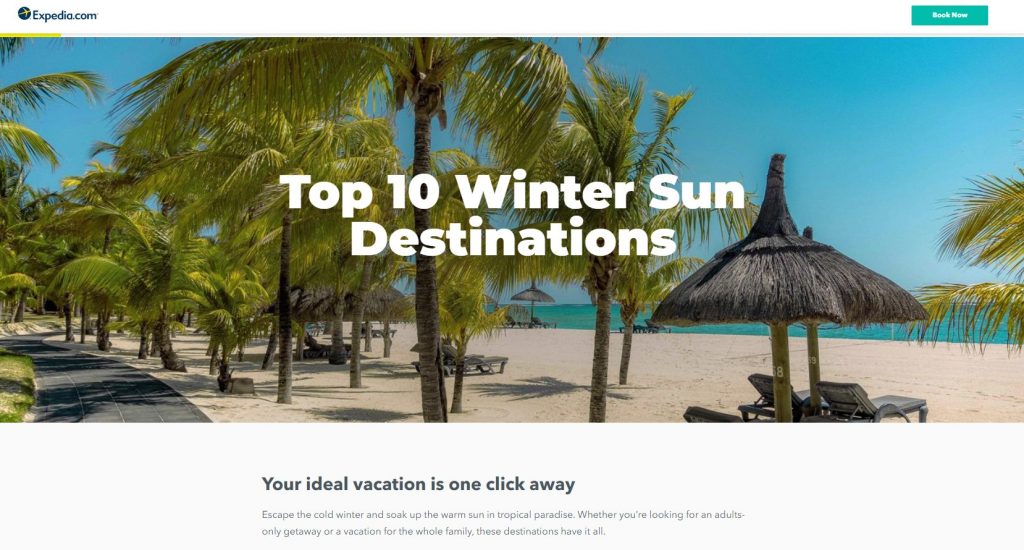 This beautiful landing page is presented in a Listicle format designed to highlight a destination's unique features. The Top 10 Winter Sun Destinations campaign, which runs through mid-January, is being promoted to travel shoppers from the U.S. on Expedia.com through native advertising placements across the site. The campaign specifically targets travel shoppers who are considering Mexico, the Caribbean, and Latin America as well as sunny destinations in the U.S. like Florida and Hawaii.
To learn more about Travel Spotlights, we encourage you to watch the recording of our recent webinar.