September 22, 2020
As an industry, we continue to navigate the impact of COVID-19 together. Brands around the world are looking for insights and guidance on appropriate strategies to connect with travelers who may still be dreaming of their next trip or are beginning to book again, but traveler preferences aren't what they were six months ago.
We recently conducted a sentiment study with research experts dscout to understand what is driving decisions for today's leisure travel shoppers and we're sharing our findings via webinars, virtual events, and a series of blog posts. Our first two posts covered overarching trends and accommodation preferences, which have evolved over recent months. Along with changes in accommodation preferences, trip transportation, and destination considerations are also evolving, as travelers look to balance their desire to travel with external factors.
The research reaffirmed what we were seeing in our Expedia Group data – travelers are planning more domestic trips, traveling closer to home and at this time, are more likely to drive than fly. For planned trips through December 2020, 62% of travelers will go by car and 53% will travel by plane.
The return of the road trip
When comparing pre-COVID-19 preferences with future leisure travel transportation, the likelihood of travelers getting to their destination via car increased dramatically.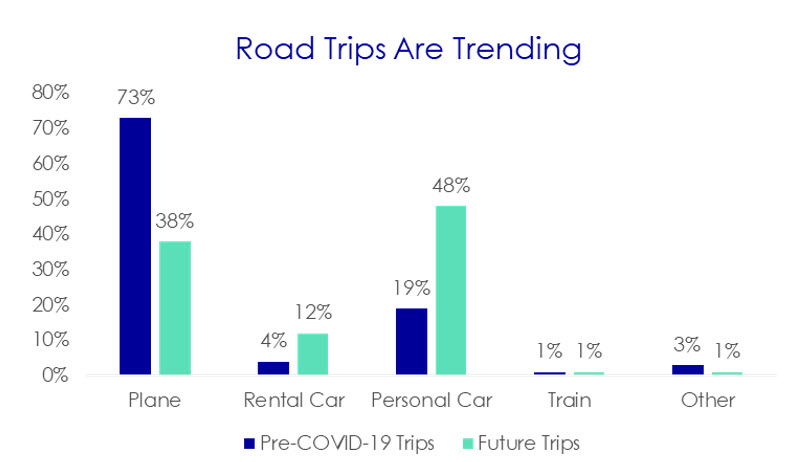 For future leisure trips, the role of the personal car is more than two times greater than pre-COVID-19 trips, while the likelihood of renting a car for is three times higher, representing a significant opportunity for rental car companies. With the recent uplift in car travel, targeting travelers from drive markets – and beyond – can be an effective way to drive demand and support the tourism economy.
"The destinations I'm thinking about are destinations that are within reasonable driving [distance], because that seems like the safest way to get around right now… Destinations that are within one day to two days of driving. I'm willing to drive further than I typically would prior to COVID-19." – dscout survey respondent, July 2020
The open road
With the insight that travelers are staying closer to home during COVID-19, Avis-Budget wanted to target domestic travelers in their new campaign, Hit the Open Road, featuring six of the most inspiring U.S. road trip ideas. Our team of digital media experts identified Travel Spotlights as the ideal solution to showcase the road trip ideas through an elegant and impactful premium placement. Driven by beautiful imagery and interesting content, the site integrates reassuring messaging and encourages customers to embark on a road trip as soon as it is safe to do so.
Staying local
As the months have passed, many destinations have set their sights on attracting locals and antsy travelers who are looking for a change of scenery are opting for staycations and even work-staycations for a change of scenery. Travelers who are dreaming of distant lands but are unable to go far are exploring their own backyards.
In July, we launched a campaign with the Atlanta Convention & Visitors Bureau welcoming visitors back to Atlanta following travel restrictions from COVID-19, with a focus on regional visitors and locals.
The campaign offers travel packages aimed at inspiring travelers to safely enjoy Atlanta as tourism gradually increases, including hotel deals and promotions – such as complimentary breakfast and parking, special pool packages and other amenities, discounted entry rates at nearby attractions through Atlanta's CityPASS program, and retailer and restaurant savings.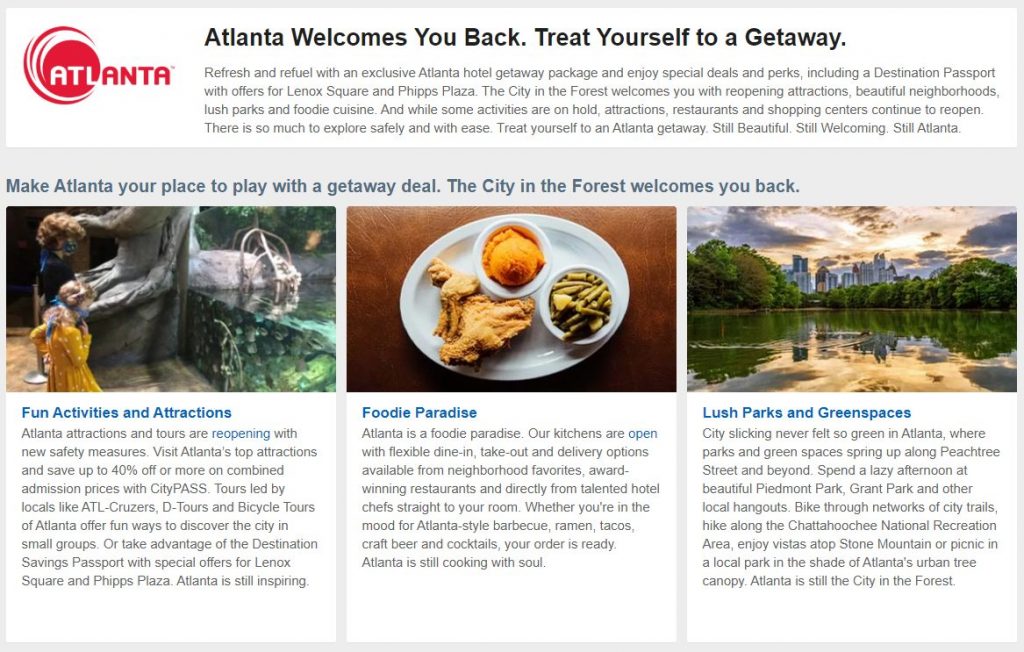 After the first six weeks of the campaign, traveler demand increased nearly 35% and revenue increased by 20%, while room night demand increased by more than 40% and ADR increased by almost 1%. The campaign also generated more than a 20% increase in airline ticket demand.
Open-air experiences
Martin County, Florida recently ran a display campaign on Vrbo promoting the destination as a great place to "Escape the Crowds" and used beautiful imagery of their beaches to convey open outdoor spaces and activities.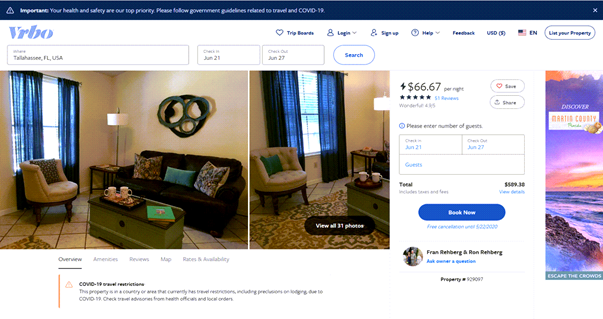 Vrbo offers a unique audience for advertisers – it is top of mind for families searching for the perfect place to stay on their next vacation and more than 65% of Vrbo bookers travel to their destination by car, though that number is likely much higher amidst the pandemic.
On the horizon
The dscout research revealed that 99% of people would be willing to travel by car for a domestic leisure trip in September or October and 58% of travelers would be willing to travel 500 miles or less. Travelers also continue to make more last-minute decisions – on Expedia Group sites, most searches are occurring 0-21 days out. With a shortened booking window, now is the time to reach travelers who may be searching for fall travel inspiration or a last-minute weekend getaway.
We know from our research and our first party data that messaging and recommendations on off the beaten path activities can help reassure travelers as they make their decisions, as well as information on open businesses, socially-distant or open-air experiences. So, as you plan your marketing and advertising efforts, we strongly recommend that you find ways to communicate clearly and comprehensively.
Download the complete findings from the traveler sentiment study to learn more about how traveler's attitudes and behaviors have evolved.