January 25, 2021
To help our advertising partners stay informed and ahead of trends and opportunities to reach potential travelers amidst the rapidly evolving landscape, we're expanding on our recent global research and regional snapshots for the Americas and Europe and taking a closer look at how COVID-19 has impacted travelers in Asia Pacific, including China, Japan, and Australia.
Overall, Chinese travelers are more optimistic about travel in 2021 than travelers from other Asia-Pacific countries, with more than three-fourths expressing positive sentiment, the highest across all 11 markets surveyed. Japanese travelers need the most reassurance, as only one-third have a positive outlook, while Australian traveler confidence is more evenly split—1 in 2 are optimistic about future travel. Australians expect to take 2.7 leisure trips from January to October 2021, while in Asia Pacific, the average number of anticipated trips during the same time is 2.2. Travelers from Japan are more conservative, at only 1.8 trips.

Looking across the 300 petabytes of exclusive Expedia Group global traveler intent and demand data, in the Asia-Pacific markets of Japan, Thailand, Singapore, Australia, India, and Korea, domestic searches in December led in all markets, except Singapore, where international searches showed a slight edge over domestic, likely due to the green lanes and travel pass arrangements with partner countries. Expedia Group data on the top 10 destinations searched for by Asia-Pacific travelers reveals country capitals and larger cities, such as Melbourne, Tokyo, Seoul, Sydney, Taipei and Osaka, and as we saw in other regions, the top booked destinations are their respective home countries.
We expect many of the rationales that drove travel in Asia-Pacific during COVID-19 – such as needing a change of scenery, using vacation days, or visiting friends and family – will carry over to this year. However, marketers should take into consideration variances by country when developing messaging and content. For example, family-specific images and messaging may be especially appealing to Australian travelers, while Japanese travelers may be influenced by rejuvenation or relaxation-themed content, as these were the leading trip types during the pandemic. Highlighting local offers and domestic getaways can help further influence and engage travelers across Asia-Pacific, who are largely traveling closer to home at this time.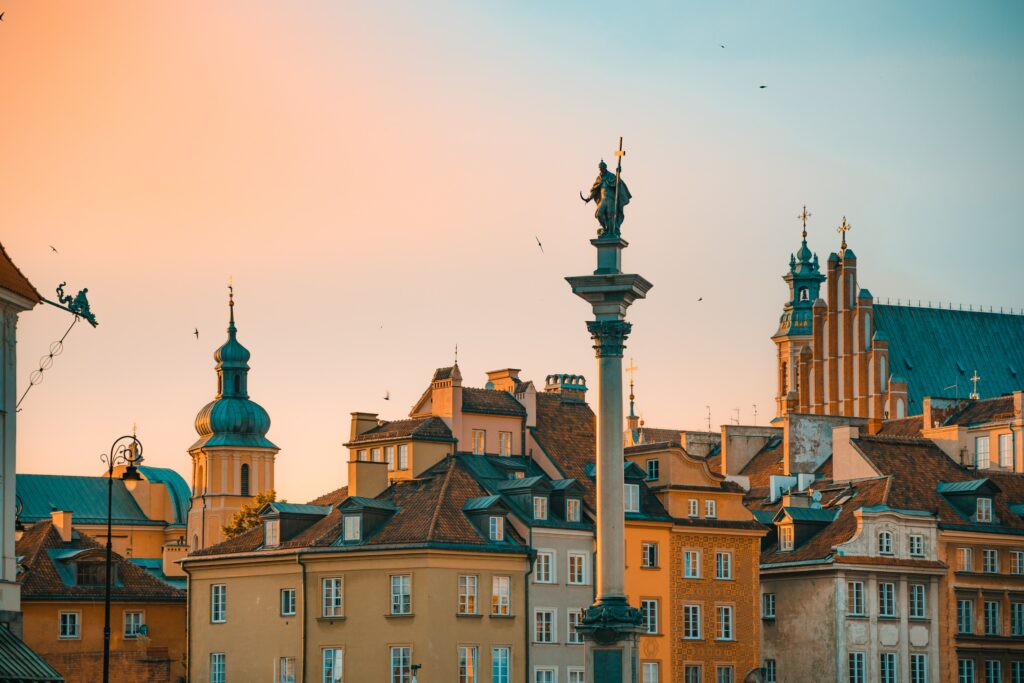 Hotel advertising that can reach any traveler, anywhere
Travelers looking to book a hotel use multiple channels to find their ideal place to stay, from social media to travel websites, and more. This is why it's imperative that you know when — and where — to reach the right traveler. Whether you're trying to reach early-bird or last-minute bookers, our targeting capabilities can help you connect with the right traveler at the right time.
Instilling Traveler Confidence
Various factors drive travel confidence across Asia-Pacific, though travelers across the region agree that a widely available vaccine would make them more comfortable with travel; 67% in China, 62% in Australia and 46% in Japan. Traveling with full cancellation and refunds on transportation (53%) and not having to worry about health care expenses or coverage while traveling (51%) can also help instill confidence among Asia-Pacific travelers. Marketers can help reassure travelers with content that highlights flexible booking and cancellation policies, while destinations offering free or discounted travel or health insurance for travelers should spotlight this information to help inspire and engage potential visitors.

What Influences Travel Decisions?
Health regulations and requirements, particularly mask enforcement and proper COVID-19 hygiene protocols, are the leading factors influencing destination, transportation, and accommodation decisions in Asia-Pacific. Mask use and enforcement is the leading factor influencing transportation decisions in Japan (51%) and China (42%), while budget considerations (54%) and refund or cancellation policies (50%) lead for Australian travelers. The importance of transportation price and flexibility in Australia aligns with our prior global studies, as travelers often travel via air and for long distances due to the vastness of the country and proximity to other countries.
When considering destinations, 64% of Asia-Pacific travelers are influenced by health regulations and requirements – such as mandatory mask rules. For marketers targeting Asia-Pacific travelers, information on pandemic measures should be at the forefront of marketing communications, supported by reservation flexibility or full refunds to provide financial peace of mind.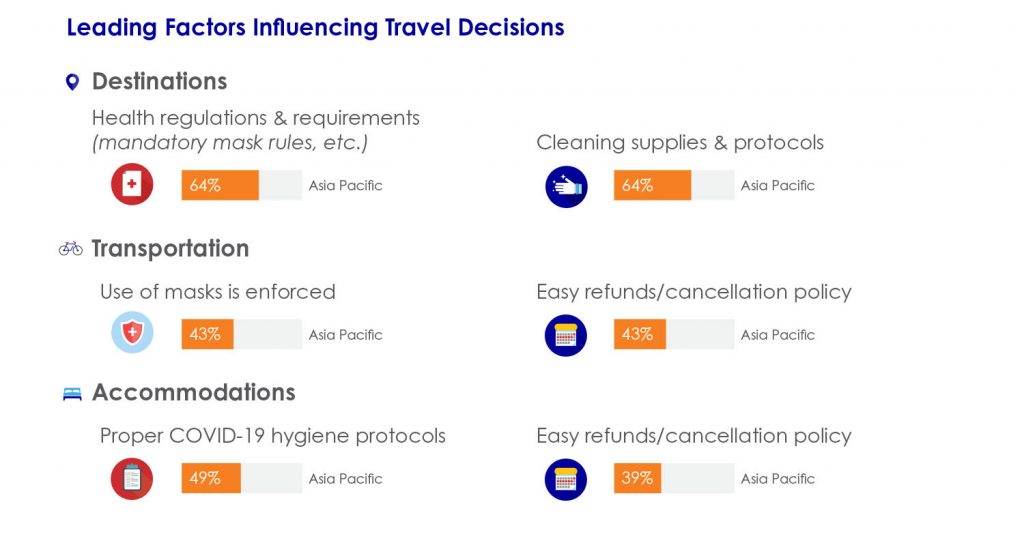 Influential Content
Pictures and information on destination sites and online travel agencies (OTAs) remain leading influences for Asia-Pacific travelers planning future trips, along with pictures and information in travel advertising. When comparing pre-pandemic and future influence among Asia-Pacific travelers, content on destination sites increased by 19%, while content on OTAs increased by 18%. Marketers should use consistent messaging and imagery across owned websites, social media channels, advertising and other content platforms to effectively reach potential travelers, and layer in regional and country-specific insights to drive engagement. For example, a destination targeting Asia-Pacific travelers should use images highlighting the use of masks by both travelers and employees, such as airline crews, hospitality workers or restaurant staff, and underscore with informative messaging on protocols or requirements.
For further insights on the attitudes, motivations, and influences that will drive future travel decisions in Asia-Pacific, listen to the on-demand webinar for our Asia-Pacific Insights Summit. Looking for more regional data and insights from our custom research and Expedia Group first party data? Check out our recently published regional research insights and infographics covering Europe and the Americas.