May 16, 2022
We recently shared the key takeaways of traveler behavior during the first quarter of the year in our new Travel Trend Report, as well as the top trends for North American (NORAM) travelers and those in Europe, the Middle East, and Africa (EMEA). Media Solutions highlights how 2022 is shaping up to be a year of rebuilding and renewal. Here we summarize the key findings about the trends and behavior of Latin American travel shoppers during the first quarter of the year.
1. Travel search volumes are holding steady
During the first few months of the year, we didn't see as much growth in travel search volumes in Latin America as we saw in North America or EMEA, but overall, we saw positive signals that travel is bouncing back in the region, even if it's a slow and steady return.
Week-over-week search volume fluctuated throughout the quarter, with Latin America experiencing a dip of 15% during the first few weeks of the quarter, before levelling out and remaining steady. However, a prior-year comparison shows a more promising picture: Search volumes in Latin America saw year-over-year growth of 50%. And during the week of February 14, LATAM saw week-over-week growth of 10%, following changes and announcements related to vaccine and mask mandates around the world. Looking specifically at domestic searches, we also saw an increase of more than 10% in mid-February, with another spike in mid-March.International searches, on the other hand, were steady week-over-week.

2. Latin American travelers remain cautiously optimistic 
When it comes to travel search windows, we also saw behavior remain mostly consistent between quarters. Domestically, LATAM searches for different search windows remained relatively stable from Q4, though the region saw a slight increase in searches further out, in the 180+ day window—a positive sign that suggests Latin American traveler confidence is starting to build once again.
The Q1 2022 Travel Trend Report also includes data from Expedia Group's 2022 Vacation Deprivation Study, which surveyed working adults in Mexico and other countries to find out how much time off they planned to take this year. In line with the global trend, Mexican travelers plan to take more holidays in 2022 than they did last year. In fact, the number of planned vacation days increased from 13 days in 2021 to 16 days in 2022. This is a definite opportunity for travel marketers hoping to capture demand in Latin America this year.
3. Latin American travelers are exploring near and far
Many of the region's top 10 booked destinations were in Latin America—as we saw in Q4. In fact, Puerto Vallarta was a new intra-region destination that appeared in the top 10 in Q1, and Guadalajara also saw a rise in bookings among LATAM travelers, who are clearly still taking domestic vacations.
Another positive trend that carried over into the new year is the growing appetite for visiting cities outside the region. The Q1 top 10 once again included several destinations beyond Latin America: New York, Paris, Madrid, and Las Vegas all made the cut. Moreover, Madrid jumped from the 10th spot to the 8th spot – a sign that Latin American travelers are increasingly interested in longer-haul travel to destinations in other regions.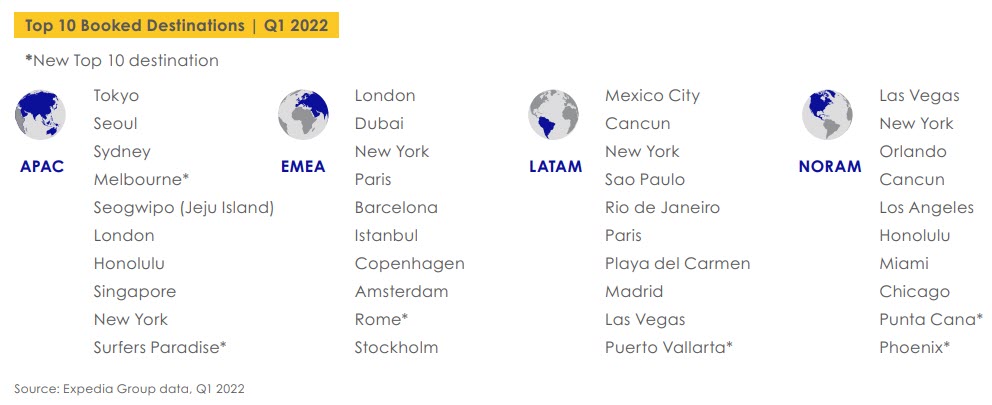 4. Hotel and vacation rental bookings on the rise 
Building on the strong performance seen in Q4, global lodging bookings for hotels and vacation rentals in the region were up 75% quarter-over-quarter. Looking at room night demand in Q1, many destinations saw double-digit growth. Punta Cana saw the highest quarter-over-quarter growth at 70%, with strong performance in other LATAM destinations including Cancun (40%) and Playa del Carmen (35%).
As in Q4, Brazil topped the Vrbo vacation rental space for LATAM travelers during Q1. But a new city entered the top 10 for LATAM vacation rental bookers: Kissimmee, Florida, which is near the theme-park center of Orlando. The city landed in the number 9 spot, with the rest of the list rounded out by beaches and cities in Brazil.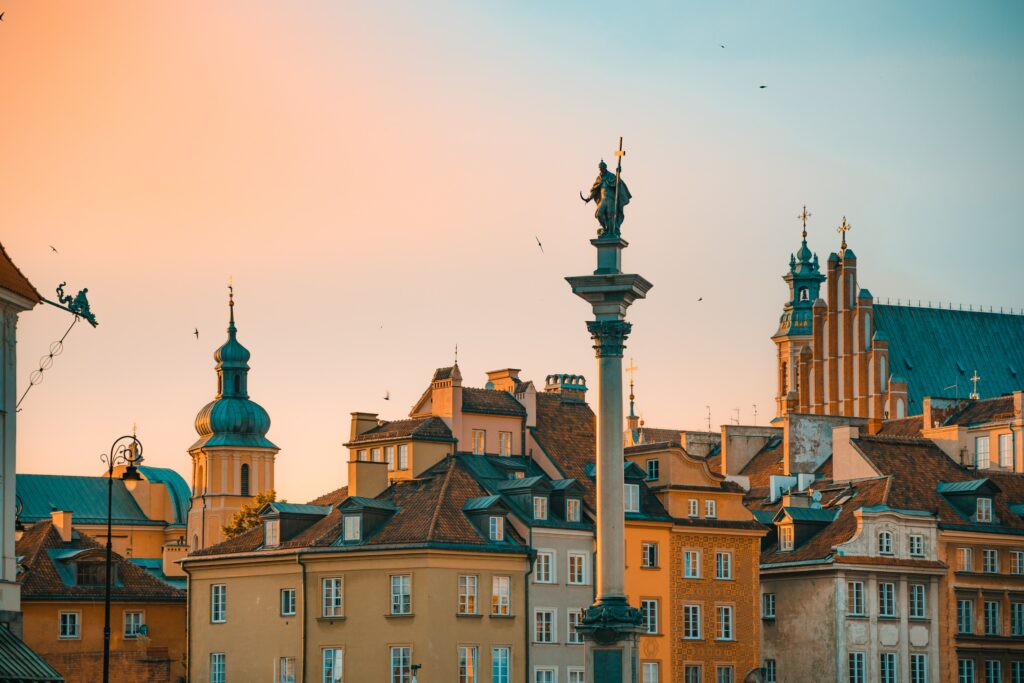 Hotel advertising that can reach any traveler, anywhere
Travelers looking to book a hotel use multiple channels to find their ideal place to stay, from social media to travel websites, and more. This is why it's imperative that you know when — and where — to reach the right traveler. Whether you're trying to reach early-bird or last-minute bookers, our targeting capabilities can help you connect with the right traveler at the right time.
5. Sustainable travel becoming more important
We also looked at the rise of sustainable tourism in Q1, surveying 11,000 consumers in 11 markets for insights into how they feel about conscientious travel. Results varied by demographic, age, and country, but Mexicans and Brazilians demonstrated a growing interest in pursuing certain sustainable travel options.
For instance, nearly 60% of Brazilians want to see lodging options with a lower environmental impact (compared to the global average of 42%). When asked, 98% of Mexicans and 97% of Brazilians said they would be willing to pay more for sustainable options. And about half of consumers in both countries said they have decided against a travel destination or transportation option because they felt it was not actually committed to sustainable practices. Clearly, there is a growing expectation that destinations and travel brands must meet, and travel marketers have an opportunity to better spotlight their own efforts in this space.