May 10, 2022
The new quarterly Travel Trend Report from Expedia Group Media Solutions highlights how 2022 is shaping up to be a year of rebuilding and renewal. Here we summarize the key findings about trends and behavior of North American travel shoppers during the first quarter of the year. 
1. Traveler confidence surged as restrictions lifted
When reviewing the data for the first quarter of 2022, we see that North American travelers weren't put off by the pandemic setbacks of January. In fact, search volume in the region was up 30%, which was higher than the global quarter-over-quarter increase. Looking at the year-over-year comparison, search volume increased even more significantly – it was up 70% compared to the same period in 2021. This aligned with the global trend, which saw search volumes increase 75% year-over-year. In addition, also on par with the global trend, North American searches saw week-over-week growth during the week of February 14, following announcements related to the loosening of vaccine and mask mandates around the world.
When it comes to search windows, we also saw the positive trends continue as restrictions continued to lift. The share of 0- to 21–day search windows decreased for domestic searches, shifting primarily to the 91- to 180–day search window, which increased 60% quarter-over-quarter – demonstrating that travelers were more confident in planning further out. Looking at only domestic travel, this trend was amplified, with a 70% increase in search share for the same window.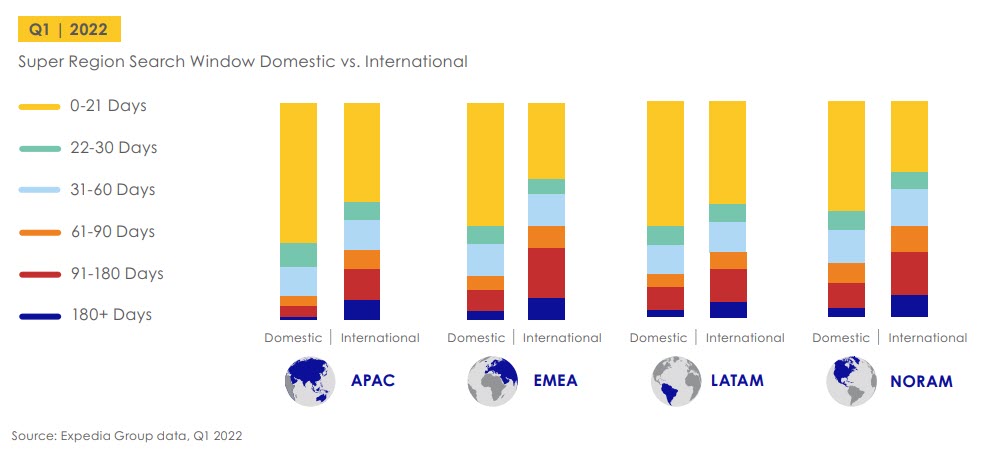 Expedia Group's Vacation Deprivation Report from earlier this year also suggests North American travelers are confident about seeing the world again. When asked how many vacation days they planned to take this year, U.S. travelers said they plan to take 14 days compared to 13 in 2021. Canadian travelers were even more eager, saying they plan to take 20 days this year compared to 16 in 2021.
2. North Americans want to visit neighboring countries  
In Q4 2021, we shared that North Americans preferred to stay close to home, with only one city outside the region—Cancun—appearing in the top 10 booked destinations. In Q1 we did see another extra-regional city enter the top 10 list: Punta Cana, in the Dominican Republic showing us that North American travelers are more eager to explore and looking at beach destinations for their upcoming travel plans.
Following extended border closures in 2021, we also saw positive gains for Canada throughout Q1. The country experienced the largest increase in searches and bookings, as both an origin country and a destination country. Compared to January 2022, inter-province searches were up 75% and bookings were up 150% in March 2022, while searches from Canada to the U.S. grew by triple digits during Q1. In a reciprocal trend, Q1 bookings from the U.S. to Canada increased 155% during the quarter.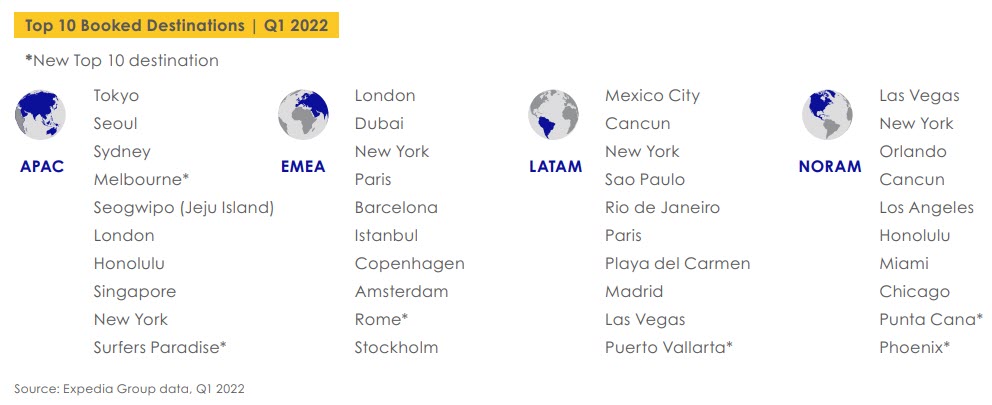 3. Lodging performance is on the rise
As we saw in Q4 2021, hotels and vacation rentals are continuing to make a comeback, both in overall bookings and in length of stay. Lodging performance in North America jumped over 25% compared to Q4, and was up more than 15% compared to the same time last year. As for length of stay, North America saw the average hotel length of stay increase slightly, while vacation rental stays were consistent quarter-over-quarter in the region, at just over 5 days.
4. U.S. vacation rentals continue to be popular across the world  
Also similar to Q4, vacation rentals continued to prove popular. With both winter breaks and spring vacations occurring in Q1, North America saw a substantial quarter-over-quarter growth for vacation rentals. As in Q4, Kissimmee, Florida, appeared in the top 10 Vrbo-booked destinations lists – not just for North American travelers, but for travelers outside the region, too. In fact, the U.S. city was the top-booked vacation rental destination for travel shoppers from Europe, the Middle East & Africa (EMEA), as well as number 2 for North American and number 9 for Latin American travelers.
As of January 31, demand for U.S. Vrbo properties this summer was already outpacing summer 2021 by nearly 15%, and some of the most popular summer vacation destinations, such as those in New Jersey and North Carolina, already have more than 70% of properties booked for July. And unlike last year, when travel restrictions and testing requirements made international travel logistics confusing or overwhelming, travelers abroad are also booking U.S. vacation rentals. International demand for Vrbo vacation homes in the U.S. this summer, from travelers in countries such as the U.K. and Germany, has returned to near pre-pandemic levels.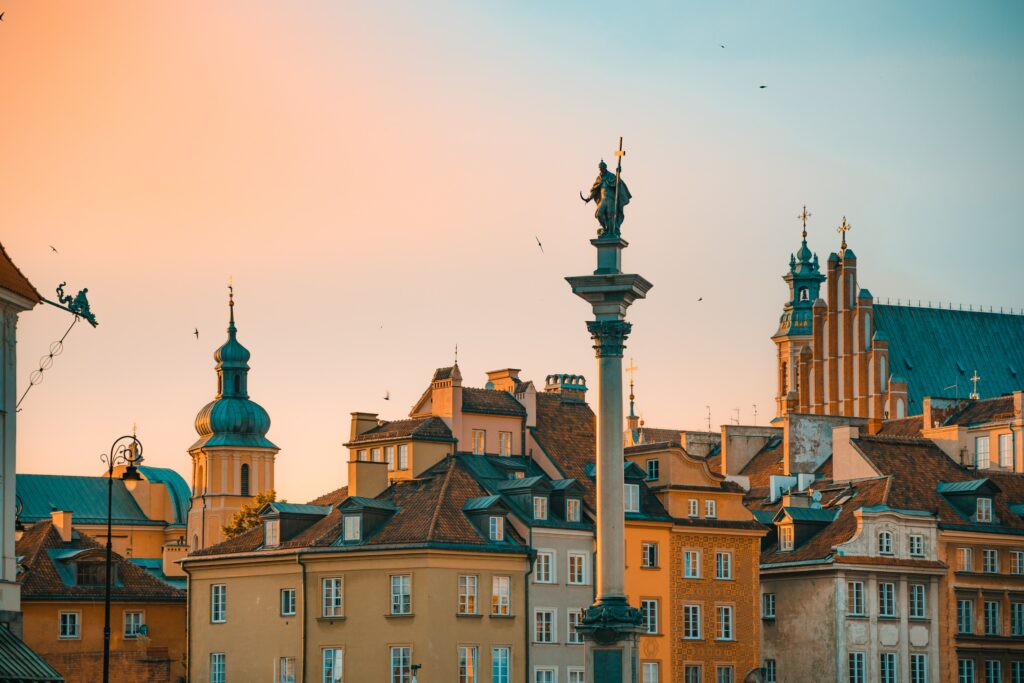 Hotel advertising that can reach any traveler, anywhere
Travelers looking to book a hotel use multiple channels to find their ideal place to stay, from social media to travel websites, and more. This is why it's imperative that you know when — and where — to reach the right traveler. Whether you're trying to reach early-bird or last-minute bookers, our targeting capabilities can help you connect with the right traveler at the right time.
5. Sustainable travel is increasingly important to North Americans
This Travel Trend Report also includes findings from our latest custom research on sustainable travel, based on a study of 11,000 consumers in 11 markets. Across the board, the results are encouraging, but around certain topics, North Americans indicated an above-average interest in pursuing more sustainable options. 
For instance, globally, 50% of respondents said they want to buy from local stores and restaurants, rather than chains. But looking at NORAM, the numbers are even higher: 58% of U.S. travelers and 64% of Canadian travelers would like to buy locally on future travels. In addition, 54% of both Americans and Canadians said they wish to see recommendations for locally owned businesses at or near a destination – this is compared to 45% of the global average when asked the same question.