February 1, 2023
Since travel began returning after the pandemic hit in early 2020, many have been opting for car travel – personal cars or rental cars – as a safer option to travel, increasing the popularity of the road trip. Many travelers were even willing to drive for over 8 hours to get to their destination, making it a timely opportunity for car rental companies to capture demand.
However, even as air travel returns as pandemic concerns decrease, the popularity of car as a mode of transportation for travel continues, both as a means of getting to a destination and travel within a destination. To better understand what travelers are looking for in 2023, Expedia Group conducted custom research from 11,000 consumers and 1,100 travel professionals to put together the 2023 Traveler Value Index. In this post, we dive into what travelers care about when booking car travel and how that aligns (or doesn't align) with the industry's perceptions to give car rental providers the best insights for 2023.
Road trips continue in popularity
Although air travel is making a comeback, data from our Traveler Value Index shows that cars are again the most popular mode of transportation, as 62% of consumers plan to travel by car for their upcoming trips. When planning for their next leisure trip, one third of consumers said they plan to choose a drivable destination. With inflation and labor shortages continuing to impact flight prices in 2023, road trips are likely to be a strong alternative for travelers.
25% increase in car rental search compared to pre-pandemic
Luckily for car providers, travelers aren't only using their own vehicles for road trips, and many are opting for car rentals within a destination possibly to avoid taxis, public buses, etc. Expedia Group data shows that car rental search trends have surpassed pre-pandemic levels, with a 25% increase for January-September 2022 compared to the same period in 2019.   
Pricing is most important
When it comes to booking a car rental, the importance of price and flexible booking options cannot be overstated. Data from the Traveler Value Index shows that 50% of consumers rank low pricing or refundable bookings as their top priority when booking a car rental, while only 31% of those in the car rental industry believe these are consumers' top concerns. The most important factor for consumers is price, with 31% of consumers saying that atypical, low pricing is what they value most when booking a car.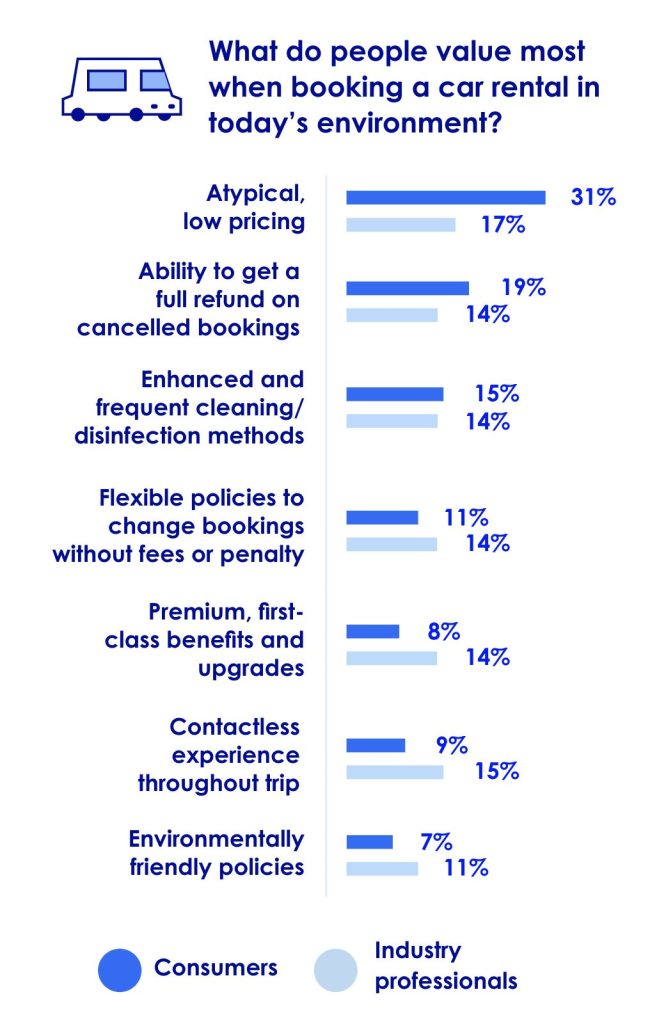 While price ranks as most valued, many consumers won't even consider booking non-refundable options. More than half of consumers (51%) would never book non-refundable car rentals domestically, and even more (59%) wouldn't book these options internationally.
This gap in understanding may be leading car rental professionals to focus on things that are not as important to the traveler, such as contactless experience throughout the trip or premium, first-class benefits and upgrades. Instead, ensuring that your company is promoting specialized deals and refundable options can help resonate with travelers.
Consumers care about reviews
When it comes to choosing between car rental providers, an essential piece of the pie is reputation in the form of guest reviews. When deciding whether to book with a travel provider, 48% of consumers rank guest reviews as an important factor, above family recommendations (47%) and travel booking websites (45%).
Additionally, almost half (46%) of consumers will opt for the travel option with the best customer reviews over the best value. Travel professionals are taking note, with 52% making changes to their business due to negative customer reviews. In order to be successful this year, combining competitive pricing with positive reviews will be important in finding success.
To further expand the brand recognition and deals your business offers, advertising on Expedia Group websites can be impactful. By leveraging solutions like native and display advertising, you can get your car business in front of highly engaged travelers and drive conversions.
For more insights on the latest traveler trends that your business can leverage for success, download the full 2023 Traveler Value Index.