April 27, 2016
Email may not be the new kid on the block, but email marketing remains a tried-and-true method for reaching consumers, both new and existing. In fact, email is nearly 40 times more effective than Facebook and Twitter combined when it comes to acquiring customers. What's more, many consumers actually prefer email. A study commissioned by MarketingSherpa showed that 72% of U.S. adults would rather receive communications from companies via email as opposed to direct mail, social media, online videos or other channels.
Given the staying power of email, the inbox is often a crowded, competitive space for marketers. We recently shared five tips to help your emails stand out. But even if you've targeted, tested and embraced a mobile-first mentality, you aren't likely to connect with customers and inspire them to open your email without an enticing subject line.
So, what does an effective subject line look like?
Brief—and engaging.
Fifty characters or fewer is optimal. So is authentic, conversational language that gives customers a reason to open your email.
Here are five successful approaches to crafting subject lines based on findings from our own email tests. While you probably won't use all of these at once, try a few different methods to see what works with your target audience.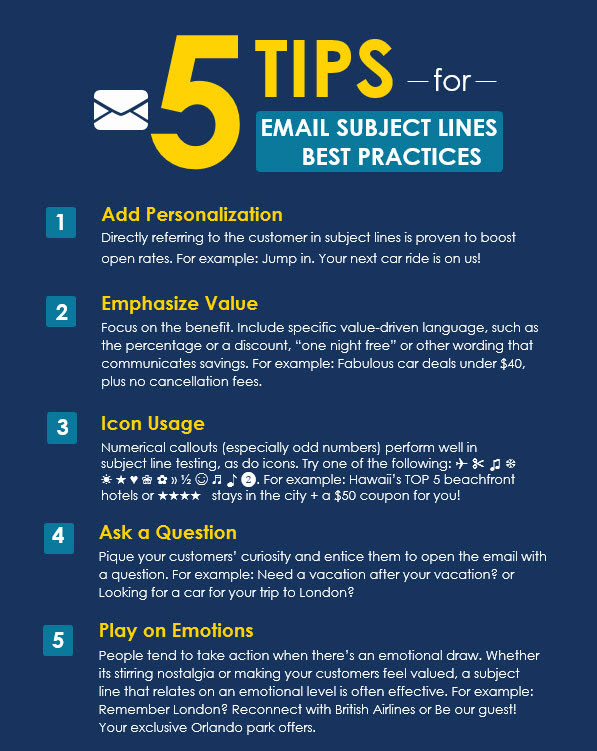 They may be short, but subject lines are often the most difficult part of your email to write. Even so, try not to overthink it. If you keep customers' interests and motivations in mind—and use real language, not promotional jargon—you're bound to see the payoff with improved open rates.
Ready to engage your target audiences via email? Check out our full range of {{cta('86dcd552-3f4d-42b7-b045-7ddc66706b3a')}}