May 4, 2022
As part of our ongoing commitment to share insights, we have been tracking how travel is returning through our Expedia Group first-party data and research in our quarterly Travel Trend Reports. In our last report covering Q4 2021, we saw promising momentum, including consistent search volumes and more international destinations appearing on top 10 destination lists.
Now, as we look at the first quarter of 2022 and forward to the months ahead, we're even more optimistic as travel intent is surging, search windows are lengthening, and travelers are investing in meaningful trips. Read on for a snapshot of the key findings in our Q1 2022 Travel Trend Report. 
Travel Searches Surge as Restrictions Ease
The further opening of borders and easing of restrictions–along with post-holiday promotions and potential return of seasonality–led to a significant increase globally in travel searches across our Expedia Group branded sites. During the first quarter of 2022, search volume globally was up 25% quarter-over-quarter, led by double-digit growth in North America (NORAM) at 30% and Europe, the Middle East, and Africa (EMEA) at 25%. A prior- year comparison further illustrates just how much travel is returning, with search volume up 75% year-over-year globally compared to Q1 2021.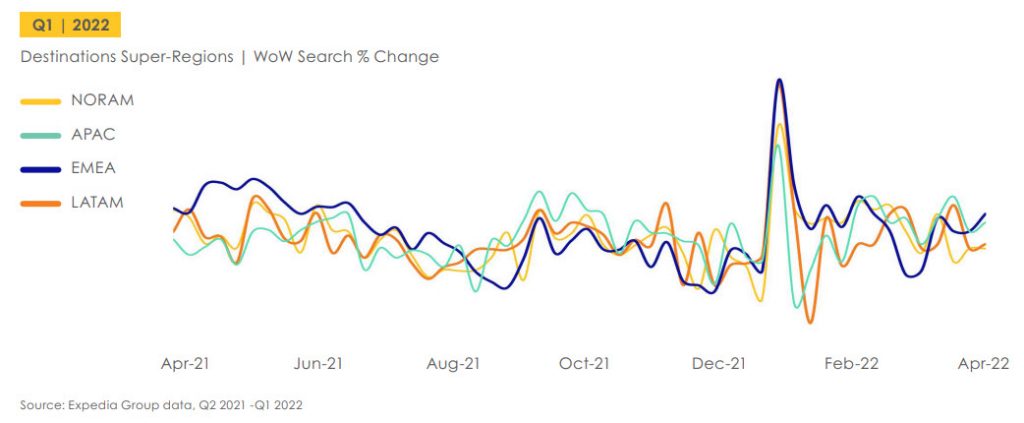 Findings from Expedia's 2022 Vacation Deprivation study further illustrates the pent-up demand and desire to get away this year. On average, working adults around the world plan to take nearly 21 days of vacation this year – 3 more days of vacation than they took in 2021.  
While working adults in the U.S. plan to take an average of 14 days of vacation this year, just 1 more day than they took in 2021—and the fewest number of days across all countries surveyed—they are prepared to spend more to make the most of their time off. Americans are more likely than most other regions around the world to splurge on upgrades such as a larger room, flying first class, or visiting multiple destinations. This is positive news for the leisure travel industry, and an opportunity for travel marketers to promote discounted upgrades or premium product offerings to an eager and engaged audience.
Growing Traveler Confidence Leading to Longer Search Windows  
With traveler confidence on the upswing, we saw search windows continue to lengthen in Q1. Global share of searches in the 180+ day search window increased 190% and the 0- to 21–day search window decreased 15% quarter-over-quarter.
Not only did search windows lengthen, but we also saw that travelers are planning both domestic and international trips further out, as they begin to plan for mid-year holidays. In Q1, 60% of global domestic searches fell within the 0- to 30–day window, a 10% decrease compared to Q4. The share of searches in the 91- to 180–day window increased 80% quarter-over-quarter. Similarly, global international search share for the 91- to 180+ day window increased 35% quarter-over-quarter.
Big Cities & Beaches Maintain Appeal   
Major cities such as Las Vegas, New York, Chicago, and London remained popular with travelers and made the global top 10 list of booked destinations in Q1, along with beach destinations like Cancun, Punta Cana, Honolulu, and Miami. Las Vegas topped the global list, surpassing New York, which held the No. 1 spot in Q3 and Q4 2021. However, for the third consecutive quarter, New York appeared on the top 10 list of booked destinations across all regions.

Lodging Performance on the Rise 
Building on strong performance in Q4, global lodging bookings for hotels and vacation rentals combined were up 35% quarter-over-quarter. All regions experienced at least double-digit growth, with the strongest quarterly growth in EMEA at 150% and Latin America (LATAM) at 75%.
During Q1, 15 of the top 25 global destinations saw double-digit growth in hotel demand quarter-over-quarter. Punta Cana saw the highest quarter-over-quarter growth at 70%, with additional gains in other LATAM destinations including Cancun (40%) and Playa del Carmen (35%). Barcelona moved from the 31st position to 22nd, Kissimmee (near Orlando) moved from 29th to 20th, and Honolulu moved from 12th to 7th. 
Vacation rental night counts globally grew substantially quarter-over-quarter. Domestic travel continued to dominate the vacation rental space, with Australia, France, Brazil, and the U.S. being the top- booked countries for their respective regions. In all regions, popular beach and warm weather destinations were the top choices for vacation rental bookers.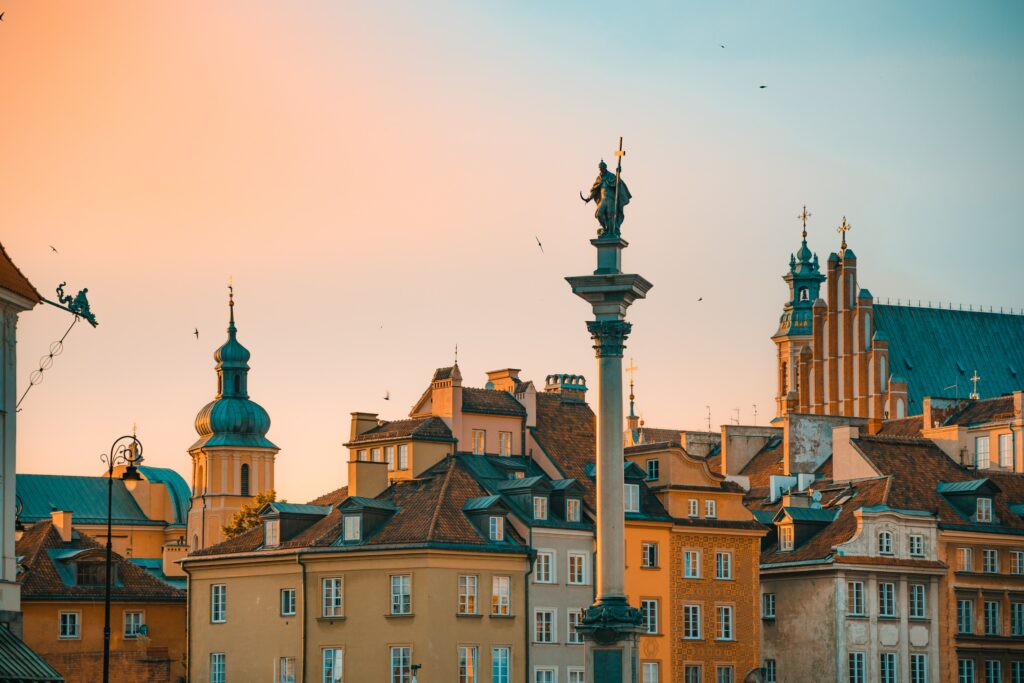 Hotel advertising that can reach any traveler, anywhere
Travelers looking to book a hotel use multiple channels to find their ideal place to stay, from social media to travel websites, and more. This is why it's imperative that you know when — and where — to reach the right traveler. Whether you're trying to reach early-bird or last-minute bookers, our targeting capabilities can help you connect with the right traveler at the right time.
Growing Demand—and Opportunity—for Sustainable Tourism 
Consumers around the world are already making more mindful decisions when traveling, such as opting for more eco-conscious and sustainable offerings, and more want to do so in the future. But many feel overwhelmed by starting the process of being a more sustainable traveler, and they are looking for sustainability information from trusted travel resources and providers.
Our new Sustainable Travel study found that two-thirds of consumers want to see more information on sustainability from lodging and transportation providers, and half of consumers want to see this information from destination organizations.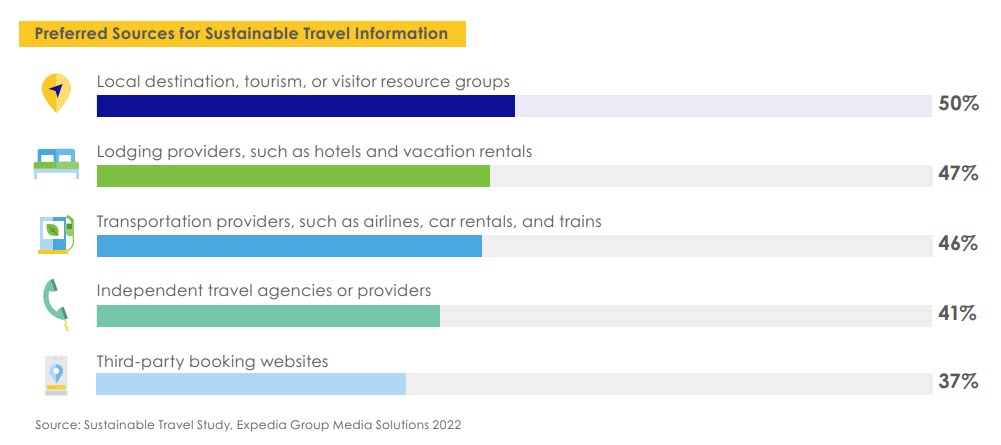 The study also found that half of consumers would be willing to pay more for transportation, activities,​ and lodging if the option​ was more sustainable, demonstrating the opportunity for travel providers and marketers to be surfacing more sustainable options for travelers.
These findings are just a taste of the insights you'll find in the full report, based on 70 petabytes of Expedia Group traveler intent and demand data. To learn more, download the Q1 2022 Travel Trend Report, and check back on our blog for regional insights.