May 9, 2023
Each quarter, we analyze and share insights from our first-party data to show how traveler search and booking behavior is evolving, giving partners insight to inform their strategy. Our Q4 2022 data showed promising signals pointing to increased traveler optimism and resilience. As we look at data from the first quarter of this year we see that traveler enthusiasm is growing, a positive start for travel in 2023.  
Based on Expedia Group's first-party data from Q1 2023, travelers are planning further out and are looking forward to mid-year getaways, with many looking to make up for lost travel opportunities.  
Search volumes increase globally
Q1 2023 search data shows that traveler intent continues to grow stronger. Globally, traveler searches across Expedia Group sites increased 25% quarter over quarter (QoQ), and Europe, the Middle East, and Africa (EMEA) searches grew by 30%. 
Asia Pacific (APAC) is an area we've been closely monitoring due to the long-awaited easing of travel restrictions in various countries throughout the region. In Q1, we saw a notable 65% year-over-year (YoY) increase in searches from the region. After pandemic restrictions were lifted in China on January 8, we saw a 10% week-over-week (WoW) increase in global international search demand for China, led by searches from APAC (15% WoW increase) and EMEA (10% WoW increase).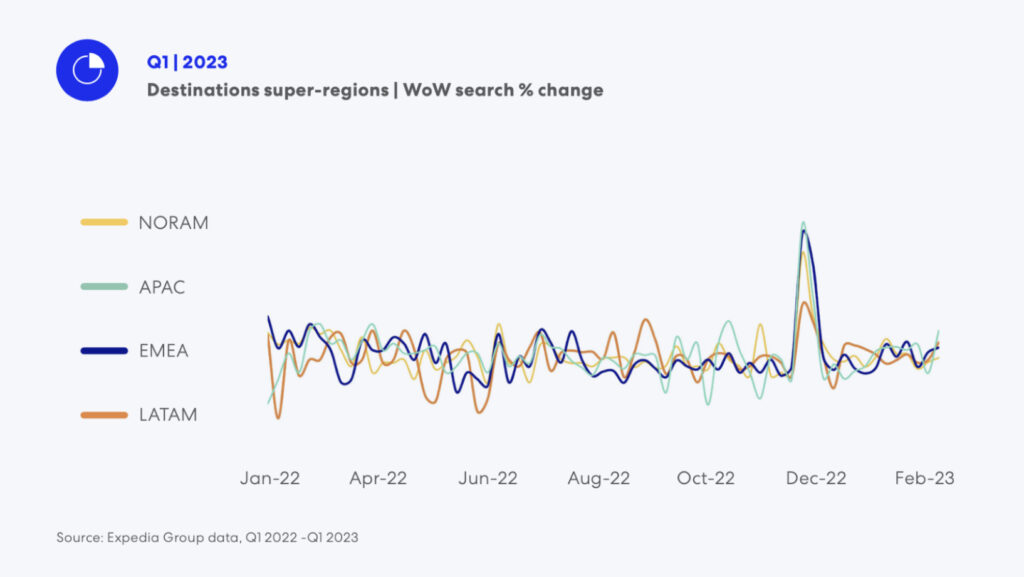 Travelers continue to plan further out
As we've seen in recent quarters, search windows continued to lengthen in Q1 as travelers plan for trips further out. The 180+ day search window increased by 30% QoQ, driven by 75% growth in both APAC and Latin America (LATAM).  
Globally, the 91- to 180-day search window saw the strongest growth in Q1 with a 60% increase QoQ, led by EMEA and North America (NORAM), with 90% and 45% QoQ increases, respectively.  
Cities and beach getaways remain popular
Similar to previous quarters, major cities and beach destinations made the global top 10 list of booked destinations in Q1, with New York City, Las Vegas, and London holding on to the top spots. Looking across the regions, cities such as Osaka, London, Paris, and Taipei moved up the rankings for APAC travelers, while newcomer Honolulu joined the list. For EMEA travelers, Tokyo and Berlin joined the rankings, and Amsterdam, Barcelona, and Rome moved up on the list. Paris, Madrid, and Playa del Carmen moved up the top 10 list for LATAM travelers, and Punta Cana and Paris were newcomers on the list for NORAM travelers.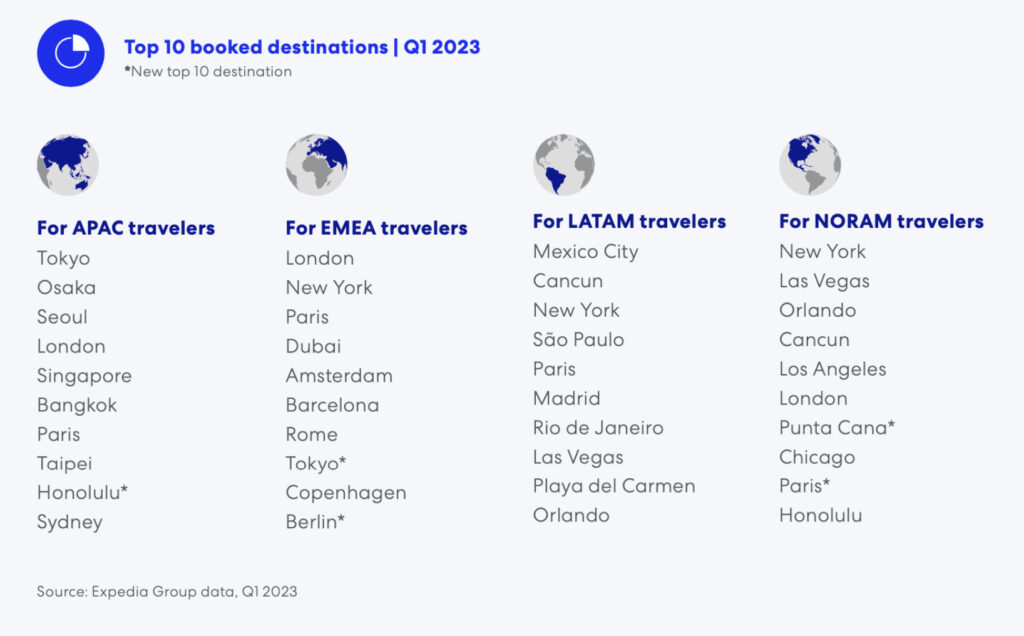 Following recent quarterly trends, domestic travel continued to drive the vacation rental category in Q1, though travelers ventured to new inter-regional destinations by the water. New warm weather hot spots appeared on the list for travelers from NORAM, while several beach towns in Australia joined the top 10 list for APAC travelers.  
Travelers look forward to mid-year getaways
In our last report, we shared that travelers were eagerly anticipating mid-year 2023, with Q4 2022 searches for travel from June to September up nearly 70% YoY. This trend continued into Q1 2023, with a 50% YoY increase in search demand for mid-year travel.  
Many travelers are looking to relax by the water in the coming months, but that doesn't always mean at the beach. Our Q1 data shows that Expedia's "pool" filter is the top amenities search filter in EMEA and the second most used filter in NORAM, APAC, and LATAM. With accommodations featuring pool and waterpark amenities high in demand for sun-seekers, hotel and vacation rental partners should highlight these features to attract travelers and capture this demand.
Consumers eager to make up for lost travel opportunities
Findings from our March 2023 consumer survey with Wakefield Research show that 72% of travelers are planning to travel for leisure more this year to make up for prior years, and 81% plan to spend more or keep their budgets the same for a single trip compared to last year.  
Our research also revealed that travel reward members are particularly enthusiastic about taking more trips this year, with 95% planning to travel for leisure in the next 12 months. And when it comes to joining these rewards programs, 77% of consumers are interested in travel rewards that they can apply to any individual element of their trip, such as their flight or hotel, regardless of brand. Expedia Group's new One Key loyalty program launching in July offers travel brands the opportunity to attract these high-value travelers, who will now have the flexibility to earn and use points across Expedia, Hotels.com, and Vrbo bookings.   
These findings are just a sample of the insights from this quarter, based on more than 70 petabytes of Expedia Group traveler intent and demand data, as well as our latest custom research. To learn more, download the Q2 Traveler Insights.