November 14, 2022
Our new quarterly Traveler Insights Report offers valuable takeaways about traveler intent during Q3 2022. Previously, we shared a snapshot of the overall key trends, including the rising searches for holiday and 2023 travel, popular city break destinations, and increased business and leisure travel intent. Now, we take a closer look at the key traveler trends in each region: Asia Pacific (APAC); North America (NORAM); Europe, the Middle East, and Africa (EMEA); and Latin America (LATAM).
Asia Pacific destinations growing increasingly popular
As countries in the APAC region continued opening their borders and relaxing travel restrictions, the influx of searches to APAC destinations grew in Q3, and positive trends emerged. During the week of September 12, search volume from APAC increased over 10% week-over-week, likely as a result of Japan easing entry restrictions for travel. APAC saw the strongest week-over-week international search growth in Q3, with 20% growth during the weeks of August 22, September 12 and September 19, spurred by announcements around lessening travel restrictions, such as those lifted or eased in Hong Kong and Japan.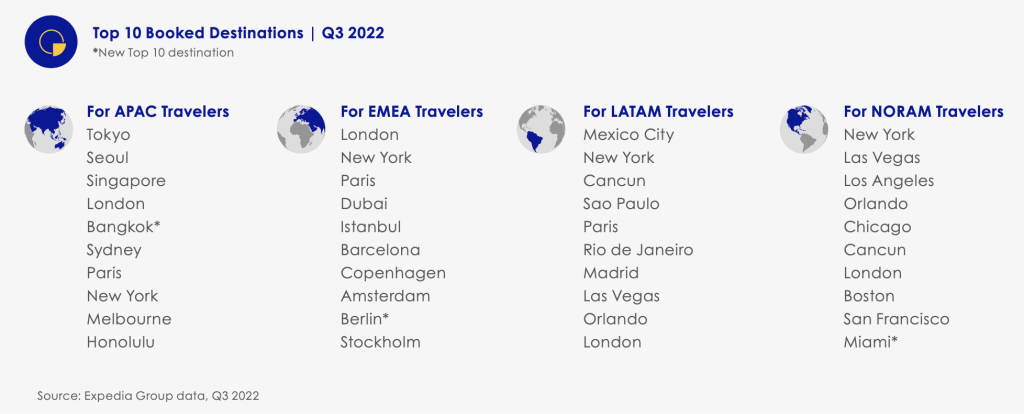 The top booked destinations for APAC travelers included long haul destinations like Paris, London, and New York, as well as new destination Bangkok, indicating a growing appetite for intra-regional travel. For Vrbo, destinations within Australia accounted for 7 of the top 10 booked destinations, along with neighboring New Zealand and a longer-haul destination, England.
In terms of planning ahead for the holiday 2022 season, search demand was particularly strong in APAC – Q3 searches were up by triple digits year-over-year. With continued travel restrictions throughout many sub-regions in APAC, and some only recently lifting, the strong search growth indicates pent-up demand for holiday season travel, and an optimistic outlook for the remainder of 2022.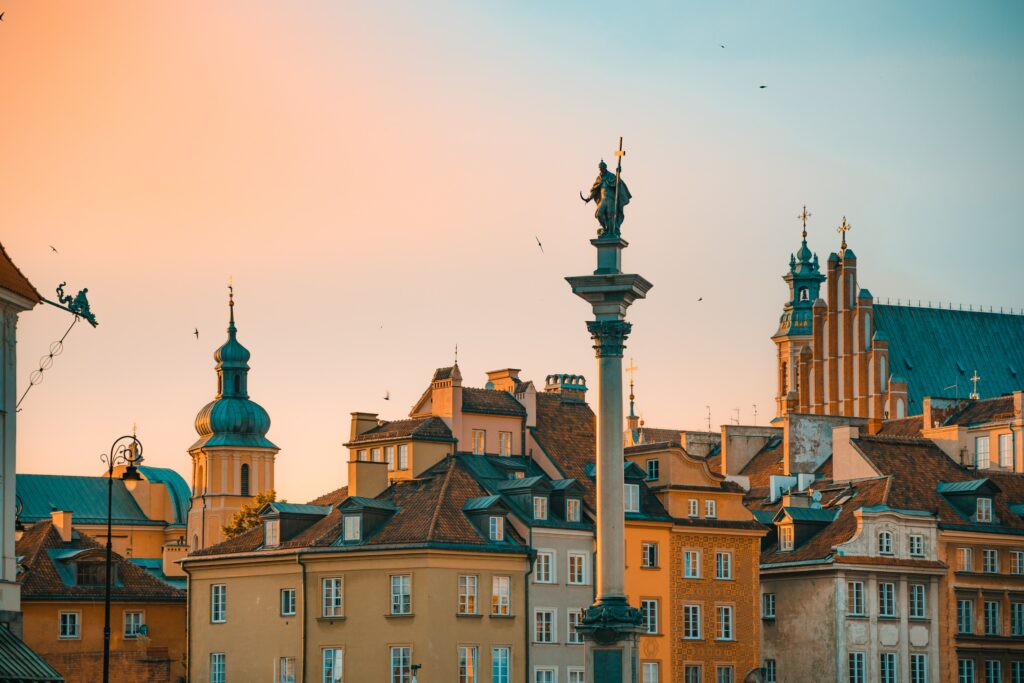 Hotel advertising that can reach any traveler, anywhere
Travelers looking to book a hotel use multiple channels to find their ideal place to stay, from social media to travel websites, and more. This is why it's imperative that you know when — and where — to reach the right traveler. Whether you're trying to reach early-bird or last-minute bookers, our targeting capabilities can help you connect with the right traveler at the right time.
Travel to APAC
While travel restrictions still vary throughout APAC, travel intent to the region remains strong. Major cities throughout Japan – including Kyoto, Osaka, Tokyo, and Fukuoka – saw a more than 60% increase in searches during Q3. Tokyo saw the biggest surge in searches with an increase of 85% between July 2022 and September 2022 from travelers around the world. Other cities throughout APAC, including Bangkok, Hong Kong, and Kuala Lumpur, also saw double-digit search growth.
Europeans excited about end-of-year holiday travel and 2023 trips
Globally, travelers are planning further out for their holidays, as well as into 2023, and the EMEA region is no exception. EMEA saw year-over-year growth of nearly 60% for holiday season (November and December) searches. Additionally, travelers from EMEA are also looking at and planning travel for next year, as evidenced by share growth in the 180+ day search window, up 25% quarter-over-quarter in EMEA.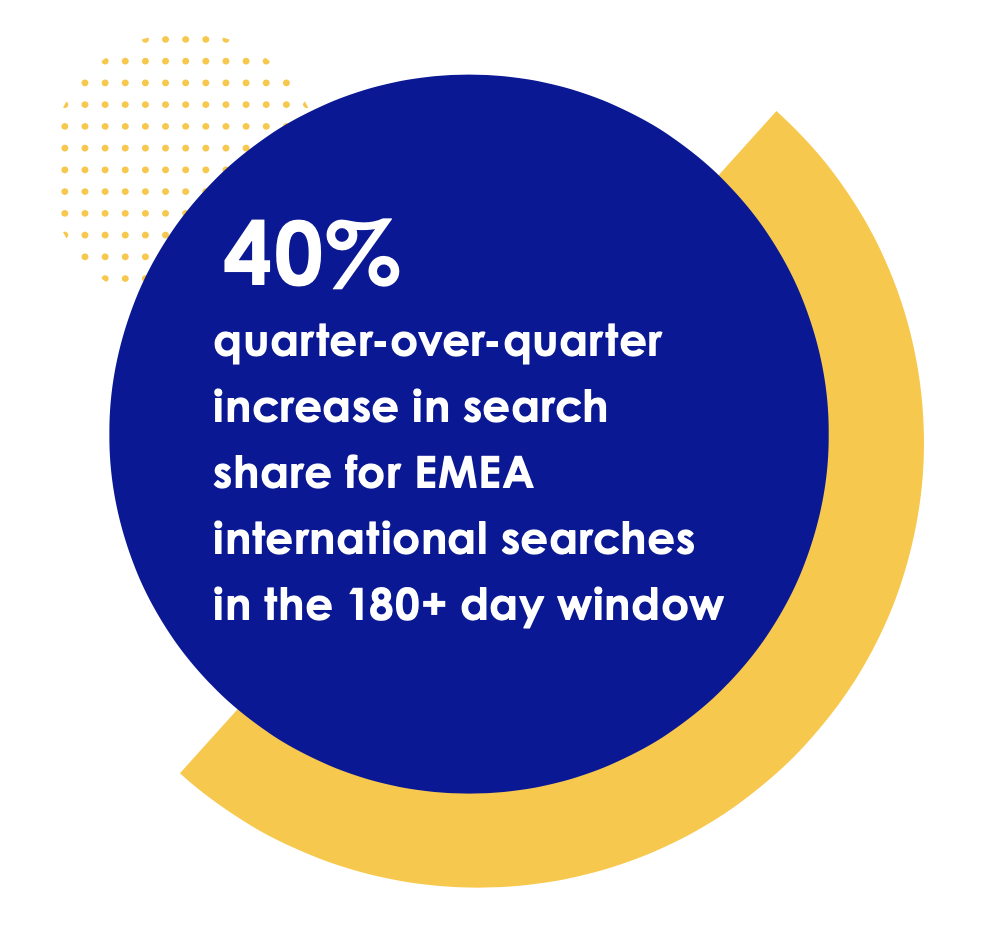 In Q3, EMEA travelers also continued to express intent to travel domestically. EMEA domestic search share for the 0- to 30-day window increased 15% quarter-over-quarter, likely as a result of continued regional instability, prompting people to look for trips in the short-term. Meanwhile, international search share in the 180+ day window in EMEA saw a significant jump, growing 40% quarter-over-quarter, pointing to EMEA travelers' pent-up demand and interest to explore outside their region.
Travel to EMEA
Popular city break destinations appeared on the top 10 booked destinations list for EMEA travelers, including Amsterdam, Copenhagen, Istanbul, and a new addition, Berlin. As also seen in Q2, London remained one of the overall top 10 booked destinations across all regions in Q3. The city was also a top 10 booked city for business travelers from APAC, EMEA, and NORAM, with Paris being a leading destination for business travelers from APAC and EMEA.
North Americans planning ahead and considering international travel
Travelers from NORAM are looking at and planning travel for next year, as evidenced by share growth in the 180+ day search window, up 20% quarter-over-quarter. International search share in the 180+ day window also increased 10% quarter-over-quarter, revealing North Americans' growing comfort in booking long-haul destinations in advance.
As for where NORAM travelers booked trips in Q3, international destinations Cancun and London made the top 10 list, along with other major cities and beach destinations, including New York, Chicago and newcomer Miami. Hilton Head Island, a popular beach destination in South Carolina, moved up in the rankings of top Vrbo booked destinations for NORAM travelers, likely driven by summer travel. Looking further afield, searches for India from the U.S. increased 20% during the quarter.
Travel to NORAM
Travelers from outside NORAM continue to show increased interest in visiting the region. When comparing July 2022 to September 2022, searches for the U.S. from Germany increased 60%. Additionally, New York still reigned supreme as the top NORAM destination for international travelers in Q3, with all regions including the city in their list of top booked destinations. For LATAM travelers, Las Vegas and Orlando remained top booked destinations as well, continuing from Q2.
Latin Americans look to international destinations for family travel
The recovery of international family travel and the growing popularity of family-friendly destinations was a continuing trend we saw in Q3, especially for LATAM travelers looking to vacation outside their region. For LATAM travelers, the top international destinations for family travel included Orlando, Anaheim, San Diego, New York and Madrid.
Domestic search performance in the region fluctuated throughout the quarter, with the strongest week-over-week growth throughout the month of July, particularly during the weeks of July 4 and July 11. Domestic search share increased 10% quarter-over-quarter in both the 0- to 30-day and 91- to 180-day windows. And as with prior quarters, domestic travel continued to drive the vacation rental category in Q3. Brazil maintained its ranking as the top booked country in LATAM, occupying nine out of ten spots for LATAM travelers on Vrbo.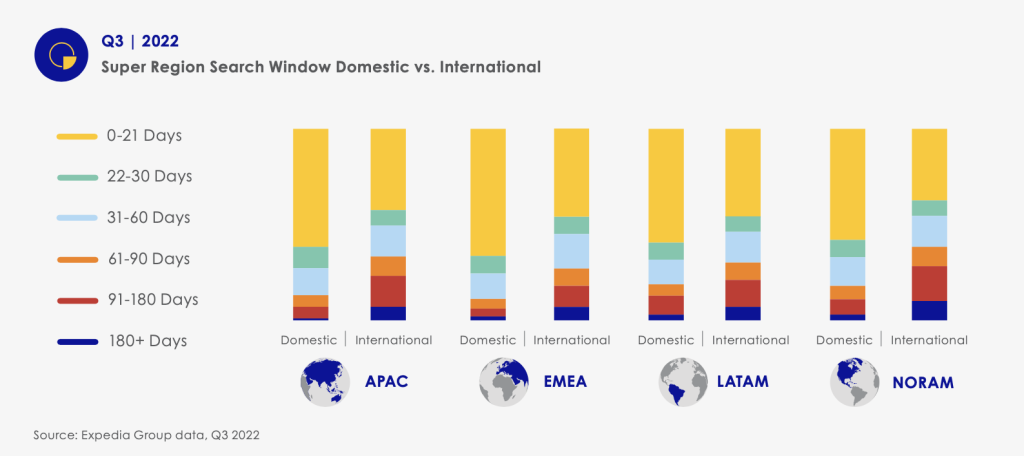 Travel to LATAM
Cancun remained on the top 10 list of booked destinations for travelers from LATAM and NORAM, further highlighting travelers' desire to seek out beach destinations. Additionally, Canada expressed a surge of interest in Mexico specifically – when comparing July 2022 to September 2022, searches for Mexico from Canada increased 40%.
The positive momentum we saw in the first half of the year continues to hold steady as travelers seek to make up for lost time and book trips for the holidays, as well as into 2023. People are still prioritizing travel and we are here to help you reach them. For more insights, download the full Q4 2022 Traveler Insights Report.