May 10, 2021
After more than a year of shutdowns and travel restrictions, people are eager to make up for their canceled trips and begin exploring again. Add in the widespread rollout of COVID-19 vaccines, new travel guidelines and rising traveler optimism, and this pent-up demand for travel only increases, putting the travel industry on the road to recovery. Our new Travel Recovery Trend Report shares the latest insights to help marketers begin to recover and rebuild.
Travel brands around the world are experiencing different levels of recovery progress, however the one constant is the need for data and insights to help marketers better understand how and where travel is returning so they can capture and drive demand.
New report features travel recovery data and insights
Today we introduce our first quarterly Travel Recovery Trend Report, which offers a snapshot of what we see from our exclusive access to Expedia Group first-party data and custom research around the world. This report was developed to help our advertising partners and the broader industry start to recover and rebuild. While looking largely at Q1 2021 data, the trends indicate what we can expect in the coming months to continue.
Travel is returning with vaccine program momentum
The good news from this first report is that despite a sluggish start to 2021, we've turned a corner on 2020 with stronger monthly search volumes in February. March saw even higher volumes across all global regions, all of which grew at least 20% month-over-month. This increase is linked with growing momentum for the rollout of COVID-19 vaccines and travel guidelines around the world, as well as travel "bubbles" and corridors for safer air travel between countries.
The correlation between major vaccine announcements and week-on-week search growth was especially prominent in the United States, which is progressing quickly with its vaccine rollout and spurring traveler confidence.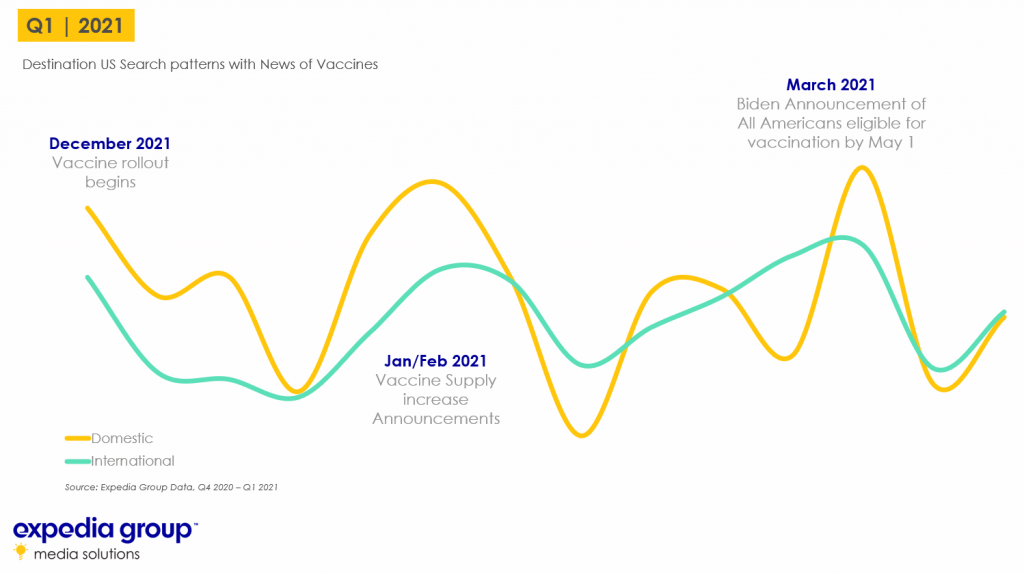 Let's get into the other trends that bubbled up in first quarter of 2021.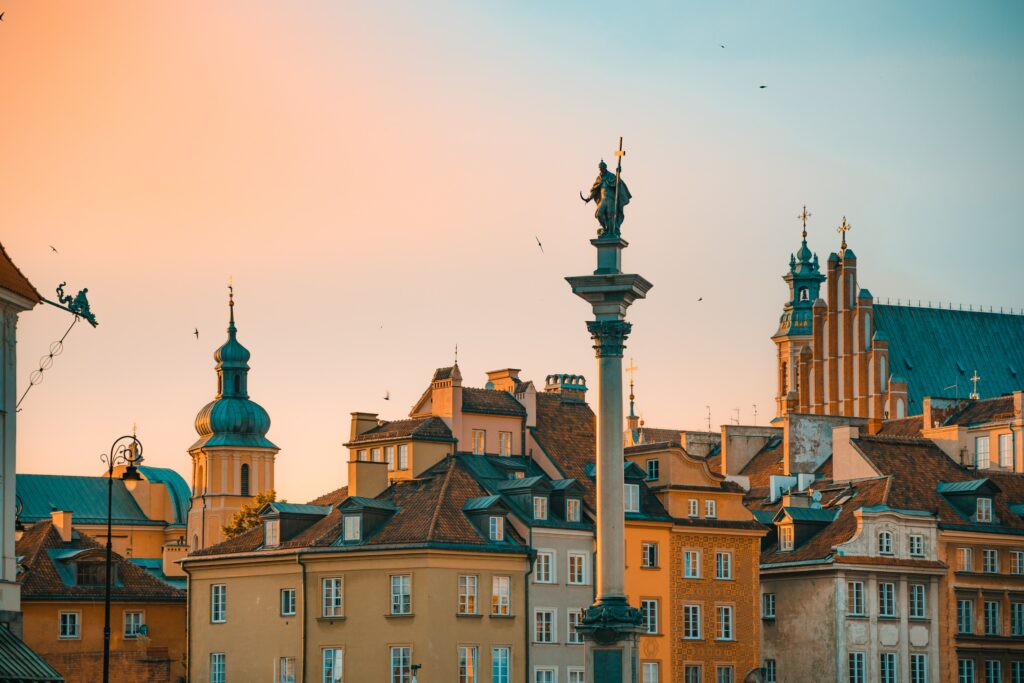 Hotel advertising that can reach any traveler, anywhere
Travelers looking to book a hotel use multiple channels to find their ideal place to stay, from social media to travel websites, and more. This is why it's imperative that you know when — and where — to reach the right traveler. Whether you're trying to reach early-bird or last-minute bookers, our targeting capabilities can help you connect with the right traveler at the right time.
Domestic travel and shorter search windows are here for the foreseeable future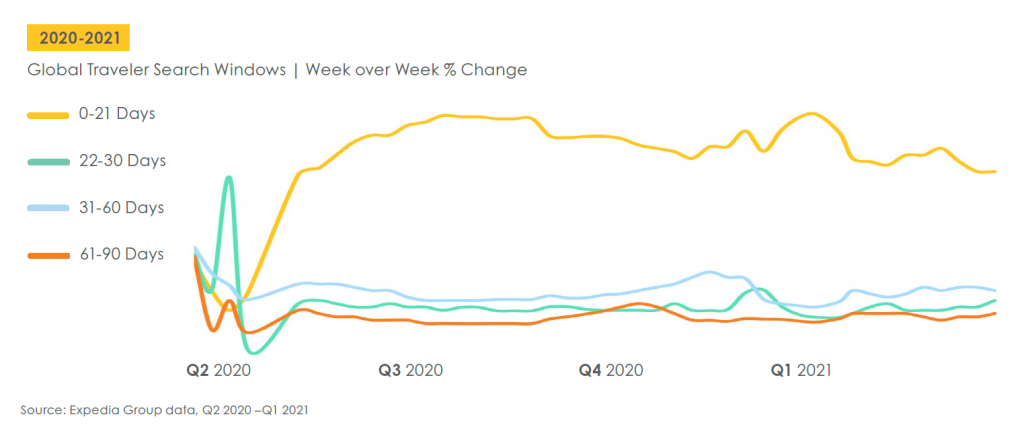 Most global searches fell within the 0 to 21 days search window, continuing a trend seen through much of last year, and are driven largely by domestic considerations. Almost 60% of domestic searches fell within the 0 to 21 days search period. We see this number drop to under 40% for international searches, with searches 91 days out or longer representing almost a third (30%) of international Q1 2021 searches, a positive signal to not exclude international travelers from recovery strategies.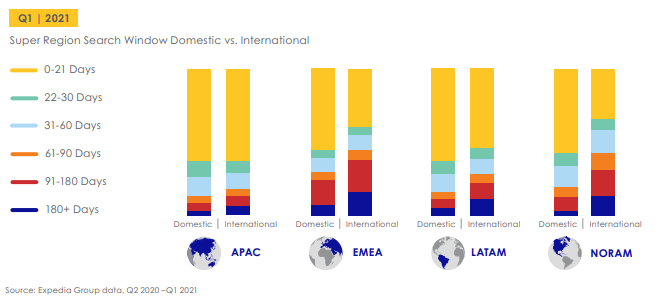 Although we are starting to see international search demand begin to return, many travelers are continuing to take trips closer to home – opting for beach and city destinations – and choosing car travel as their preferred mode of transportation. In Q1 2021, beach and city destinations made up the top 10 booked destinations around the world, and within each region.
Travelers making up for lost time with longer trips
Many travelers are making up for lost time this year by taking longer trips, planning to fully use vacation days and continuing to work remotely while traveling with "flexcations" – longer stays that include work and play. Those longer trips are benefiting destinations and accommodations providers. Quarter-over-quarter, in Q1 2021, vacation rental demand increased and the global average length of stay for vacation rentals jumped 30%.
Data from Vrbo shows vacation rental travelers are 75% more likely to book more stays of at least 7 nights at vacation homes this summer, exceeding pre-pandemic levels and illustrating the opportunities for travel marketers to promote and encourage longer stays.
Traveler health and hygiene expectations continue to evolve
Since the start of the pandemic, health and hygiene factors have grown in importance for travelers. Analysis of Expedia Group guest review data from the beginning of the pandemic in March 2020 shows a steep spike in the percentage of guests mentioning cleanliness in their reviews, and since then, roughly over a third of all guest reviews mention cleanliness.
However, as consumer confidence continues to grow, the focus on health and hygiene is shifting. For example, when looking the flight booking process, it reveals an interesting shift in customer mindset. When comparing the top five topics searched for when booking flights from the last 12 months, against the top five from Q1 2021, the aggregated annual data is naturally dominated by health- and hygiene-focused considerations. In the last quarter, we saw those topics drop from the top of the list and replaced with more traditional considerations, such as cost and the ability to change flights.
Impacts on recovery marketing strategy
Richard Kocher, who leads our team of media insights and planning experts at Expedia Group Media Solutions, shares some of his thoughts on how this latest data informs recovery marketing strategies.
More travel insights to come on the road to recover and rebuild
This is only a fraction of the insights we can tap into from the more than 300 petabytes of Expedia Group traveler intent and demand data, helping demonstrate that what travelers want and expect from travel brands will continue to evolve.