January 21, 2021
To keep our advertising partners and the industry abreast of traveler trends and opportunities around the world, we are diving into regional insights from our recent global research. Here, we take a closer look at how COVID-19 has impacted traveler confidence in Europe, specifically: Germany, the UK, France, and Italy, and the factors that will influence future destination, accommodation, and transportation decisions. If you're curious to learn more about the Americas, be sure to check out our recently-published blog post and infographic.
In France, 1 in 2 travelers are optimistic about future travel this year, but Italian, German, and UK travelers need more reassurance, as fewer than 4 in 10 travelers have a positive outlook. Despite the variances in traveler confidence by country, European travelers on average expect to take 2.1 leisure trips from January to October 2021.

Tapping into the 300 petabytes of exclusive Expedia Group global traveler intent and demand data, we see that in France, Italy, Germany, and the UK, international searches account for most searches, however in both France and Italy, domestic searches are not far behind international. When comparing December 2020 search data with October 2020, we see some interesting shifts across the region. France, Germany, and the UK all moved from predominantly domestic searches to predominantly international searches, with significant swings in both the UK and Germany. We believe that, by December, Europeans had turned their attention to international spring and summer holiday planning. This interpretation of the data is validated, in part, by an increase in longer search windows, which tend to accompany international travel.
Recent Expedia Group data on the top 10 destinations searched for by EMEA travelers shows they are searching for familiar destinations—large international cities and many country capitals—including Dubai, Istanbul, London, Paris, Amsterdam, Barcelona, New York City, Stockholm, Madrid, and Zurich. Our proprietary Expedia Group booking data also reiterates the domestic travel trend that we saw in our custom research: France, Germany, and the UK all topped the list for travelers booking within their own country.
Marketers can reach European travelers by inspiring those who are still dreaming and engaging those who are ready to travel. Content highlighting domestic trips and city breaks can help drive demand in shorter booking windows, while spring and summer holiday inspiration can spur longer bookings further out. Staying on top of trending destinations and competitive consideration sets can also help marketers adjust their efforts accordingly and will continue to be important as travel restrictions change on a nearly daily basis.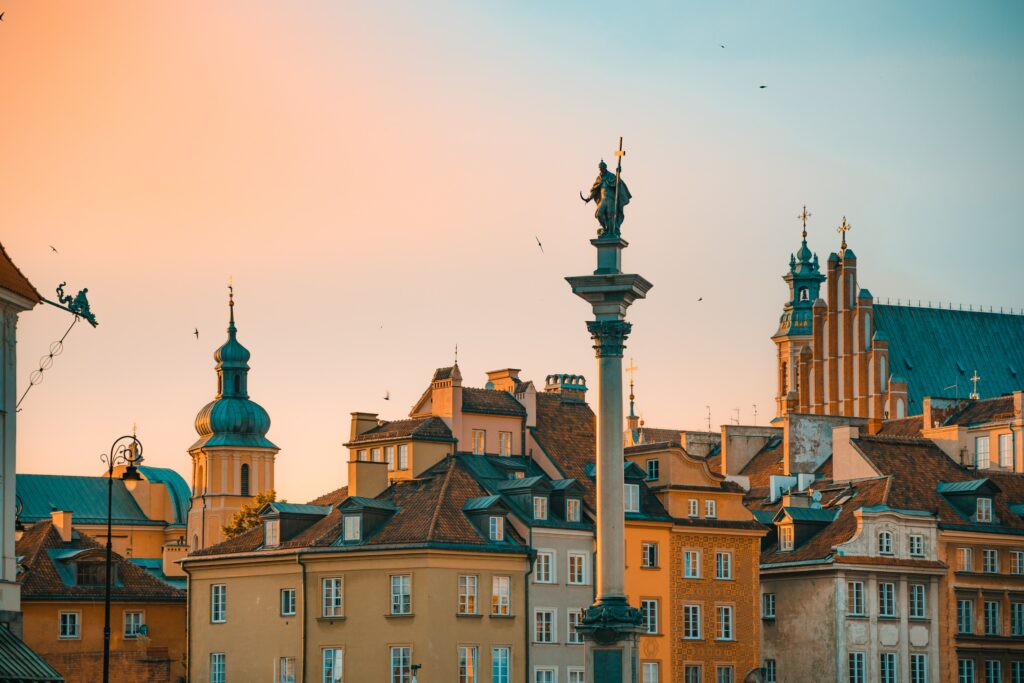 Hotel advertising that can reach any traveler, anywhere
Travelers looking to book a hotel use multiple channels to find their ideal place to stay, from social media to travel websites, and more. This is why it's imperative that you know when — and where — to reach the right traveler. Whether you're trying to reach early-bird or last-minute bookers, our targeting capabilities can help you connect with the right traveler at the right time.
Instilling Traveler Confidence
Various factors drive travel confidence, and across Europe, travelers agree that flexible travel policies, including full cancellations and refunds on both transportation (52%) and accommodations (52%), would make them most comfortable with travel. While half of Europeans we surveyed would be more comfortable traveling if a vaccine is widely available, for UK travelers, this is the leading factor (58%). It is important to note that this custom research was conducted before news of successful vaccine trials and recent vaccine rollouts, so we suspect traveler confidence may have lifted during the past months and will continue to do so as vaccine availability broadens.
A destination that is less populated will also boost traveler confidence for 46% of Europeans and is particularly important to German travelers (49%). Reassuring content, such as messaging that highlights flexible travel policies, as well as content and imagery demonstrating social distancing or reduced capacity, like outdoor dining with space in between diners, should be incorporated into marketing content targeting European travelers.

What Influences Travel Decisions?
Health regulations and requirements, such as mask enforcement and proper COVID-19 hygiene protocols, are all leading factors influencing destination, transportation, and accommodation decisions in Europe. In France and Italy, the use and enforcement of masks is the leading factor influencing transportation decisions, while budget considerations (45%) and refund or cancellation policies (51%) lead for German and UK travelers, respectively. Information on pandemic measures—such as increased cleaning measures, contactless services and reduced capacity—should be at the forefront of travel providers' marketing communications, supported by reservation flexibility or full refunds to provide European travelers with financial peace of mind.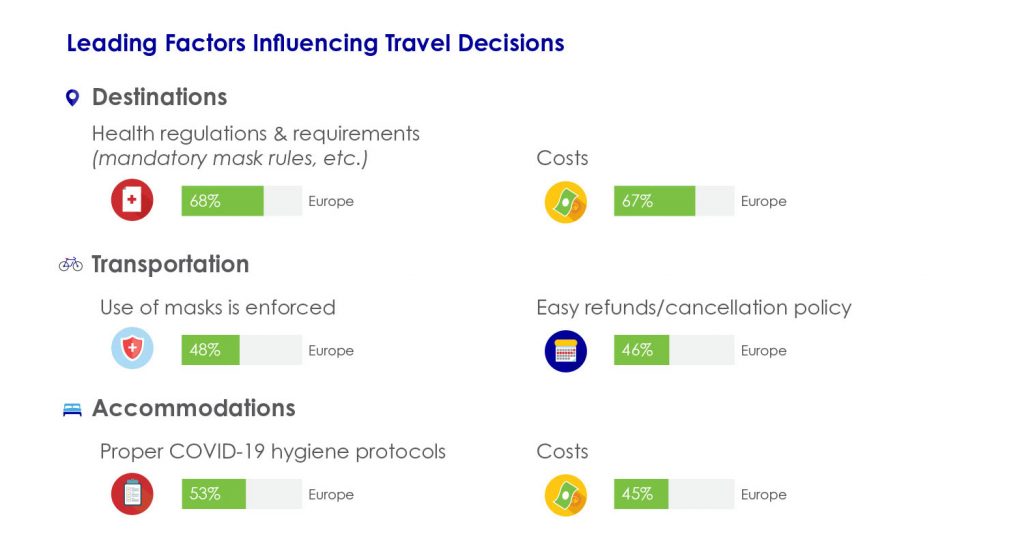 Influential Content
Pictures and information on destination sites and online travel agencies (OTAs) remain leading content influences for European travelers planning future trips, along with pictures and information in travel advertising. When comparing pre-pandemic and future influence among European travelers, content in travel advertising increased by 28%, while content on OTAs saw a 27% increase, and content on destination sites increased by 20%, illustrating the importance of a multi-platform content and marketing strategy. A cohesive content approach across social media, owned websites, and advertising, rooted in messaging and information that instills traveler confidence, will help reassure European travel shoppers as they plan future travel.
For further insights on attitudes, motivations, and influences that will drive future travel decisions in the Americas, be sure to listen to the on-demand Regional Insights Summit for EMEA. Looking for more regional data and insights from our custom research and Expedia Group first party data? We'll be publishing more regionally focused, research-based insights and infographics covering Asia Pacific later this month, and we recently published a post and infographic on the Americas. Subscribe to our blog to be notified as soon as new posts are published.