January 20, 2021
The state of travel is rapidly evolving and we continue to see different levels of recovery and engagement across different regions. Expanding on our recent global research, we're taking a closer look at how COVID-19 has impacted everything from traveler confidence to the factors influencing destination, accommodation, and transportation decisions in the Americas, specifically: Canada, the U.S., Mexico, and Brazil.
Overall, the research found that Latin American travelers are more optimistic than North American travelers, with Canadian travelers needing the most reassurance. Seven in 10 Mexican travelers have an optimistic outlook for future travel, compared to only 3 in 10 Canadians. Likely a reflection of their overall travel confidence, Latin American travelers also anticipate taking more leisure trips than North American travelers from January to October 2021 – 2.7 trips versus 2.1 trips on average.

Looking across the 300 petabytes of exclusive Expedia Group global traveler intent and demand data from the Americas, we continue to see domestic searches outpacing international searches. However, there have been some notable shifts when comparing October 2020 and December 2020 searches. In the U.S., Brazil, and Canada, domestic searches have softened in favor of international searches, and this was especially pronounced in Canada. In October 2020, 85% of searches in Canada were domestic – this moved closer to a fifty-fifty split in December 2020. In Mexico, we saw the reverse, with domestic searches surging from around 30% in September to more than 80% in December. We believe this surge was due, in part, to proactive, domestic-focused promotions being run by beach destinations in Mexico during the holiday season through campaigns on Expedia.mx and across other marketing channels.
As people look to restore their lives beyond COVID-19, they are looking for travel that offers a change in weather or scenery, provides an opportunity to see family and friends, or allows them to celebrate events and milestones after a year during which so little celebrating could happen. In our research, we consider this rejuvenation travel – and it is a trend we expect to see more of this year. Recent Expedia Group data on trending destinations shows that the Top 10 destinations Latin American travelers are searching for are varied; including both beach and city destinations, such as Rio de Janeiro, Florianopolis, Salvador, and Sao Paulo in Brazil, and Cancun, Mexico City, Puerto Vallarta, and Acapulco in Mexico. In North America, we see similar trends, with top destinations including Las Vegas, Orlando, Cancun, Denver, Atlanta, and Los Angeles.
Marketers can reach travelers in the Americas by inspiring those who are still dreaming and engaging those who are ready to travel with content highlighting outdoor and seasonal experiences – such as hiking, skiing, relaxing on the beach or sightseeing, with a focus on domestic or drive market trips. Staying abreast of trending destinations and competitive consideration sets can also help marketers adjust their efforts accordingly, and ensure content hits the mark with the target audience.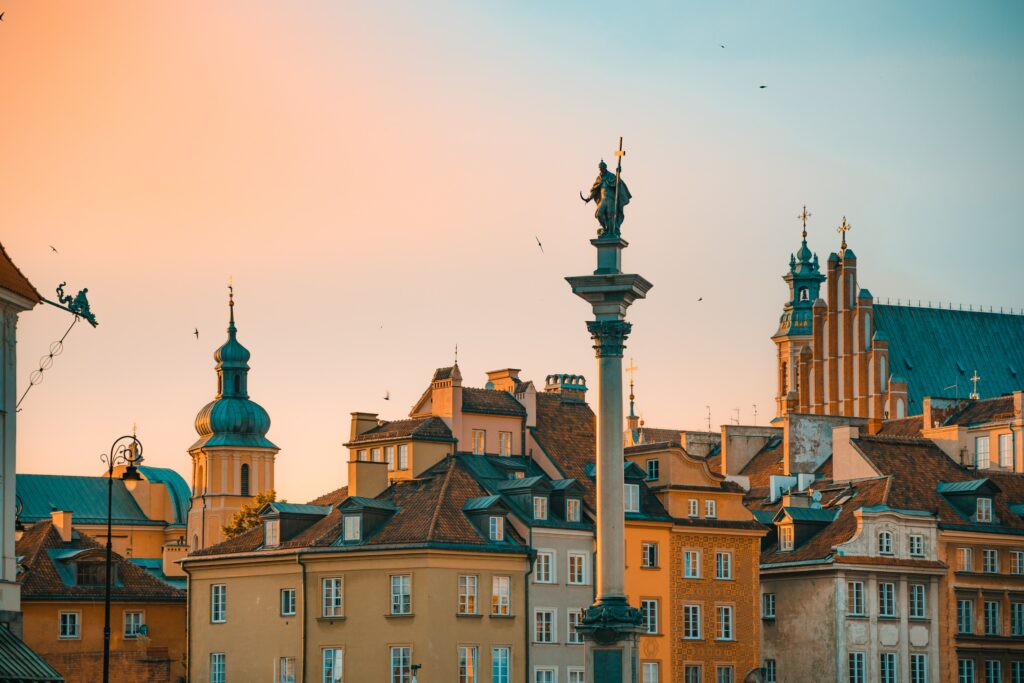 Hotel advertising that can reach any traveler, anywhere
Travelers looking to book a hotel use multiple channels to find their ideal place to stay, from social media to travel websites, and more. This is why it's imperative that you know when — and where — to reach the right traveler. Whether you're trying to reach early-bird or last-minute bookers, our targeting capabilities can help you connect with the right traveler at the right time.
Instilling Traveler Confidence
When we conducted this custom research, in the last quarter of 2020, we had not yet received concrete news regarding successful vaccine trials. Even without specific vaccine news and the progress we've seen in the past month, in the fall of 2020, travelers across the Americas agreed that a widely available vaccine would make them more comfortable traveling; 53% in North America and 74% in Latin America.
Various factors drive travel confidence; we found that Latin American travelers will also feel more comfortable traveling if accommodations are following cleaning and hygiene guidelines (65%), while flexible travel policies increase traveler confidence in North America (46%). Not having to worry about health care expenses or coverage while traveling for leisure rounds out the top three in both North America and Latin America, at 44% and 65%, respectively. Marketers should ensure they are sharing reassuring content, such as messaging and imagery demonstrating social distancing or reduced capacity, contactless services, mask enforcement policies, and heighted hygiene measures.

What Influences Travel Decisions
We see consistency across what will instill confidence in travelers and the leading factors influencing destination, transportation, or accommodation decisions. In the Americas, health regulations and requirements, particularly mask enforcement and proper COVID-19 hygiene protocols, followed by costs, are leading factors when making travel decisions. We expect this focus on cleanliness, health and flexibility to continue into the future. Therefore, the importance of addressing these themes within your travel advertisements cannot be overstated.
For both transportation and accommodation, North American travelers also favor flexible booking policies, while Latin American travelers are influenced by additional health or hygiene protocols, such as reduced capacity and cleaning or disinfecting policies. Information on pandemic measures should be at the forefront of marketing communications, supported by reservation flexibility or full refunds to provide travelers with financial peace of mind.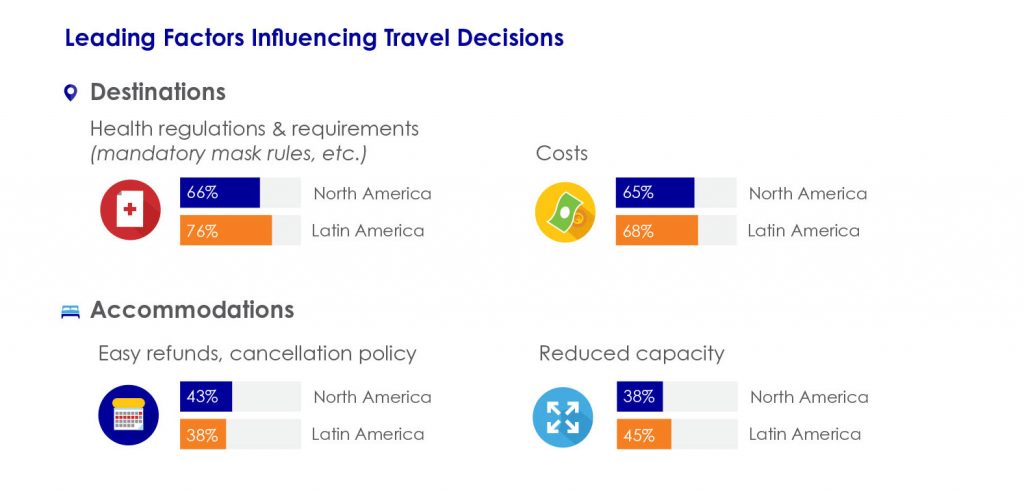 Influential Content
Pictures and information on destination sites remains a leading influence for travelers across the Americas planning future trips; curate images across your social media, your branded website, and your advertisements that align to the themes of cleanliness, reduced capacity, and flexibility. For example, consider using imagery showing open, outdoor dining areas, a pool area with seating that is in line with social distancing measures, or a guest checking in while wearing a mask. Images will help reinforce your messaging and will reassure travel shoppers. Online travel agencies (OTAs) and travel advertising also play a key role for North American and Latin American travelers. When comparing pre-pandemic and future influence, the number of North American travelers influenced by content on OTAs increased by 23%. Among Latin American travelers, there was a 38% increase.
For further insights on attitudes, motivations, and influences that will drive future travel decisions in the Americas, be sure to listen to the on-demand Regional Insights Summit for the Americas. Looking for more regional data and insights from our custom research and Expedia Group first party data? Check out our regionally-focused insights and infographics covering Europe and Asia Pacific.