+40%
YOY Room Night Demand
Overview
Kyushu, the southernmost region of Japan, is internationally famous for its bustling cities, pork ramen, and rejuvenating hot springs. Dubbed the "Rome of Japan," it is also known as an early center for Japanese civilization. Yet even with its many attractions and rich history, it is still considered somewhat of a hidden gem. To set their region apart from better known tourist destinations, ten cities within the region collaborated on a Co-Op Campaign with Expedia Group Media Solutions.
The Opportunity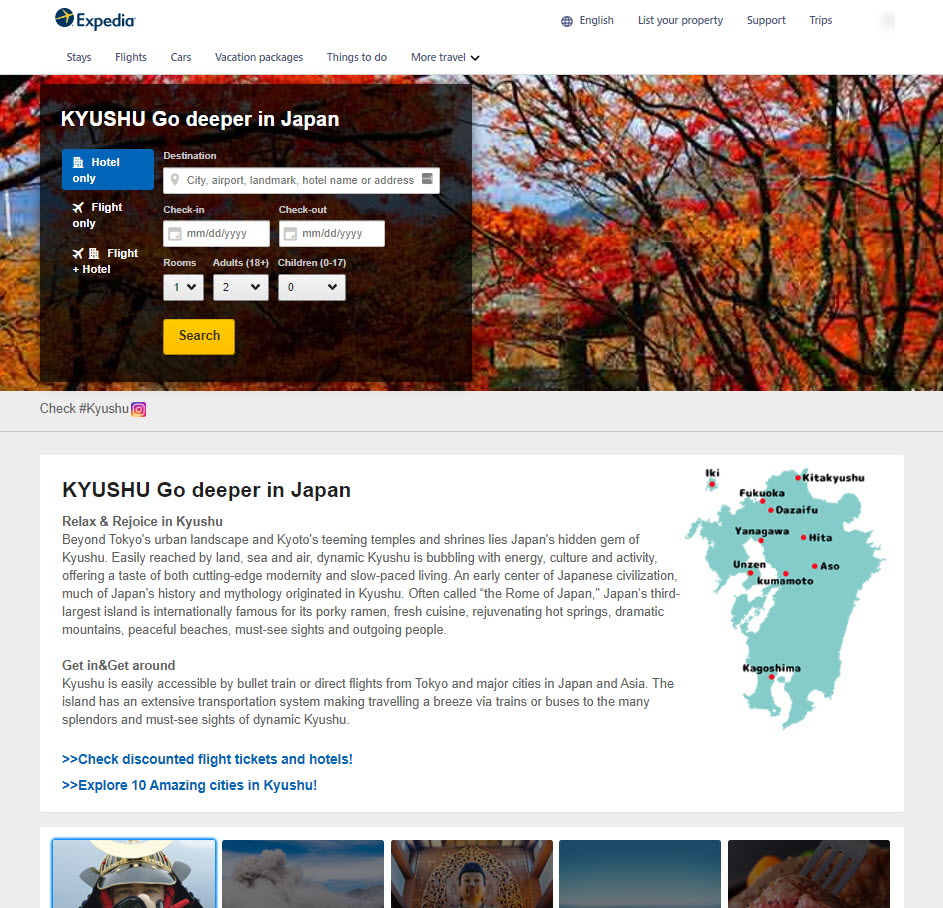 Striking in many ways, the Kyushu region is comprised of a mountainous main island (with an active volcano), as well as many smaller islands, some of which are subtropical. It is also home to an array of restaurants, museums, castles, and festivals.
Ten cities within Kyushu wanted to draw attention to the region's many attractions and, in turn, set themselves apart from more popular tourist destinations such as Kyoto and Tokyo. They also wanted to re-inspire travelers and connect with audiences in a reassuring and clear manner during the COVID-19 pandemic.
The Solution
The ten participating cities within Kyushu used a Co-Op Campaign to draw attention to their region while showcasing their own unique destinations and attractions. By combining display and social media advertising with custom landing pages, these cities maximized their respective marketing investments. The campaign, which ran in the spring and summer of 2020, also contributed to industry recovery efforts and helped reinspire travelers in a responsible way during the COVID-19 pandemic.
A key component of the campaign was an interactive, custom Trip Discovery microsite. The site suggested a variety of activities and destinations to travel shoppers based on their responses to a series of images and questions. The Co-Op microsite engaged and inspired and also provided a direct booking path.
The Results
The campaign was a success for the region and it buoyed ongoing industry recovery efforts during the COVID-19 pandemic. Together, the landing page and Trip Discovery microsite effectively engaged travel shoppers resulting in a 30 percent year-over-year (YOY) increase in bookings across the region as well as a 40 percent YOY increase in room night demand.