April 7, 2016
A growing number of travelers desire an authentic travel experience. While these adventurers still enjoy iconic landmarks, they also want to discover how people locally live in the countries they visit.
That's why 39,000 Australian travelers took the "Like a Local" travel quiz that we developed for the financial institution National Australia Bank (NAB).
Interested in raising awareness for the NAB Traveller Card, a debit card which locks up to 10 currencies, National Australia Bank reached out to Expedia Media Solutions to develop an engaging integrated campaign to reach the Australian travel audience. The target audience was 18-35 year old Australian "sunchasers" heading to Europe and North America for the Australian winter (Northern Hemisphere's summer).
To help capture NAB's desired customer base, we developed an Expedia microsite focused on the concept that no one wants to stand out as a tourist. The site consisted of a "Pass Like a Local" quiz, pages such as "Party Like a Local" and "Stay Like a Local" to provide tips and venues for those wanting an authentic travel experience, and information about the NAB Traveller Card. To help extend the reach of the campaign, NAB in return developed a microsite leveraging the Expedia content.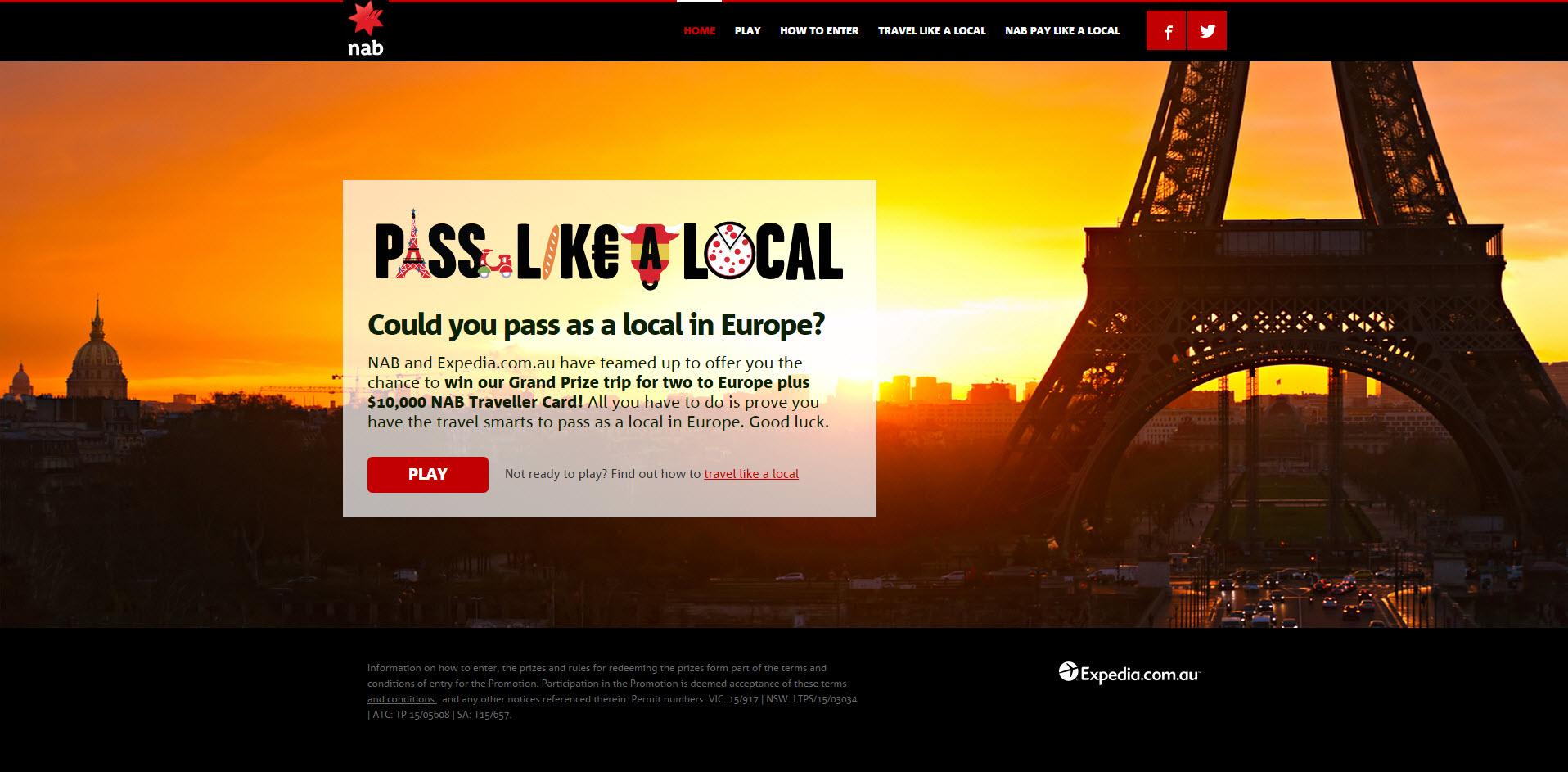 In addition to the dynamic and interactive microsite, the six week campaign consisted of display ads, social media posts in partnership with Expedia Australia. Social media engagement was enabled through the Twitter hashtag #LikeaLocal – where individuals could share their travel tips and answers to a variety of travel questions. There was a $1,000 Expedia travel voucher giveaway every week, and a campaign grand prize consisting of: 1) a trip for two to Europe, and 2) a $10,000 NAB Traveller Card.
NAB's goal was to get 20,000 entries in the "Pass Like a Local" competition.
Expedia Media Solutions successfully delivered a targeted holistic campaign that captured and engaged the Australian sunchasers audience – and nearly doubled NAB's original goal.
In total, the six-week campaign drove 8 million impressions, 288 thousand page views, and more than 39 thousand quiz entries. Additionally, participants tweeted 5 thousand travel tips with the #LikeaLocal hashtag and NAB received over 22 thousand new sign-ups to their email newsletter.
By working together to develop an engaging and highly-visible campaign, National Australia Bank and Expedia Media Solutions showed Australians how to pass, stay, and pay #LikeaLocal.
Check out our other success stories {{cta('c960e0fd-055e-4ebf-af2c-7255cfb2956b')}}