October 12, 2020
Kyushu, the southernmost region of Japan, is striking in many ways. It includes the mountainous main island (with an active volcano) and many smaller islands, some of which are subtropical. Internationally famous for its bustling cities, pork ramen, and rejuvenating hot springs, Kyushu offers a wide variety of experiences for many different travelers.
Dubbed the "Rome of Japan," Kyushu was also an early center for Japanese civilization: Much of Japan's history and mythology originated in Kyushu and is highlighted within the area's many museums.
Yet even with its rich history, Kyushu is still considered somewhat of a hidden gem. To help draw attention to their region and maximize their respective budgets, ten cities within Kyushu collaborated on a Co-Op Campaign featuring some of the most compelling destinations and activities across the region.
Better Together
Co-Op campaigns offer travel marketers the combined benefits of showcasing their most unique and compelling attractions creating economies of scale through the combined purchasing power of a group working towards a common goal. By combining display advertising with custom landing pages, multiple travel advertisers can extend their marketing spend together—yet showcase their own brand whether that be a destination, hotel, airline, or activity.
In the case of Kyushu, each participating city wanted to increase awareness of the region and stand apart from other popular destinations such as Tokyo and Kyoto. By collaboratively channeling their efforts through a Co-Op campaign, they were able to do just that. The campaign, which ran in the spring and summer of 2020, also contributed to industry recovery efforts and helped reinspire travelers in a responsible way during the COVID-19 pandemic.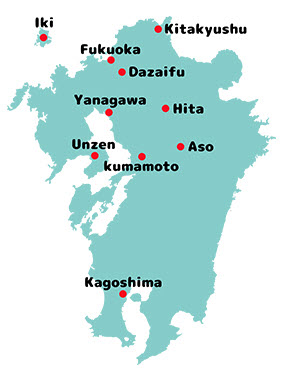 Discovering Kyushu: Microsite Offers an Interactive Glimpse into the Region
With both a rich history and cutting-edge modernity, Kyushu offers a variety of experiences for a wide range of travelers. However, it was important to the participating cities to help travel shoppers discover experiences best suited to their tastes and interests.
To achieve this, the ten participating cities collaborated on an interactive, custom Trip Discovery microsite showcasing a variety of activities and destinations including Unzen's hot springs, the Kumamoto Castle, the Kyushu National Museum, the Jion Waterfall, and many others.
When visiting the microsite, visitors are presented with a series of images and prompted to select an image in response to various questions such as, "Which Japanese experience interests you most?" and "Which is the most attractive view for you?" Based on their selections, users are provided suggestions on where to travel within Kyushu, as well as additional resources to explore the region even further.
Landing Page Showcases Attractions Unique to Each City
A custom landing page featured on Expedia.com provides each city the opportunity to highlight some of their sightseeing, restaurants, and bookable activities.
Travel shoppers are presented with a menu of themes – from "activity," to "tradition," to "nature," to "gourmet." Based on their selections, visitors are offered a look inside some of Kyushu's most distinct experiences and bookable activities including a boat tour along Yanagawa, Kitakyushu's TOTO Museum, and the historical Aso Shrine.
The Park Central delivered a customized message using TravelAds, highlighting the property's convenient downtown location and cleaning standards.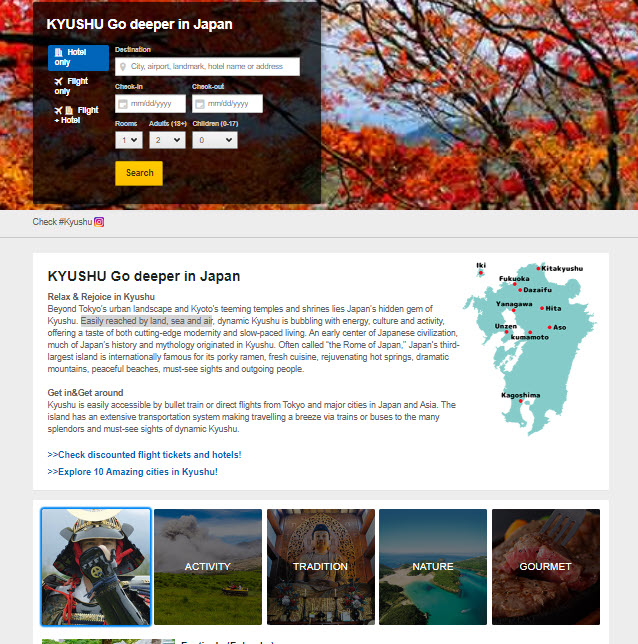 The campaign was an outstanding success, resulting in a 30 percent year-over-year (YOY) increase in booking demand, a 40 percent YOY increase in room night demand, and a 25 percent YOY increase in passenger demand. These are the outcomes that we love to see: an undiscovered gem gets the attention it deserves and travel shoppers are inspired to book.
+40%
YOY Room Night Demand
Take a deeper look into how collective marketing efforts can help advertisers out-perform campaign goals and create a bigger impact with a limited budget.