Hotels are facing myriad challenges the world over, but there is hope. We are seeing travel shoppers return to our sites to dream and to book. In 2020, Expedia Group is helped hotels rise to the occasion with a sweeping relief package. Additionally, Expedia Group Media Solutions is helping hotels plan their recovery and regain lost revenue by using TravelAds. Today's travelers demand more information before they book; we are helping them understand details like the health and hygiene measures that are in place at their desired destination(s). Likewise, hotel revenue managers and marketing managers need data-driven insights to understand how to engage travel shoppers in this new world. Our data provides a unique and valuable window into the mind of today's travel shoppers and is one of the keys to helping hotels rebound.
We are helping our hotel partners prepare for recovery by providing clear guidance on how hotel advertising partners can use TravelAds to engage travel shoppers and begin implementing their recovery. In case you need a reminder, TravelAds Sponsored Listings are premium placements in hotel search results that appear alongside hotel search results—to convert those travel shoppers who are ready to book.​ The cost-per-click model is an efficient way to test demand and maximize conversion—which is especially appealing when budgets are limited. ​
As travel restrictions lift, we anticipate that people will be eager to rebook missed trips and plan new ones. And when we look at our first party data, we are already seeing behaviors that indicate pent up demand. Preparing for this increase in demand will be key to revenue recovery: letting people know that you are open for business and standing out from the crowd will allow hotels to drive occupancy while keeping Average Daily Rate (ADR) up.
Drive Revenue Recovery with Targeting
Our current data indicates that travel shoppers are mostly searching for trips within the next three weeks (Expedia Group data, Q2-Q3 2020). Targeting that last-minute booker can help drive immediate revenue recovery. The TravelAds platform gives hotel marketing managers and revenue managers the ability to target real-time shopper behavior by both booking window and travel window.
We can also help advertisers target those travel shoppers who are searching far in advance and planning a trip post-COVID (61-180+ days out)​. TravelAds can also be used to target the length of stay that bookers are looking for. This particular targeting ability represents a significant opportunity for hotels since it is reasonable to anticipate changes in stay patterns: People who have gone to the trouble to get somewhere will most likely plan to stay longer. And capturing that longer stay visitor is all the more valuable these days.
If you are using TravelAds, it is of the utmost importance to have a bidding strategy that aligns with your goals. Be sure to test new approaches frequently and don't forget to keep doing what is working. It may seem obvious, but I've seen hotels that develop a TravelAds tactic that really works for them and drives room nights but then they stop. If TravelAds is keeping your rooms filled and your ADR steady, then it is working and we recommend that you keep reinvesting part of your returns back into the program to maintain that virtuous cycle. Also, be sure to draw on the knowledge of your TravelAds expert. They can help you identify bidding strategies to test based on your specific audience and your goals.

Use Customization to your Advantage
The ability to use custom imagery and ad copy in your TravelAds gives you control of your message and is a great opportunity to inspire and instill confidence. Writing with a tone that is helpful and understanding will make your hotel more appealing to travel shoppers.
What we've learned from surveys and first party data over the last few months is that some approaches are working better than others. According to the data that our Expedia Group user research team has uncovered, travelers these days are most focused on three themes:
hygiene and cleanliness standards
booking and travel flexibility
value and deals
Hotels can customize their ad copy and imagery to highlight any aspects of a property or of their locale. Recently, we've seen advertisers use this aspect of TravelAds to great effect by highlighting health and hygiene measures and promoting social distancing measures to reassure potential bookers. Including any flexible booking policies will also make a positive impact. Conversely, be sure to avoid potential pitfalls like mentioning nearby places of interest that are closed, showing busy and crowded areas in your imagery, or ignoring travel restrictions that might impact travel shoppers. Keep in mind that imagery is just as important as the words you use: choose bright and beautiful pictures that are not crowded or busy.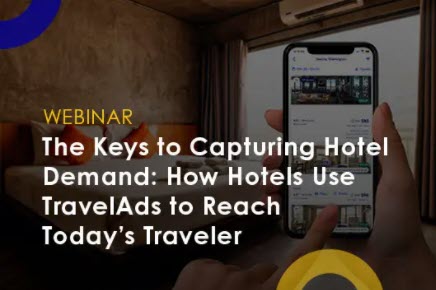 As part of the broader Expedia Group commitment to helping travel partners recover from the crisis, in the summer of 2020 we launched a TravelAds Recovery Program with up to $10 million in TravelAds account credit relief to help hotels reactivate their TravelAds campaigns, generate increased exposure, capture travel shopper demand, and let travelers know once hotels are open for business. All hotels who actively participated in TravelAds since 2019 were eligible for a 20% account credit match when they make a qualifying account deposit. This program closed on October 30, 2020.