Summer brought promise of a travel boom in the U.S., with COVID-19 restrictions easing and vaccination rates rising. International destinations welcomed Americans back, and the sheer amount of people boarding planes was above and beyond expected. Then the Delta variant swept through the states and hindered the industry's recovery. Still, the desire to travel remained strong, particularly as mindsets shift from "when will the pandemic end?" to "how do we learn to adapt?" And, as we head into the fall, the question isn't whether people will travel – it's how and where they'll travel. We dug into Expedia Group proprietary data and surveyed Americans to uncover answers.
Who is most eager to travel this fall?
In a recent survey of 2,200 Americans conducted in collaboration with Morning Consult, we found the majority (58%) of respondents have travel plans during the fall – but Millennials are in the lead (67%) compared to Gen Z (61%), Gen X (53%), and Boomers (53%).
Across geographic regions, those who live in suburbia (62%) are most likely to travel as temperatures start to cool down, followed by city dwellers (58%). Unsurprisingly, travel plans scale with income level, as 80% of those making six-digit salaries have a trip booked in the next three months.
Monthly trip searches were up 70% over the summer compared to earlier in the year according to the Expedia Group Media Solutions Q2 Travel Recovery Trend Report, and we're seeing positive signals continue into the fall.
Where are travelers headed?
Travelers are prioritizing sunshine and open attractions – but Americans are also choosing cities over small towns, which may indicate some people are more comfortable visiting places where vaccination rates are high. These are the top U.S. locations from September through November based on hotel demand across Expedia.com, Hotels.com, Hotwire, Orbitz, and Travelocity.
Las Vegas, NV
Orlando, FL
New York City, NY
Cancun, Mexico
Orange County, CA
Chicago, IL
Los Angeles, CA
Riviera Maya, Mexico
San Diego, CA
Miami, FL
Meanwhile, vacation rental trends tell us a slightly different story. Looking at the same months on Vrbo, here are some of the trending fall destinations for American travelers, where they can go off the grid, or soak up the sun oceanside.

Pigeon Forge, TN
Miramar and Rosemary Beach, FL
Gulf Shores, AL
Panama City, FL
Fort Walton, FL
Myrtle Beach, SC
Hilton Head, SC
Clearwater and St. Petersburg, FL
Kissimmee, FL
Fort Myers and Cape Coral, FL
Who are they going with?
While most people plan to take trips with a significant other, solo travel is on the rise in recent months, looking at bookings in the fall across multiple lines of Expedia Group's business. We surveyed Americans to find out why, and the top three reasons were a change of scenery (47%), self-discovery (34%), and to be fully immersed in their destination (27%). We also discovered Millennials and Gen Z (72%) are more into solo trips compared to Gen X (59%) and Boomers (47%).
During the pandemic, solo travel can be a responsible option, and planning for one is easier than curating an itinerary for many. Solo travelers can flex their schedules around off hours for attractions, and they don't have to worry about party size limitations at restaurants or bars.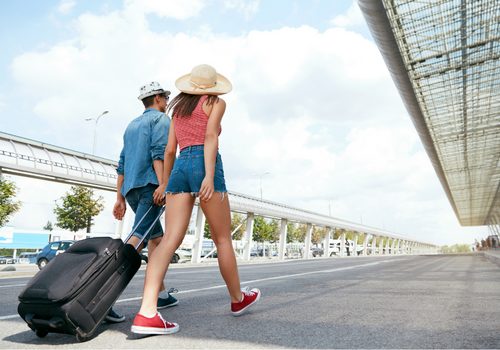 Create compelling campaigns for your destination
With travel demand on the rise, destination marketers have the opportunity to reach eager travelers.
Destination marketers can take advantage of our insights into traveler behavior to connect with travelers, create excitement about their destination, and build compelling campaigns to stand out from the competition.
That's a wrap
Whether you're dreaming of leaf peeping on Mount Rainier by yourself, or hitting up the best pumpkin patch in your home state with friends, let this serve as your reminder: your fall vacation is within reach. We're with you all the way.
To find out about the travel outlook at the global scale, download the Q2 2021 Travel Recovery Trend Report. This in-depth report is based on over 300 petabytes of first-party Expedia Group data plus the latest custom research.