June 14, 2022
Expedia Group Media Solutions recently published the Travel Trend Report for Q1, which details many of the latest insights identified in Expedia Group's exclusive first-party data. Here, Richard Kocher, who leads our Media Insights and Planning team, gives his expert take on these findings.
A foundation for rebuilding travel
Despite lingering challenges from the global pandemic and other macro-impacts around the world, we continue to see that travelers are resilient: The data is showing increased demand in travel and traveler perseverance as restrictions lift, which has allowed the industry to recover in short bursts.
Entering 2022, with widespread vaccine rollout (over 10 billion doses to-date) and borders reopening, our Expedia Group first-party traveler data represents Q1 as a solid foundation for the rebuilding of travel and tourism. The volume of traveler searches globally across our Expedia Group branded sites was up 25% quarter-over-quarter, which was led by double-digit growth in NORAM (30%) and EMEA (25%). Year-on-year, the picture was more promising: overall global volume increased 75% year-over-year, with EMEA growing 165%, NORAM 70%, LATAM 50%, and APAC 30%.
Two months into Q2, we see the year-over-year momentum continue, with global searches, as well as searches in LATAM and EMEA, experiencing triple-digit growth over Q2 2020.
Confidence is growing
In line with the Q4 2021 report and the re-opening of the US, 14 of the 15 weeks throughout Q1 saw positive search growth for international destinations. With domestic and short-haul the most viable way to travel for the past two years, the increasing shift to international and long-haul travel was a welcome change in trends – and a sign of growing traveler confidence. Canada, for example, built on a 150% growth in inter-province demand with searches to the U.S. seeing triple-digit growth during Q1. In a reciprocal trend, Q1 bookings from the U.S. to Canada increased 155% during the quarter.
If we apply a wider, global lens, we can see how the trend was evident in travelers' booking in and outside of their respective super-regions of NORAM, LATAM, EMEA or APAC. In Q1 2019, 14 of the top 40-booked cities (35%) by regional feeder market were for destinations outside of their respective regions: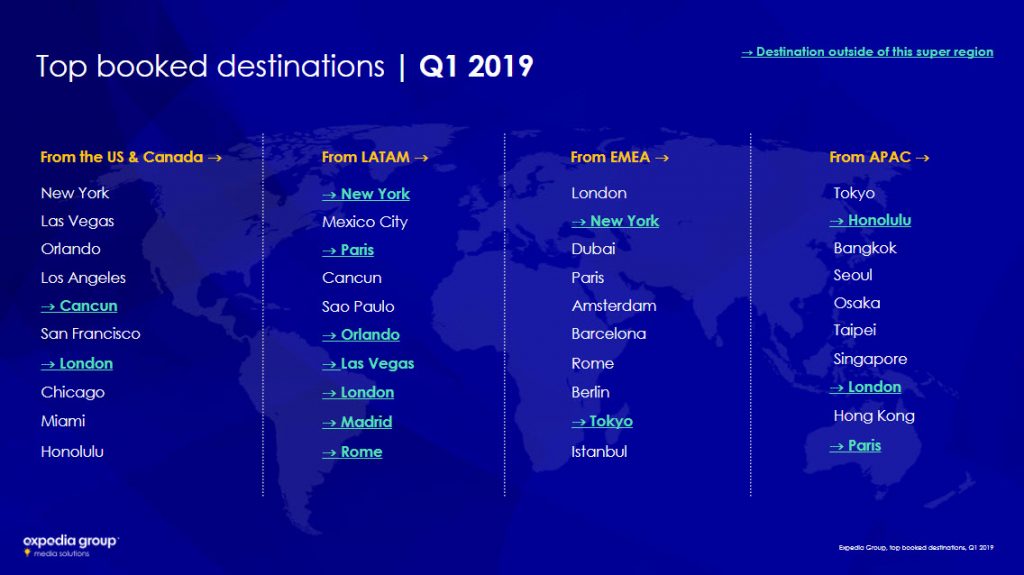 This number dropped to just four out of the top 40 (10%) at the height of the pandemic in Q1 2021: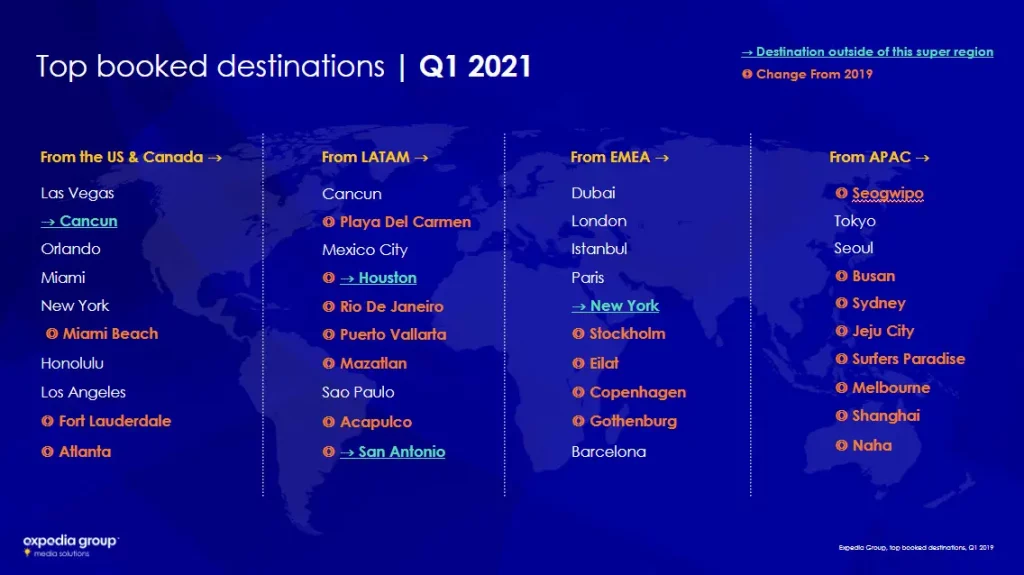 Fast forward two years, and the ratio has shifted back closer to the 2019 norm: nine of the top 40-booked cities (23%) were for destinations outside of their region. For example: bookings from the APAC region featured London, Honolulu, and New York during Q1 2022 compared to APAC-only bookings during Q1 2021.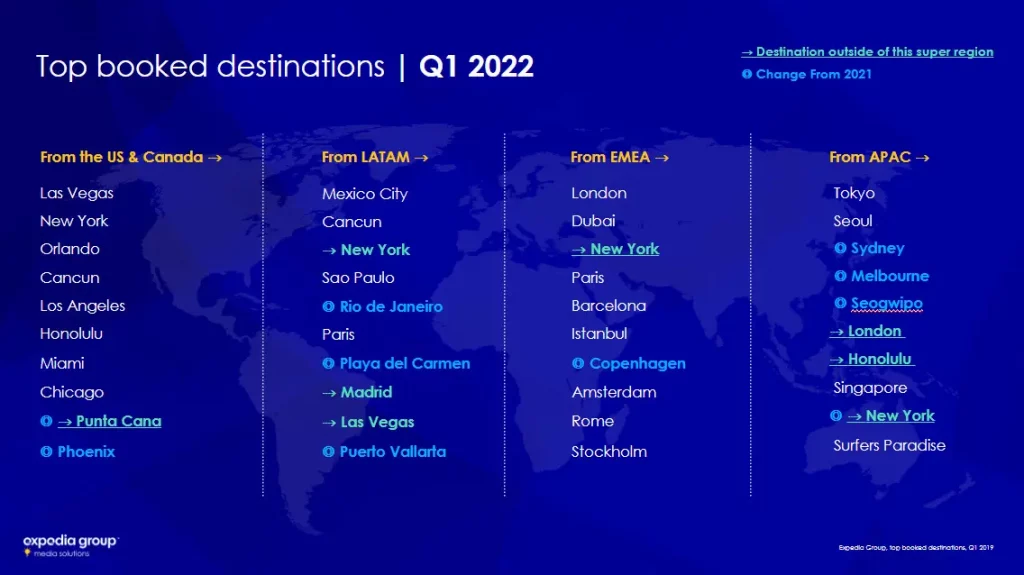 This transition to international travel is also reflected in growing search windows, which suggests traveler confidence in planning ahead. The short-term search windows of 0-21 and 22-30 days were still a higher share of overall searches during Q1 2022 compared to 2019 – up more than 5% and nearly 20%, respectively. However, when comparing Q1 2022 to 2021, there has been a rapid rise in the longer search windows – up 15% for 31-60 days and up more than 25% for both 61-90 and 91-180 days. These changes bode very well for the summer ahead!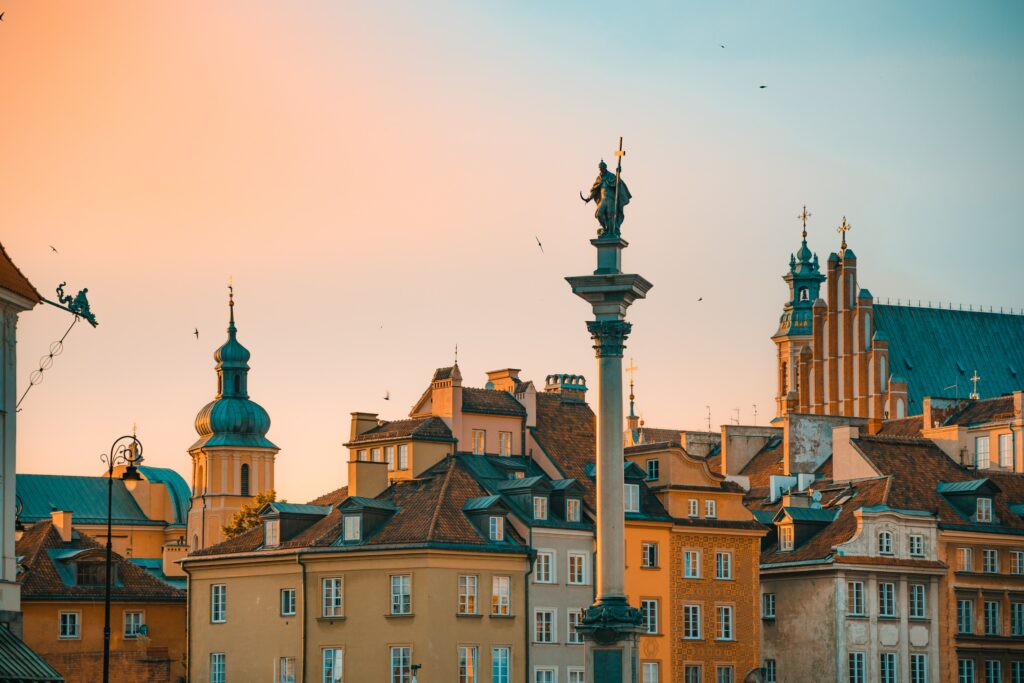 Hotel advertising that can reach any traveler, anywhere
Travelers looking to book a hotel use multiple channels to find their ideal place to stay, from social media to travel websites, and more. This is why it's imperative that you know when — and where — to reach the right traveler. Whether you're trying to reach early-bird or last-minute bookers, our targeting capabilities can help you connect with the right traveler at the right time.
Normal, abnormal, and the new normal
Changes in destination choice represent what could be defined as the "new normal," particularly if we refer to pre-pandemic (2019) as "normal" and during the pandemic (2020-2021) as "abnormal." While over 50% of the top 40-booked cities did not feature in Q1 2019, the share dropped to 25% of the top 40 in Q1 2022, indicating that traveler behavior has reverted back to "normal" times, but with some slight twists—a "new normal" if you like. This includes New York featuring in APAC's top 10 for the first time in at least three years.

This idea of a "new normal" was discussed by the World Economic Forum, which shared lessons from the pandemic learned by industry leaders as travel rebuilds in 2022 and beyond. Marriott International's CEO, Tony Capuano, states the "way we live and work has changed […] and the way we travel has changed as well." He references "bleisure" – a subject close to our hearts and which we've written about before. This trend sees travelers increasingly combine elements of business and leisure travel into a single trip. We feature directional data on this emerging trend in our Q1 Travel Trend Report, which shows that searches for "business friendly" lodging increased 65% from January to March, and how families continued to take "flexcations" during the quarter, reflected in Vrbo data that shows longer, 21-30–day stays, increased by nearly 70%.
Rebuilding sustainably
One further insight from the World Economic Forum is how, according to Shinya Katanozaka of ANA Holdings Inc., the "travel and tourism sector will not be able to survive unless it adapts to […] sustainability-conscience travelers." Sustainability is a key feature in our Q1 2022 Travel Trend Report, which states that, based on our custom research, seven out of 10 consumers avoided a destination or transportation option because they felt it was not truly committed to sustainable practices.
For the first time, we also looked at the performance and reviews of the growing number of hotels that have signed the UNESCO Sustainable Travel Pledge. We looked at data related to the nearly 4,300 hotels that had signed up in March, which highlighted that these hotels are more likely to have a higher ADR and longer length of stay than those hotels not signed to the pledge. The good news is we continue to see interest and momentum, as more than 9,000 hotels have signed on to the Pledge to-date, as we are finding that is what's good for the planet is also good for business.
Stay tuned for more insights as our next quarterly Travel Trend Report will be released in August. In the meantime, register for one of our upcoming virtual Insights Summits webinars, where we will share more findings on these trends, custom research, and real-world examples from brands that have found success through a partnership with us.