August 16, 2023
Building on the findings from our Path to Purchase research, the latest installment of our quarterly Traveler Insights report looks at Expedia Group's exclusive first-party traveler search and booking data to show shifting demand patterns and changing traveler behaviors.  
Our Q1 2023 data revealed that traveler confidence was growing, with many travelers planning further out and looking forward to mid-year getaways. As we look at data from the second quarter of this year, we see that enthusiasm for travel holds strong and a return of seasonal trends like quick trips for events and spring and summer holidays in the Northern Hemisphere.
Search volume steadies and EMEA shows growth
Our exclusive first-party data shows that search volumes in Q2 2023 held steady with the prior quarter, indicating sustained travel interest globally. This is a pattern we've seen in previous years, with consistent search volumes in Q2 2022 after a 25% quarter-over-quarter (QoQ) lift in searches in Q1 2022. Looking across different regions, Europe, the Middle East, and Africa (EMEA) showed the strongest search growth, with a 10% increase in searches QoQ and year-over-year (YoY).  
During the week of May 22, North America (NORAM) and Latin America (LATAM) each saw a nearly 10% week-over-week (WoW) increase in searches leading up to Memorial Day weekend in the U.S., indicating that those travelers were booking at the last minute, especially ahead of holiday weekends.
Several European cities saw significant increases in search volume in Q2, with some experiencing double-digit growth, including cities throughout Italy, like Florence (40% and Rome (30%), and Turkish beach cities such as Antalya (70%). As European cities are popular spring and summer travel destinations in the Northern Hemisphere, this boost in searches is likely connected to seasonal travel planning.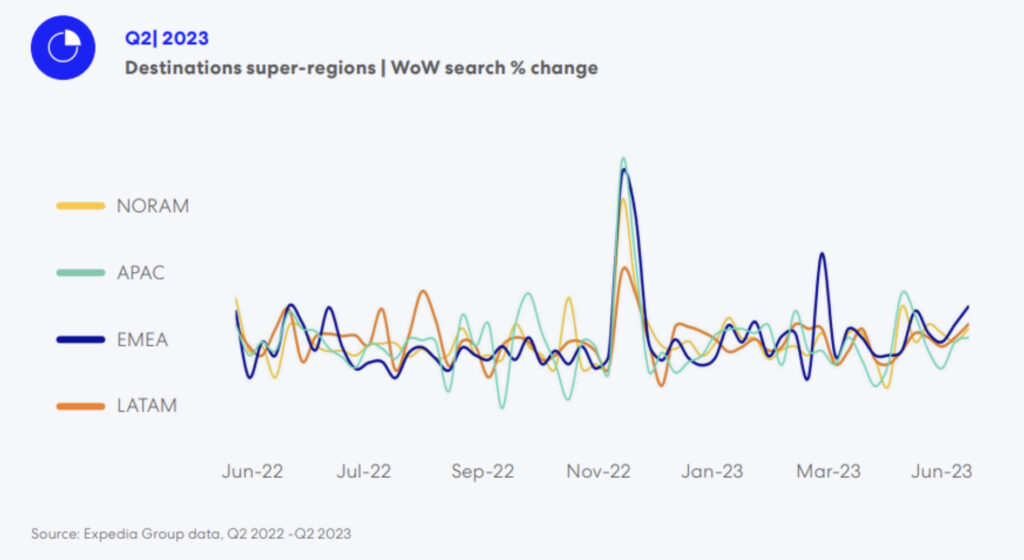 Travelers planning for the short term
Another seasonal pattern that resurfaced in Q2 is that travelers in the Northern Hemisphere are planning short-lead trips in the spring and summer months. Globally, searches in the 0- to 60-day window increased by more than 10% QoQ, with a 15% increase in the 0- to 21-day window. In NORAM, search share in the 0- to 21-day window increased 15% QoQ, while EMEA and LATAM saw an approximately 10% increase in the 0- to 21-day window compared to Q1. 
Meanwhile, travelers continued to plan further out for international trips, with international searches in the 0- to 90-day window increasing nearly 15% QoQ. This aligns with what our Path to Purchase research revealed about the shopping journey for international travelers, as they typically have a longer path to purchase of 85 days and an extended post-purchase window of 94 days.
Travelers seek out long-haul destinations
Looking at the top 10 booked destinations across all regions, long-haul destinations outside the origin region rose in popularity, indicating international travel demand remains strong. London and New York were popular destinations for travelers, with each appearing on the top 10 booked destinations list in all regions.
For Asia Pacific (APAC) travelers, cities such as London and Bangkok moved up in the rankings and New York City joined the list. Newcomers Istanbul and Stockholm entered the top 10 for EMEA travelers, while New York City held on to the No. 1 spot. New York City and Madrid moved up the rankings and London joined the list for LATAM travelers, and Boston and San Francisco were newcomers on the list for NORAM travelers.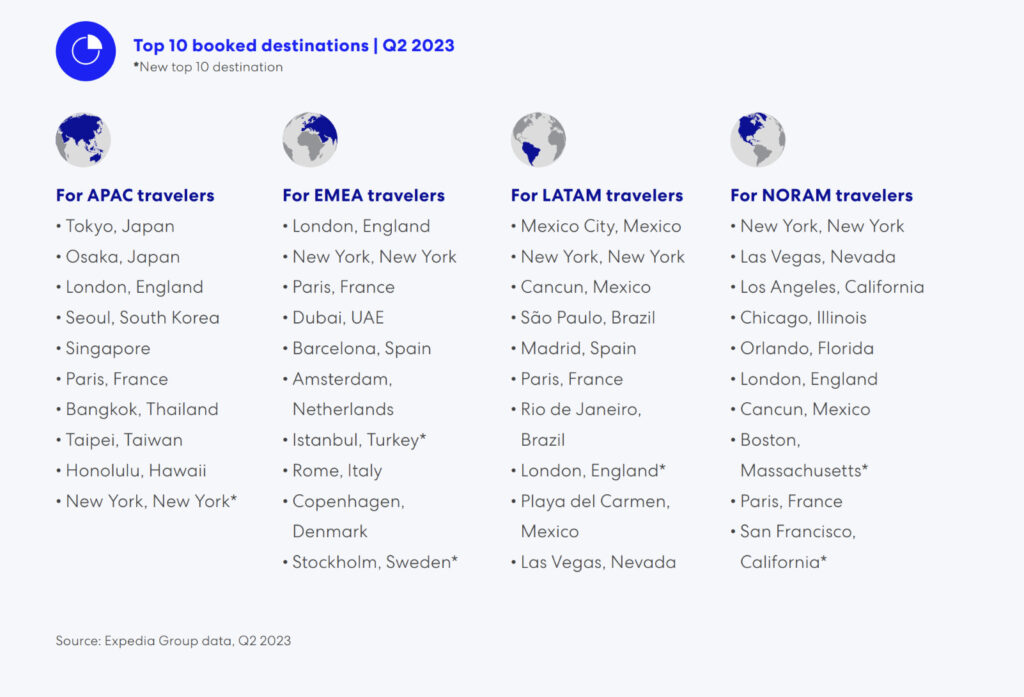 Domestic travel continued to drive the vacation rental category in Q2, and many of the top booked vacation rental destinations remained consistent QoQ. Vacation rental guests from APAC continued to seek out destinations in Australia, and destinations in Brazil remained popular among LATAM vacation rental guests.
Sporting events spark travel inspiration
According to the Path to Purchase study, 24% of travelers are initially inspired to take a trip because of a specific event or celebration. This connects with our Q2 first-party data, as major sports games and tournaments drove strong search increases for corresponding destinations.
For example, with the annual UEFA Europa Conference League Final held in Prague, Czech Republic, on June 7, international searches to the region in Q2 increased by nearly 15% YoY. Additionally, Q2 international searches to Istanbul increased by nearly 10% YoY, coinciding with the 2023 UEFA Champions League Final held in the city on June 10. The uptick in international searches to these regions could be linked to fans looking to travel overseas to watch the UEFA finals in person, showing that major sporting events can draw strong traveler interest to host markets.
Discover more traveler insights for successful advertising campaigns
These findings are only a few of the highlights you'll find in the full report. To learn more, download the Q3 2023 Traveler Insights, and check out the Path to Purchase research for additional insights on how to reach, engage, and convert travelers during the traveler shopping journey.