When the pandemic first hit global travel in 2020, the majority of airlines had no choice but to ground most—if not all—of their fleet. One airline that kept more routes than most operating in these severely restricted times was the Doha-based Qatar Airways. As the world gradually started flying once more, Qatar Airways turned to Expedia Group Media Solutions to help it capitalize on the benefits of having stayed in the skies.
Difficult Times for the Air Industry
Even though the pandemic isn't yet over—not least with the spread of Omicron—it's still difficult to look back and believe the seismic shock the airline industry received at the hands of COVID-19 in 2020. Similar to what we've seen in recent weeks, once-busy skies cleared as airlines found that they couldn't run routes, as a combination of travel restrictions and customer willingness severely limited air travel. Many airlines shut all their routes; others, sadly, simply shuttered for good.
But one airline that did keep flying throughout was the award-winning Qatar Airways, who at every stage of the pandemic served at least 33 destinations. This continued presence in the skies brought benefit to the carrier—based at Hamad International Airport (voted Best Airport in the World in the 2021 Skytrax World Airport Awards)—allowing it to maintain business momentum as restrictions relaxed and people started flying again in significant numbers. And this was the point at which Qatar Airways turned to Media Solutions to help it capitalize on these particular business tailwinds.
Building Awareness of a High-End Offering
One of Qatar Airway's strategies coming out of the height of the pandemic has been to build awareness of its premium Qsuite experience. The airline recognized that such a high-end and luxurious offering as Qsuite warrants a rich, bespoke advertising solution, and that's exactly what our Creative Partnerships team is built to deliver. We created an innovative Spotlight page, which combines attractive and interactive media, illustrating the best features of Qsuite, with an engagement-driving quiz module.
Another way that we were able to benefit Qatar Airways towards their business objective for Qsuite was through our advanced targeting capabilities. This means that we're able to focus this campaign on driving awareness in the U.S. target market. All in all, the Qsuite campaign has been a success in what remain challenging times, delivering a return on ad spend (ROAS) of 40 to 1.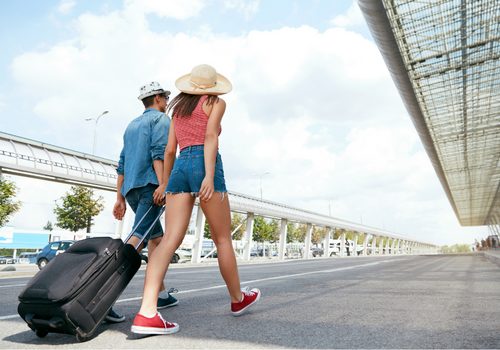 Create compelling campaigns for your destination
With travel demand on the rise, destination marketers have the opportunity to reach eager travelers.
Destination marketers can take advantage of our insights into traveler behavior to connect with travelers, create excitement about their destination, and build compelling campaigns to stand out from the competition.
Reaching Shoppers with a Range of Solutions
At the same time as running the Qsuite creative campaign, Qatar Airways also took advantage of some of our other solutions to reach confirmed travel shoppers. Sponsored ads in our flight search results, known as Flight Sponsored Listings, give Qatar Airways enhanced visibility at a key moment in the shopper's research process. This delivers strong interaction on selected air routes, with click-through rates of 11%.
Another solution used by Qatar Airways to good effect has been our display advertising. Using these visual ad spots we've helped promote the partner to a broader leisure audience, and delivered an overall ROAS of 17:1 (higher in key markets such as the UK, where the ROAS reached 28:1).
Combining Solutions for a Full Effect
All the campaigns described above have resulted in healthy returns individually. But it's the combination of products and campaigns, run simultaneously, which have given Qatar Airways' marketing on our Expedia Group brands an extra potency. It means that the partner's messaging reaches a broad audience of verified travel shoppers. But that's not all: the airline also gets itself in front of consumers at every stage of the travel-booking journey—from the inspiration phase to transaction—keeping them front of mind.
Learn more about the many ways Media Solutions can help your airline inspire travelers with the help of our Creative Partnerships team. You can also check out the Q3 2021 Travel Recovery Trend Report to gain insights into recent trends in traveler behavior and how they might impact your business.