As we are all well aware, 2020 was a turbulent year. To say that the travel industry has been impacted over the last 12 months is an understatement. And folks who are working in that industry—especially in marketing and advertising—are being asked to do even more with smaller budgets. So, it's tempting to lay low and wait for the storm to pass. But rather than waiting it out, I urge you to shift your approach because we are seeing people succeed—even during this trying time.
Many travel marketers have adjusted their strategies over the last year; one of the solutions that they're using to continue to drive revenue is Co-Op Campaigns. Co-Op Campaigns are a collective advertising effort made by multiple brands with common marketing goals. Essentially, we help brands come together and extend their marketing spend by purchasing shared display advertising. We work as the ringleader and the digital experts; we get everyone on that same page and then we create and manage these highly targeted digital ad campaigns. Display ads—which show up for folks as they are dreaming, getting inspired, and potentially considering multiple destinations—drive travel shoppers to an exclusive custom landing page that showcases the brands involved. That landing page converts dreamers into travel bookers.
Advertisers who are running campaigns right now are at an advantage twice over: First, they are staying top of mind while others are hanging back. Second, they are in control of the message. When it comes to the health and hygiene of travel, there are a lot of mixed messages right now and a lot of shifting information. But travel shoppers don't want to make a decision based on speculation. In fact, the Traveler Sentiment research that we conducted earlier this year showed us that people want to be reassured. They want clear information about the measures that hotels, airlines, car rental providers, and others are taking, and they want to know what is open for business.
We've been tracking travel shopper trends through both research and our proprietary, first party data. Our first party data, for example, has shown us that the average travel shopper's search window has gotten much smaller, compared to pre-COVID times; starting in May, the majority of travel shoppers who have visited Expedia Group have been searching for trips within 21 days. Knowing that travel shoppers continue to make last minute decisions helps us tailor campaign messaging and adjust targeting parameters to run the most effective and efficient campaigns for our partners. In fact, we incorporate billions of data points into our campaign planning and optimization.
Beyond optimization and data-informed targeting, I think it's important to mention that advertisers are choosing Co-Op Campaigns because it is a way to pool your advertising dollars and get access to big, high value placements. By partnering with like-minded advertisers who are interested in the same audience you are, your advertising dollars go further and you get access to high value targeting, placements, and marketing products.
But you don't have to take my word for it. We run Co-Op Campaigns all over the world, helping destinations and travel brands meet a wide array of marketing objectives. I wanted to share some of the Co-Op Campaigns that have stood out to me over the last eight months so that you can take a look at how other folks in your industry are being successful during this tough time.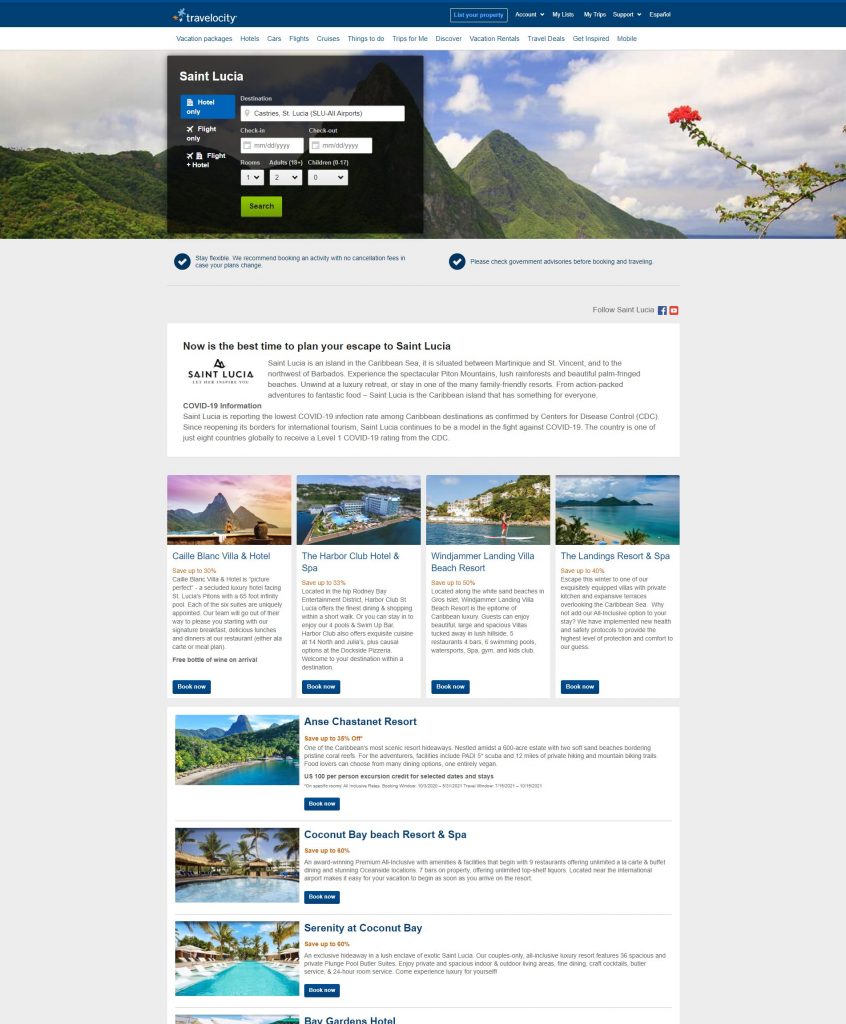 St. Lucia is a leading Caribbean destination, known globally for its lush forests, soaring mountain peaks and stunning beaches. Like many other resort destinations, they have been struggling with the effects of COVID-19. Their recent Co-Op Campaign provides a platform for participating hotels to share their special rates, but also to remind potential visitors of the country's excellent response to COVID-19.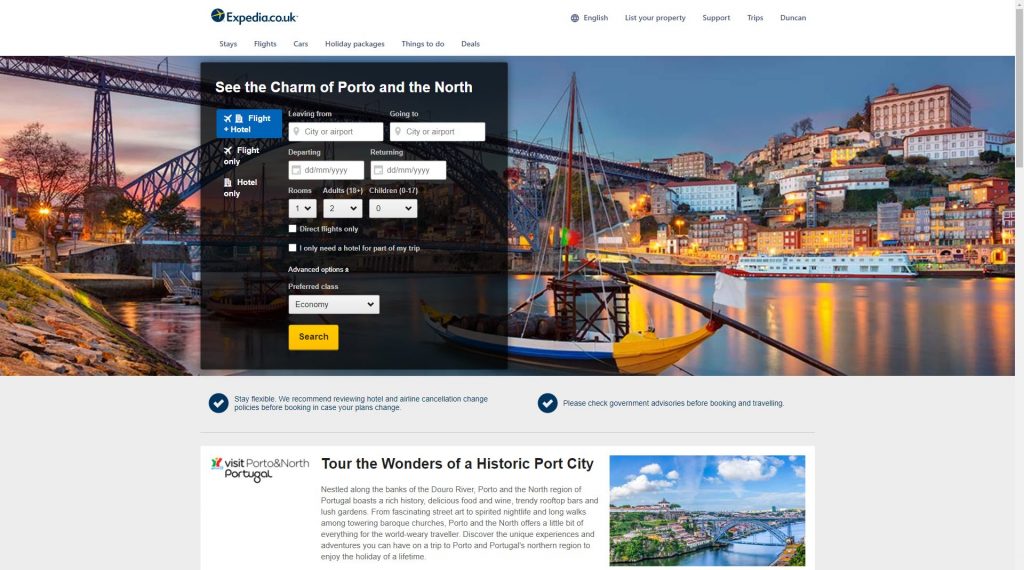 During the summer of 2020, we ran a Co-Op Campaign with Visit Portugal and several Portuguese regional DMOs, that helped promote the fact that they were open for business and highlighted all the wonderful activities that are still available to visitors. The landing page example below, from Visit Porto and Northern Portugal, showcases the beauty of their region through images and video and also provides a jump off point for booking both hotels and flights.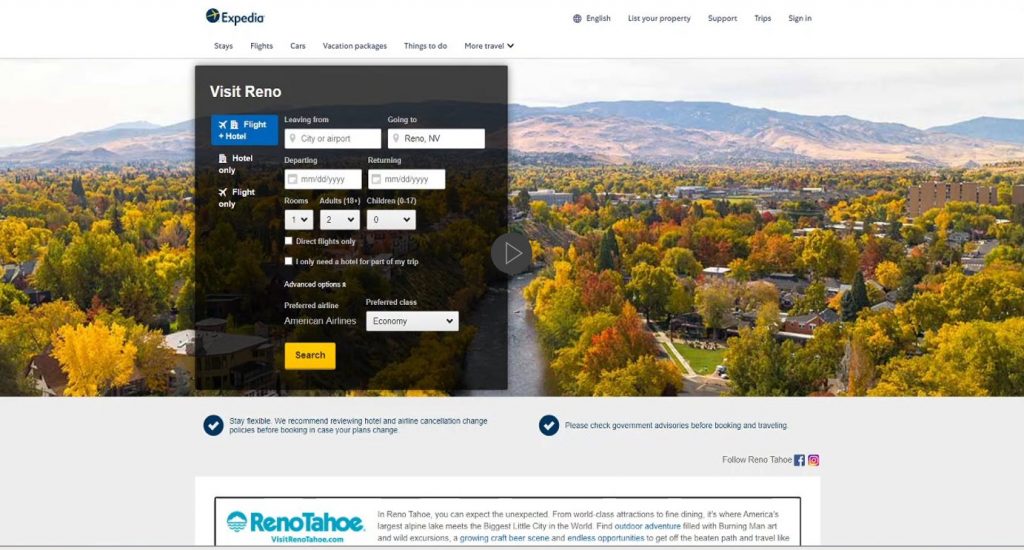 Co-Op Campaigns are not limited to destinations and hotel partners. In fact, a recent Co-Op Campaign features American Airlines and Reno-Tahoe. American Airlines' objective: to engage travel shoppers who are looking for off-the-beaten-path and socially distanced vacations, dovetails perfectly with Reno-Tahoe's campaign to showcase their myriad outdoor and socially distanced activities. The resulting landing page features a booking engine that supports hotel bookings and flight bookings (as well as combined booking) and features a video at the top of the page
These campaigns are examples of smart partnerships that result in a win-win for the travel advertisers and, of course a win for the traveler! Want to learn more about how travel marketers and revenue managers are using Co-Op Campaigns to drive revenue? Listen to our on-demand Co-Op Campaigns webinar.