April 26, 2021
As we start to see travel returning, we are hearing our advertising partners asking when the right time is to reactivate campaigns and begin to rebuild. We are also hearing that across our industry marketing teams are being asked to do even more with smaller budgets. That makes the HOW as important as the WHEN as travel advertisers consider ways to recover and rebuild. The good news is that the time is now, and we can help you make the most of your budgets and deliver meaningful results.
Marketers get ready as travel is returning
Our latest Expedia Group data is showing that traveler searches are increasing, especially in places where vaccine programs are becoming more broadly available. Skift is also reporting that 45 percent of Americans say they will increase travel spending in April.
Advertisers running campaigns now are at an advantage twice over: 1) they are staying top of mind while others still in wait and see mode; 2) they can control the message to reassure travelers and drive bookings. People have spent the last year dreaming about travel, and while inspiration is still important many travelers (1 in 2 according to our traveler sentiment research) need reassurances about pandemic protocols in order to book. They want clear information about the measures that hotels, airlines, car rental providers, and others are taking, and they want to know what is open for business.
Only we can access the billions of Expedia Group data points on traveler behaviors around the world, which we use to inform the campaign strategy, creative, targeting and optimization for our partners. For instance, our data is showing us that the average search window is still relatively short compared to pre-COVID times. As of May 2020, most travel shoppers visiting our sites have been searching for trips within 21 days. Knowing that travel shoppers continue to make last minute decisions helps us tailor campaign messaging and adjust targeting parameters to run the most effective and efficient campaigns for our partners.
Co-Op marketing makes the most of recovery budgets
Our solutions are also designed to help our partners make the most of their budgets and resources. Our unique Co-Op campaigns bring together multiple brands with common goals to extend their marketing spend through a shared digital campaign on our Expedia Group sites. At this time the biggest common goal is recovery. Many of our partners are choosing to pool resources in a Co-Op campaign with us to raise awareness that their destination is open for business, reassure travelers on pandemic protocols and drive demand to the in-market hotels, transportation and activities. By partnering with like-minded advertisers who are interested in the same audience you are, your advertising dollars go further and you get access to high value targeting, placements, and marketing products.
The best part? We do all the heavy lifting! We bring in the brands—such as destinations, hotels, airlines, airports, transportation, activities, and more—and create highly targeted and creative digital Co-Op campaigns. We work with our market management colleagues to find the best partners and offerings, which adds value to our traveler audience.
The campaigns include display ads—which show up as travelers are dreaming, getting inspired, and potentially considering multiple destinations—that drive travel shoppers to an exclusive custom landing page that showcases the brands involved. We use data-informed targeting and continue to optimize the campaign, so your campaign reaches the right audiences. The landing page features the participating brands with all the information and options travelers need to go from looking to booking in your destination.
But you don't have to take my word for it. We run Co-Op campaigns all over the world, helping destinations and travel brands meet a wide array of marketing objectives. Here are a few that have stood out to me over the last year so that you can see how others are successfully pooling resources to recover and rebuild.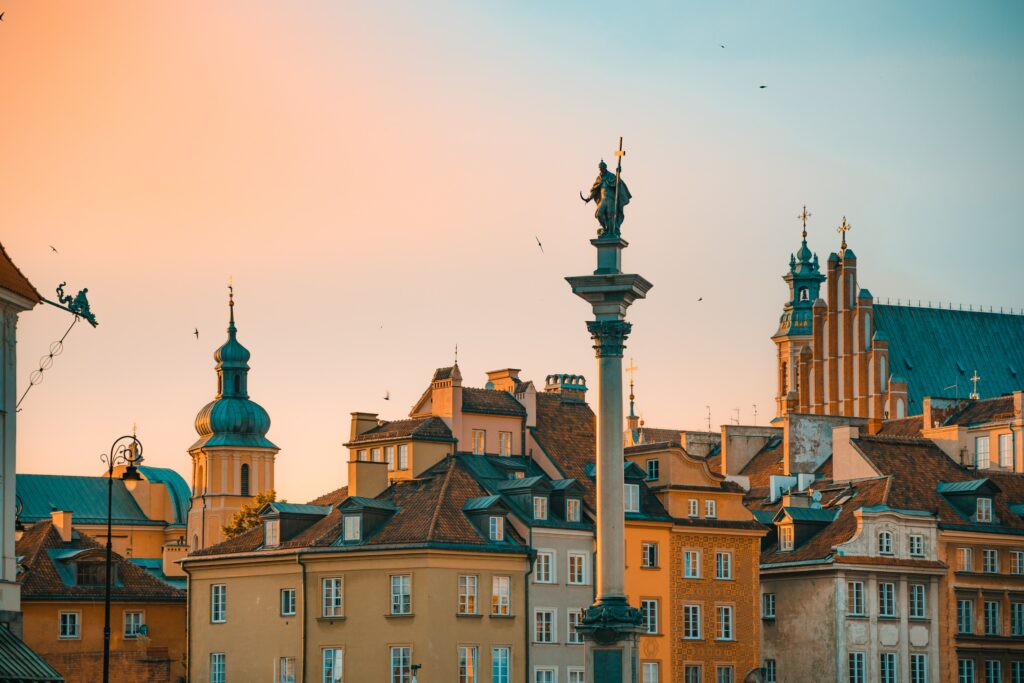 Hotel advertising that can reach any traveler, anywhere
Travelers looking to book a hotel use multiple channels to find their ideal place to stay, from social media to travel websites, and more. This is why it's imperative that you know when — and where — to reach the right traveler. Whether you're trying to reach early-bird or last-minute bookers, our targeting capabilities can help you connect with the right traveler at the right time.
Imagery and messaging to inspire and reassure travelers
Saint Lucia is a leading Caribbean destination, known globally for its lush forests, soaring mountain peaks and stunning beaches. Like many other resort destinations, they were struggling with the impacts of COVID-19. Their Co-Op campaign provided a platform for participating hotels to share their special rates, but also to remind potential visitors of the country's excellent response to the pandemic to reassure travelers.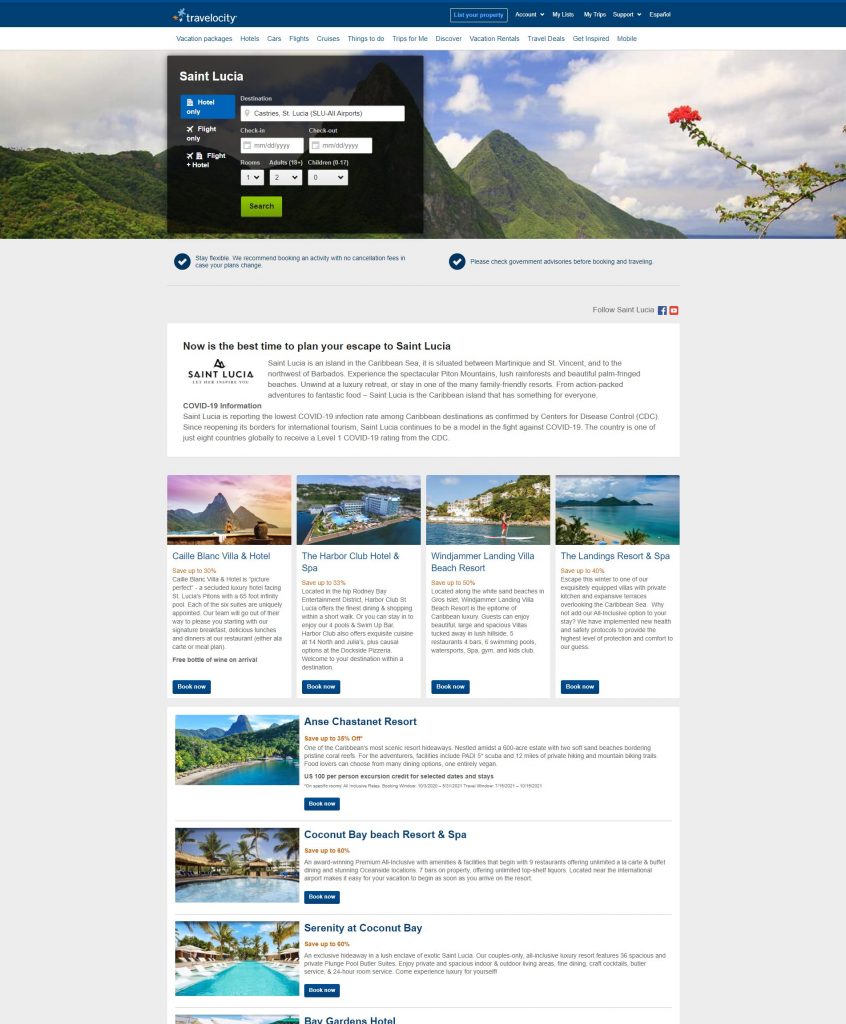 Encourage visitors to explore multiple regional destinations
During the summer of 2020, we ran a Co-Op campaign with Visit Portugal and several Portuguese regional DMOs that helped promote how they were open for business and highlighted all the wonderful activities that were available to visitors. The landing page example below, from Visit Porto and Northern Portugal, showcased the beauty of their region through images and video and also provided a jump off point for booking both hotels and flights.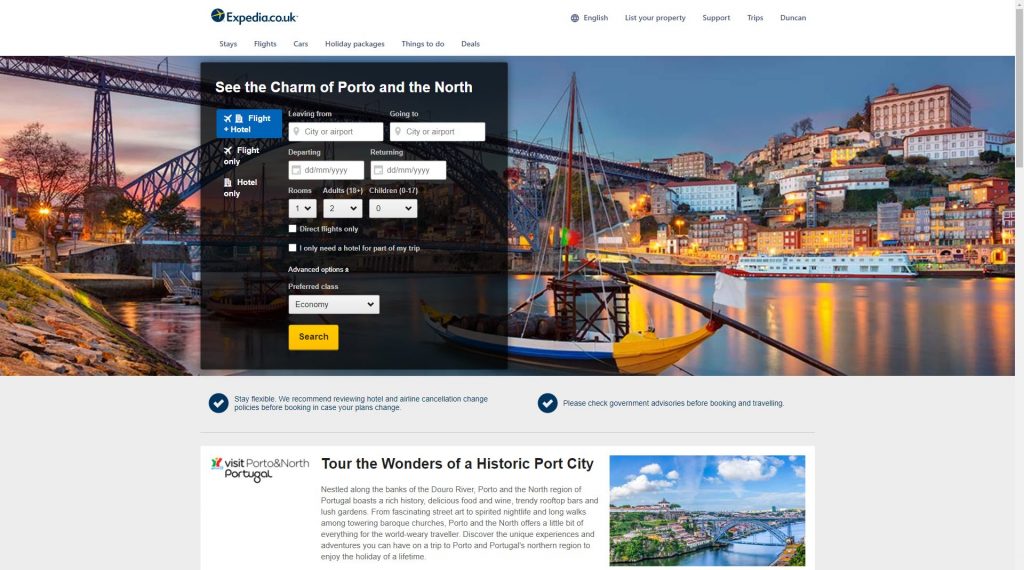 Spotlight unique, off-the-beaten path activities
Co-Op campaigns are not limited to destinations and hotel partners. In fact, a recent Co-Op campaign featured American Airlines and Reno-Tahoe. American Airlines' objective: to engage travel shoppers looking for off-the-beaten-path and socially distanced vacations, which dovetailed perfectly with Reno-Tahoe's campaign to showcase their myriad outdoor and socially distanced activities. The resulting landing page featured a booking engine that supports hotel bookings and flight bookings (as well as combined booking) and features a video at the top of the page.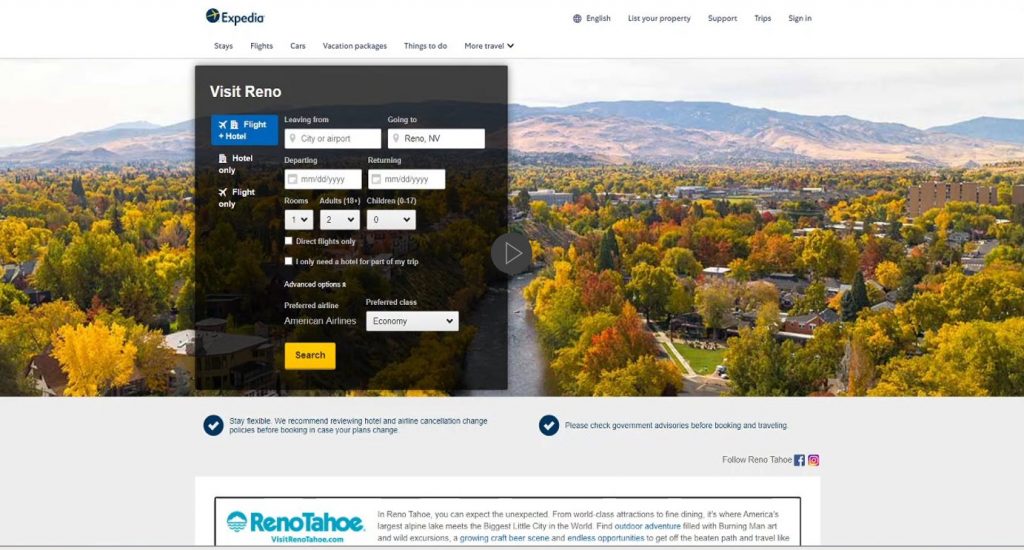 Learn more by downloading our Co-Op campaign guide, and contact us for the data and solutions that can help your brand recover and rebuild.
Our latest global Expedia Group data indicates demand for travel is returning. This upswing in travel is an opportunity for destination marketing organizations to begin recovering and rebuilding. Register for our webinar on reigniting demand to destinations to learn more.