Looking ahead, 2023 will be an important year for our industry as travelers discover new ways to travel and experience different cultures while continuing to place their values, like sustainability and inclusivity, at the top of their decision making during the booking process. Data remains a critical element to the work we do, allowing us to identify and follow the continuous changes in traveler behavior over the last two years and provide the travel industry actionable insights to capture traveler demand.
We recently collaborated with Euronews Travel on their Travel in 2023: Connecting People, Places & Planet report, which identified eight trends that will shape the industry in 2023. We supported the report with our propriety data and industry research for travel brands to leverage for the upcoming year.
From unique accommodations and technology innovations to being immersed in nature and adopting eco-friendly and sustainable journeys, we take a closer look at a few of the trends shaking up the way travelers see the world.
Regenerative travel
The pandemic has accelerated people's desire to lessen the environmental impact of tourism, travel more responsibly, and meaningfully reconnect with nature to preserve our planet. The trend of sustainable travel has become mainstream – our Sustainable Travel Study shows that 90% of consumers are looking for sustainable options when traveling.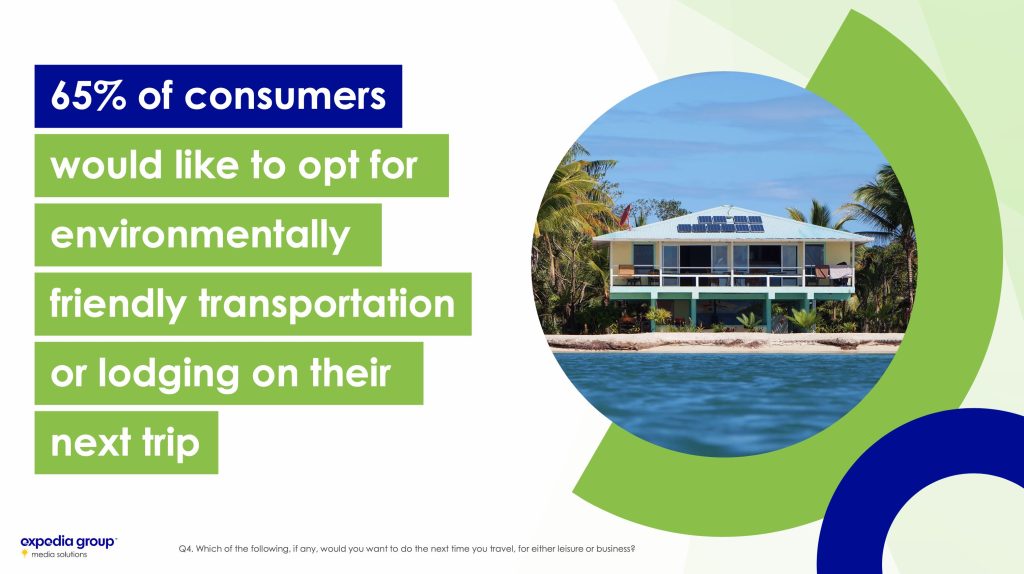 Our research also shows that nearly two-thirds of consumers would like to opt for environmentally friendly transportation or lodging on their next trip and many are willing to pay more for sustainable options, like carbon offsets, the next time they travel. As travelers are increasingly asking what travel providers are doing for the environment, to stay relevant it's important to understand the meaning of sustainable travel and adapt to meet the changing expectations of these conscious travelers.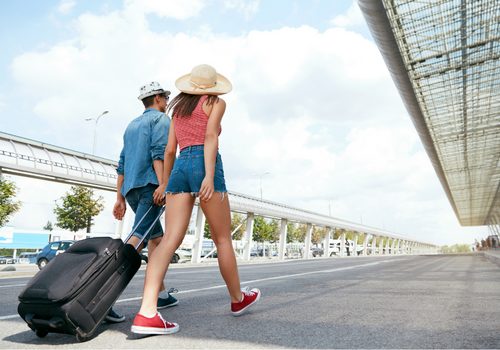 Create compelling campaigns for your destination
With travel demand on the rise, destination marketers have the opportunity to reach eager travelers.
Destination marketers can take advantage of our insights into traveler behavior to connect with travelers, create excitement about their destination, and build compelling campaigns to stand out from the competition.
#Hutlife
Unique accommodations that allow for more intimate, personal travel experiences are becoming increasingly appealing and will continue to capture consumer interest in 2023. As destinations around the world have reopened, this mood has been reflected in consumers' travel choices. Vrbo data from our latest quarterly Traveler Insights Report shows that there has been a triple-digit, year-over-year increase in demand for alternative stays, indicating that travelers are looking to break out of traditional accommodations for their trips.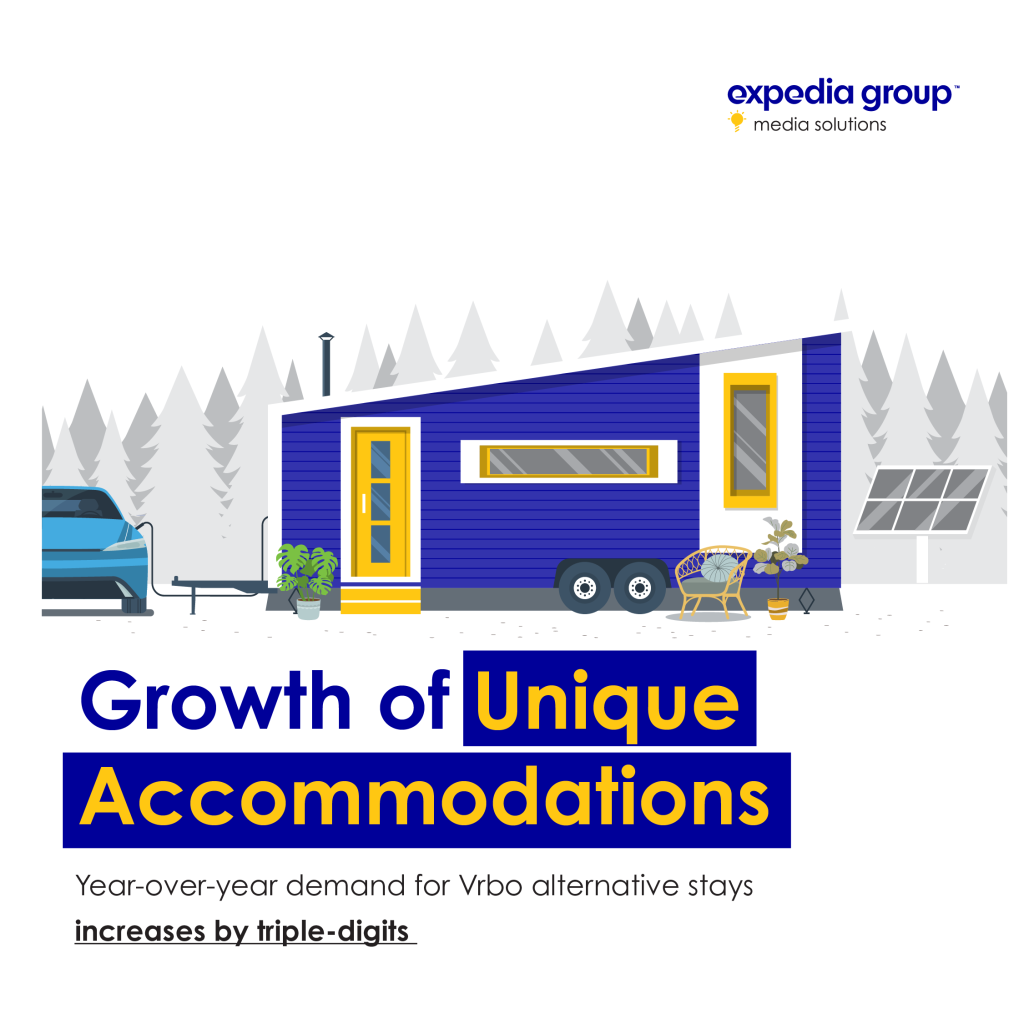 Whether a hut, cottage, treehouse or houseboat, the nontraditional vacation rental makes an ideal option for travelers looking to distance themselves from busy cities or to connect more deeply with the local culture.
Tapping into cabin culture
The premise of the West Virginia Department of Tourism's recent campaign with Vrbo, "Cabin Culture," was inspired by the exponential growth in the number of available vacation rentals, as well as the increase in demand for unique summer vacation homes, which has been a consistent trend since the first year of the pandemic. The custom landing page on Vrbo serves as a one-stop shop for planning a cabin getaway, inspiring travelers to explore West Virginia's luxurious and quaint cabins and world-class outdoor recreation – and book a trip.
Journeys with momentum
From years of travel being paused, to a shift in a more sedentary lifestyle because of an increase in working from home, people are craving movement, activity, and experiences when it comes to travel. Interest and enthusiasm for travel has remained consistent, following multiple quarters of search growth globally, and the new Traveler Value Index 2023 from Expedia Group also supports this, with 46% of consumers saying travel is more important to them now compared to pre-pandemic.
According to Expedia Group data from Q3, this appetite for active travel is already growing, as demand for activities has risen by more than 40% year over year. This builds on what we saw earlier this year, which was a rise in demand for single travelers going to adventure destinations – our Q2 2022 data showed a 15% increase in single adults traveling from the U.S. and EMEA to APAC, compared to the same period in 2019. Thailand, Japan and Vietnam emerged as key adventure destinations attracting a greater proportion of single travelers than other traveler groups. Travel brands can expect this trend in active travel to surge in 2023, as travelers focus more on experiences that take them outdoors, whether that's hiking, climbing, cycling, swimming, or running.
Hyper-personalization
Travelers are now looking for experiences and itineraries that meet their personal needs and interests, including their commitments to sustainability and inclusivity. The trend of hyper-personalization also indicates a shift toward travel that addresses people's desire for special and unique experiences. These are experiences that feel like they cannot be bought and happen when there are opportunities to connect with local communities in authentic ways.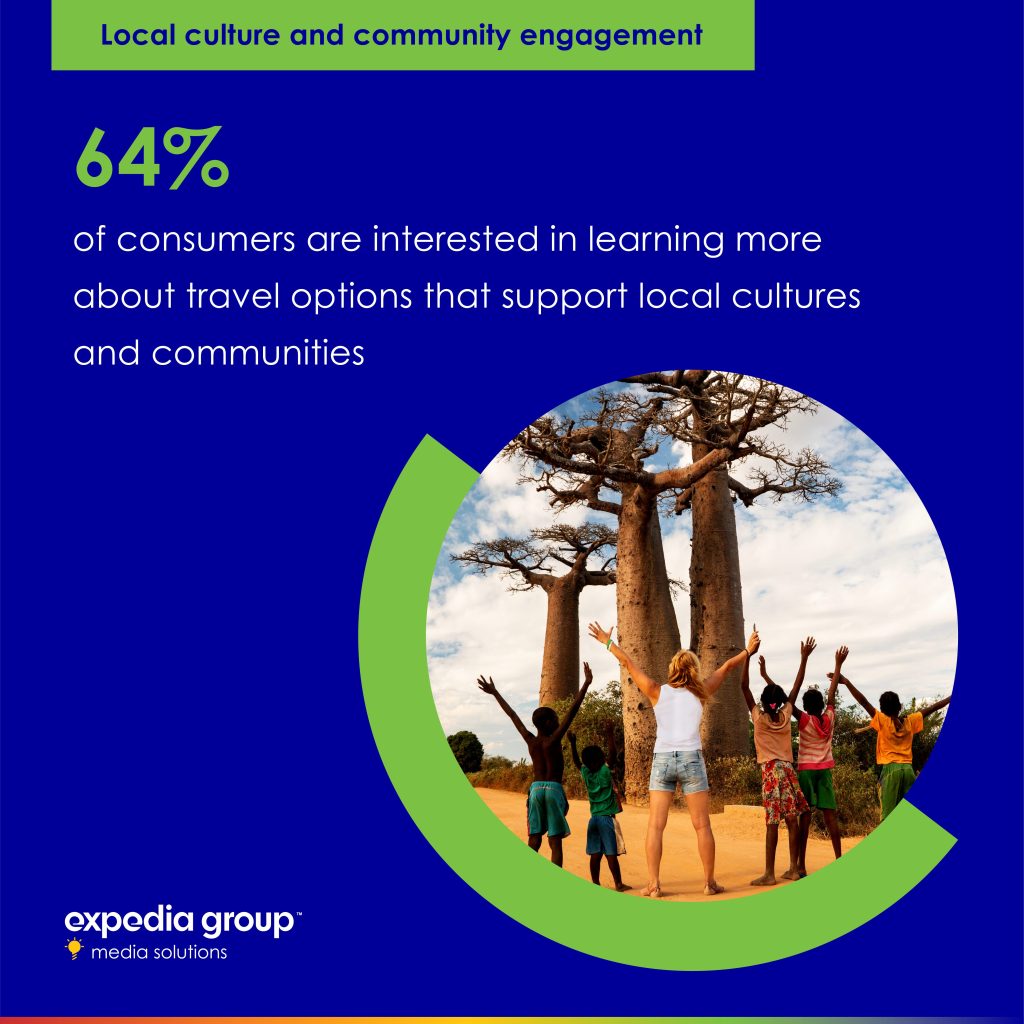 Data from our Inclusive Travel Study shows that 64% of consumers are interested in learning more about travel options that support local cultures and communities. Therefore, travel brands have an opportunity to demonstrate their commitment to supporting local organizations and share how travelers can get involved when they visit.
Uncovering a destination's hidden gems
Destinations are increasingly looking to showcase off-the-beaten path experiences. For example, London & Partners set out to highlight and bring people into the hidden gems of the vibrant city. Partnering with our in-house creative team, the "Let's Do London" campaign focuses on the rich history, culture, and dining of the city, inviting viewers in for a different view of London.
Meaningful human interactions will drive travel
Euronews Travel's Damon Embling believes that the social aspect of travel will be more important than ever next year, which extends all the way from staff and local community relationships to how, and with whom, customers choose to travel. Regardless of what happens, and which trends come and go, he suggests that "what will remain is the desire for unity and more meaningful human interactions as people travel the world with new eyes."