November 29, 2022
While we saw strong industry recovery in 2022 as borders opened and restrictions were lifted, traveler behaviors and preferences are continuing to evolve. That's why we continue to mine our Expedia Group data and conduct broad research to understand travelers. For the latest, check out our newly released 2023 Traveler Value Index study, which sheds light on traveler behaviors we expect are here to stay, trends that were temporary, and what we see as new fluctuating factors.
For the first time, this study compares how consumers are thinking about and planning for travel and how industry professionals see gaps, alignment, and opportunities for partners. As we look to 2023, we cover the report's highlights that industry providers and marketers should be paying attention to as they develop strategies to connect with travelers.
Travel is more important now than ever
After years of roadblocks and restrictions, nearly half (46%) of respondents from our study of 11,000 consumers in 11 markets around the world said travel is more important to them now than it was pre-pandemic. And respondents are prepared to spend – 43% said they will increase their budget for travel in the coming year while 31% said their budget will stay the same.
This increased importance on travel and larger budgets means that more travelers will be taking trips this year – nearly eight in 10 said they'll take a leisure trip in the next year, which is an increase from 76% a few months prior. Consumers' reasons for traveling have also shifted throughout 2022. While the top priority in 2021 was reconnecting with family and friends, prioritizing self-care and experiencing new scenery are now top reasons for travel.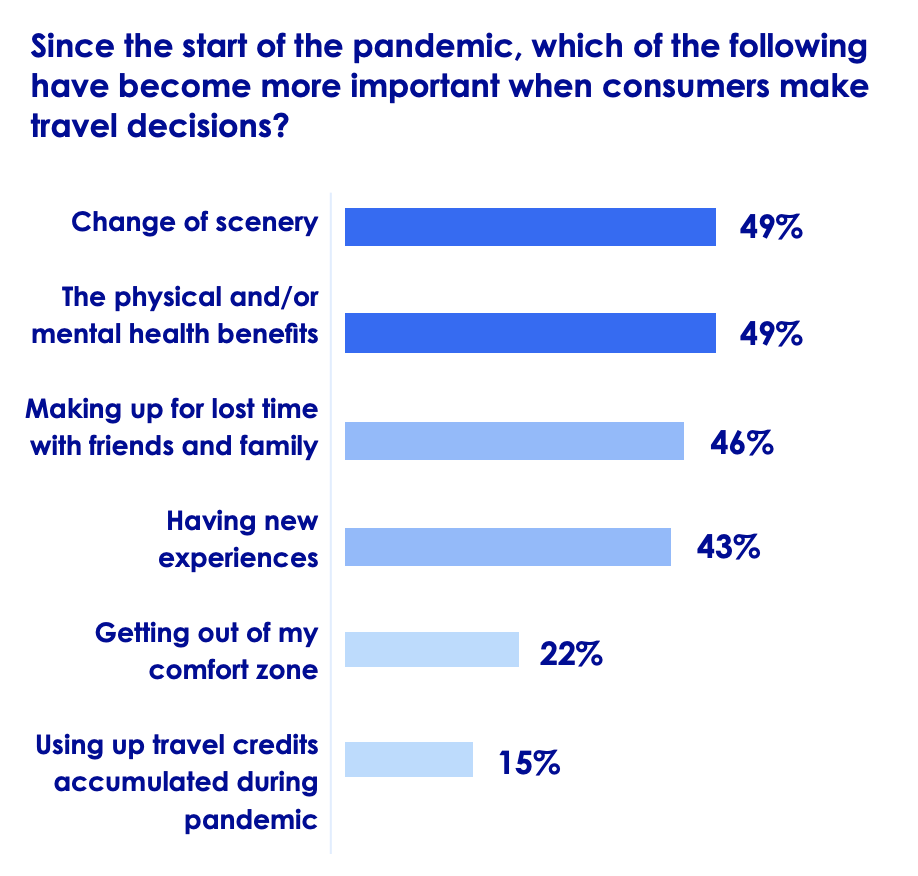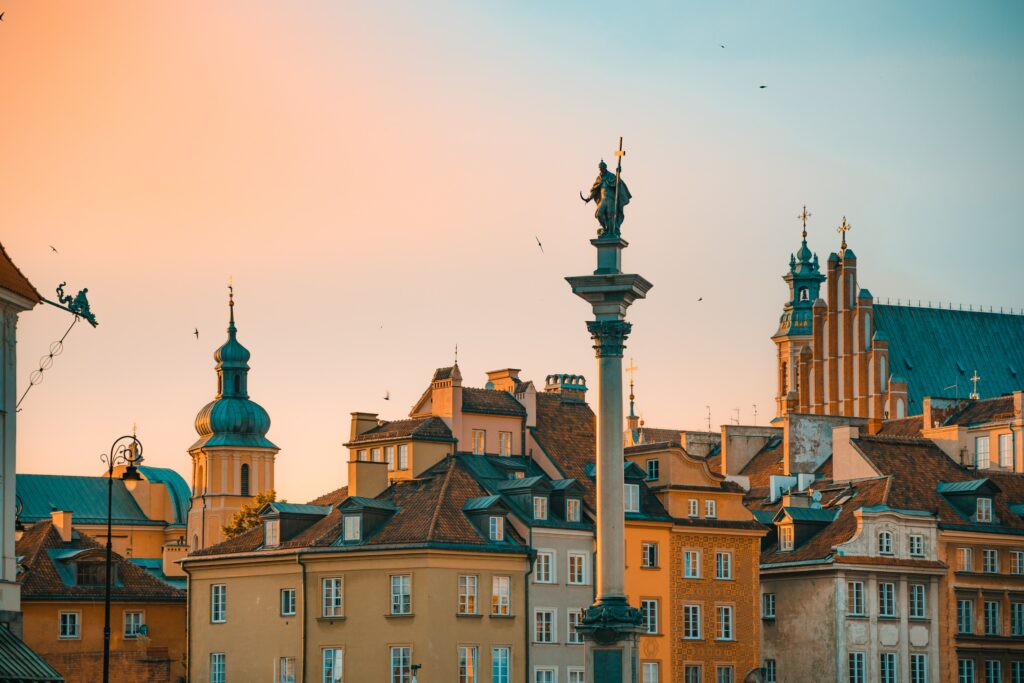 Hotel advertising that can reach any traveler, anywhere
Travelers looking to book a hotel use multiple channels to find their ideal place to stay, from social media to travel websites, and more. This is why it's imperative that you know when — and where — to reach the right traveler. Whether you're trying to reach early-bird or last-minute bookers, our targeting capabilities can help you connect with the right traveler at the right time.
Speaking to consumer values is key
While travelers weigh many factors when booking travel, the importance of booking with travel providers that align with their values has remained steady. This means that your company's mission and values, and how you promote those, play a role in whether travelers choose to book with you.
Inclusion is one important aspect that travelers care about. Our Inclusive Travel Insights Report shows that 70% of consumers are more likely to choose travel options that are more inclusive, even if it comes at a higher cost. Industry professionals recognize this preference, with 64% indicating they believe their customers would choose travel options that are more inclusive, even if they are more expensive.
70% of consumers are more likely to choose travel options that are more inclusive, even if it comes at a higher cost.
Sustainability is another important value for consumers as they make travel decisions. Our Sustainable Travel Study showed that 90% of consumers are looking for sustainable options when traveling. Industry professionals also indicate that travel is a top priority for their business in the coming year, as sustainability is tied with marketing as the top investment priority for 2023.
In order to get the most out of the inclusive and sustainable options that your company is offering or the initiatives that you are backing, be sure to make travelers aware with your promotional materials and communications.
Travelers continue to demand flexibility
While barriers to travel have decreased, the desire for flexible options when booking travel has not. Many companies (77%) first introduced some of their refundable offerings during the pandemic to help adapt to the unpredictability. While consumers have more confidence now and are less concerned about enhanced cleaning, our latest research shows that the importance of refunds remains.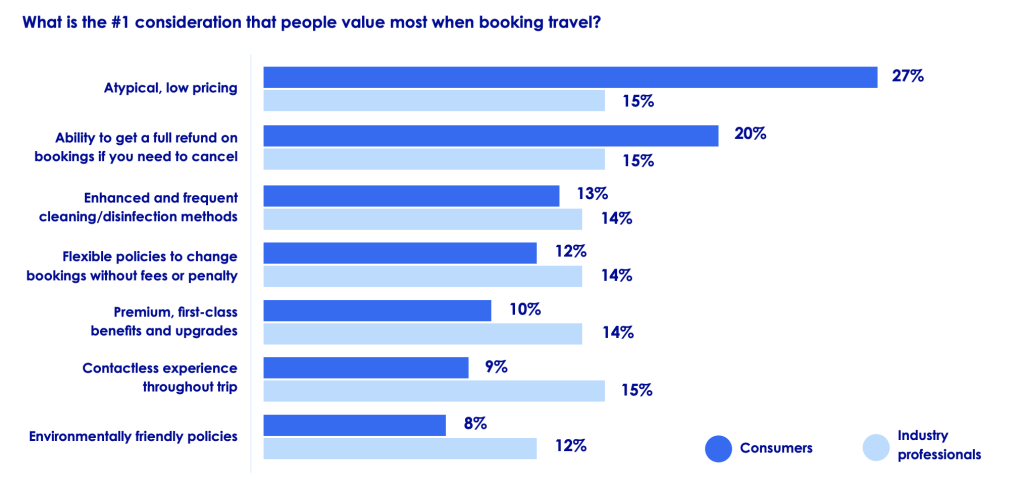 However, industry professionals underestimate the importance of full refunds – only 15% said they believe it is a top consideration when booking, compared to 20% of consumers. Additionally, only 63% of industry professionals indicated they would be keeping their flexible policies. This shift to strict policies may cause them to lose out, as half of consumers said they would never book non-refundable lodging (47%) or transportation (51%) domestically, even if it was discounted. Even more would refuse non-refundable lodging (57%) and transportation (59%) when traveling internationally.
International and business travel make a comeback
While the pandemic caused international and business travel to come to a standstill, the industry can expect a resurgence in 2023. About half of consumers are likely to book, or have already booked, an international trip in the next 12 months. Younger generations are even more likely to travel internationally in the next 12 months, as they are eager to make up for lost time.
Business travel is also making strong gains, with 32% planning to take a business trip in the next 12 months. This is a notable increase from only 16% of travelers who planned for business travel in April 2022. These travelers are also looking to take advantage of the return of business travel by extending their trips for leisure, with 76% of business travelers planning a bleisure trip in the next 12 months. With the rise of flexible work options, consumers are also looking to combine remote work with leisure, with 28% of consumers planning a "flexcation" in the next 12 months.
The industry is similarly optimistic about the return of international and business travel. The resurgence signals strong business opportunity, as business and international travelers are the highest priority among industry professionals.
Price sensitivity returns
As inflation concerns rise, low pricing reappeared at the top of the list – 27% of people said it's what they value most when booking travel. Consumers across the globe, but particularly in North and South America and Europe indicated that inflation was impacting their travel plans more than ongoing pandemic concerns.
However, industry professionals are severely underestimating the impact of inflation and consumers' current price sensitivity. Across all aspects of travel, low pricing is within the top three considerations when booking, along with full refunds and flexible policies. Industry professionals in most industries are not ranking price as a top consideration for travelers. Additionally, the industry is overestimating consumers' budgets for the upcoming year, with 58% of professionals who said consumer budgets will be larger compared to 43% of consumers.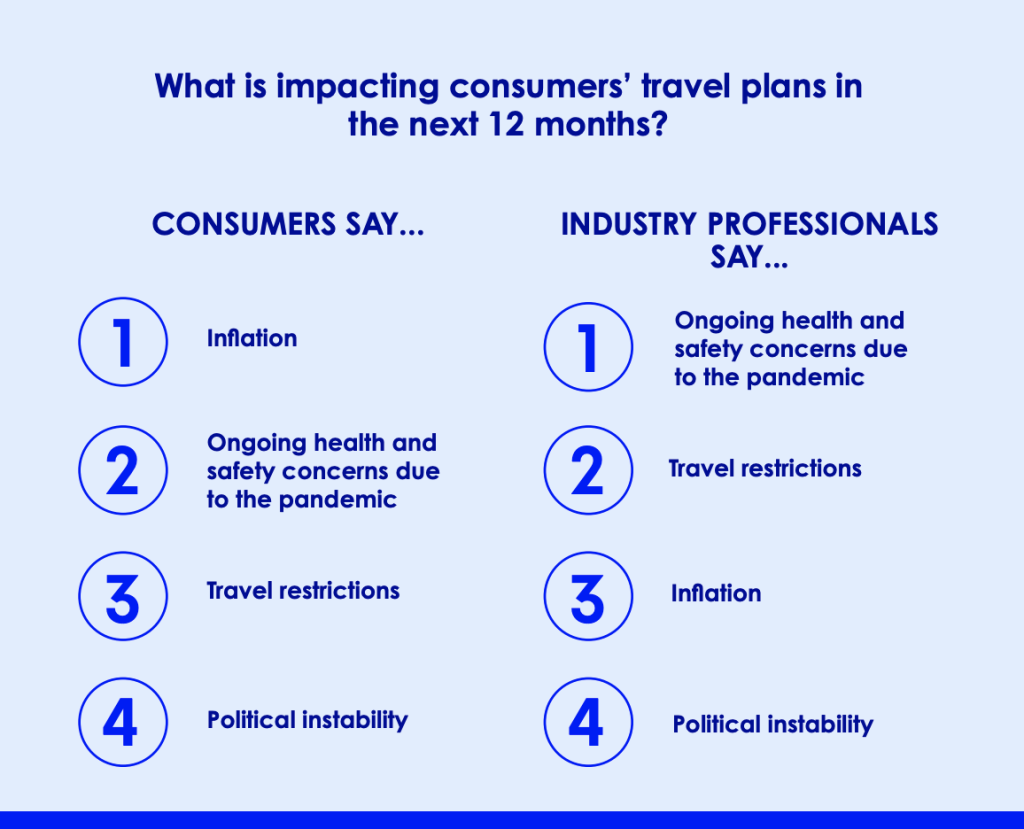 On the flip side, industry professionals are overestimating the impact of ongoing health and safety concerns due to the pandemic, which is not as present in the minds of travelers when compared to inflation. In order to have a successful 2023, travel providers will need to understand the impact inflation and price sensitivity is having on consumers' decision making. Incorporating the value of your business in messaging, as well as promoting low pricing and deals, will be important aspects to focus on in the upcoming year.
To effectively stand out to travelers and prepare for a successful 2023, there are several ways to take action, including appealing to traveler's desire for relaxation, showcasing your brand values, and promoting refundable options, discounts, and perks. For more insights, download the full 2023 Traveler Value Index.