March 23, 2022
While Paris may top a lot of people's bucket lists as a destination, France has much to offer outside its famed capital – in fact, the country consists of several distinct regions, each with a story to tell. In addition, because sustainable travel is front of mind for so many travelers today, what better time than now to promote lesser-known destinations, to encourage travelers to explore beyond the most popular places?
At the same time, destination marketing organizations (DMOs) have looked for opportunities during the pandemic—when international travel may be more restricted—to promote domestic travel, to turn the moment into an opportunity. In this post, we'll share how multiple destination marketing organizations (DMOs) in France joined forces with us at Expedia Group Media Solutions to achieve both these objectives, delivering a timely campaign boosting awareness of one of the country's secondary markets, which helped to drive demand both for domestic travel and, consequently, more responsible travel.
DMOs Come Together in Joint Campaign
For several years, Atout France—the nation's official tourism development agency—and many of its regional agencies have partnered with us to promote the unique experiences France offers travelers through targeted creative campaigns on our portfolio of Expedia Group brands. One region in France that hoped to capture demand for domestic travel is Auvergne-Rhône-Alpes, located in southeast-central France. It's the country's third-most visited region and the world's top destination for winter sports. But the region has much more to offer than ski slopes.
That's why the region's tourism agency, Auvergne-Rhône-Alpes Tourism, partnered with Atout France and Media Solutions—along with seven city DMOs within the region. The group of DMOs aimed to promote these seven cities: Chambéry, Clermont-Ferrand, Lyon, Valence, Saint-Étienne, Vichy, and Grenoble. The goal was to encourage French travel shoppers to take a domestic trip, to act on Atout France's marketing message of "JeRedécouvreLaFrance," or "I Rediscover France."
To achieve this, the DMOs took advantage of a Co-Op Campaign, which makes it easy for multiple organizations or brands to unite their efforts—and funds—toward a common marketing goal. In this case, the campaign highlighted the diversity of the region, as well as the unique culture and offerings of each of the featured cities. Each city has its own identity, and the campaign hoped to educate French travel shoppers so they would be inspired to take a city break in whichever city spoke to their tastes best—whether it's the volcanoes of Auvergne, the outdoor adventures of Grenoble, the spas of Vichy, or the gastronomic delights of Lyon.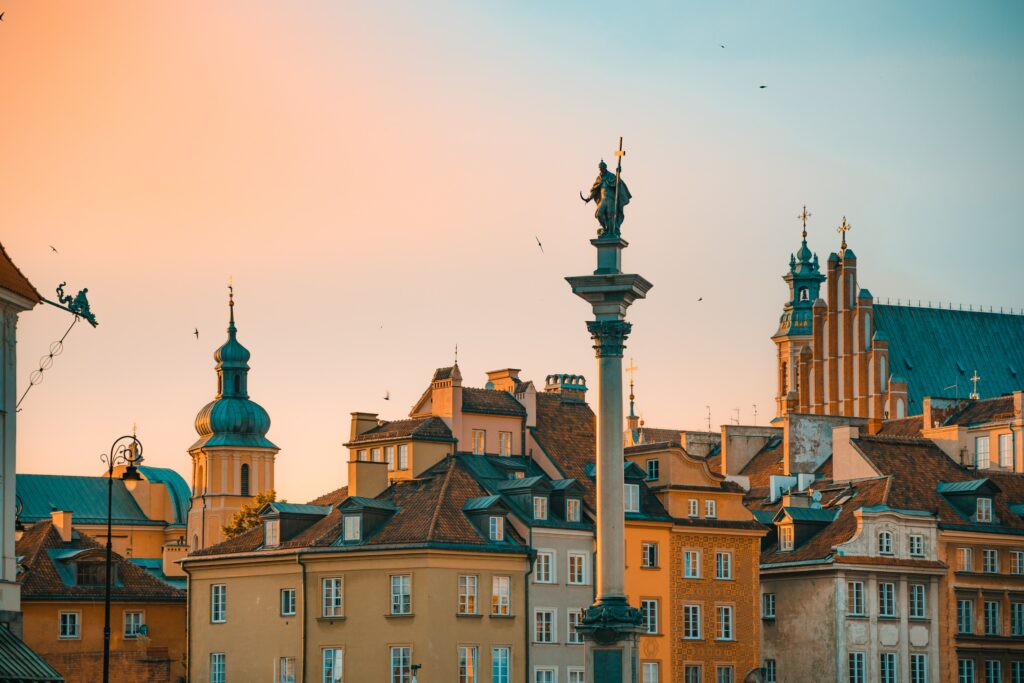 Hotel advertising that can reach any traveler, anywhere
Travelers looking to book a hotel use multiple channels to find their ideal place to stay, from social media to travel websites, and more. This is why it's imperative that you know when — and where — to reach the right traveler. Whether you're trying to reach early-bird or last-minute bookers, our targeting capabilities can help you connect with the right traveler at the right time.
Creative Solutions to Convey Each City's Culture
The campaign included a co-branded, bespoke landing page designed by our award-winning Creative Partnerships team. It features a carousel of carefully curated imagery introducing the Auvergne-Rhône-Alpes region, along with the seven featured cities. By clicking "Explorez," travel shoppers could explore a subpage to learn about that city's story, discover unique experiences, book accommodations at select hotels, and much more.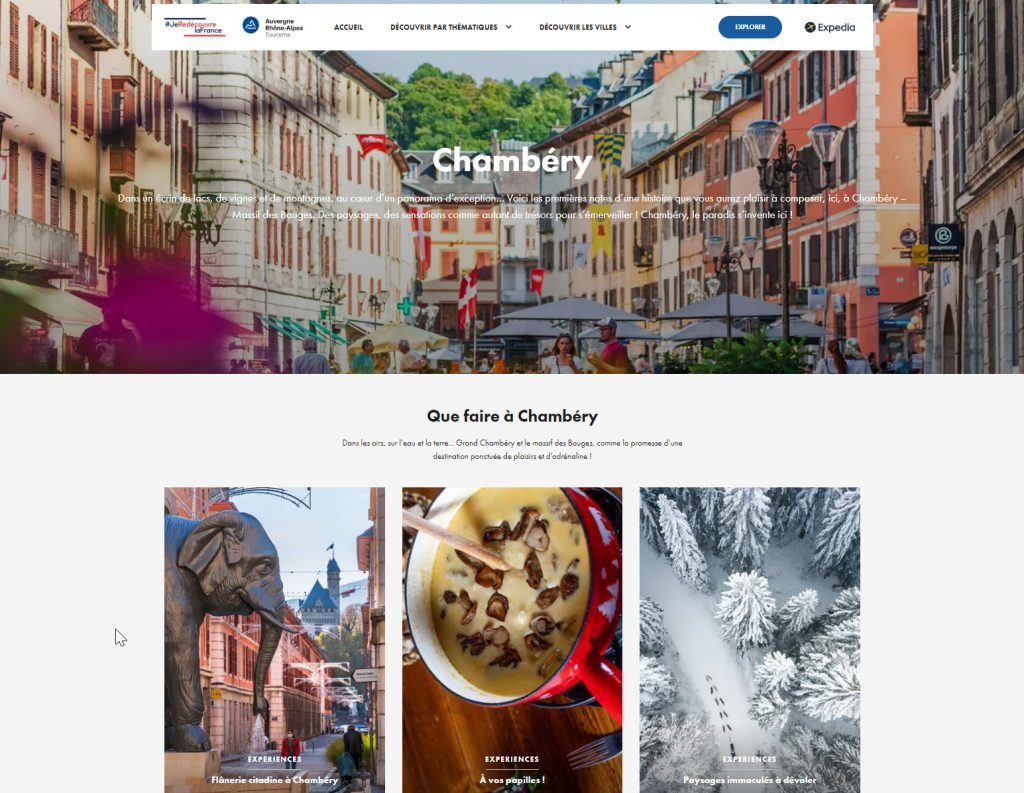 The Co-Op campaign also took advantage of our display advertising offerings. These visual ads targeted French travel shoppers on Expedia Group home pages and search results pages. However, we knew it was just as important to reach those who may have been researching elsewhere. To generate even further demand, the DMOs leveraged PassportAds, our audience extension solution, which targets travel shoppers outside the Expedia Group ecosystem. With this solution, Atout France, Auvergne-Rhône-Alpes Tourism, and the seven city DMOs could intelligently target French travel shoppers wherever they browsed on the web, and then direct them back to our sites to complete their booking.
In addition, the campaign utilized dedicated email sends, as well as a tailored social media strategy to drive further traffic to the landing pages. Meanwhile, all the campaign's pages featured integrated booking capabilities to make it easy for French travel shoppers to plan and book their local city break.
Collaborative Approach Leads to Success
All of these solutions worked together to help the DMOs achieve its marketing goals. The campaign saw 25% growth for hotel stays and over 70% growth for vacation rentals year-on-year in the region. It also generated an impressive 334 million impressions and over 441,000 clicks. And on social media, the campaign saw its Instagram activity increase average engagement on the landing pages by over 200%.
And this is just the beginning. Christian Douchement, Head of Promotion at Auvergne Rhône Alpes Tourism, says:
"We are looking forward to renewing the partnership in 2022. Thank you to all the teams involved at Auvergne Rhône Alpes Tourism, Atout France, and Expedia Group Media Solutions. The success of the campaign also relied on the collaboration with the seven partner cities."
In fact, the campaign was so successful that Auvergne Rhone Alpes Tourism chose to work with Media Solutions on another marketing effort, this time dedicated to winter sports.
To learn more about how your destination marketing organization can connect with travel shoppers, explore our full suite of advertising solutions, or contact us today. You can also find out what travel shoppers today are looking for in our latest Travel Recovery Trend Report. Or register for our upcoming virtual Insights Summit on April 7 for EMEA audiences to discover more ways we can help travel marketers today.