January 31, 2022
Like other destination marketing organizations (DMOs) impacted by the COVID-19 pandemic, VisitScotland has launched marketing efforts to keep Scotland front of mind as potential visitors make future travel plans. At the same time, the organization wants to be sure that Scottish tourism builds back sustainably, in a way that supports the destination in the long term. In this post, we discuss how VisitScotland partnered with us at Expedia Group Media Solutions to deliver a series of marketing campaigns that promote both recovery and responsibility, and committed itself to these ideals by signing the UNESCO Sustainable Travel Pledge.
Flexibility Requires Real-time Insights
Before the pandemic, Scotland welcomed millions of visitors annually, which means that 2020 and 2021 were particularly devastating years for the country's tourism sector. VisitScotland has been eager to re-engage with potential visitors, not just by increasing the destination's visibility but also by converting travel shoppers who had previously researched Scotland as a destination.
Yet VisitScotland is also keenly aware that the pandemic is still ongoing. As such it needed an advertising solution that provides real-time insights into search and booking behavior, along with the flexibility to adjust campaigns in response to changing COVID-19 circumstances. Thanks to the sheer volume of data and insights we at Media Solutions collect from across Expedia Group's different brands, we're able to help VisitScotland target those who've been spending time planning and researching their trips, rather than last-minute travelers. And, of course, our real-time data, dedicated analysts, and flexible campaigns mean that VisitScotland's advertising can quickly adapt to the ever-changing travel environment we've experienced throughout the pandemic.
Although huge volumes of travelers research their trips using our sites and apps, we know that it's also important to reach those who might be researching elsewhere. With our PassportAds Audience Extension solution, VisitScotland can intelligently target travelers wherever they browse on the web, and then direct them to Expedia Group sites to complete their research and booking.
Reaching Domestic Travelers and International Visitors Alike
To help achieve its marketing goals, the organization worked with our award-winning Creative Partnerships team across a series of campaigns to develop bespoke media experiences. Earlier in the pandemic, VisitScotland strove to make up for the loss of international travel by reaching domestic travelers in the UK. For the "Only in Scotland" campaign, which ran between summer 2020 and summer 2021, we developed a visually stunning interactive landing page promoting Scotland as a place for travelers to recharge, go off-grid, take iconic city breaks, and much more.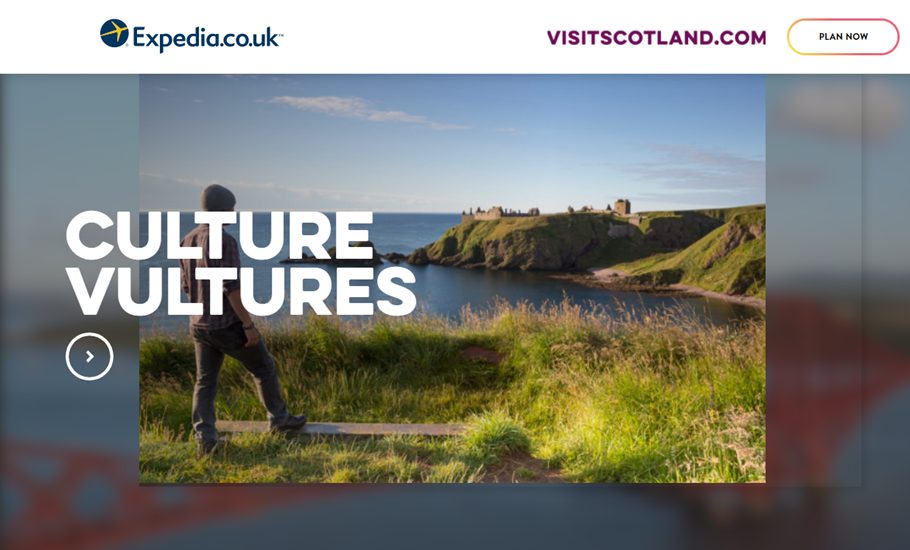 Now that borders are reopening in many parts of the world, the current global campaign, "Scotland is Calling," is aimed at reaching international audiences – particularly in the U.S., Canada, and the rest of Europe. This campaign leverages a Travel Spotlight listicle, which allows travel marketers to engage with shoppers by showcasing key experiences. The result is a compelling, co-branded landing page, available in several markets, which highlights Scotland's wild outdoors, historic castles, ancient stone circles, and much more.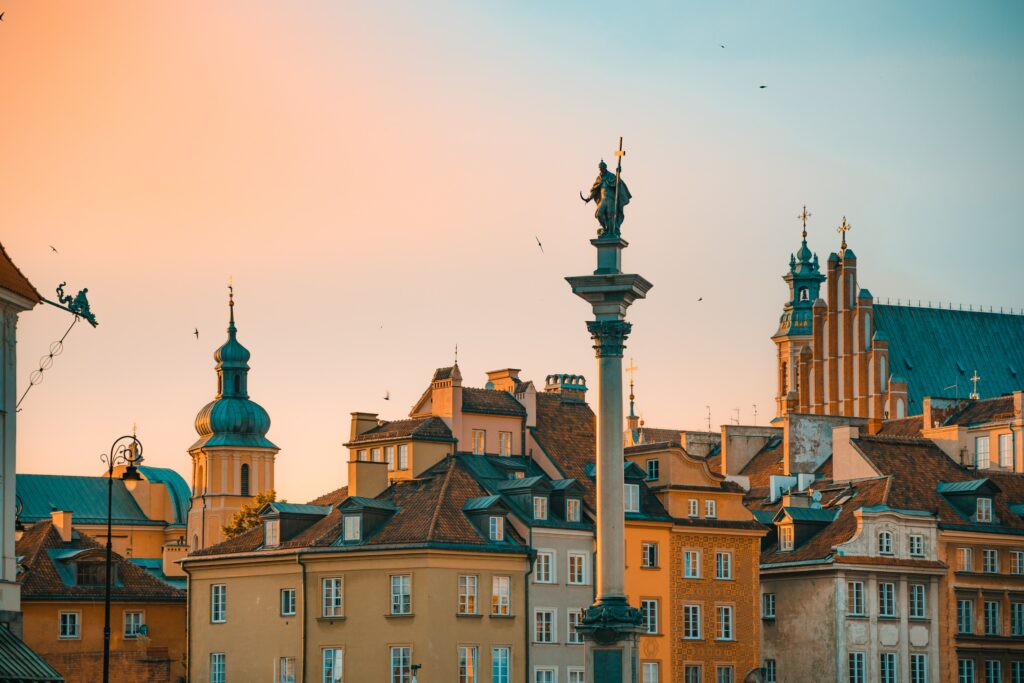 Hotel advertising that can reach any traveler, anywhere
Travelers looking to book a hotel use multiple channels to find their ideal place to stay, from social media to travel websites, and more. This is why it's imperative that you know when — and where — to reach the right traveler. Whether you're trying to reach early-bird or last-minute bookers, our targeting capabilities can help you connect with the right traveler at the right time.
VisitScotland Prioritizes Sustainable Tourism
We also created a separate promotional microsite that highlights the nation's seven cultural cities, local food and drink, urban adventures, and selected offers for lodging. What's unique about this page is its guidance to travel responsibly: visitors are encouraged to slow down, get to know the locals, and leave no trace. This comes as no surprise, as the DMO recently signed both the Glasgow Declaration and the UNESCO Sustainable Travel Pledge. Established in collaboration with Expedia Group, the UNESCO pledge aims to hold the industry accountable to local environments and communities. By signing it, VisitScotland has committed to respect Scotland's natural landscapes and preserve the country's unique heritage.
All of these marketing efforts have paid off. In 2020 and 2021, the domestic campaigns delivered an impressive 58 million impressions, with 6 million more coming from the North American and Canadian campaigns. To learn more about how you and your DMO can re-engage with travel shoppers with a Creative Partnership and our other advertising solutions, contact us today.