January 12, 2022
Travel shoppers today have many options when it comes to paying for travel. Often, consumers don't think twice before considering which payment method to use—they go with what's familiar or use the credit card that earns the most rewards or miles. In this post, we'll discuss how PayPal worked with us to remind shoppers at the beginning of the customer journey that not only is PayPal a safe and secure payment method, but it also comes with many of the same perks as other payment methods.
PayPal's Objective and How they Hoped to Achieve It
PayPal knew that as vaccination rates increased, pandemic restrictions eased, and traveler confidence improved, there was an opportunity to capitalize on the summer 2021 travel season. People had been daydreaming about travel for more than a year and were ready to turn their dreams into realities. Yet not all travel shoppers spend as much time—or any time at all—weighing the pros and cons of different payment methods when it comes to booking travel.
That's why PayPal turned to us at Media Solutions. They were looking for a way to increase the visibility of PayPal as a payment option when travelers first began their shopping journey, rather than only surface it later as a payment option during the checkout process. At the same time, they wanted to reinforce PayPal as a trusted method of payment. By doing these things, their aim was to increase the number of transactions customers made using PayPal.
A Multi-Faceted Approach from Media Solutions
Our first activity to meet these objectives was to design a custom, promotional landing page that presented PayPal as a payment option. The page included Last Minute Deals, Outdoor Getaways, Road trips and Beach Holidays. In addition, about halfway through the campaign's run, a coupon code was announced which shoppers could apply when using PayPal to book any eligible hotel stay.
The page also reminded travel shoppers of some of the other reasons to use PayPal, such as discounts at popular merchants. There's also the ability to link a credit card to their account with PayPal, so that shoppers could still earn and spend their rewards (subject to issuer's reward program terms and conditions). The latter is especially important to those shoppers who prefer to remain loyal to a particular credit card.
PayPal also partnered with other platforms to get the word out, including Facebook, Pinterest, and Thrillist. The co-branded social campaign achieved nearly 200k clicks from mid-June to the end of July.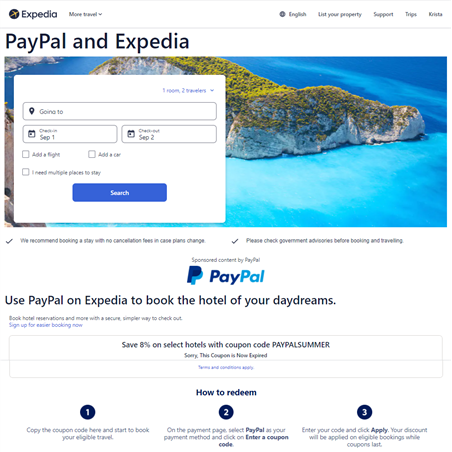 Emotion-Led Advertising Engages Shoppers
Besides the landing page and social media, PayPal leveraged a variety of our Display Advertising solutions to ensure visibility among highly qualified travel shoppers. These display ads included native advertising to reach targeted shoppers on Expedia home pages and search results pages, as well as standard display ads integrated throughout the travel shopper journey. All of this content was presented on the website and in the Expedia mobile app, as well as within dedicated emails.
What did this advertising look like? Because we knew that people had been dreaming about travel when the world was locked down, the advertising focused on the theme of wanderlust. The copy itself alluded to this with messaging like "See your virtual background in real life" and "Use PayPal on Expedia to book the hotel of your daydreams." To go with this, the ads incorporated stunning imagery from the destinations shoppers wished to visit most.
The strategy worked. Around 3,000 users clicked the display ads that were integrated into hotel search results pages, which directed them to the campaign's landing page. The top-performing ad was the one that used Las Vegas imagery, and Las Vegas also happened to be the top converted destination. The other goal was to increase the number of transactions made with PayPal. In the end, the campaign saw a 73:1 return on ad spend (ROAS) for bookings made on Expedia with PayPal as the selected option. And over the course of the campaign, nearly 100,000 users chose PayPal over other options when they had previously not transacted with PayPal.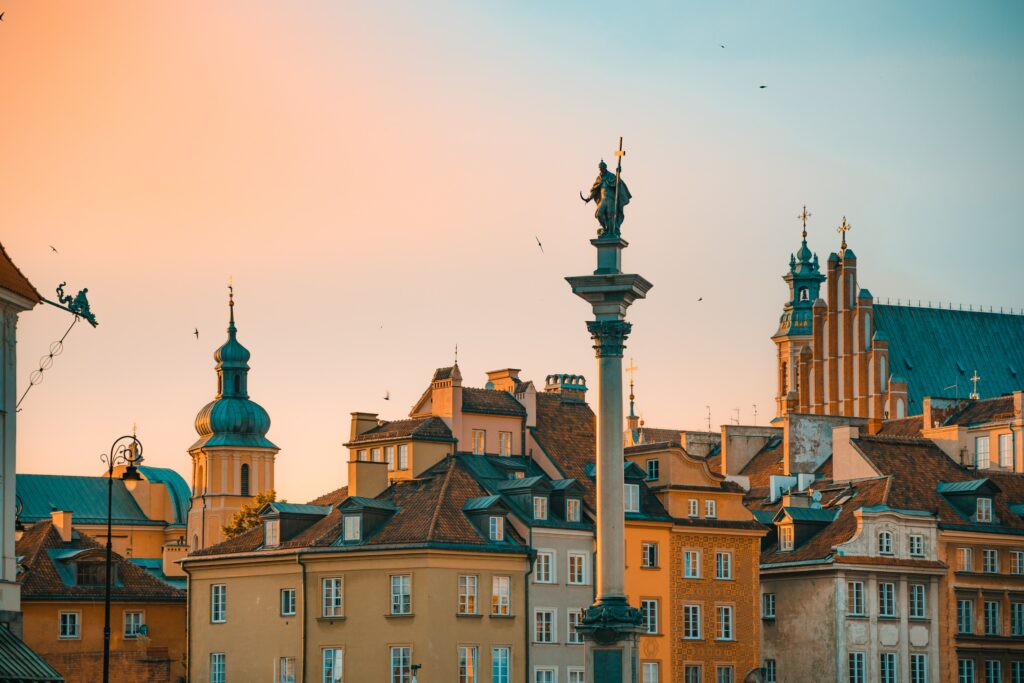 Hotel advertising that can reach any traveler, anywhere
Travelers looking to book a hotel use multiple channels to find their ideal place to stay, from social media to travel websites, and more. This is why it's imperative that you know when — and where — to reach the right traveler. Whether you're trying to reach early-bird or last-minute bookers, our targeting capabilities can help you connect with the right traveler at the right time.
As you can see, PayPal worked with us to deliver a timely and effective campaign that helped convert travel shoppers. For more information about ways we can help financial services partners successfully engage and convert travelers, contact us today.