May 25, 2021
Like everyone in travel this past year, the Expedia Group brand teams have also been navigating the impacts of the global pandemic and determining how best to move forward. The good news is that our brands are seeing hope on the horizon as pent-up demand for travel increases, and many are reactivating travel through high-visibility marketing campaigns designed to attract travelers and bring more travel shoppers to our brands around the world. Reinvesting in marketing signals that travel is returning and for our advertising partners, they too can benefit from the investments our brands are making by capturing the demand generated through these new campaigns.
From celebrity partnerships to brand firsts like launching a travel podcast, here's just a snapshot of how the Expedia Group brands are going to market.
Expedia: Who You Travel With Matters
Expedia.com recently unveiled a new global brand positioning that is grounded in the understanding that who you travel with matters, and builds on 25 years as one of the world's leading full-service travel companies. The campaign launched with new ads last month, and marks the beginning of Expedia's journey in becoming the ultimate travel companion, helping travelers every step of the way.
Expedia continues to reinforce its new brand personality, tone and positioning with the launch of its multi-phased global consumer PR campaign featuring a partnership with Joe Jonas to offer travelers a "Helping Hand" to help reduce stress as travelers make their way back into the world.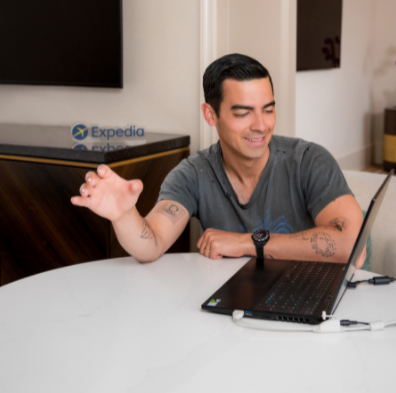 Recognizing that for many, the idea of booking their first trip since the start of the pandemic may come with feelings of hesitation and uncertainty, #ExpediaHelpingHand is a symbol of Expedia's commitment to being the ultimate travel companion that is supporting travelers every step of the way. As part of the campaign, 500 exact replicas of Joe Jonas' right hand, also signed by Jonas, were available, as limited-edition pieces of art. To offer a Helping Hand to communities affected by the COVID-19 pandemic, Expedia is also donating $100,000 to Mercy Corps.
Vrbo: Family in Residence
To further inspire and help families plan what may be their longest awaited vacations and reunions ever, Vrbo unveiled its biggest campaign to-date, "Vrbo Presents: After a Long Wait". The campaign features a series of new ads with John Legend and Chrissy Teigen as well as real-life families who didn't realize they'd be experiencing surprise reunions with loved ones while cameras rolled. The scenes play out as Legend performs a new version of the classic song "I Can See Clearly Now."
In this new campaign, the Teigen-Legend family spends time as the first "Family in Residence" at a Vrbo vacation home, which also doubled as the set for a new ad starring the whole family. The Family in Residence is also sharing their own vacation style inspiration through additional ads and social media.
Hotels.com: Can't Go Wrong
As a brand committed to solving consumer trip anxiety by instilling confidence and being right by its customer's side the whole way, Hotels.com launched a global TV and digital campaign that focuses on its free cancellation policy, which helps remove any stress from booking travel these days.
Stemming from the insight that booking a trip can often feel like a big deal – especially today – this "Can't Go Wrong" campaign includes a series of spots featuring dramatic situations that appear to be one thing but, in reality, are just travel booking moments that become less stressful because of free cancellation on Hotels.com. Famous actors, like Chad Michael Murray, lend their talents to the ads.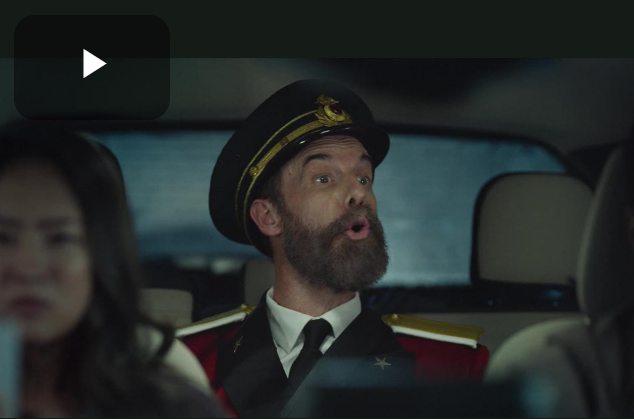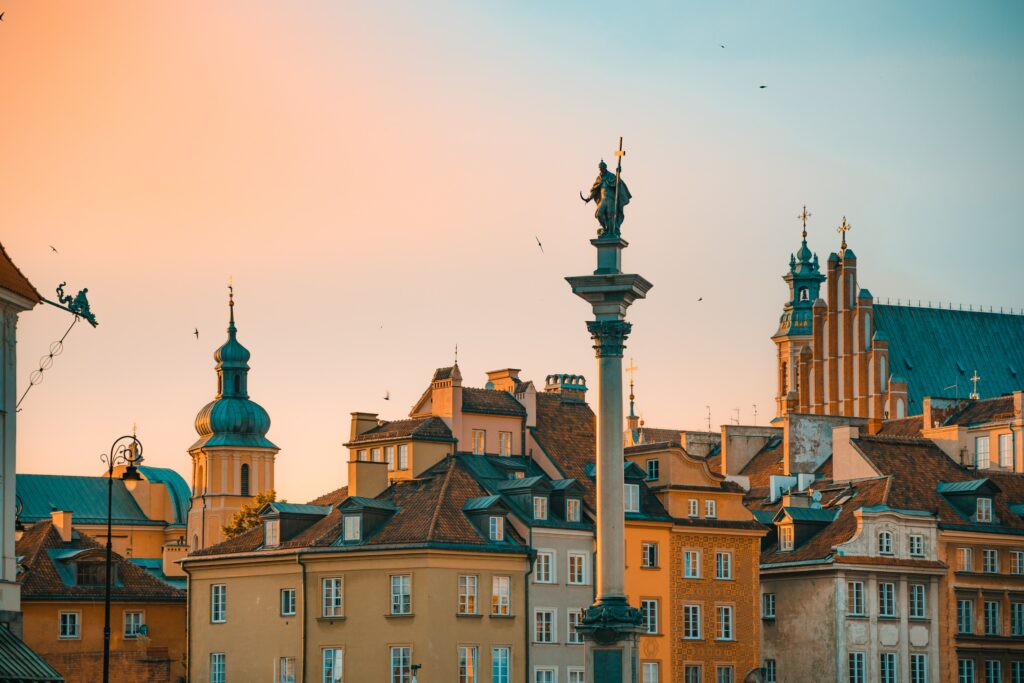 Hotel advertising that can reach any traveler, anywhere
Travelers looking to book a hotel use multiple channels to find their ideal place to stay, from social media to travel websites, and more. This is why it's imperative that you know when — and where — to reach the right traveler. Whether you're trying to reach early-bird or last-minute bookers, our targeting capabilities can help you connect with the right traveler at the right time.
Orbitz: Travel As You Are
20 years after launching its first LGBTQ print ad encouraging travelers to "see the world on your terms", Orbitz debuted a new manifesto and call to action for LGBTQIA+ travelers everywhere, encouraging them to travel freely and fully as the world re-opens after a tumultuous year. This campaign is grounded in diversity and authentic representation that should be table stakes in our industry today, facilitating a dialogue on representation and diversity among people, creators and brands that provokes powerful actions of change, not just simply calls to actions.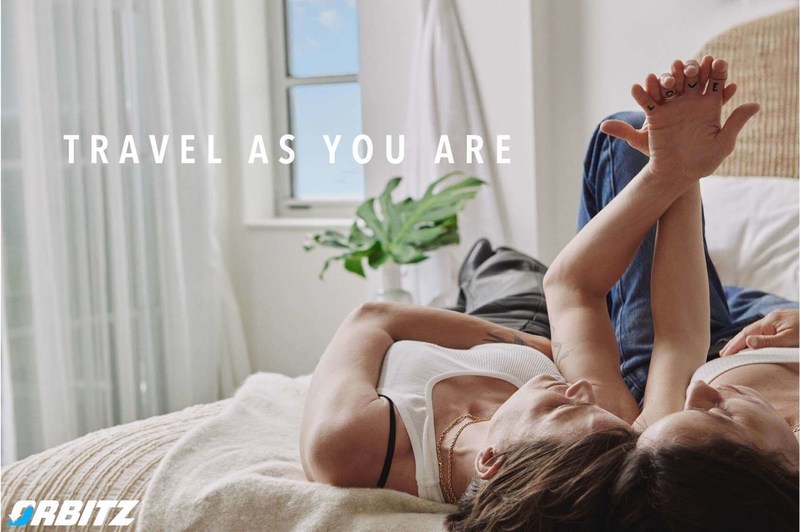 To showcase its commitment to the LGBTQIA+ community, this campaign supports community publishers, content creators, and causes, including, among others, visionary photographer and director Cass Bird – known for her work with Dior, Calvin Klein and celebs including The Obamas, Jay-Z and Gigi Hadid – who directed "Travel As You Are," which features a diverse cast of couples, friends and talent. The campaign is supported through various media partners, including Pride Media, Thrillist, Vevo, Instgram, Tiktok, Edge Media Network, and Tastemade.
Wotif: Taste of Australia
Taste of Australia with Hayden Quinn is a widely-watched and highly-regarded Australian TV lifestyle series, featuring much-loved local celebrity chef, Hayden Quinn. To support the third series of Taste of Australia, Wotif came on board as the official booking partner to help Aussies take action and book their own trip to the incredible Aussie destinations featured throughout the series.

For viewers of the show who are inspired to get traveling themselves, Taste of Australia is the ultimate one-stop-shop for information, including insider travel tips written by Hayden himself, accommodation recommendations to suit a variety of budgets and preferences, and featured recipes from the show, to cook at home or even better, on their own travel adventure.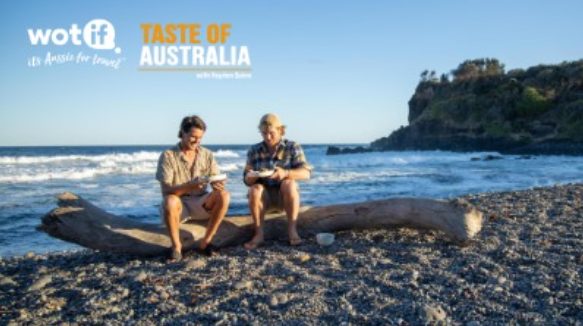 Wotif research confirms food is a huge driver for domestic tourism – 52% of Aussies love discovering fresh local produce, food, and wine while traveling in Australia – so by partnering with Hayden, Wotif is able to highlight the incredible experiences Aussies have available in their own backyard. Taste of Australia is passionate about showcasing Australian destinations and producers, and with Wotif's continued commitment to supporting regional tourism and communities, it was a natural fit for both brands to come together.
ebookers: Fernweh
A brand first, ebookers started off May by launching a new travel inspiration podcast in its key market of Switzerland called Fernweh, which translates to wanderlust in Swiss German. In partnership with a leading Swiss media outlet, 20 Minuten, the podcast shares the unique travel experiences of different Swiss travelers – all in Swiss German, the most widely spoken Swiss language.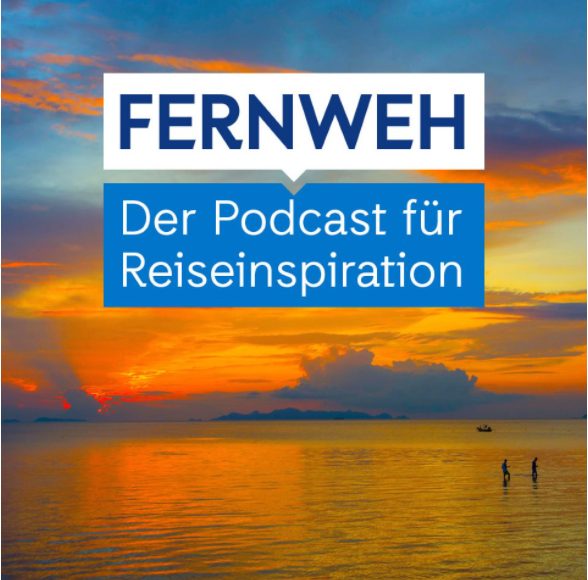 Being the first travel brand to step into the podcasting world, ebookers is able to bring its brand to life, tell stories and provide travel inspiration and escapism while COVID-19 restrictions remain in place.
Tap into the Power of Our Brands & Audiences
Learn more about our Expedia Group brands and opportunities for advertisers, including how our Creative Partnerships team can create co-branded campaigns with our partners that leverage the strength of these brands globally across high-impact channels.
The latest global Expedia Group data and research indicates demand for travel is returning. Learn more in our new Q1 2021 Travel Recovery Trend Report to see how marketers can capture and drive demand on the road to recover and rebuild.