August 1, 2022
Last month, Embratur—Brazil's official agency for promoting international tourism—and Expedia Group Media Solutions teamed up to drive travelers from the U.S. to Brazil with a new campaign, "Wow Experience Brazil." The promotion builds upon our previous campaign with Embratur in early 2022, which focused on showcasing Brazil as a visa-free destination.
Promoting Brazil as a visa-free destination
Only several months before the pandemic hit, in June 2019, Brazil lifted its visa requirement for all citizens of the U.S., Canada, Australia, and Japan. The decision was part of a push from Brazilian officials to simplify visitation to the country and to attract more travelers from strategic markets.
Opening visa-free entry caused the number of U.S. travelers booking flights to Brazil to jump 39% from June 2019 to January 2020. However, as the pandemic hit and tourism came to a halt soon after, Brazil did not have much time to establish themselves as a visa-free destination in the minds of Americans.
As travel began to open back up, Embratur came to us to create a campaign that would remind American travelers that visas are not required to visit the country. In February of 2022, we launched a campaign entitled "Visa Free Destination," which used display advertisements across Expedia U.S. sites. The campaign also included a dedicated microsite, which leveraged a video showcasing the wonderful adventures visitors could enjoy visa-free.
During its month-long run in February, the campaign generated more than 11 million impressions and 10,000 clicks and drove a significant year-over-year increase in demand to Brazilian destinations. The top-booked Brazilian destinations from the U.S. during the first quarter of 2022 were Rio de Janeiro, Sao Paulo, and Belo Horizonte.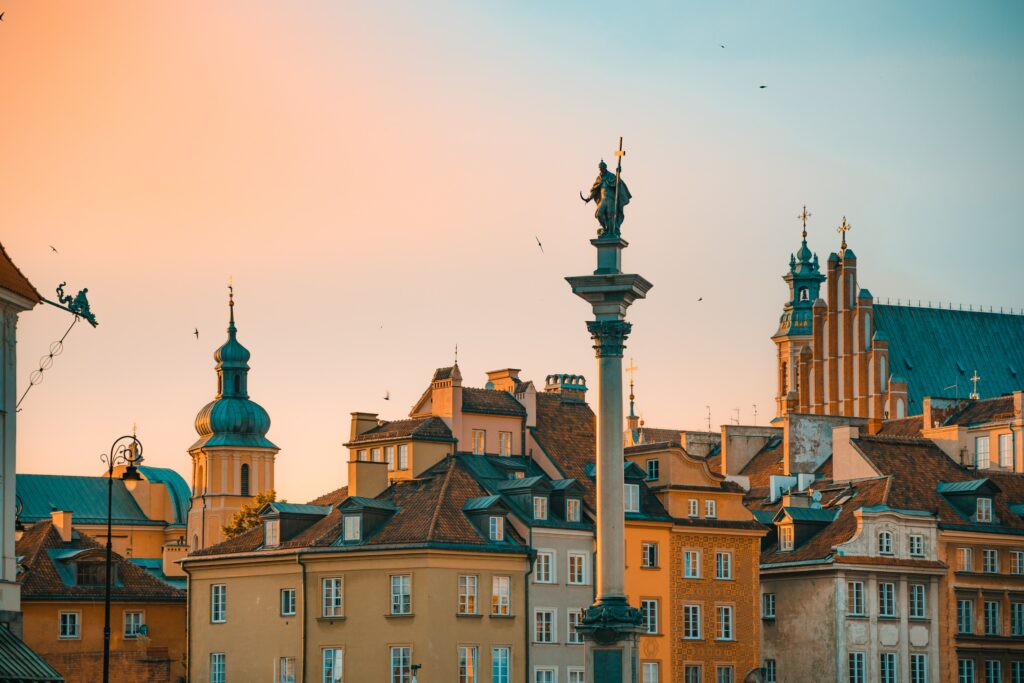 Hotel advertising that can reach any traveler, anywhere
Travelers looking to book a hotel use multiple channels to find their ideal place to stay, from social media to travel websites, and more. This is why it's imperative that you know when — and where — to reach the right traveler. Whether you're trying to reach early-bird or last-minute bookers, our targeting capabilities can help you connect with the right traveler at the right time.
Continuing the success with "Wow Experience Brazil"
To continue the success of the initial campaign, Embratur and our team are furthering the partnership with a new campaign that launched in mid-June. The new campaign, based on the "Wow Experience Brazil" concept, aims to promote Brazil's ecotourism in the U.S. market by enticing travelers to discover the nation's beaches, thrilling adventure activities, and breathtaking nature getaways.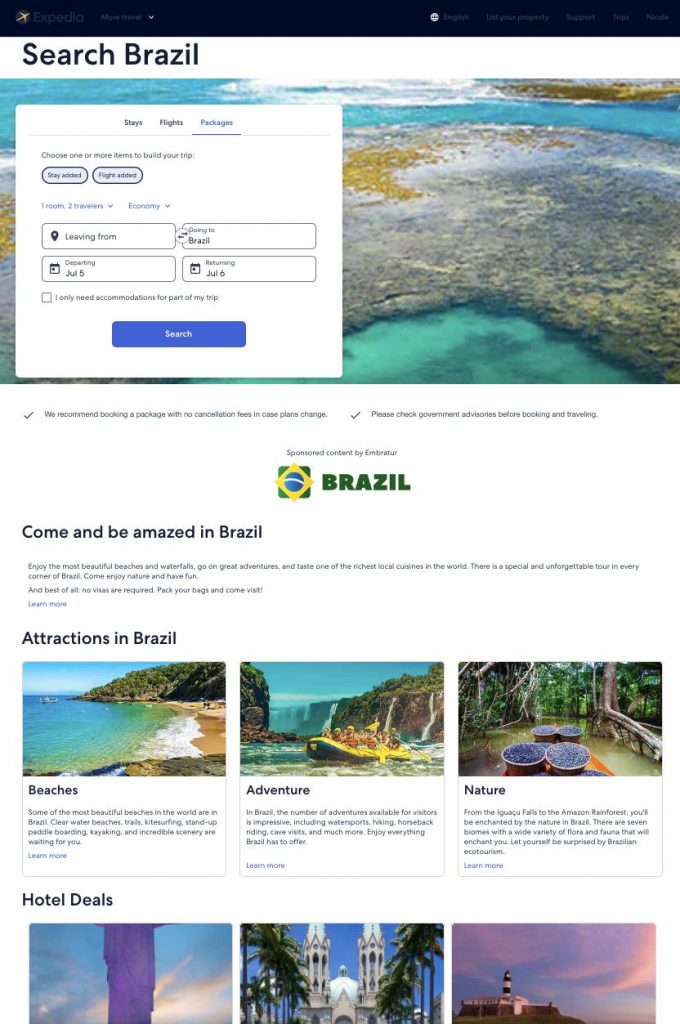 The campaign features a microsite on Expedia.com, which includes listings for hotel and flight deals, destinations to visit, and major attractions across Brazil. The site also features Embratur's new video, which takes travelers through the different experiences they can have, from visiting the Amazon Rainforest to the breathtaking Iguazu Falls.
"We were very happy to take this first strategic step with Embratur and to be part of such an important campaign, bringing positive results by successfully reaching Expedia's U.S. traveler audience. The second campaign will complement the narrative arc of the first phase, promoting Brazil as a destination that mixes beauty, nature, culture, and adventure,"

Gustavo Dias, Senior Director of Legal and Government Affairs, LATAM, Expedia Group.
In addition to the microsite, the campaign includes targeted advertisements across Expedia.com with the "Wow Experience Brazil" creative theme. Several of the ads connect back to the original campaign by drawing on the theme of Brazil as a visa-free destination.

To learn more about the many ways we help destination marketing organizations and other brands connect with our traveler audience, make sure to check out our solutions page. You can also learn more about the rise of ecotourism by downloading our Sustainable Travel Study.