July 25, 2023
The purchase path of travelers is anything but linear. The way people find inspiration to travel, research, and book trips continues to change, as well as what influences traveler behavior and decisions. These complexities make it challenging for travel brands and advertisers to understand where and how to show up throughout the path to purchase to reach travelers effectively.
New research from Expedia Group and Luth Research, The Path to Purchase: Uncovering How Travelers Plan and Book, explores the online path to purchase and traveler behavior insights in seven countries — Australia, Canada, France, Japan, Mexico, the U.K, and U.S. — and provides actionable insights to help travel advertisers reach, inspire, engage, and convert travelers during their shopping journey. Read on for key travel insights to help you build more successful advertising campaigns.
The digital landscape and travel content consumption
Content consumption habits and content that influences the traveler journey have changed in recent years, partly due to the complexity of the digital travel landscape. Across the seven countries examined in the study, on average, travelers view 141 pages of travel content in the 45 days prior to booking a trip. The page views span content across various website categories, with online travel agencies (OTAs) accounting for nearly half of the page views. 
Looking at the percentage of travelers that use each resource in the 45 days leading up to their purchase, OTAs are used by most travelers, along with search engines, social media, and airline and meta travel websites.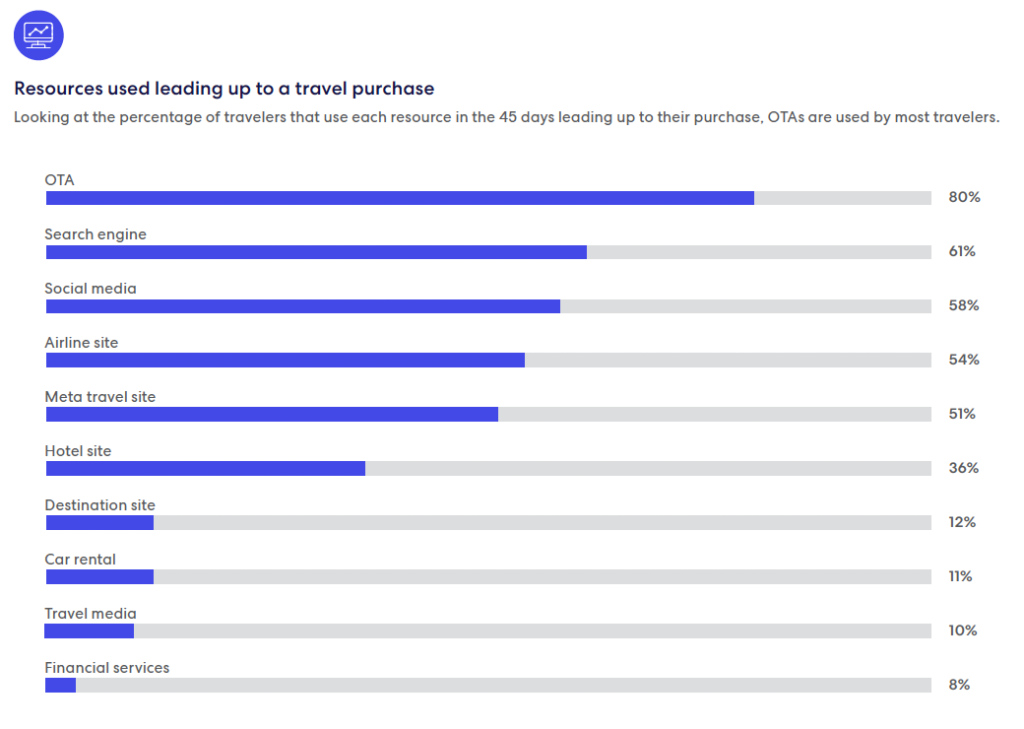 OTAs in particular are a popular resource, with four in five travelers visiting an OTA at some point before making a travel purchase. This indicates that even if travelers ultimately book on another website, they likely visited an OTA for inspiration, research, or planning purposes.  
The traveler journey
The global travel behavior insights we gathered from the survey showed that the average path to purchase is 71 days. Within this period, travelers spend 33 days in the inspiration phase and 38 days in the research and planning phase. The path to purchase varies by country and travel type. For example, the path to purchase for Japanese travelers is only 45 days, which means they book much closer to their trip date than other travelers. Vacation rental guests have a longer purchase path at 83 days, and they book their accommodations more than three months prior to trip start.
On average, the path to purchase is more than two months long, providing travel advertisers with a significant window of opportunity to influence traveler booking decisions. With our robust targeting capabilities and these insights, it's easier to reach these travelers at precise points in their journey.
The influence of advertising on traveler decisions
The inspiration phase is when travelers first start thinking about a trip, marking the first opportunity to influence traveler decisions. Trip inspiration can come from anywhere, so what strategies and tactics should travel brands employ to ensure they break through the noise and stay top of mind?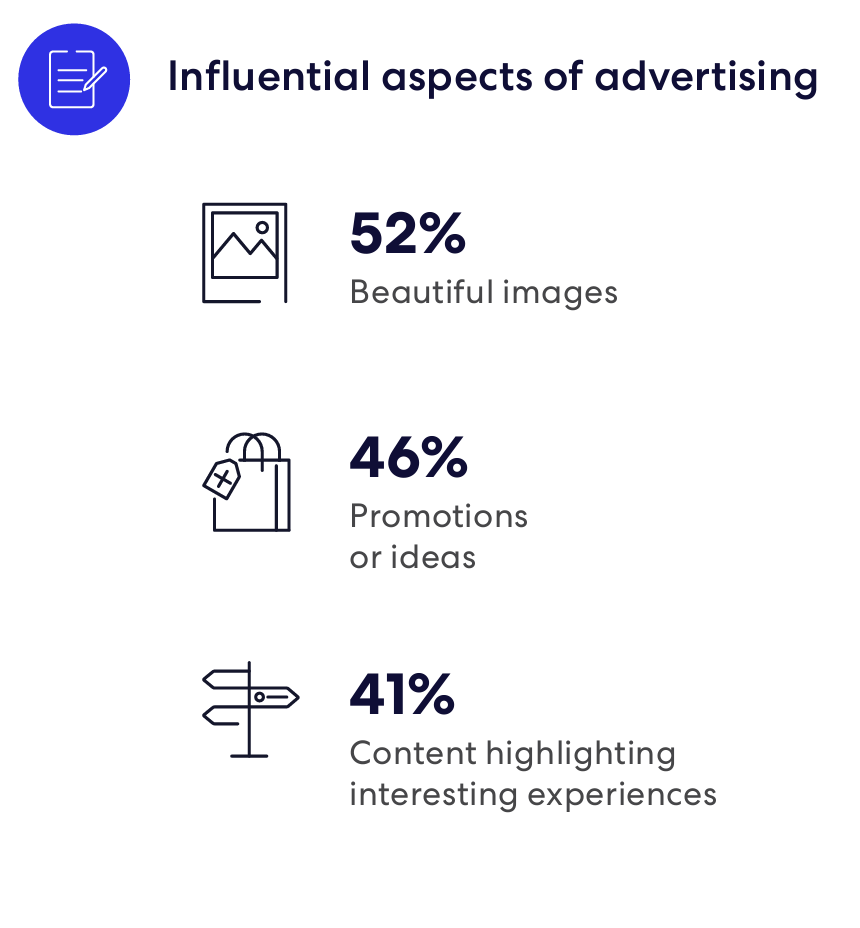 The survey findings reinforce the value and influence of travel advertising and illustrate how advertising impacts traveler decisions, especially at the start of the travel consumer journey. On average, nearly one in five (19%) travelers said advertising influenced their decision to book a trip. Among those that were influenced by advertising, 67% of travelers recall noticing an influential ad during the inspiration phase.
Over half (52%) of travelers considered compelling images in advertising to be influential, followed by promotions or deals (46%), content highlighting interesting experiences (41%), and inspirational content (38%).
When using these travel insights for more successful advertising campaigns, it's important to consider solutions that allow you to create customized copy and imagery that showcases your location, experiences, and promotions or deals to appeal to travelers' wallets and wanderlust.
Travelers also turn to social media as an influential resource, particularly early in the path to purchase. Of those that use social media in their shopping journey, three-fourths use it for inspiration. They turn to social media for destination inspiration, lodging recommendations, travel content, trip deals, and more.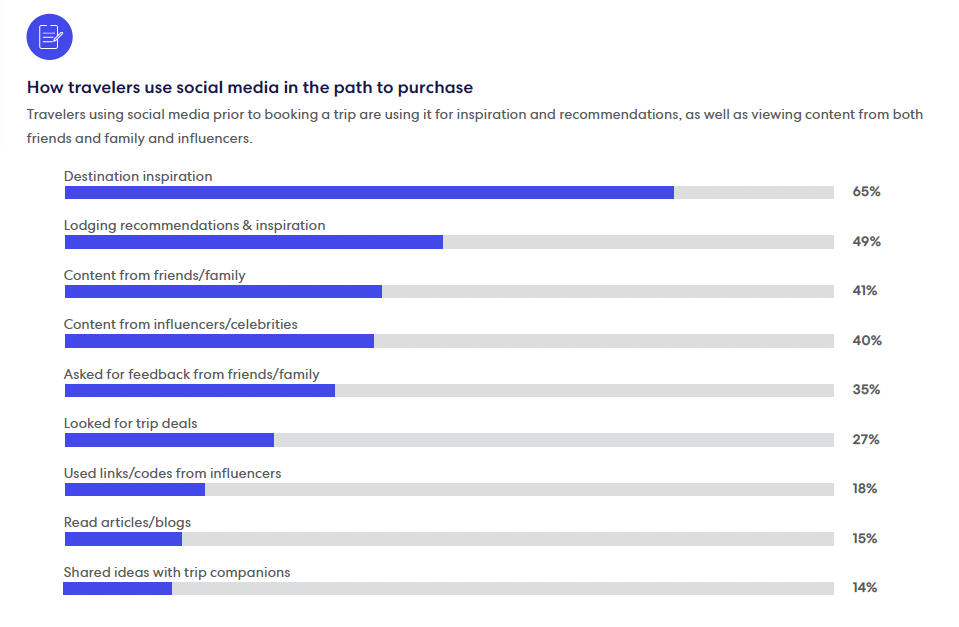 As social media's influence continues to increase among travel shoppers, it's imperative for travel brands to implement cross-channel and cross-platform strategies that leverage the power of social media, influencers, and user-generated content. You can use social media to extend your reach and presence and help influence traveler decisions, from inspiration to booking.
Travelers turn to OTAs for research and planning
During the research phase, travelers actively look at various options, gather information, and narrow their choices. Looking at the top resources for travel research, among those travelers using the resource, nearly three-fourths used search engines, meta travel websites, and social media followed by destination websites and OTAs.
The digital data also revealed that most travelers use OTAs for research, regardless of where they book. For travelers who booked on a hotel website or app, nearly two-thirds (61%) visited an OTA during their journey. Similarly, more than half (52%) of customers who booked on an airline website and 58% who booked on a car rental website visited an OTA.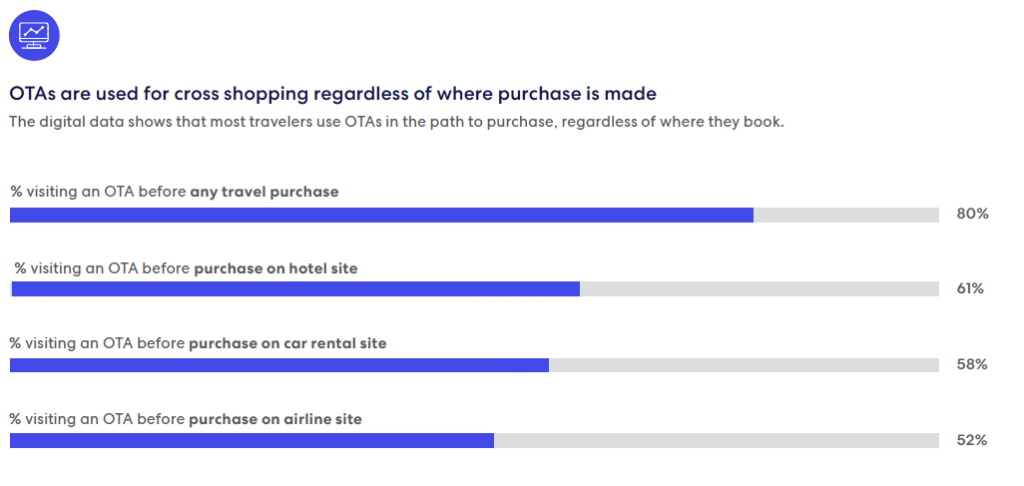 OTAs are also an important resource for travelers in the planning phase prior to booking. Among travelers using the various resources, OTAs are the top online resource for travel planning, and meta travel websites follow close behind.
Travelers using OTAs for research and planning highlights the importance of having a brand presence beyond your owned websites and incorporating other platforms, such as OTAs, into your strategy to stay top of mind.
Our Travel Spotlights offer a creative advertising solution for marketers looking to inspire, influence, and engage travel shoppers in a visually impactful way. With a customized landing page experience, travel brands can incorporate beautiful images, promotions and deals, and other inspirational content to drive consideration among travelers. Leveraging display and native advertising solutions can also help boost visibility and ensure your brand is reaching travelers during the research and planning phase, and beyond.
What travelers look for when choosing where to plan and book
The booking phase marks the final step in the travel consumer journey. Before choosing where to plan and book their trip, travelers consider an array of factors. Nearly half (49%) of travelers said getting the best price is an important factor when deciding where to shop and book their trip. Roughly one-third (31%) consider their positive previous experience with a travel brand, and 28% look for travel brands that offer flexible cancellation policies or refundable rates.
Travelers also prioritize different factors depending on the type of purchase they're making. Hotel guests look for an easy-to-use website and consider their positive previous experience, while flight shoppers are more concerned with finding competitive prices.

For hotels, custom advertising solutions like TravelAds Sponsored Listings are a cost-effective way to maximize your property's visibility with travelers. Hotel marketers can customize ad copy and highlight features such as low prices, flexibility, and customer reviews in their messaging to capture shoppers' attention throughout the traveler journey and drive bookings. Accelerator is another budget-friendly option that helps you increase your hotel's visibility and reach more travelers as they're searching for where to stay. And air providers can leverage Flight Sponsored Listings to promote their competitive prices to highly qualified flight shoppers to capture demand and maximize bookings.
More travel insights for successful advertising campaigns
These findings are just a sample of the insights from the study. For more findings on what motivates people to travel, and travel insights for more successful advertising campaigns, download the full path to purchase study.