Air Canada Toronto Stopover Campaign
+70%
YoY Demand for Stopover Flights
13:1
Return On Ad Spend (ROAS)
+337%
Increase in Search YOY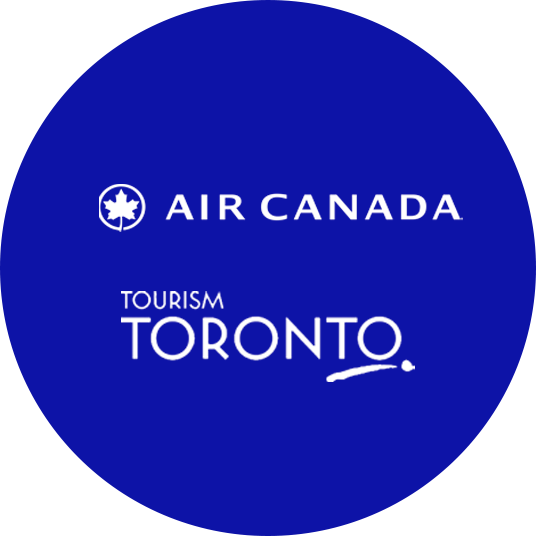 Overview
Toronto—Canada's Downtown—is a cultural center and business capital of Canada. Toronto is also the gateway to a variety of overseas locations and features over 200 connections with Air Canada, the country's largest airline and the exclusive transit partner for #TorontoStopover. Tourism Toronto, Air Canada, and more recently, the Greater Toronto Airport Authority (Toronto Pearson Airport), joined forces to increase market share by highlighting Toronto as the ideal stopover destination.
The Opportunity
Air Canada and Tourism Toronto's shared goal was to engage with U.S. travelers going to or from Asia and Europe, and U.K travelers going to or from the U.S. by showcasing Toronto's unique, dynamic experiences. Following an original #TorontoStopover campaign in 2017 that first promoted Toronto as a desirable stopover destination, their latest campaign refresh expanded on this initial concept. By collaborating with Expedia Group Media Solutions, the partners were able to promote Air Canada's Toronto hub as a natural connection point on long-distance trips, as flight routes between the U.S. and Asia or Europe already fly over Canada.
The Solution
Using insights from Media Solutions' first-party data, the campaign leveraged an opportunity to reach qualified travel shoppers and encourage destination explorations, as well as drive stopover demand for Toronto.
An interactive microsite brought the campaign to life, showcasing and positioning Toronto as an exciting destination that could be accessed through a stopover at no additional airfare cost—a deal that was exclusively available to Air Canada travelers.
The site featured local Toronto offerings through videos, insider travel tips, transportation information, nearby hotel options, and neighborhood guides. To ensure a personalized experience for each user, the microsite used Trip Discovery, an interactive landing page solution developed by the agency partner that provides potential travelers with targeted recommendations based on their interests and travel habits.
With a myriad of content for users to explore, #TorontoStopover highlighted the convenience of stopping over in Toronto and encouraged travelers to experience everything the destination has to offer. The microsite received traffic via sophisticated, dynamic display advertising that targeted British travelers searching for flights to the U.S. and American travelers searching for flights to Europe or Asia.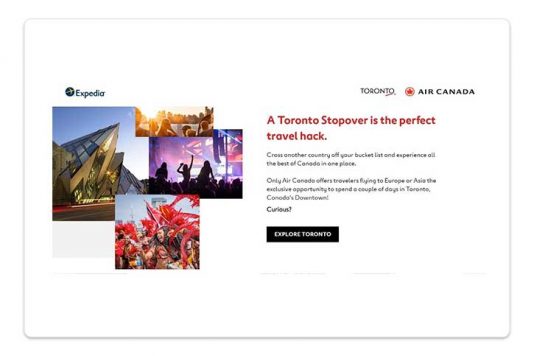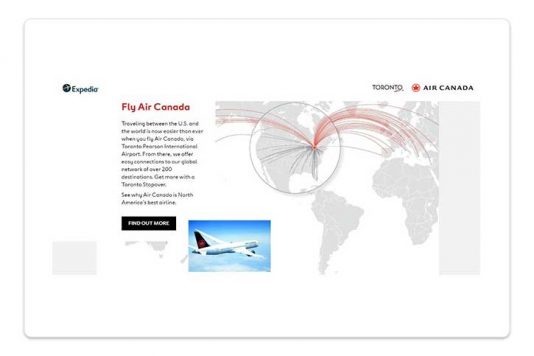 The Results
By combining an interactive digital experience with inspiring content, as well as Media Solutions' unique targeting capabilities, the #TorontoStopover campaign successfully drove traveler inspiration and positioned Toronto as an ideal stopover destination.
During the campaign period, Air Canada experienced a nearly 70 percent year over year increase in demand with a stopover in Toronto. The campaign also drove a return on ad spend of nearly 13:1, and #Toronto Stopover saw a 337 percent increased growth in search from the start of the campaign in September 2018 to September 2019, proving the campaign's impact on destination interest and driving stopover demand.

Connect with our digital media consultants to learn how to best engage, influence, and convert your target travel audience
*Expedia Group, TravelAds and Accelerator incrementality data, 2022