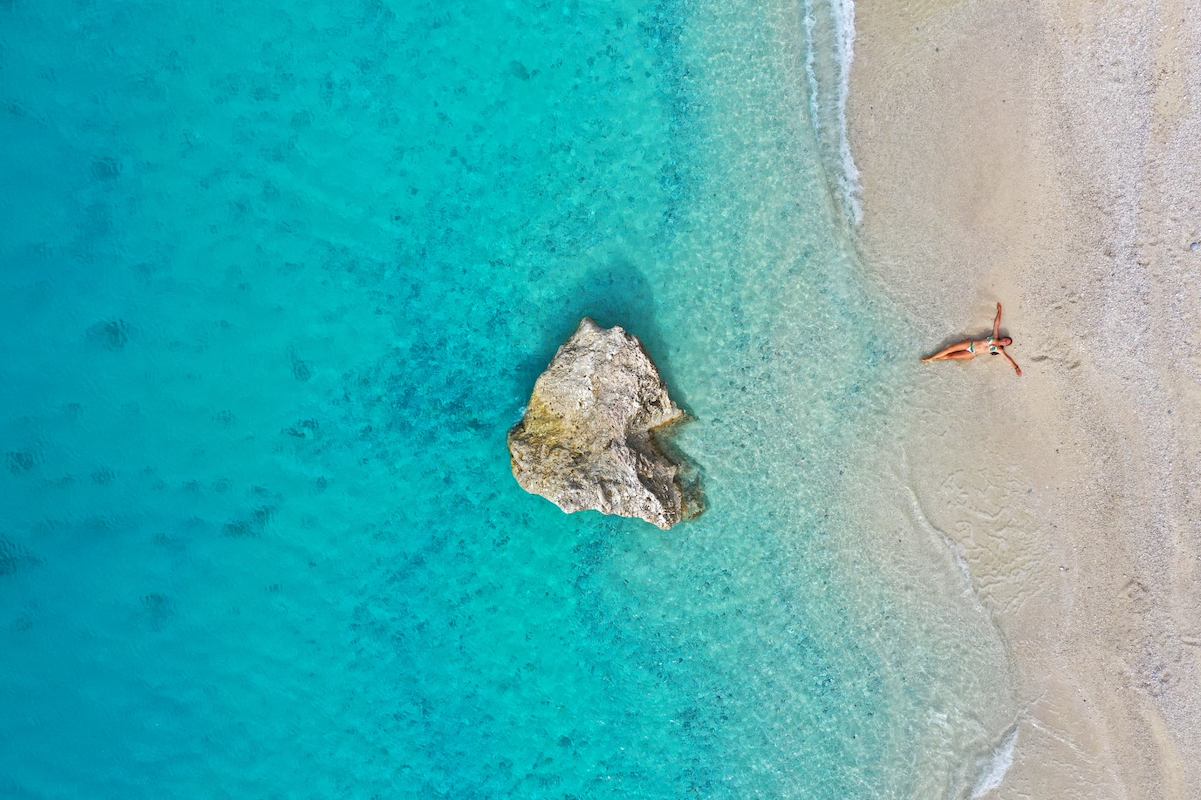 Multi-channel and holistic destination marketing approach resulted in an 130%+ increase in traveler bookings year over year
"Greece is traditionally a top of mind destination for the Expedia audience. Still, the Brand Partnership activation allowed Visit Greece and Expedia to both raise awareness about Greece's multi-diverse offer that goes beyond the popular beach holidays and introduce the audience with many more exciting experiences and products such as city breaks, Greek gastronomy and overall lifestyle. The results in terms of awareness but also conversion KPIs exceeded by far our expectations, setting a new benchmark for our future advertising plans."

Dimitris Fragakis, Secretary General, Visit Greece
Nearly 65%
increase in room nights YoY
130%+
increase in bookings YoY
Nearly 30%
increase in average daily spend YoY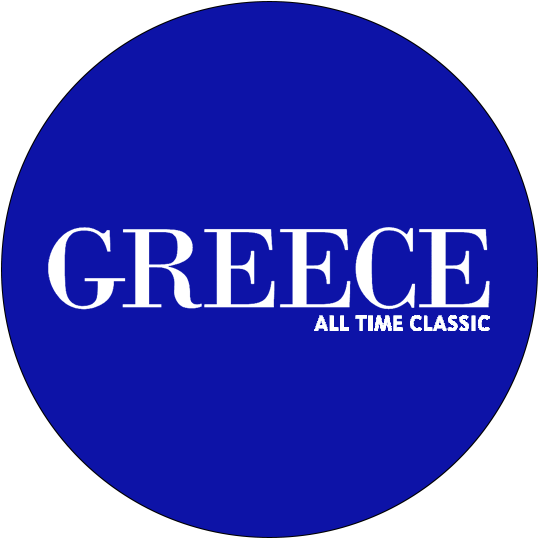 Overview
Idyllic, majestic, archetypal — these are a few of the words that spring to mind about the Hellenic Republic, more commonly known as Greece. And the images those words conjure are a few of the reasons many travelers long to visit the country.
Visit Greece, a long-time partner of Expedia Group Media Solutions, was keen to continue its strong growth trajectory during its post-pandemic recovery. Because of this, the destination marketing organization wanted to launch a new campaign built around the theme of "all you want is Greece."
The goal was to expand their footprint in 10 major markets: the U.S., Canada, U.K., Germany, France, Italy, Austria, Sweden, Denmark, and Norway. Looking to engage travelers with the various experiences Greece offers — natural, stunning beauty that runs from mountains to shore, renowned historical sites and notable cuisine — Visit Greece needed a strategic marketing campaign with multiple solutions to capture the vast array of what travelers can experience in Greece.
The Opportunity
To best target the travelers Visit Greece wanted to reach, our Media Planning and Insights teams provided the destination with in-depth and actionable traveler demographic insights to help them begin their campaign planning and determine what would be the best campaign strategies and solutions to reach their goals.
Visit Greece launched a multi-faceted, holistic campaign across the 10 key markets with the primary goal of driving visits and continuing to increase awareness of Greece. Anchored to the overall campaign theme of "all you want is Greece," the campaign showcased the destination's beauty and splendor.
From sailing in sparkling blue waters, visiting the islands that ring the country's coastline and scuba diving in undersea caves to absorbing magnificent historical sites like the Acropolis, the campaign used inspirational imagery and copy to drive home the campaign's theme and let travelers know that Greece is a destination where "you'll want to stay forever."
The Solution
Visit Greece and Media Solutions' Creative and Brand Partnerships team designed a creative campaign that showcased everything Greece has to offer and anchored this multi-channel approach to its campaign messaging and theme.
To meet the campaign's goals, the destination took advantage of our full-funnel solutions that spanned multiple platforms and included on- and off-site solutions to inspire, influence, and convert travelers.
This allowed Greece to reach travelers at every stage of their journey and resulted in an impressive 131% increase in bookings year over year.
Let's look at how Visit Greece addressed each of these stages.
1. INSPIRATION
To engage travelers to visit Greece, the destination's marketers wanted to capture travelers at the beginning of their journey by using high-touch, high-awareness channels. The solutions they used included, Brand Partnership, PassportAds Audience Extension and Social Media Advertising.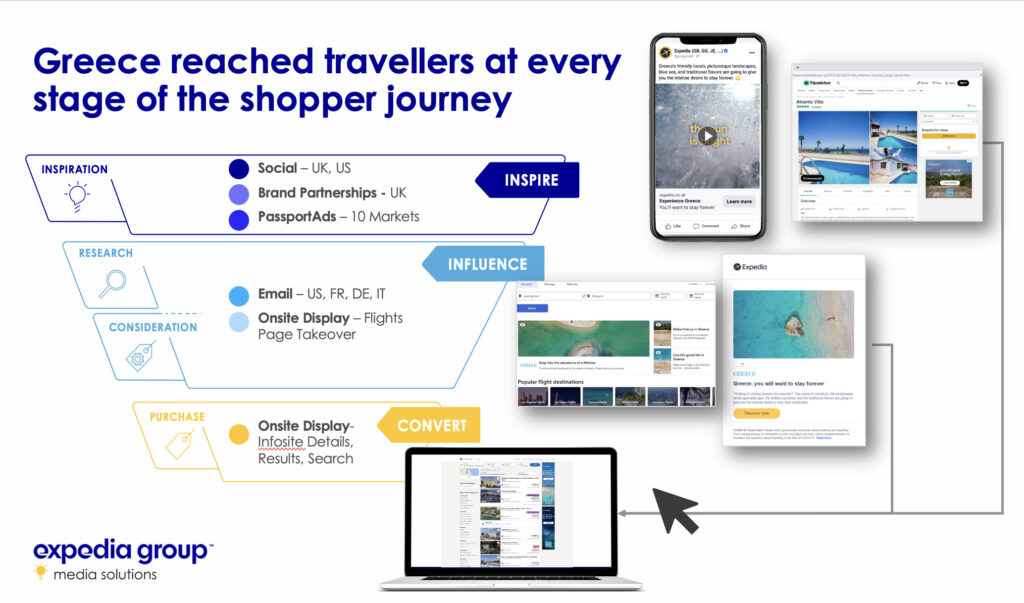 2. INFLUENCE
While travelers are searching for their next experience, it's important to connect with them at this stage of consideration. This campaign used our email marketing solutions to reach travelers who already showed interest in the Mediterranean and Greece. This campaign also reached travelers who were actively searching for flights to Greece to ensure the destination was front and center.
3. CONVERSION
Finally, Visit Greece ran highly-targeted ads across Expedia, Vrbo and Hotels.com to reach travelers who recently searched for Greece, ensuring the destination was always top of mind for those actively considering a trip.
The Results
The campaign ran for six months, from June to November and delivered an impactful return on ad spend of 126.5 to 1 – the strongest return Visit Greece has seen from a campaign.
The destination further benefited from Expedia's brand presence in the U.K., where the creative partnership between Media Solutions and Visit Greece drove high visibility. The co-branded campaign was activated programmatically and through YouTube, reaching 15.5 million unique users and delivering more than 57 million impressions throughout the duration of the campaign.
With a video view-through rate of 85% on programmatic performance and 27% on YouTube performance, the campaign delivered significantly higher results than average.
By the close of the campaign, global awareness of Greece increased, which was evident in the increase in traveler searches for Greece year over year and double-digit growth in the U.S., Canada and U.K. with a 20% search uplift for Greece overall.

Connect with our digital media consultants to learn how to best engage, influence, and convert your target travel audience
*Expedia Group, TravelAds and Accelerator incrementality data, 2022