+76
Total Social PostsConsideration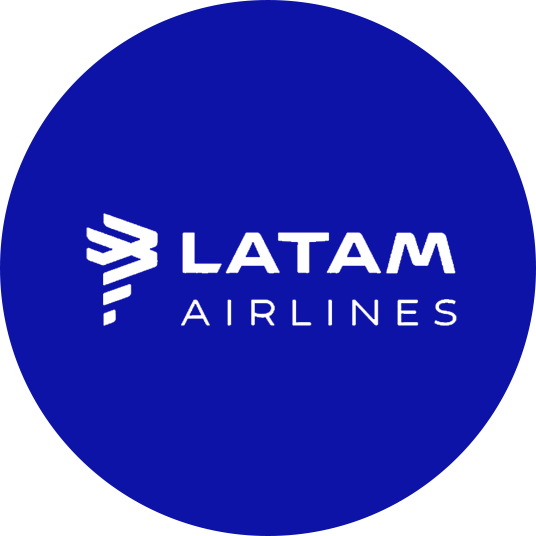 Overview
Through an integrated advertising campaign that included adventures from the popular Travelocity Roaming Gnome, LATAM Airlines drove 2.7 million impressions while promoting brand awareness and increasing awareness of flights to South America. 
The Opportunity
LATAM Airlines was seeking to build their brand awareness while further strengthening their market position. They wanted travelers to view them as the go-to airline for journeying to South America. Specifically, they were striving to be a leading air carrier for travel to the country of Peru, including the cities of Lima and Cusco.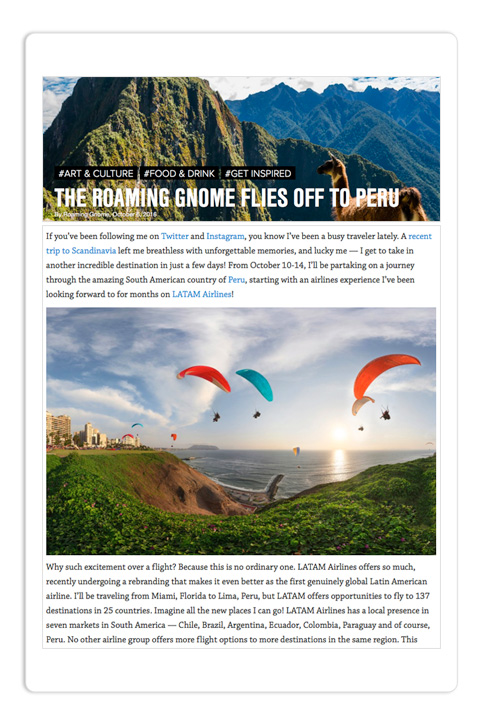 The Solution
Partnering with Expedia Group Media Solutions, LATAM Airlines launched an integrated digital advertising campaign that focused on increasing awareness by highlighting the journey and inflight experience to South America.
When bringing the journey to life, the Travelocity.com brand team helped curate a campaign that featured the LATAM travel experience through the first "person" lens of the Travelocity brand icon, the Roaming Gnome. Through the Travelocity Roaming Gnome's viewpoint, travel shoppers got tantalizing glimpses into the LATAM Airlines flying experience as the Gnome flew to the Peruvian cities of Lima and Cusco. Inspiring articles featured on the Travelocity blog included the Gnome's itinerary as well as insights into Peru from an expert traveler.

By leveraging the Roaming Gnome's robust social media presence across the Gnome's and Travelocity's social following, the 76 social posts boosted brand awareness and travel experiences on flight, as well as on the ground. Display advertising and email campaigns with special offers helped extend the digital reach of the campaign.
All promotional media linked back to a dedicated landing page, which featured content to entice prospective travel consumers to book a trip and take advantage of the LATAM Airlines featured deals.
The Results
By showcasing the LATAM airlines flight experience to South America through the Travelocity Gnome's first party perspective, travelers could engage along his journey across social media and display promotion, resulting in increased awareness
Strong engagement grew LATAM Airline's brand awareness and elevated Peru and South America as flight destinations when traveling on LATAM Airlines. Unique promotional opportunities with the Travelocity Roaming Gnome successfully enhanced interaction by providing more personalized views of the journey with LATAM Airlines.

Connect with our digital media consultants to learn how to best engage, influence, and convert your target travel audience
*Expedia Group, TravelAds and Accelerator incrementality data, 2022