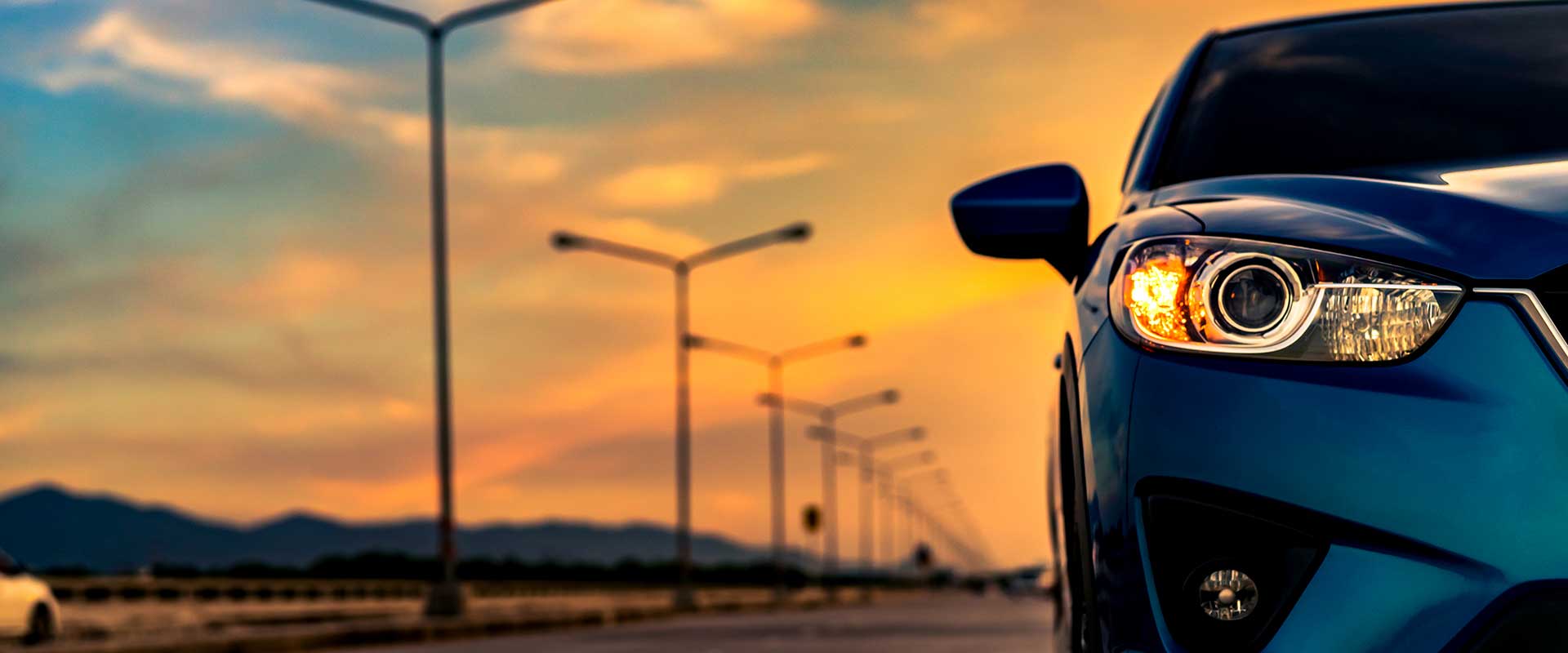 1.7 million
Social Media Impressions
0.18%
Engagement rate on social media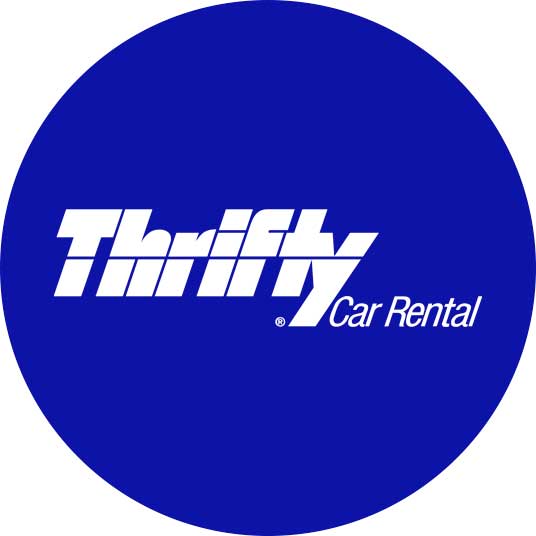 Overview
When the pandemic hit, many travel plans were put on hold or canceled altogether. COVID-19 and its impact on travel not only stopped people from traveling, but in many cases, from seeing family members, too. A 2021 Travelocity survey revealed that 43% of respondents were most interested in visiting family in the next nine months. This led Thrifty Car Rental to partner with Travelocity and create a campaign focused on inspiring families to reunite and hit the road again and travel domestically. The campaign centered around a contest inviting two families to win the "Road Trip of a Lifetime."
The Opportunity
As travel started to pick up again in 2021 and travelers grew more comfortable with certain types of travel – including car trips, Thrifty Car Rental and Travelocity determined it was a great moment to partner together and target Travelocity's family-based audience. The campaign focused on driving brand awareness and promoting both domestic and family travel by using a mix of advertising solutions, including display advertising and social media, with key messaging and imagery that encouraged families to take up road trip–based travels.
The Solution
Thrifty Car Rental has a history of partnering with Travelocity, and the campaign's target audience of families aligned perfectly with Travelocity's own family-based audience making it the ideal partnership.
The campaign ran on Travelocity and featured a wide range of solutions designed to generate as much visibility as possible, including a dedicated microsite, standard display ads, homepage takeovers, social media ads, and email newsletters. The campaign also prompted families to participate in the "Road Trip of a Lifetime Contest" – which was at the heart of the campaign and consisted of an all-expenses-paid road trip inviting two winning families to take the ultimate road trip across Texas or the American Southwest.
To top it off, the campaign also included a partnership with Travelocity's iconic Roaming Gnome, who inspired travelers to hit the road by setting out on a road trip himself to the Southwest national parks, fueled by Thrifty Car Rental. Travelocity and Thrifty shared several posts and stories from the Roaming Gnome on his adventure, providing family travelers with inspiration for future holidays and motivating social media followers to keep up with the trip and engage with the gnome throughout his travels, including voting on his next destinations.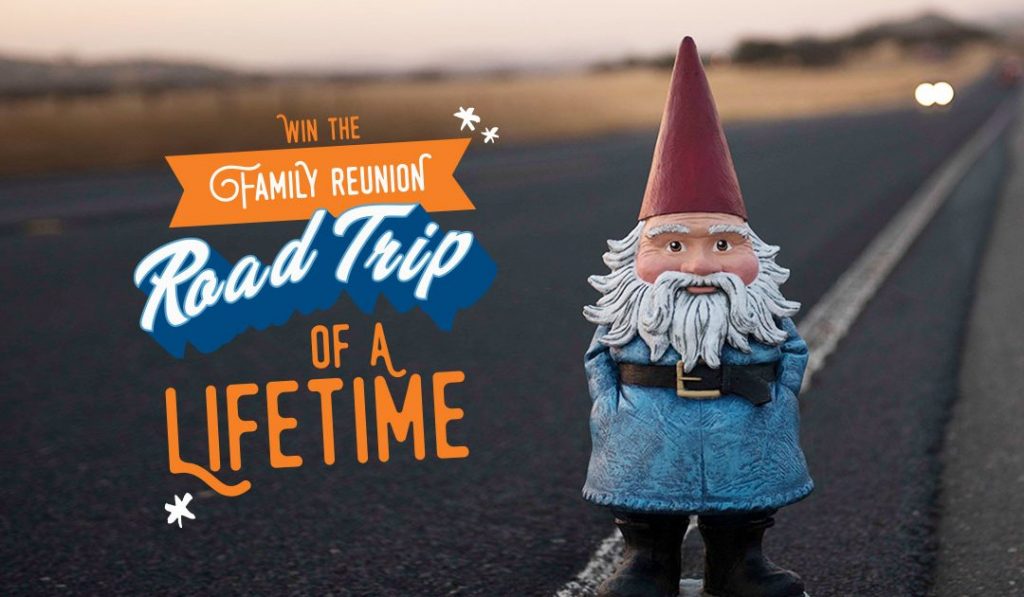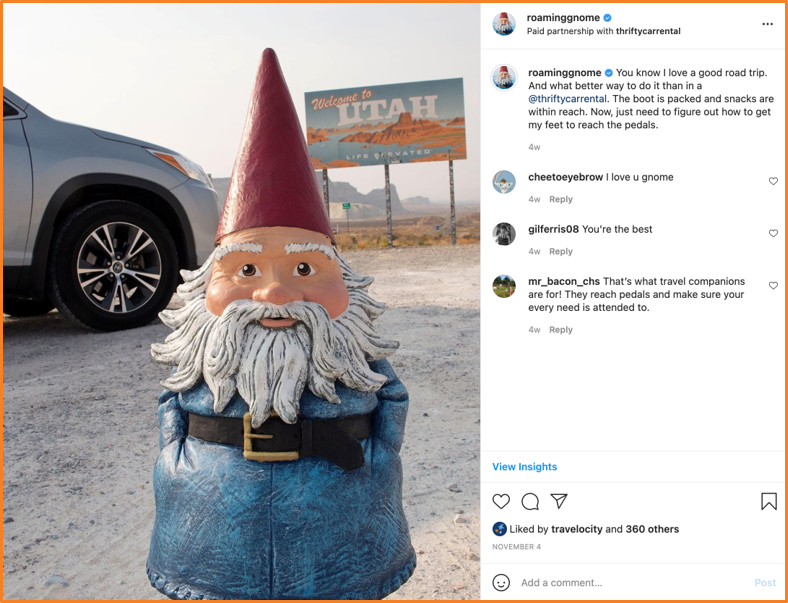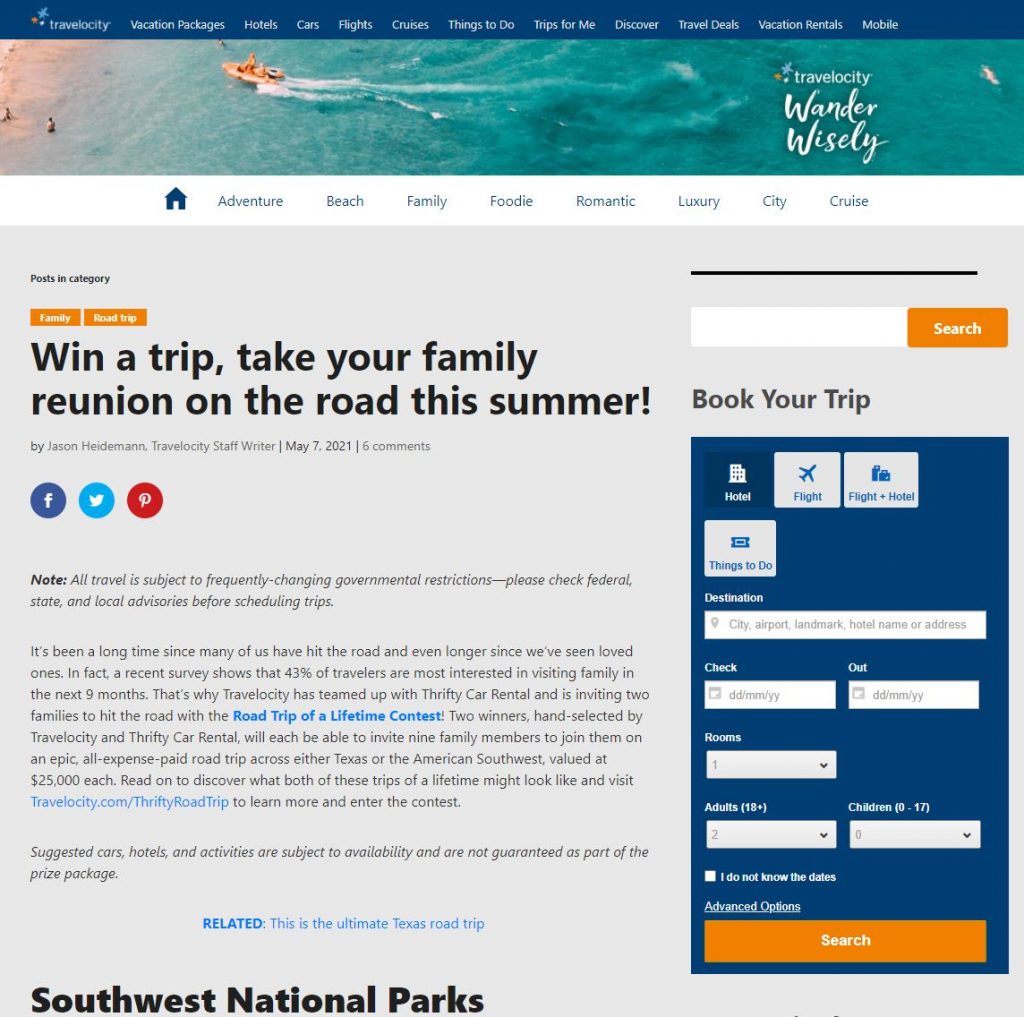 The Results
The campaign generated impressive results, including a 13% increase in bookings for Thrifty on Travelocity. The social media activations were also highly successful, with a 0.18% engagement rate and over 1.7 million social media impressions across owned social and influencers.

Connect with our digital media consultants to learn how to best engage, influence, and convert your target travel audience
*Expedia Group, TravelAds and Accelerator incrementality data, 2022