… the ability to personalize ads with destination images based on the shoppers intent generated in our last campaign a 20% lift in CTR over other advertising spend.

Royce Chwin, CMO, Travel Alberta
+20k
Blog Views (Campaign #1)
11:1
Return on Ad Spend (ROAS) (Campaign #2)
+20%
YOY Airline ticket demand (Campaign #1)
+10%
Transaction lift (Campaign #2)
+20%
YOY Room night demand (Campaign #1)
+10 million
Social media reach (Campaign #2)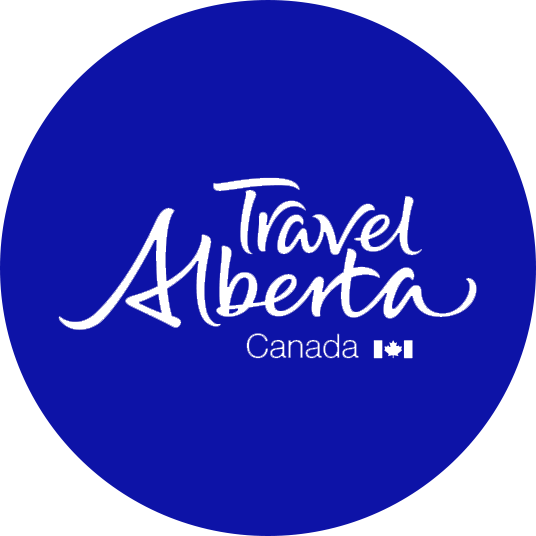 Overview
From snow-capped mountains that scrape the sky, to world-class fishing and hiking, Alberta, Canada is an exciting destination year-round. Travel Alberta, the group that markets the region, is responsible for driving awareness of and boosting visitors to their region. They first started working with us in 2011 and since that time they have used a variety of innovative marketing approaches to reach and engage Expedia Group's global travel audience.
This extended case study provides an overview of two successful campaigns that Travel Alberta and Expedia Group Media Solutions have run together. Our multi-year marketing partnership has spanned audiences and goals. We have helped them engage North American audiences, expand their reach to international travelers, and 'own' winter. They have used Expedia Group's first-party data and end-to-end reporting capabilities to help set campaign strategy, optimize campaigns, and define 'what success looks like.' Ultimately, they have been able to raise awareness and attract travelers from across the globe.
Campaign #1
The Opportunity
The Canadian province of Alberta was less well-known than their neighboring provinces: British Columbia, Quebec, and Ontario. They saw an opportunity to spread the word about their unique area and the wide variety of activities available in their region. Travel Alberta wanted to both raise awareness and encourage travelers to visit.
Travel Alberta had previously created a branding campaign focused on the unique experiences that Alberta offers. They wanted to find the right partnership to continue to build on this message and increase awareness. So, they partnered with Expedia Group Media Solutions to get to word out.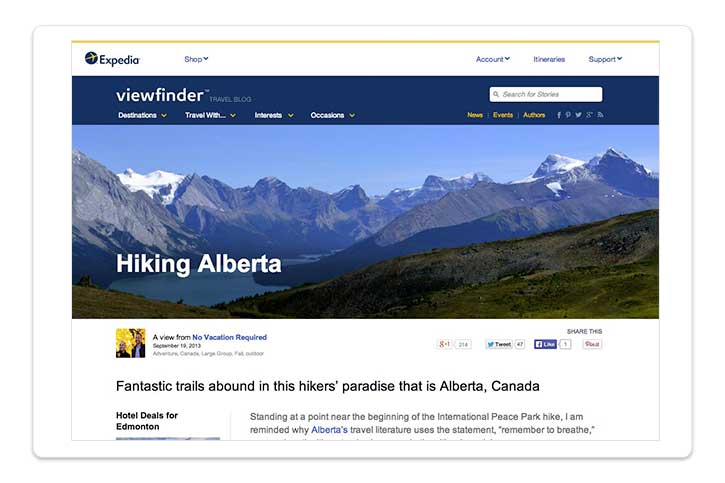 The Solution
Video and custom content were already crucial components of their current branding efforts. By collaborating with Expedia Group, Travel Alberta extended the reach of their message by collaborating with Expedia Group Media Solutions. The "Find Your Alberta" campaign leveraged the Expedia Group branding campaign "Find Yours" to reinforce aspirational, upper funnel messaging. Using Expedia Group's travel blog, Expedia ViewfinderTM, Travel Alberta was able to focus on building a story around the experiences that Alberta offers.
Along with posts on Facebook, Twitter, Google+, and Twitter chat, this innovative campaign featured a travel bloggers webisode series across Expedia Group's onsite and blog channels — along with a variety of tactics including:
Custom landing page featuring blogger webisode videos, real-time Twitter and Facebook feeds, Instagram feed, and links to other relevant content
Featured stories on Expedia Viewfinder —shared on the social media channels of Expedia and Travel Alberta and by the visiting travel bloggers, who themselves have dedicated online followings
Prominent placement on Expedia Group's YouTube channel
Offline marketing integration as Platinum sponsor of the Viewfinder launch party at TBEX (Travel Bloggers Expo) with prominent exposure at the event as well as stage time to launch their own webisode series
Additional exposure across Facebook through Sponsored Stories (i.e. Facebook advertising)
In addition to the social components, the campaign also included targeted email, display ads (home core offer and wallpaper), custom landing pages, and native advertising through a custom microsite which was integrated into the Expedia site.
Campaign #2
The Opportunity
Travel Alberta wanted to 'own winter'. They initiated this campaign with a goal of increasing winter tourism to match the travel volume they receive in the summer season and become the preferred destination for winter enthusiasts across the globe. They wanted to increase travel throughout the entire province, including the Canadian Rockies, urban centers, and towns. Based on the early success of campaigns, they saw an opportunity to expand their global audience reach, take market share from wintertime competitors, and extend awareness around their wintertime activities.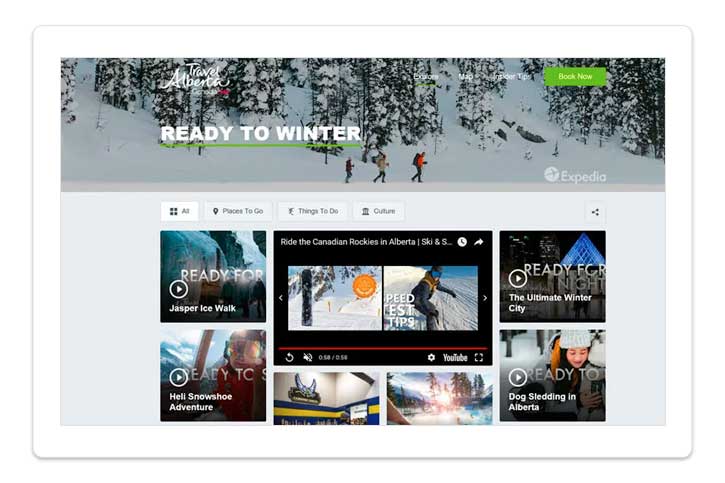 The Solution
To reach a global audience, the campaign launched in several key markets: the United States, Canada, the United Kingdom, Japan, Korea, Germany, China, and Australia. Likewise, the creative campaign's onsite solution ran on the following branded sites: Expedia.com, Hotels.com, Hotwire, Travelocity, and Wotif. These sites displayed Travel Alberta's winter activities as one of their featured winter destinations. The primary goals of these placements was to drive conversions and awareness.
While the onsite promotion ran, the Expedia.com brand marketing team extended that branded message offsite with programmatic media tactics, such as display and online video ads which showcased Travel Alberta destinations on Expedia.com. This Expedia.com brand campaign reached audiences on numerous sites outside of Expedia Group's network of sites, attracting and engaging new customers with the Travel Alberta brand. Both the onsite and offsite components linked back to a unique microsite with rich content featuring activities, cultural events, and beautiful imagery. Online video content transported visitors to Alberta's picturesque destinations. Some of the dynamic content featured skiing in Alberta's famous ski resorts, dog-sledding through the pristine countryside, and relaxing in Alberta's soothing hot springs. Visitors could also search maps of the province, read hints from the locals, and view articles highlighting new and exciting experiences across the province.
By continuously incorporating the Expedia brand marketing team's and Expedia Group Media Solutions' creative efforts, Travel Alberta ran a cooperative campaign with unique content giving visitors insight into Alberta's winter allure. To view the microsite, visit: alberta.expedia.com
The Results
This multi-year collaboration between Expedia Group Media Solutions and Travel Alberta delivered tangible returns in everything from rooms booked to daily search increases. Engagement rates with channels like video and blogs were high and social media efforts yielded more than ten million impressions.
A crowning achievement in this multi-year relationship, Travel Alberta received the North America Destination Campaign of the Year Award in 2017.

Connect with our digital media consultants to learn how to best engage, influence, and convert your target travel audience
*Expedia Group, TravelAds and Accelerator incrementality data, 2022