March 28, 2023
The way we work has drastically changed in the wake of the pandemic, which isn't unlike the changes we've seen in travel. Despite some companies rolling out return-to-office initiatives, remote and hybrid work arrangements continue to play a large role in travel.
In our research, we found that over one-third of business travelers are entirely remote, and approximately 85% of business travelers work partially remote as part of a hybrid work model.
During the pandemic, remote work meant holding conference calls in our kitchens and blurring our home backgrounds to create a sense of separation between work and home. Now, with travel bans lifted and people decamping from their homes to work from new locales, hotel marketers have a new opportunity to reach this segment of remote workers. We dug into what factors business travelers are considering when choosing their next satellite office, and how you can attract remote workers to maximize your hotel bookings.
The 'flexcation' opportunity
According to our 2023 Traveler Value Index, 28% of consumers plan to take advantage of remote work options by taking a flexcation in the next 12 months. Flexcation is an emerging travel trend where individuals book extended time at a hotel or rental property and combine their remote work with leisure travel. This work and play model is particularly appealing to certain demographics: 43% of millennials and 38% of Gen Zs are planning to take advantage of remote work with a flexcation.
With travelers eager to work remotely from new locations or extend their stay after corporate travel for leisure trips, this is a new opportunity for hotels to fill rooms during shoulder season or other booking lulls. Our research shows that travelers are planning trips earlier in advance, and the 180+ day travel search window increased 20% year over year (YOY). By targeting remote workers in the early stages of their booking journeys and marketing your unique location and amenities, you'll be able to connect with your ideal audience and maximize your room bookings earlier in advance.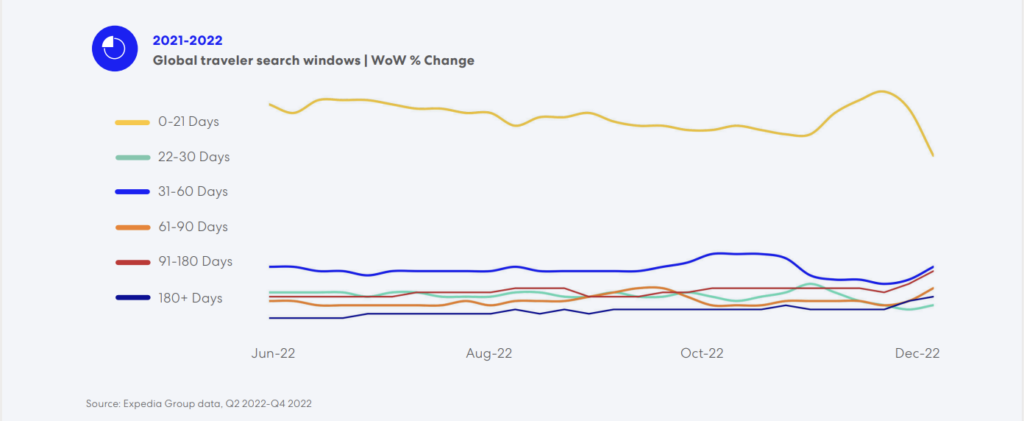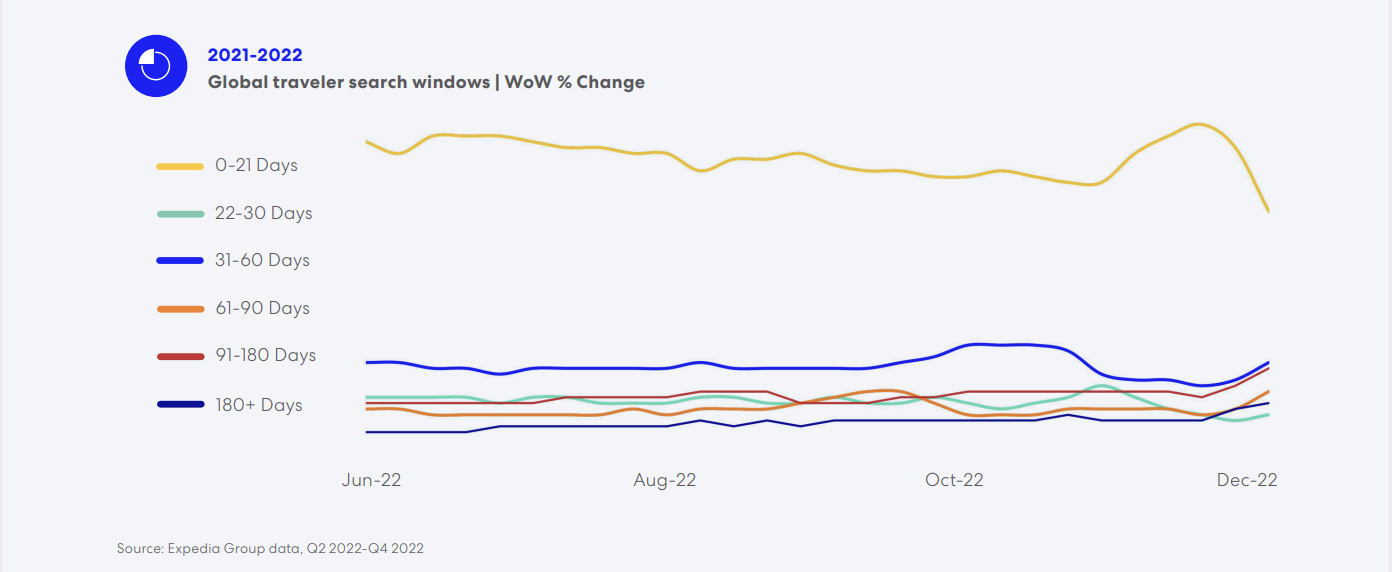 Take advantage of new travel trends
With remote workers' flexibility to work outside of their homes, the competition is heating up to reach these travelers.
Hotel marketers who are on top of this trend will be the most competitive when it comes to converting these travelers from lookers to bookers. Understanding current market trends will help your brand build a solid strategy to identify and target this audience.
We pulled together some of the leading factors remote workers take into consideration when planning a flexcation to help you optimize your marketing tactics.
Price sensitivity and inflation
Our research revealed that travelers value low prices when planning to travel and 27% of travelers said it's their top priority when booking.
The opportunity: With travelers more sensitive to price now than they were a year ago, consider what types of incentives will be the most enticing and effective for remote workers and highlight those offerings in your ads. Whether it's travel packages, complimentary add-ons, or discounts for advanced booking, monetary incentives are effective tactics to engage travelers. And with our TravelAds solution, our experts can help you increase your hotel's exposure and offerings in search results without exceeding your budget with a pay-as-you-go model.
Highlighting your location and amenities
Remote workers could choose a hotel based on its proximity to a client or amenities that appeal to them when they're off the clock. Our data revealed that 49% of travelers booked their trip for a change of scenery and nearly a quarter said they book for the experience and amenities.
The opportunity: Market your hotel's unique location and amenities for travelers looking for variety and experiences when they're on or off the clock. Highlight what makes your hotel stand out. Is it quaint or does it have a certain kind of majesty? Does it capture the buzz and energy of the urban core or is it close to nature for people to decompress?
Don't restrict your messaging by only featuring on-site amenities. Highlight what travelers can experience in the area such as wine tastings, golf lessons, historic tours or farmers markets and restaurants that can make them feel like a local. By showcasing opportunities that speak to a wide range of interests you can attract more travelers to your hotel. Our TravelAds experts can help you create custom messaging and imagery that highlights your hotel's amenities and features and drives interest with your target audience.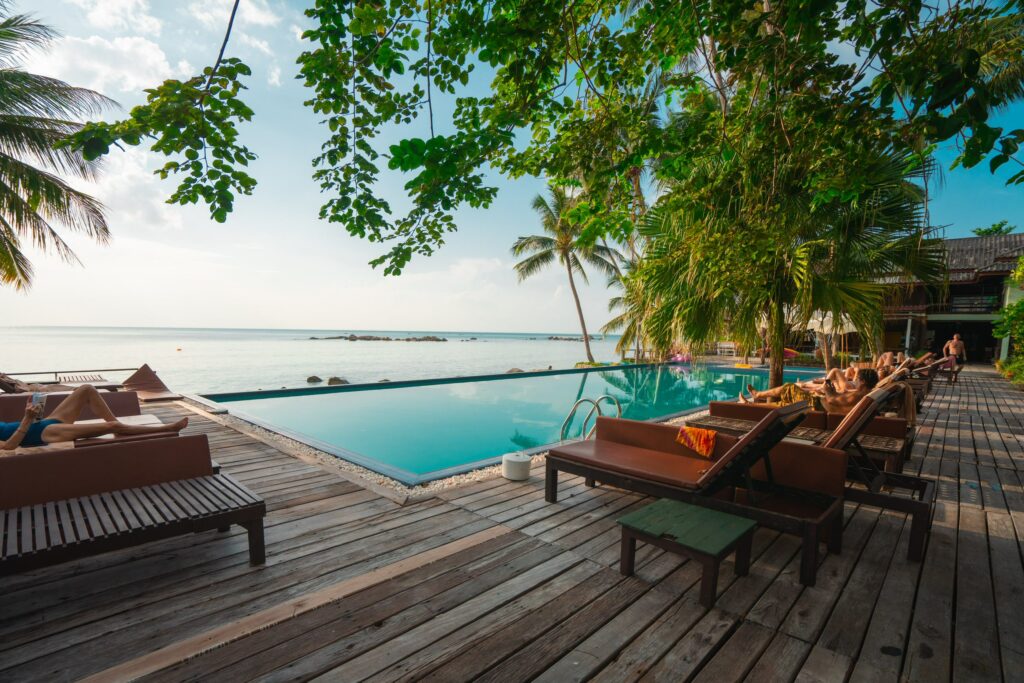 With millennials and Gen Z workers more likely to take advantage of flexcation opportunities, you should also consider how your brand is showing up on social channels.
We found that 50% of consumers under 40 use social media as a source for inspiration when planning their next trip. Optimize your marketing tactics by learning how travelers use social media for their travel inspiration. Promote things that are unique to your brand on social channels like loyalty programs or partnerships with local businesses. Thoughtfully incorporating user-generated content and engaging with other profiles will allow travelers to see your brand in an authentic way and enhance brand affinity.
Working spaces and Wi-Fi
The beauty of remote work is that you can work from anywhere — if you have Wi-Fi. A high-speed internet connection and a comfortable workspace that offers access to desks, printers, multiple outlets and monitors, mini-kitchens, food delivery, and more are important factors to consider when remote workers are looking at hotels.
Other factors that can sway flexcation travelers could be things like proximity to public transit, co-working spaces, and lockers to secure their laptop for a midday break.
The opportunity: Attract remote workers by highlighting features that will help them get the job done. Whether it's a high-speed internet connection, private meeting rooms or free snacks and drinks in the lobby, consider what your hotel offers that helps set up remote workers for success.
With our display advertising solution, our team can connect you with hundreds of millions of qualified travelers who are shopping for an ideal flexcation destination. Our experts provide advertisers with data collected from our 200+ travel websites to help target travelers at any point in their journey. Display advertising also allows you to create branded mobile and email content to strengthen the connection with travelers in a way that's memorable and impactful.
If we know anything, it's that change is constant. What we're currently seeing is a change between the intersection of work and travel, which offers unique opportunities for travelers to work from new locales, and for hotels to target remote workers looking to book extended lengths of stay.
We gather billions of data points from our global travel sites and this first-party data provides you with customized solutions and strategies to set up your brand for success. To learn more about the array of advertising solutions we provide, connect with one of our experts today.