March 8, 2023
As travel continues to rebound, we're seeing growing interest from travelers in planning earlier for their trips. This offers new opportunities for travel marketers to develop digital marketing strategies that connect you to these travelers.
Our quarterly Traveler Insights Report confirms that global search volume in the fourth quarter for 2022 increased 10% year over year and that 35% of all searches were for 2023 travel — a 55% year-over-year (YoY) increase. Globally, the 180+ day search window increased 20% in search share, the strongest quarter-over-quarter growth.
This is a notable shift in traveler booking behavior as travelers previously tended to book closer to their departure date to avoid last-minute changes or cancellations because of the uncertainty of COVID. With interest in travel continuing to climb, the Expedia Group Media Solutions team can show you how to use these longer search windows to your advantage to reach your target audience and fill your rooms in advance.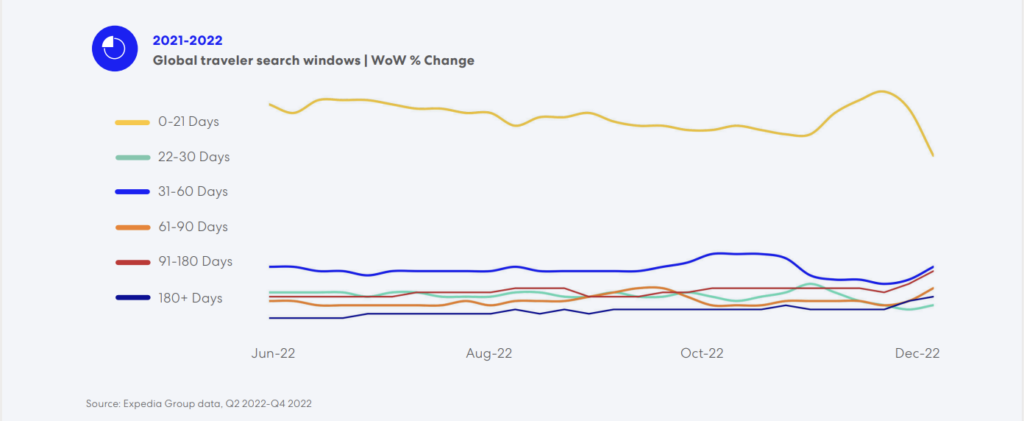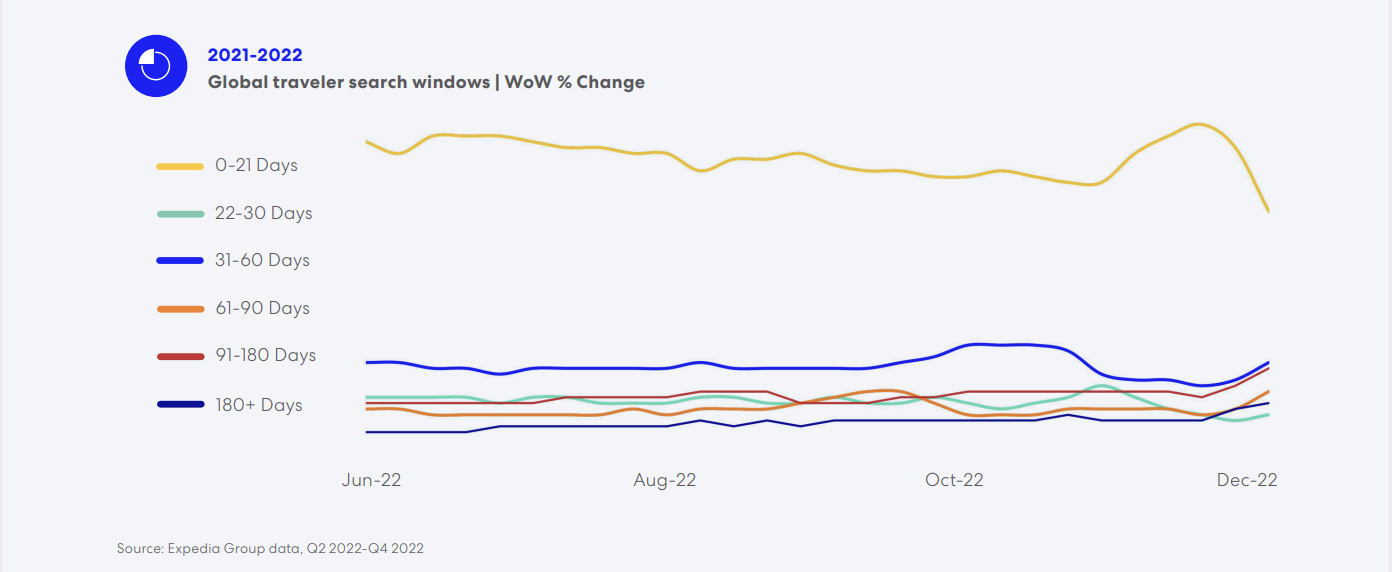 Drive bookings in the early stages of travel planning
Across the globe, people have felt the sting of inflation, but our data shows this hasn't deflated their travel plans. Consumers remain eager to travel – 46% said travel was more important to them now than before the pandemic. They're also budgeting for travel: 31% are maintaining the same travel budget they had last year while 43% are increasing their travel budget this year.
What this means for you
Get your hotel in front of travelers planning their trips further out and maximize your bookings in advance with Accelerator. This pay-per-stay advertising solution boosts your property's position in search results for your targeted check-in window, making it easier for highly engaged travelers to find you. Payment is made with the compensation you receive for the booking, which means a marketing budget isn't required. You also can pause at any time to assess your predicted results to ensure your ads are preforming effectively.
"Using the Accelerator tool in Partner Central made it easy for me to increase my hotel's listings visibility during slower times of year."

– KARINE HOUDE, GENERAL MANAGER, LE CAPITOLE HOTEL ,
Le Capitole Hotel, a 5-star hotel in the heart of Old Quebec City found success with our Accelerator tool after their grand reopening. The hotel worked with our team of experts and found that Accelerator's pay-per-stay model allowed the hotel to customize the dates of their campaigns to address periods of high lodging needs while also doubling as a budget-friendly approach to paid advertising.
Le Capitole Hotel's initial Accelerator campaign generated a 275% increase in search impressions and page views, allowing the hotel to reach more travelers and convert more net room nights. The hotel continues to use Accelerator in its holistic marketing strategy, using the tool monthly with varying check-in date windows and compensation levels based on market trends and pre-existing bookings.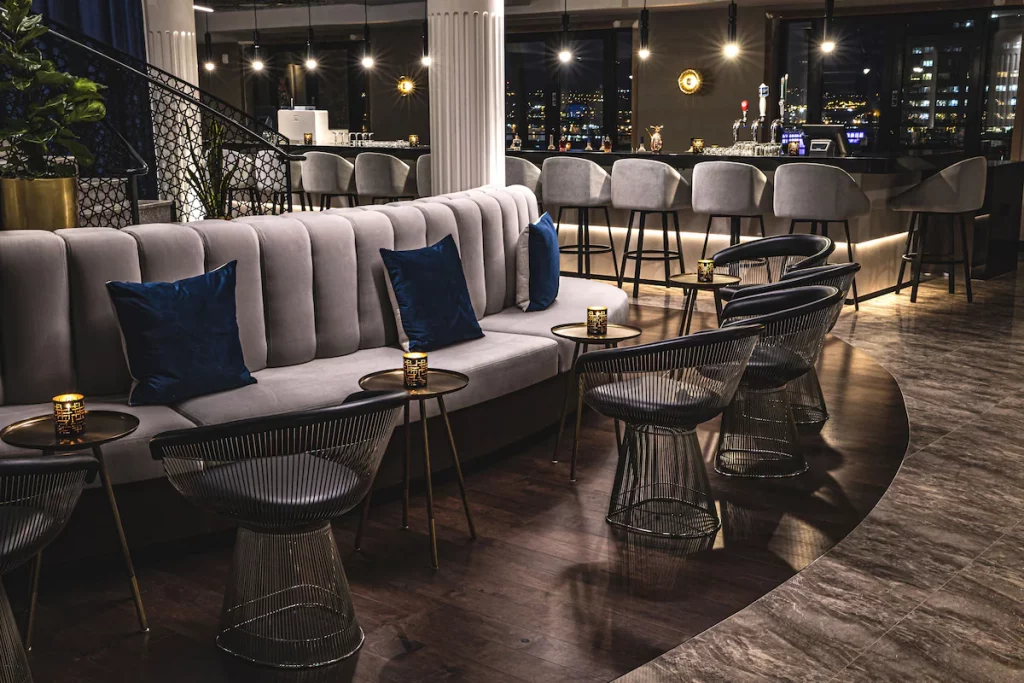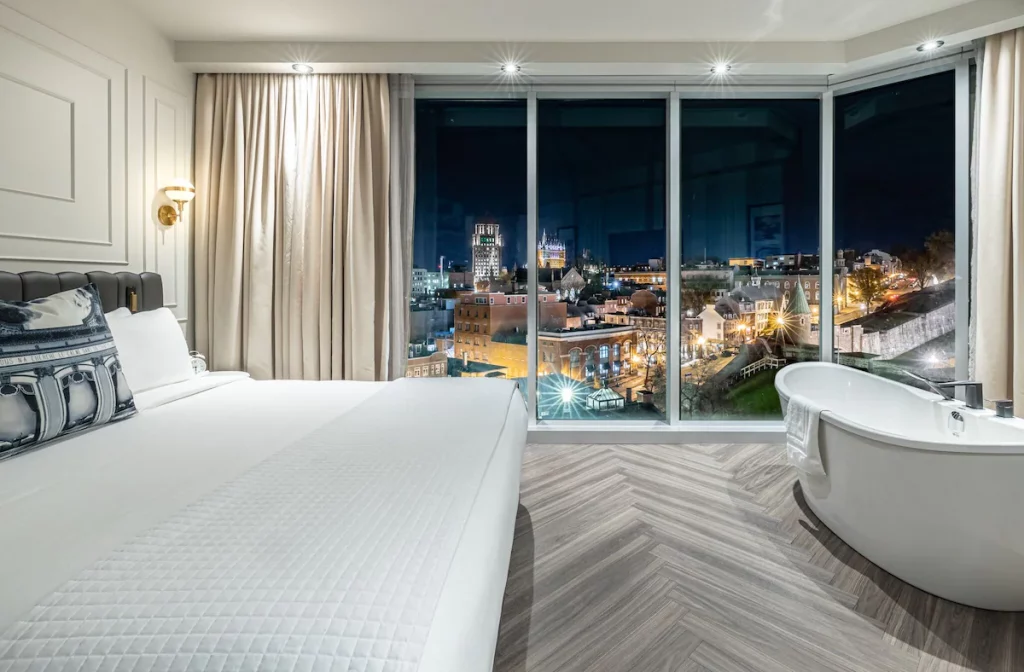 Use social media to connect with multi-generational audiences
With the increase in travel interest and restrictions lifted, today's travel trends are mirroring pre-pandemic times. However, some supply scarcities and staff shortages remain and remind us that we're still dealing with the impact the pandemic had on travel.
Limited inventory and staffing resources are impacting the travel experience, from car rentals to flights. A study from Léger found that 40% of their respondents plan to spend more on their booking decisions to ensure they maximize their travel experience and avoid supply challenges. More specifically, younger travelers (18-34) plan to spend 50% more than those over the age of 35, meaning that millennials and Gen Z are more likely to pay to upgrade their guest experience.
What this means for you:
Social media's impact on consumer decisions continues to grow and because travel is a social activity, its influence is exceptionally important for the travel industry. To connect with younger travelers who find travel inspiration through their social channels it's essential to be authentic and engaging with your digital marketing content. Social campaigns help your brand get in front of younger travelers who are willing to pay more for unique experiences, and they help your brand's call to action stand out in a way that will be memorable.
Our team of experts work with an array of brands to develop social media campaigns and strategies that resonate with travelers and use social channels to amplify other creative elements of campaigns. Destination Canada, the National Tourism Organization for Canada, worked with our team to leverage Expedia Group's social media channels, by targeting travelers from key U.S. states that generated over 3.5 million impressions.
Inspire your local audience with targeted advertisements
While our research reveals that travelers are planning for trips further in advance, it's notable that they're also investing in more than one trip a year. We're seeing travelers plan multiple trips throughout the year and, more specifically, to local getaways that allow them to explore unfamiliar places that don't require a passport.
Demand for these undiscovered and new locales is up 30% with the main driver being travelers' interest in new experiences. Experiences and activities were some of the top priorities and decision-drivers for travelers' pre-pandemic, and their importance is on the rise again. Our research shows that travelers are prioritizing experiences in their upcoming trips, and 49% say they will choose a less crowded destination rather than opting for the commotion of a popular urban attraction.
What this means for you:
You can target and connect with these potential guests with the help of TravelAds targeting. With targeting, your hotel can connect with travelers based on how they search and interact on our sites. Whether its travelers searching for specific locations or looking for hotels that offer unique experiences, you can reach them at scale and with ease. Our team of digital hotel advertising experts will work with you to build unique and relevant customer profiles to target, whether they're culinary wizards or sky-diving enthusiasts.
Blinkup, a digital marketing consulting agency, manages hotel advertising campaigns for Place of Charme, a group of six hotels in Tuscany, Italy. In a competitive market, Blinkup wanted to help Place of Charme increase their visibility and connect with more travelers on a global scale.
The marketing consultancy partnered with Expedia Group and listed Place of Charme's six properties on Expedia Group sites. After electing a combination of location and device bid enhancers and scheduled ads to its TravelAds strategy, Place of Charm saw a 600% increase in room nights, YoY, and more than a 2.5% click-through rate for their advertisements. The brand then chose to build on that success, kicking off on a display advertising campaign with us, which quickly saw a return on ad spend of 6:1.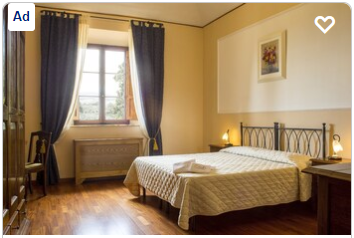 Acting on global demand from TV-inspired tourism
Our research showed that two-thirds of global travelers have considered booking and 39% have booked a trip after seeing a destination in a movie or series. TV inspired travel is now the second most-valued source of travel inspiration — it trails a mere 2% behind advice from friends and family.
Whether it's the appeal of Sicily that was the location for the second season of "White Lotus," the hobbit-holes of New Zealand, or Great Britain's "Bridgerton" brigade, our data shows adventure-seekers are turning to captivating TV locales for inspiration for their next international trip.
What this means for you:
Promote and act on TV inspired tourism with native advertising. This non-disruptive solution helps build brand affinity and boosts visibility to promote higher traveler interaction rates that drive incremental bookings. Our team of experts will create a customized media plan to address your goals and target audience and regularly share insights for you to evaluate your results.
With flexible and transparent budget control, you can also rescale your campaign at any time to allow your team to quickly respond to trends that can impact your target traveler's decision. Influence travelers to recognize and choose your brand by showing up in a user-friendly way that seamlessly blends in with their digital experience and encourages them to engage with your brand early in their booking decisions.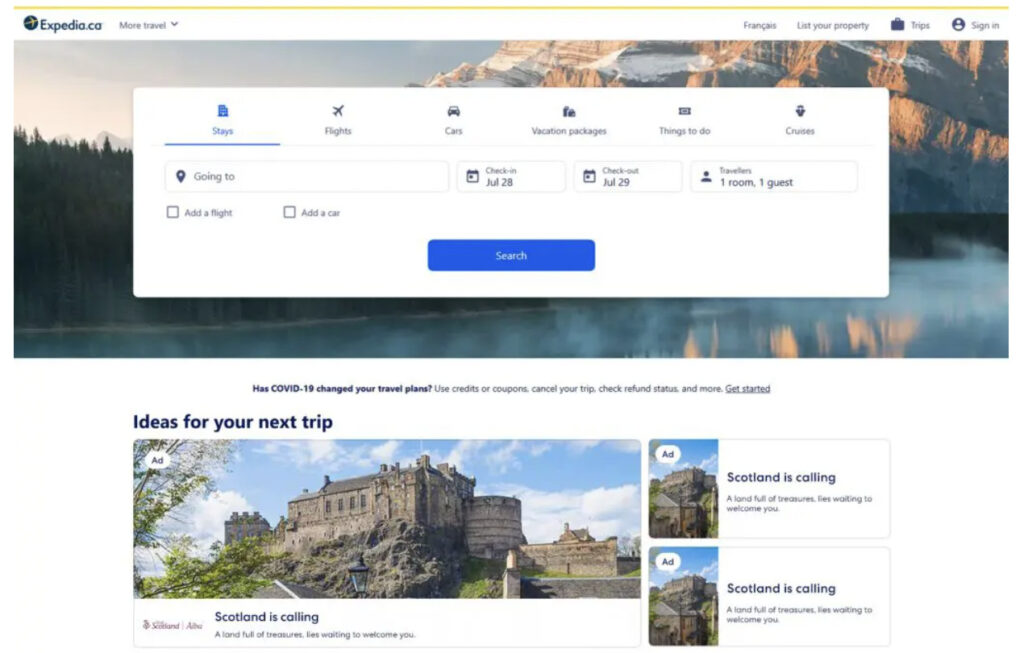 VisitScotland partnered with our Media Solution experts to build awareness and drive their destination marketing strategies after borders reopened. We rolled out a wave of native advertisements to get in front of travelers interested in visiting Scotland, generating an above-average CTR and an impactful 80:1 return on ad spend. The success of this tourism marketing campaign helped raise the visibility of VisitScotland with highly qualified travelers and actively drove conversions and bookings to Scotland.
The first quarter of 2023 has shown us that travel sentiment and shopping continues to climb thanks to suppressed travel demand from the pandemic. Get in touch with our team of experts to learn more about native display advertising solutions or sign up for Travel Ads here.