August 10, 2023
Booking a hotel is one of the most important choices travelers make when planning a trip. With millions of choices available, the range of hotel options can seem overwhelming. And as people look to book, they are often only seeing properties that land near the top of the search sort. The good news is that when it comes to hotel advertising, we offer two solutions to help properties gain a visibility boost with travelers: TravelAds Sponsored Listings and Accelerator.
Let's look at how traveler behavior influences booking decisions and how these two solutions — independently and combined — can help you generate more bookings as part of your hotel sales and marketing strategy.
Understanding traveler behavior around hotel bookings
When travelers are looking for a place to stay on their vacation, a lot of factors feed into their decision. We conducted research with more than 5,000 participants in seven countries that analyzed more than 70,000 digital online behaviors to better understand how people are inspired to travel, research, and book trips. What we found is that:
Online travel agencies (OTAs) like Expedia Group are the preferred booking platform: 59% of hotel guests booked their stay on an OTA.
Travelers typically spend over two months (68 days) looking and planning before booking a hotel.
Advertising influenced 69% of hotel bookers early in their travel path to purchase.
The time between when a hotel is booked and the start of a trip is 69 days.
Hotel travelers rely on social media in the early stages of their trip planning. Social media use breaks down as follows:

Instagram: 65%
YouTube: 41%
TikTok: 36%   
Instagram: 65%
Facebook: 48%
YouTube: 41%
TikTok: 36%   
These insights are invaluable as you're planning how much your hotel should spend on advertising, when to target travelers on their trip planning journey, and how you can increase revenue and bookings.
Visibility boosters: How TravelAds and Accelerator help you convert travelers
When it comes to hotel advertising, there isn't a single strategy that works for every property. In the same way, there isn't a single property that's right for every traveler, which is why it's essential to ensure your hotel is in front of the right traveler, and at the right time. This is the reason we've purposefully built two different cost-effective solutions to help deliver the results you're looking for: TravelAds and Accelerator.
In a crowded market it's important to capture travelers' attention and convert them into bookers. This means it's imperative your property stands out on the search results page. Let's examine how these two visibility booster tools can help you meet your goals.
| | |
| --- | --- |
| Travel Ads | Accelerator |
| Pay-per-click solution. | Pay-per-stay-solution. |
| Maximize bookings and revenue. | Maximize bookings and revenue. |
| Your property's sponsored listing appears at the top of the search results. | Boost your property's organic position in search sort. |
| You control your spend and can scale up, down, or pause ads at any time. | No marketing budget is required, and you can start, stop, or adjust at any time. |
| Custom copy and images. | Select the margin you're charged. You can set your margin to between 1-25%. |
| Precise traveler targeting capabilities. | Get paid when a traveler stay is completed. |
| Real-time insights into your campaign's performance. | Track room bookings, page views, and search impressions. |
| Your ads are only shown when you have availability. | Review the potential impact your ads will have before committing. |
Combining TravelAds and Accelerator
TravelAds and Accelerator can help you increase your hotel revenue as a singular solution or, when used together, can deliver even more powerful results. Properties that run these visibility boosters concurrently see:
Nearly 25% higher gross booking value and nearly 30% higher net room nights than properties that only run TravelAds.  
50% higher gross booking value and nearly 40% higher net room nights than properties only running Accelerator.*   
During high-need windows and seasonal opportunities these solutions offer you the flexibility to continuously monitor and optimize your campaign and start, pause or relaunch your hotel ads as needed.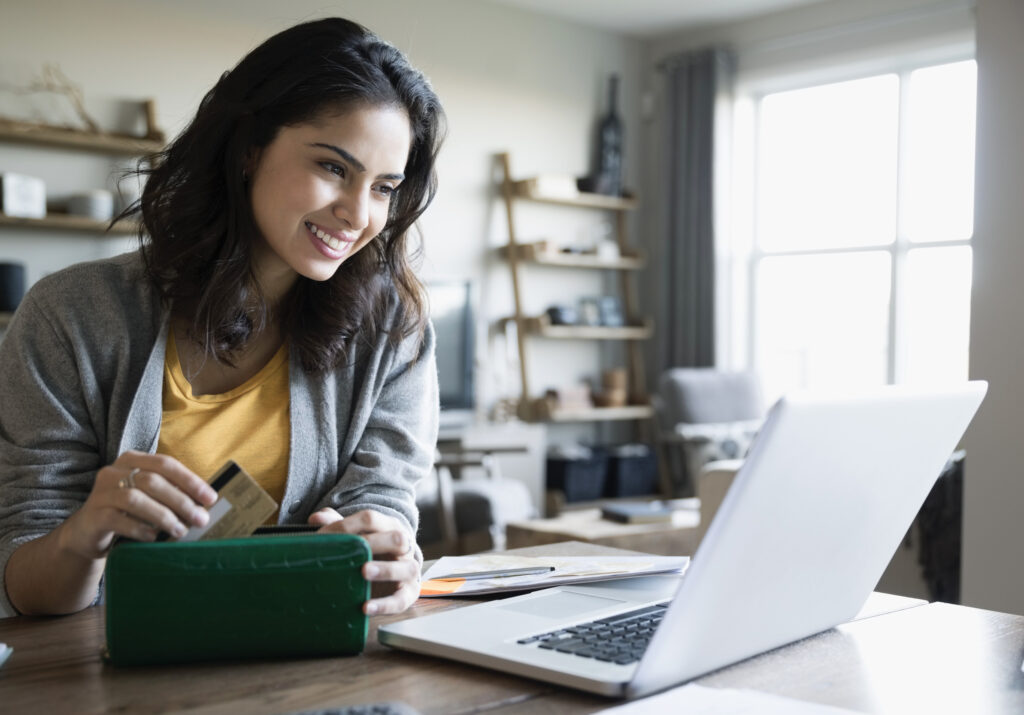 By using Accelerator, you boost your organic listing's position in sort. Then, with TravelAds, you double your visibility in a prominent sort position that includes custom ad copy and images.
The joint advertising effort of TravelAds and Accelerator ensures your property gains maximum visibility for travelers searching for places to stay at your destination.   
Maximize your hotel advertising campaign's performance
Now that we've looked at the benefits that TravelAds and Accelerator offer hotel marketers and advertisers, let's dive a bit deeper into how you can optimize each solution to maximize the value each of these solutions delivers.
How TravelAds work
Once you've aligned internally with your stakeholders and set you hotel advertising budget, TravelAds is a powerful hotel advertising solution to help you increase room bookings across or 200+ websites.
TravelAds is easy to use and help you connect with travelers who are actively searching and looking to book. With TravelAds you can:
Set targeting capabilities: Surface your ads to the people you want to reach by setting who sees your ads.
Gain visibility in search results: Get premium placement in search sort.
Control you budget: You're in the driver's seat. Set a custom daily budget and maximum cost-per-click allowance and only pay when a traveler engages with your listing.
Customize images and ad copy: Tell your story your way. Enhance your ad and showcase features that differentiate your property to stand out from the crowd.
Get data insights: Robust real-time reporting lets you monitor your campaig, including clicks, views, conversions, and bid strength evaluations to help you continually optimize your campaign.
How Accelerator works
You're in control with Accelerator. Based on your goals, it's up to you to determine when you want to use this visibility booster for your property. Since each property has its own unique needs, you can be exacting when you use Accelerator, like when you need to fill rooms during a specific time frame, or you can run Accelerator for a longer period of time to cover an entire season, for example.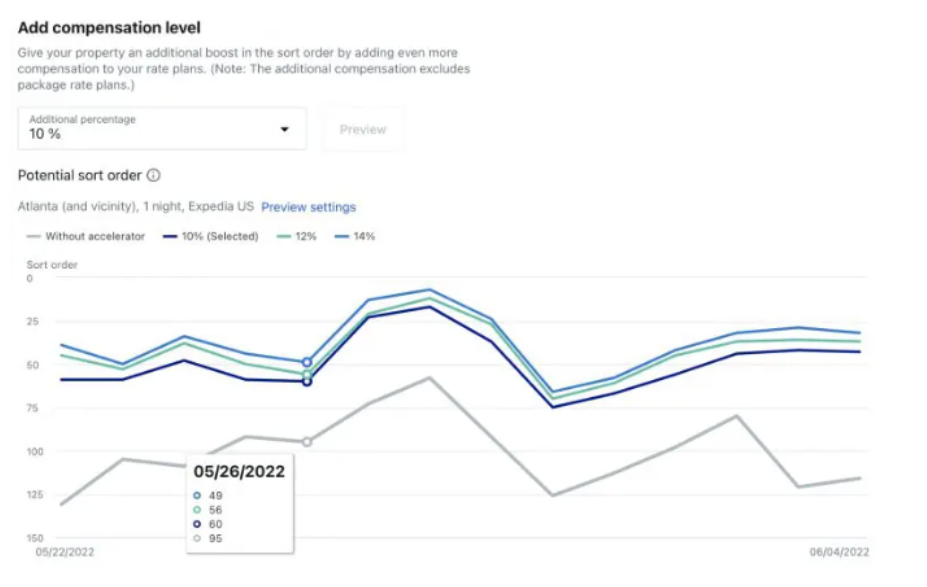 Once you input when you want your ads to run, you can adjust your campaign at any time. Here are some tips on how to get the most out of Accelerator:
Define parameters: Target specific time periods to run your ads or select to set Accelerator as an ongoing stream of always-on ads.
Forecast your revenue: Before you get started with Accelerator you can preview the potential incremental increases in your compensation rate for your property's position.
Adjust and optimize: Track net room nights, gross booking value, and page views and search impressions.
Compensation: We'll automatically reconcile bookings at the selected compensation level and use existing systems for payment.
Converting travelers with our hotel advertising solutions
For more than 20 years we've been helping hotels engage and convert travelers who are looking for the ideal place to stay while they're traveling. With this experience under our belt, we understand that every property has unique needs and business goals in the same way that travelers have their own needs.
By working together, we can meet your business' objectives and give travelers what it is they're looking for. Let us help you get started today.
* Expedia Group, TravelAds and Accelerator incremental data, 2022