April 11, 2023
Travelers are shopping around more and that's why your hotel's visibility is essential when you're trying to increase room bookings. This also presents hotels with a unique challenge: How do you balance budget constraints with getting in front of potential customers at the right time?
When you're faced with empty rooms, it's important to find a solution that will meet your unique marketing needs today and set you up for continued success in the future. Instilling your brand with travelers is only part of the equation. Let's look at how two of our most popular advertising solutions can help your marketing campaign and how coupling them together can make them even more powerful.
Reach your target audience with TravelAds
If you're a marketer for a small boutique hotel or a large chain, connecting with the right travelers is critical to filling your rooms. TravelAds Sponsored Listings is a simple, proven solution that increases your hotel's visibility in search results and connects you with highly qualified travelers across Expedia Group's 200+ global travel websites.
And with TravelAds pay-per-click approach, you can easily scale your spending throughout your campaign because your ads only surface when rooms are available. It's one more way to ensure you're making the most of your budget.
Whether you're targeting early bookers or last-minute travelers, our team of media experts use over a billion exclusive data points on traveler intent to help you make informed decisions about how, when, and where to use TravelAds.
Success story
Hakone Airu is a luxury hotel near the eastern coast of Japan that's located in the center of the area's stunning landscape. With spacious guest rooms, open-air baths and fresh local cuisine, Hakone Airu provides guests with a relaxing, sophisticated, and unforgettable experience.
While the resort's appeal is unrivaled, Hakone Airu realized it was missing opportunities to gain a greater market share and maximize its visibility with travelers.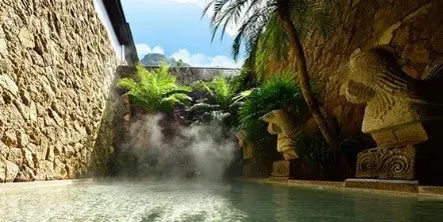 The hotel worked with one of our digital media experts to create a customized TravelAds campaign to reach more international travelers. To get maximum exposure, the hotel activated its bids along points of sale and booking paths to connect with as many travelers as possible. The hotel also used customized ad copy and images in their advertisements to promote one of the property's biggest selling points: open-air baths in each room.
Three months after deploying TraveAds, Hakone Airu's impressions tripled, leading to an increase in bookings and a year-over-year (YoY) increase in revenue of over 130%.
"With 200+ hotels in our market, TravelAds helped us improve much-needed visibility and has driven a steady growth in bookings.

– Ken Watanabe, General Manager Hakone Airu
Leveraging multiple channels with display ads
Our display advertising solutions are designed and built with travelers in mind and help you showcase your hotel throughout a traveler's journey.
With these ad placements, hotel marketers work with our team of trusted advisors to create effective digital marketing plans that fit any budget and meet your unique campaign goals. Our ads are designed for a cohesive shopping experience for travelers whether they're dreaming, researching, or booking their next trip.
Our display advertising solutions ensure that your brand is reaching your target audience at every stage of their shopping journey while continually driving brand awareness. Here's a look at how these strategies can help your marketing campaign:
Display ads on mobile apps: Connect with high-intent travelers through our branded mobile apps. Our exclusive first-party data enables precise audience targeting to ensure that your hotel is getting in front of the right people.
Brand Results Listing: Increase your listing's visibility and reach more qualified travelers by featuring your ad in a Brand Results Listing. This ad placement enables hotel advertisers to engage with travelers who are further along in their path to purchase. And when you pair it with TravelAds Sponsored Listings, your hotel will have three times the exposure than other properties with visibility across organic listings, TravelAds, and Brand Results Listings on our search results page.
Sponsorships and takeovers: Take advantage of our unique sponsorship and takeover opportunities designed to help you capture a larger presence on the Expedia homepage.
Co-op campaigns: Team up with other travel suppliers in your area to promote bookings for your destination or hotel. When you pair a co-op campaign with TravelAds, your hotel will appear at the top of the search results page and generate brand awareness and increase your chances of conversion.
Success story
Iberostar Group is a global tourism company and hotel group with over 70 luxurious beachfront resorts across Europe and Central and South America.
The hotel group launched the "Wave of Change" initiative as a commitment to enacting sustainable hospitality practices and protecting the oceans through eco-tourism. With the campaign underway, the group wanted to raise brand awareness and drive intent with travelers looking to book sustainable vacations.
After partnering with our media solutions experts, the Media Studio team developed the interactive campaign "Discover Iberostar" to introduce potential customers to the "Wave of Change" initiative and educate them on the tourism industry's impact on the ecosystem.
A combination of display advertising efforts such as homepage takeovers, responsive ad types, and social posts engaged travelers and drove them to a customized microsite. By partnering with our team, the "Discover Iberostar" campaign generated a 46:5 return on ad spend (ROAS) and a 0.13% click-through rate.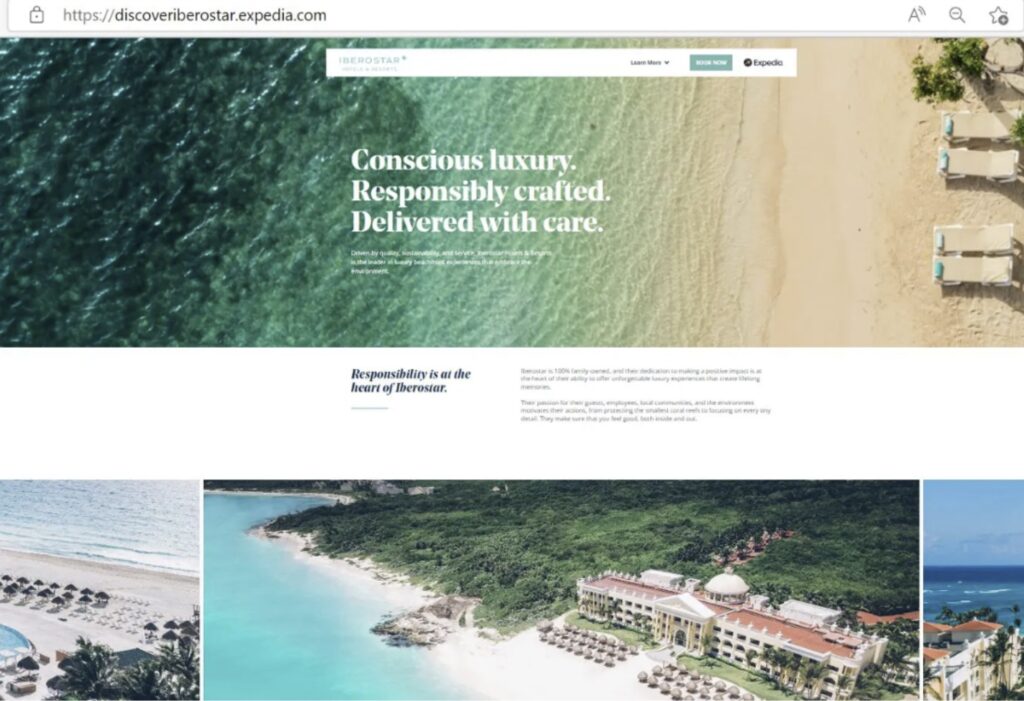 Coupling TravelAds and display ads in your advertising strategy
TravelAds and display advertising are proven and simple solutions that address different marketing needs. When the two solutions are used together, hotel advertisers can maximize their marketing efforts by continually optimizing their campaigns with our first-party data and simultaneously building brand awareness.
When you use TravelAds and display advertising together, you can stay top-of-mind with travelers by appearing across various on-site page types such as our homepage, result pages, and specific line of business pages. Inspire, engage, and influence your target traveler before they make a purchase decision by increasing your hotel's visibility in search results and build brand awareness.
By pairing search and display solutions together, you can make your hotel more visible to the right traveler, leading to higher consumer confidence and resulting in more bookings.
Success story
To increase bookings in a saturated market, your hotel needs to stand out from the competition.
Our Media Solutions experts teamed up with Palace Resorts, a luxury, all-inclusive resort in the Caribbean to increase brand awareness and drive bookings.  
By adding display advertising to their TravelAds strategy, the brand converted 17% more travelers due to its increased digital presence. We also found that travelers who saw multiple ad formats were nearly 2.6 times more likely to convert when compared to travelers who only saw a single ad, showing that it's important to be present at multiple points in a traveler's shopping journey.
You shouldn't have to choose between your short- and long-term business goals. With over 20 years of travel advertising media experience, we can help you find a solution that addresses your current and future advertising needs and sets you up for continued success.
To learn more about the array of advertising solutions we provide, connect with one of our experts today.