October 3, 2022
Travel brands are uniquely positioned to open the world to more people, including travelers of different gender identities, ages, abilities, ethnicities, religions and sexual orientations to experience and connect with new cultures, ideas, and landscapes. And travelers are looking for travel brands to be more inclusive and representative, according to data from our Inclusive Travel Insights Report. Here are a few highlights on why inclusion and diversity are important in travel advertising, successful inclusive marketing examples, suggestions for how your brand can be more inclusive and how Expedia Group is committing to equitable travel.
What is inclusion and why is it important in travel?
Inclusion is the practice of allowing diversity and local cultures and communities to thrive while ensuring equitable access to travel for everyone. It's also understanding intersectional identities and embracing people as complex individuals with unique experiences of discrimination and oppression.
As consumers increasingly value inclusion and the industry continues to serve a more diverse customer base, inclusion is critical for travel marketers. Our recent Inclusive Travel Insights Report research shows that seven in 10 consumers would choose a destination, lodging or transportation option that is more inclusive to every type of traveler, even if it is more expensive. This shows that consumers are actively looking for travel brands that are committed to inclusion and they're willing to pay more for brands that are welcoming and inclusive.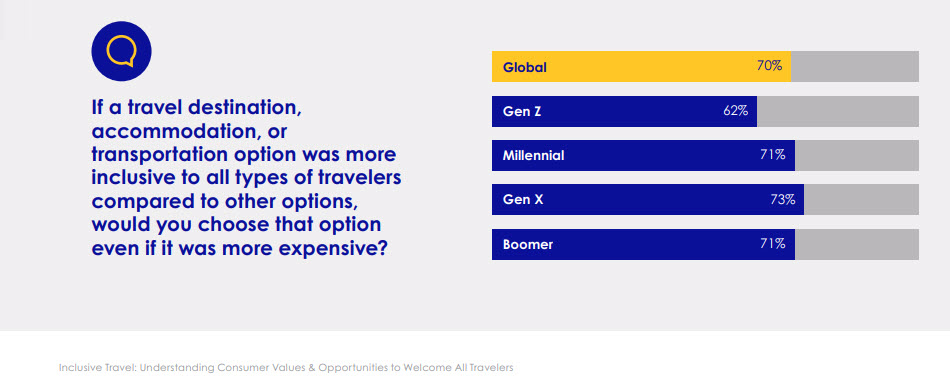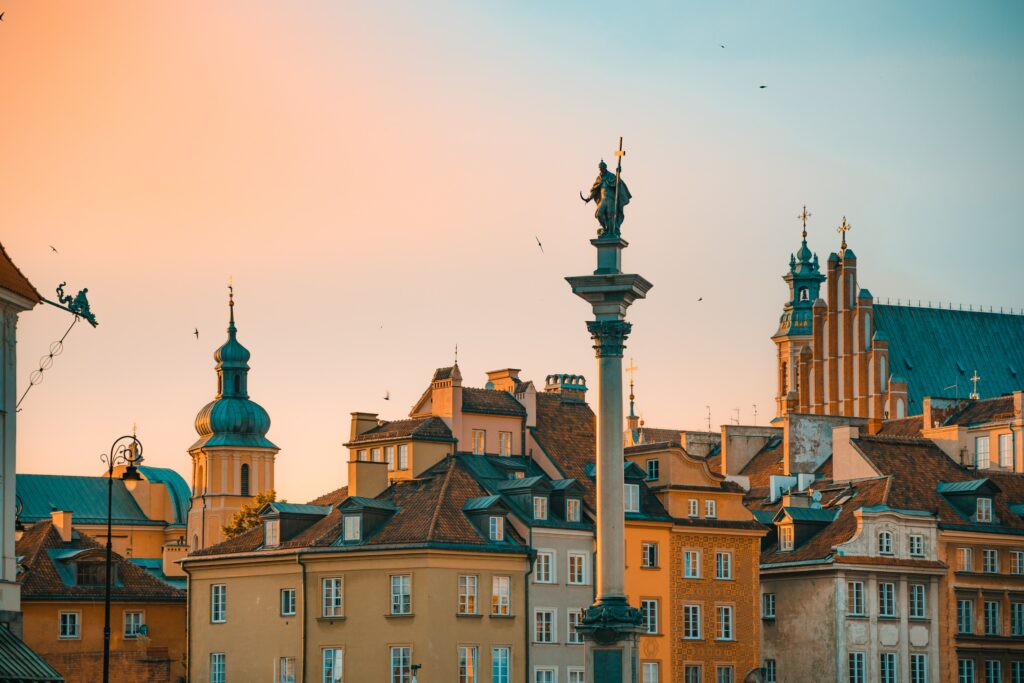 Hotel advertising that can reach any traveler, anywhere
Travelers looking to book a hotel use multiple channels to find their ideal place to stay, from social media to travel websites, and more. This is why it's imperative that you know when — and where — to reach the right traveler. Whether you're trying to reach early-bird or last-minute bookers, our targeting capabilities can help you connect with the right traveler at the right time.
Why is inclusion and diversity important in advertising?
Consumers are paying attention to travel brands' commitment to inclusion and using this to inform purchasing decisions, which means that incorporating inclusion into advertising efforts is more important than ever.
Our research shows that 78% of survey respondents have made a travel choice based on advertisements that they feel represented them through messaging or visuals. For millennials, that figure is even higher — 84% have made a travel choice based on representation in travel advertising.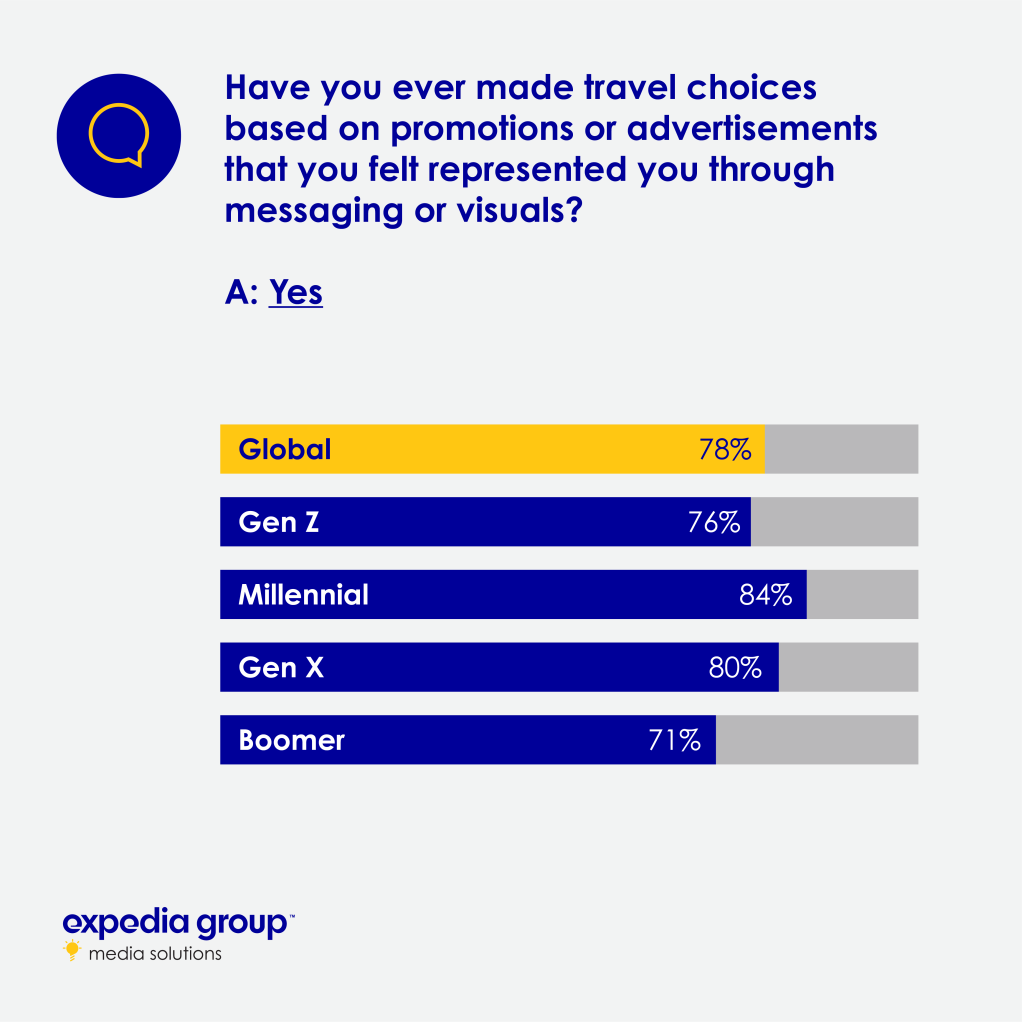 The importance for travel brands to consider inclusion will continue to grow. For example, Pew Research reports that in the U.S., younger generations are more diverse than ever before.
As diversity among travelers continues to grow, so does the buying power of minority groups. The Equity Imperative study by Deloitte reported the Black population is expected to grow 38% by 2060 and despite a wealth gap, Black buying power is rising — from $320 billion in 1990 to $1.6 trillion in 2020. The LGBTQIA+ market is also powerful, worth an estimated $211 billion to the travel industry.
With the rise of diversity and buying power among underrepresented populations, ensuring your advertising is inclusive and representative will continue to gain importance and remain important for the success of travel brands.
Inclusive marketing campaigns in practice
Diversity can mean many things — race, gender, age, family, couples, ability, activities, and more — and should be a key consideration when developing marketing content. To develop authentic inclusive advertising campaigns, marketers should draw from stories of people in underrepresented groups. Using the unique experiences of people in these groups can help break stereotypes and allow messages to ring true. Below are some examples of advertising campaigns that are effectively centered around inclusivity.
Our team partnered with Visit Panama for a video series called "The Next Turn" to promote Panama to travel shoppers looking for their next trip. One episode showcases how travelers of different abilities can explore Panama and features a blind traveler who experiences a rainforest, volcano hike, and coffee farm in Panama through his sense of hearing, smell, taste and touch.
All Inclusive Boston is another example of a campaign that spotlights the benefits of diversity. With this campaign, The Greater Boston Convention & Visitors Bureau showcases the city as a destination with a new generation of diverse entrepreneurs, innovators and artists — a city that is welcoming to everyone. The campaign's "Boston Accent" video features a mix of residents speaking in a Boston accent and different languages, including sign language.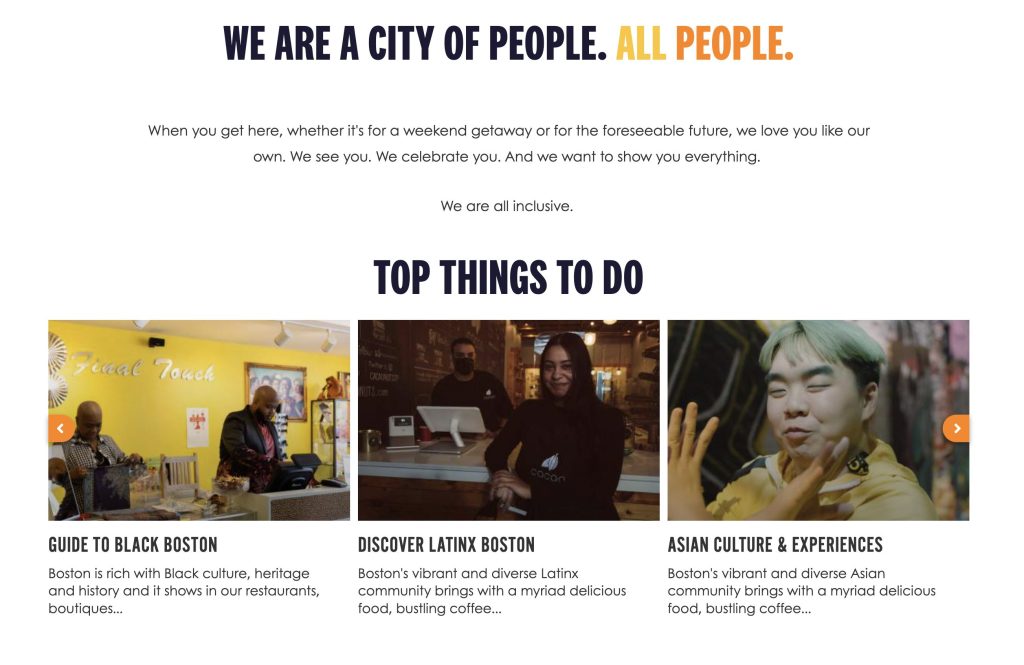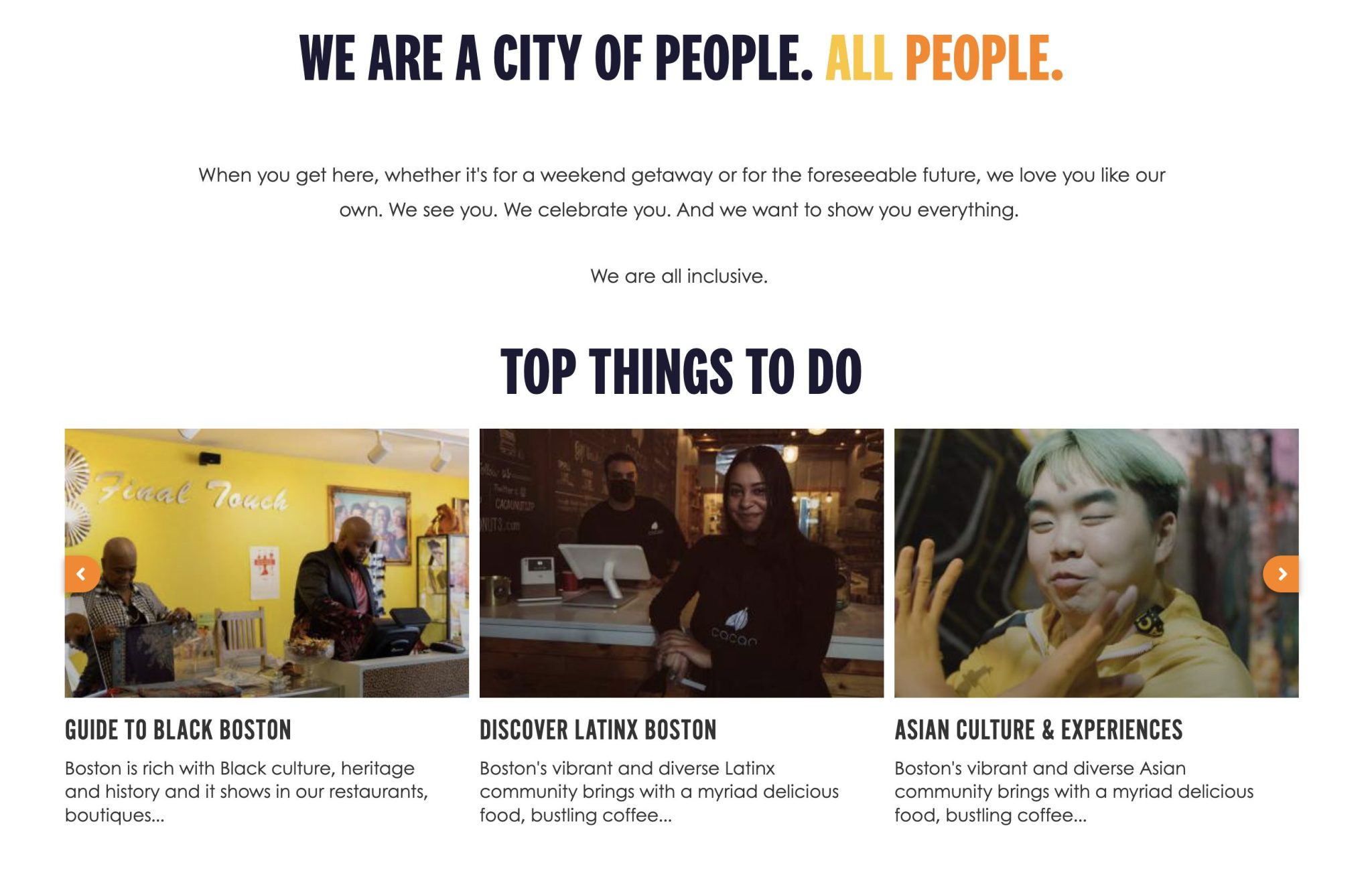 Another important aspect of inclusion is local community culture and engagement. Tourism Malaysia worked with our team on a campaign showing travelers how they can experience Malaysian culture by visiting historical sites like George Town, Penang, observing traditional longhouses housing communities of up to 100 families in Sarawak, or by visiting the indigenous communities of Kadazan and Dusun.
While these are some specific inclusion campaign examples, inclusion is something that should be baked into every marketing effort. Delta and Abode recently partnered with creative company Kin and photographer Seo Ju Park to support travel marketers with their inclusive content creation. They created the "Faces of Travel" initiative, a 100-image library that reflects a more inclusive — and accurate — view of diverse travelers. The library is available to the public via Adobe Stock at no cost, an invaluable resource for marketers.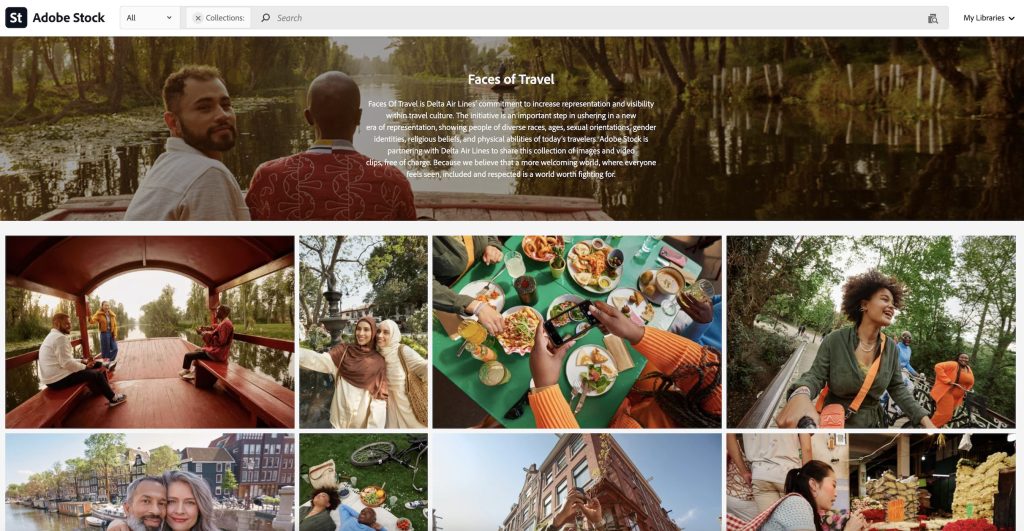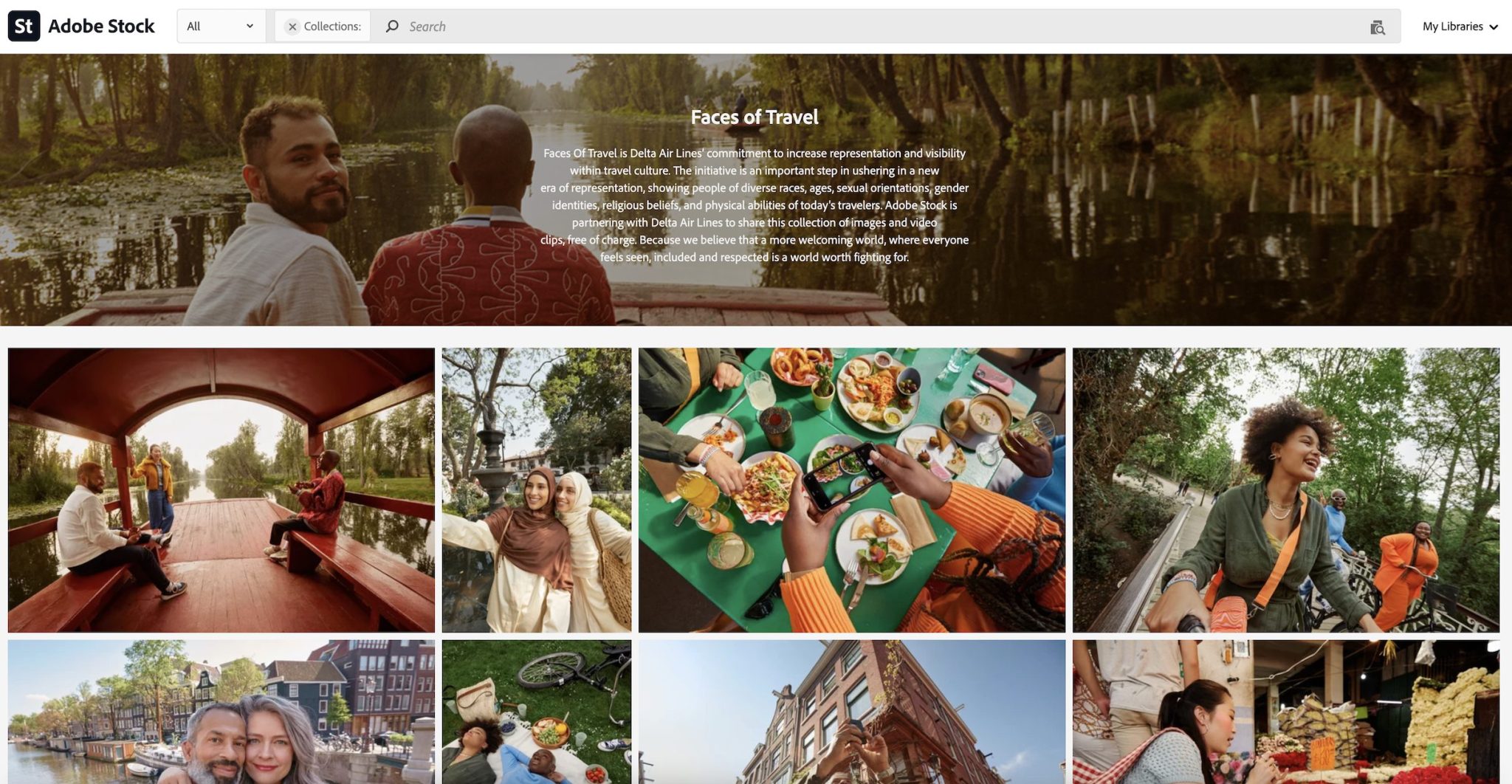 How can your brand be inclusive in your marketing?
Travelers want to feel welcomed and accepted, and representation matters when shopping for and booking their next trip. We've put together a few ways to ensure you're being inclusive in your marketing campaigns by doing things such as acknowledging intersectionality, using subtitles, avoiding stereotypes, including diversity in advertising, and using inclusive language and fonts.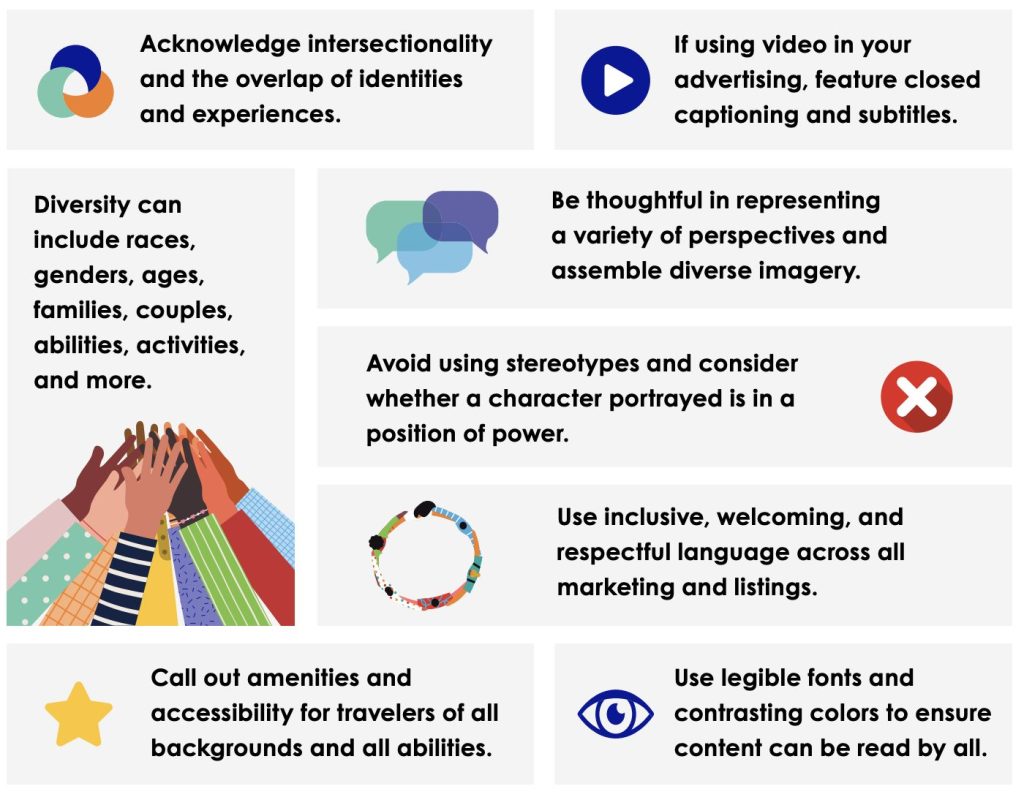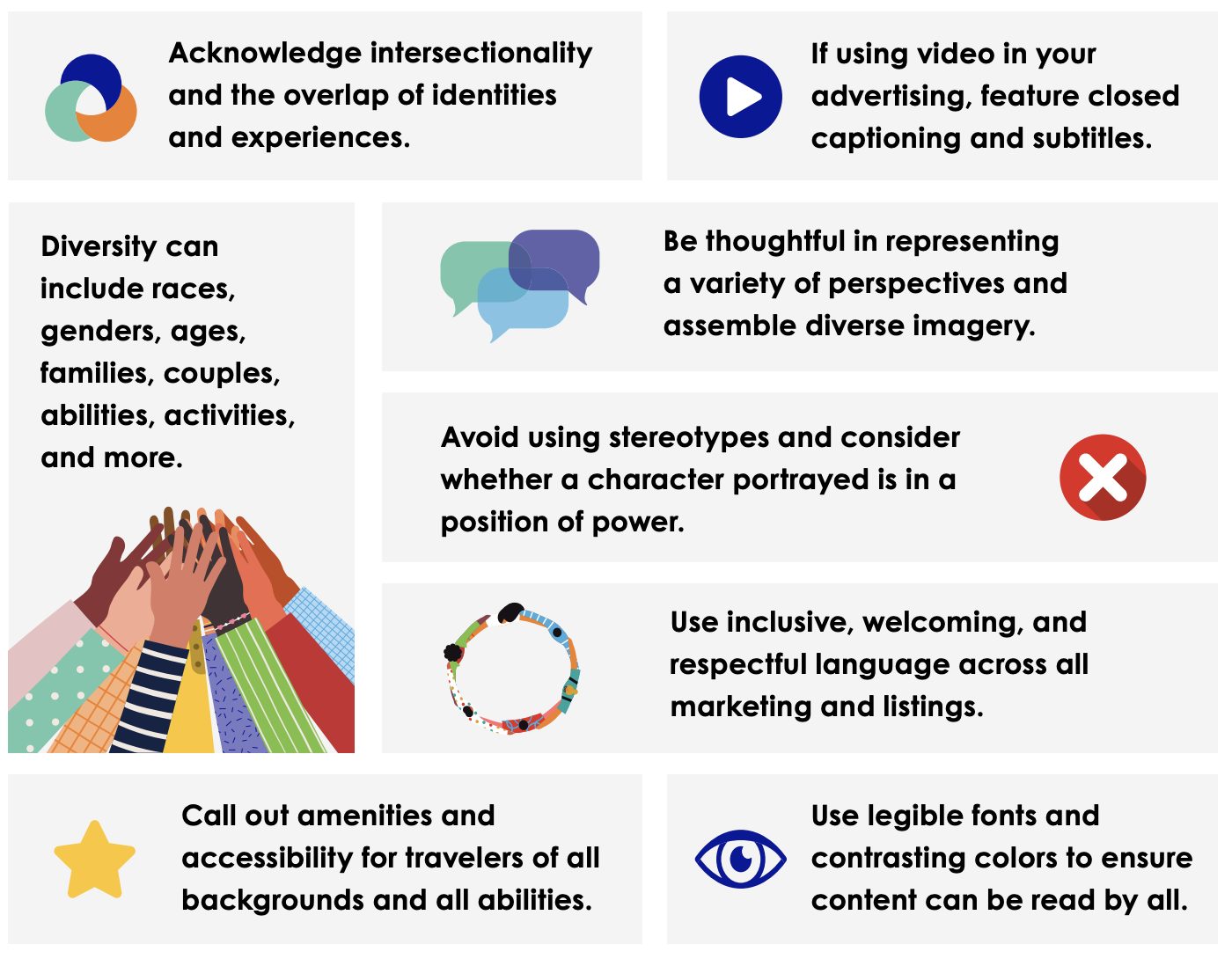 Travel marketers can draw from our Inclusion & Diversity in Travel Advertising guidelines for more practical tips and best practices on how to represent and cater to everyone whenever possible with diverse imagery, inclusive copy and accessible interfaces.
How Expedia Group Open World™ is committing to inclusion
At Expedia Group, we believe that in order for the travel industry to truly be a force for good, it must be more equitable, accessible, sustainable and responsible. During EXPLORE, we revealed our Open World™ vision to democratize travel, beginning with the purpose-built tech platform.
To extend this, Expedia Group released our Open World™ social impact and sustainability strategy that focuses on three priorities — increasing access for underserved travelers, democratizing the travel economy, and innovating sustainable solutions for the future of travel.
To add action to this framework, Expedia Group launched the Open World™ Accelerator initiative, designed to help startups and small- and medium-sized businesses in the travel industry to fast-track their growth and innovation. The program, aimed at entrepreneurs working globally to improve the experience of underrepresented travelers, will include a six-month curriculum for six companies and provide them with a wide range of industry resources from Expedia Group.
In the coming months, Expedia Group will continue to activate the Open World™ vision to help make travel more inclusive, equitable and responsible.