June 1, 2023
Travel search volume is on the rise as travelers are eager to plan their next getaway whether it's by plane, train, or automobile.
Our latest Traveler Insights research, based on our exclusive first-party data, shows that global search volume for travel is up 25% quarter over quarter (QoQ); Europe, the Middle East and Africa (EMEA) searches are up 30% QoQ. This increase in search volume is good news for destination marketing organizations (DMOs), and you can use these insights to gain a competitive advantage that will make your destination stand out in a crowded market space.
We've pulled key findings from our exclusive first-party data and other resources to help you understand what these emerging travel trends mean and how you can use these insights to attract more leisure travelers to your destination.
Vacation deprivation in the travel and tourism industry
For more than 20 years Expedia Group has released the global Vacation Deprivation Report. The study examines work-life balance to better understand what barriers consumers might face that cause them to feel deprived when it comes to travel.
Vacation deprivation, the feeling of not having adequate time off from work for leisure activities, has reached a staggering 10-year high on a global scale, leaving many individuals looking for a much-needed escape. In the U.S., 63% of Americans admit to feeling vacation deprived, marking an increase from the previous year when 59% reported feeling deprived.
The process of booking trips and finding the best deals has become a major source of stress for 72% of Americans. However, despite these challenges, the desire for travel remains strong. More than eight out of 10 travelers (83%) expressed their intention to maintain or increase their travel plans compared to last year, underscoring the enduring importance of leisure travel as a means of rejuvenation and exploration.
What this means for destinations:
Position your destination as the answer to vacation deprivation by promoting your destination as the ideal getaway. Our native advertising solution uses contextually relevant, non-disruptive ads that are seamlessly integrated across our 200+ travel websites. These experiential ads allow you to highlight multiple features and images with a single placement and create a pleasing experience for travelers when they're looking for inspiration or ready to book.
VisitScotland used native advertising to engage travelers with immersive and informative ad placements across prominent homepages and hotel search results pages. By implementing native advertising, the marketing campaign generated an above average click-through rate (CTR) and an 80:1 return on ad spend (ROAS). The campaign's success elevated the visibility of VisitScotland and effectively engaged qualified travelers, resulting in increased conversions and bookings.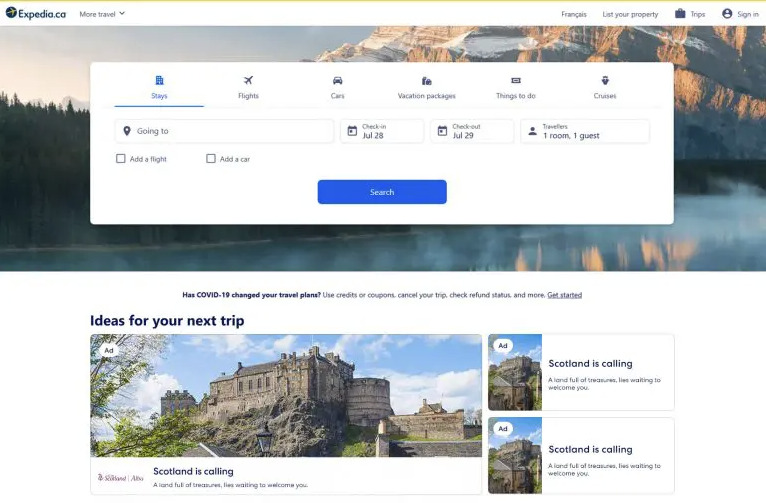 More travelers take a long-term approach to planning
As travel continues to rebound, we're seeing growing interest from travelers to begin planning earlier for their trips. Our Q2 Traveler Insights showed that booking periods have continued to lengthen globally with a 60% increase QoQ. Leisure travel is also taking precedence with over 70% of American travelers saying that leisure travel is a priority in the next 12 months as they make up for lost travel opportunities over the last few years.
What this means for destinations:
With booking windows lengthening, destinations have the opportunity to target travelers early in the stages of their booking journey to capture their attention and influence their booking decisions. But as people are consuming more content online than ever before, how can your destination stay top of mind for travelers?
Our data-driven Audience Extension solution can help you reach customized audience segments to make sure your destination is in front of the right people, at the right time, and with the right message. Connect with millions of highly qualified travelers anywhere online, whether they're seeking travel advice, are ready to book, or are scrolling their social feeds looking for travel inspiration.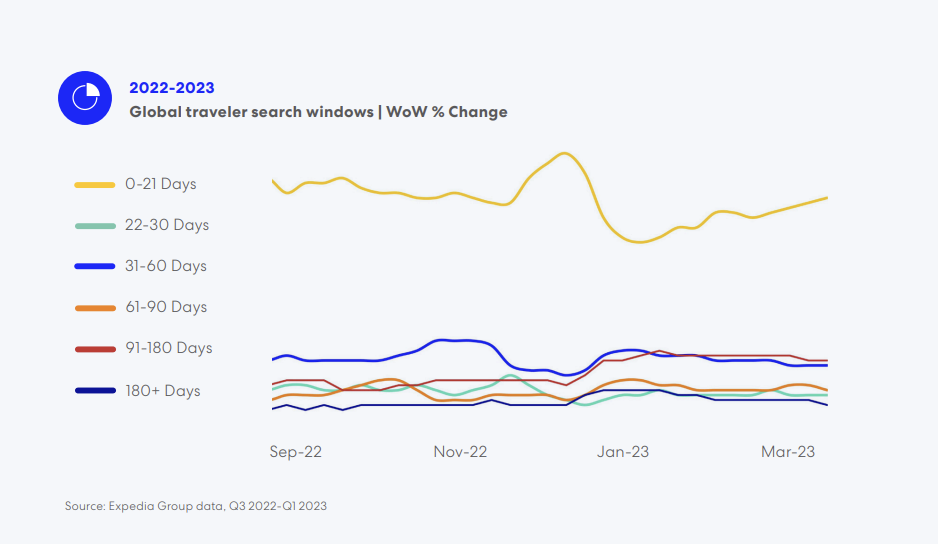 For travelers determined to make up for lost time and taking more of a long-term approach to their travel planning, consider how you can position your destination as a unique option that offers unforgettable experiences or unique amenities. Look to highlight various alluring aspects of your destination to speak to a wide audience with varying interests. And with One Key, our new travel awards program, you can reach our high-value travelers that put a premium on the flexibility this program offers.
We worked with Mexico to unleash the full potential of its diverse appeal that extends far beyond the beach. As a beloved tourism destination facing competition from other tropical destinations, Mexico sought to expand its reach beyond its sun-kissed shores and captivate adventure seekers, food aficionados, history buffs, and music lovers alike.
Our team of media experts used display advertising to create a fully integrated marketing campaign that spanned multiple channels and drove brand awareness for Mexico. Discover how Mexico's campaign generated a 20% increase in passenger demand year-over-year (YoY) and a 15% increase in gross bookings.
Use target marketing to connect with travelers seeking mid-year getaways
With travel demand on the rise, travelers are looking to make the most of their summer vacation season. In our 2023 Q1 Traveler Insights report, we shared that travelers were eagerly anticipating mid-year travel with Q4 2022 searches for travel from June to September up 70% YoY. This trend continued into Q2 2023, with a 50% YoY increase in search demand for mid-year travel.
For many travelers, warm destinations are top of mind with Cancun, Palma de Mallorca and Barcelona topping the list of searched destinations for travel plans between June and September 2023. Similarly, travelers are increasingly interested in relaxing near the water whether it's a beach, lake, or pool.
What this means for destinations:
As travelers eagerly anticipate mid-year getaways and show a preference for warm destinations and water-related activities, you have a valuable opportunity to position your destination as the ultimate warm-weather retreat.
By capitalizing on the growing demand for summer leisure travel and mid-year vacations, you can strategically position your destination as an ideal spot for a memorable getaway. Highlight unique features and attractions that set your destination apart like picturesque beaches, a diverse food scene or vibrant nightlife. These callouts can drive further interest from the growing number of travelers looking to relax next to the pool during their next vacation.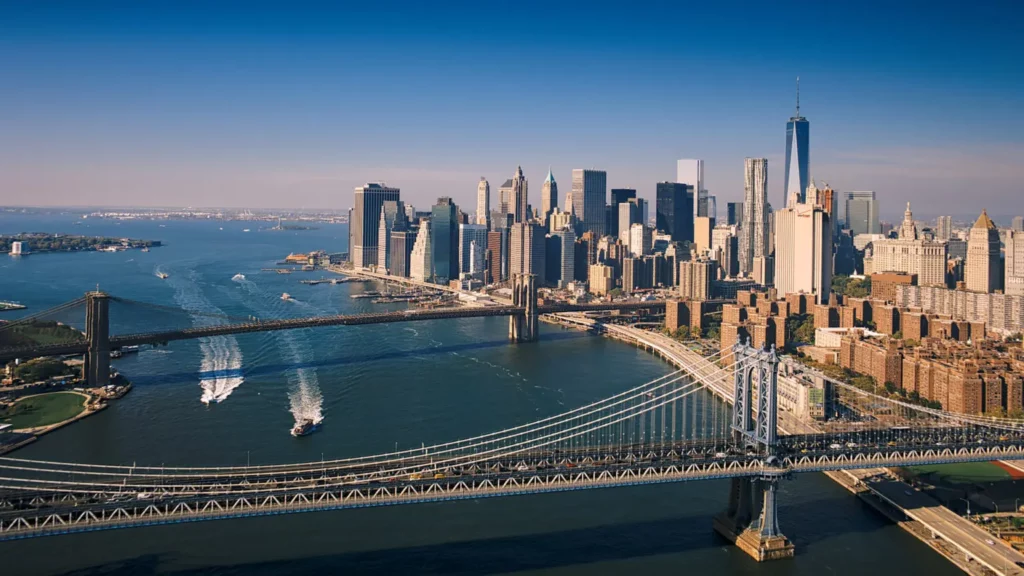 Almost 40% of global travelers have booked a trip after being inspired by a TV series or movie. To lean into this emerging source of travel inspiration, we worked with one of our partners, Brand USA, and debuted an innovative approach to travel shopping that delivers unique and immersive video content that replicates what travelers would experience at the destination.
Our Media Studio team built this shoppable, interactive platform that allows travelers to explore various destinations and quickly and easily book their trip as they immerse themselves in what the destination has to offer. Brand USA is the one of the first partners to use this trailblazing solution and we're excited to roll out this approach for other destinations across the globe.
With more than 20 years of travel advertising media experience, we know it can be difficult to act on emerging market trends. That's why we're here to help you understand consumer behavior and travel trends to ensure your destination stands out from the rest.
To learn more about the array of advertising solutions we provide, connect with one of our experts today.